CLASSIC MOTOCROSS IRON: 1967 BRIDGESTONE SR175 TWIN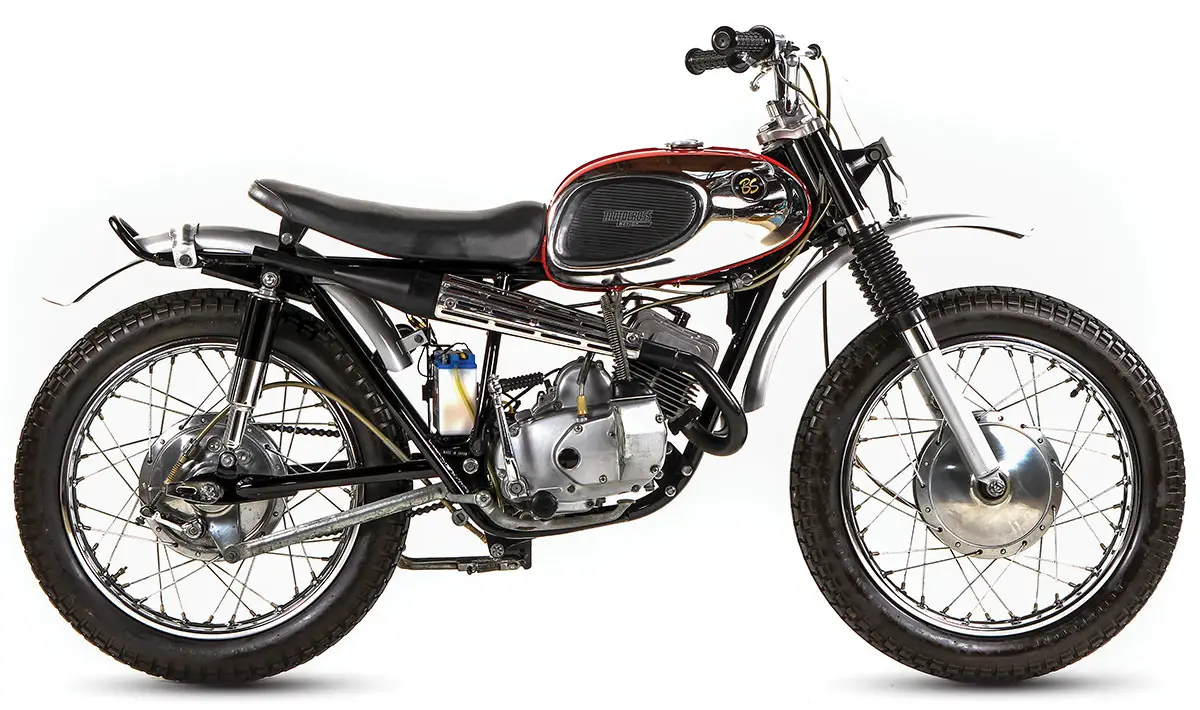 The "Early Years of Motocross" Museum 's1967 Bridgestone SR175 was stripped down  for scrambles and dirt track.
BY TOM WHITE
Although best known today as a tire manufacturer, Bridgestone was founded in 1931 by Shojiro Ishibashi as a tire and automotive parts firm. The company name is taken from the literal translation of the founder's last name into English—ishi translates as "stone" and bashi means "bridge." Bridgestone began producing bicycles beginning in 1946, powered bicycles in 1949 and motorcycles from 1958 through 1971. By 1960, the company had grown into a massive manufacturing concern producing a complete spectrum of rubber products and was also Japan's leading manufacturer of bicycles. In an additional spin-off, Bridgestone produced 5000 passenger cars and trucks per month under the name Prince Motors (in 1966, Prince became part of Nissan).
With dual-rotary valves on both sides of the twin cylinder engine, polished ports and stuffed cranks, the SR175 was a rocket.
Exports to America began in 1963 via Rockford Scooter Company of Rockford, Illinois (later renamed to Rockford Motors). The first model was the 7, a fan-cooled, 50cc two-stroke with a three-speed rotary transmission. The machines were initially sold through catalog companies like Spiegels and Aldens. Bridgestone forged through the 1960s with a reputation for technologically advanced machines in sizes from 50cc to 350cc. Sadly for Bridgestone motorcycles, the company never got the dealer support in the USA that Honda and Yamaha did, even though America was its largest market.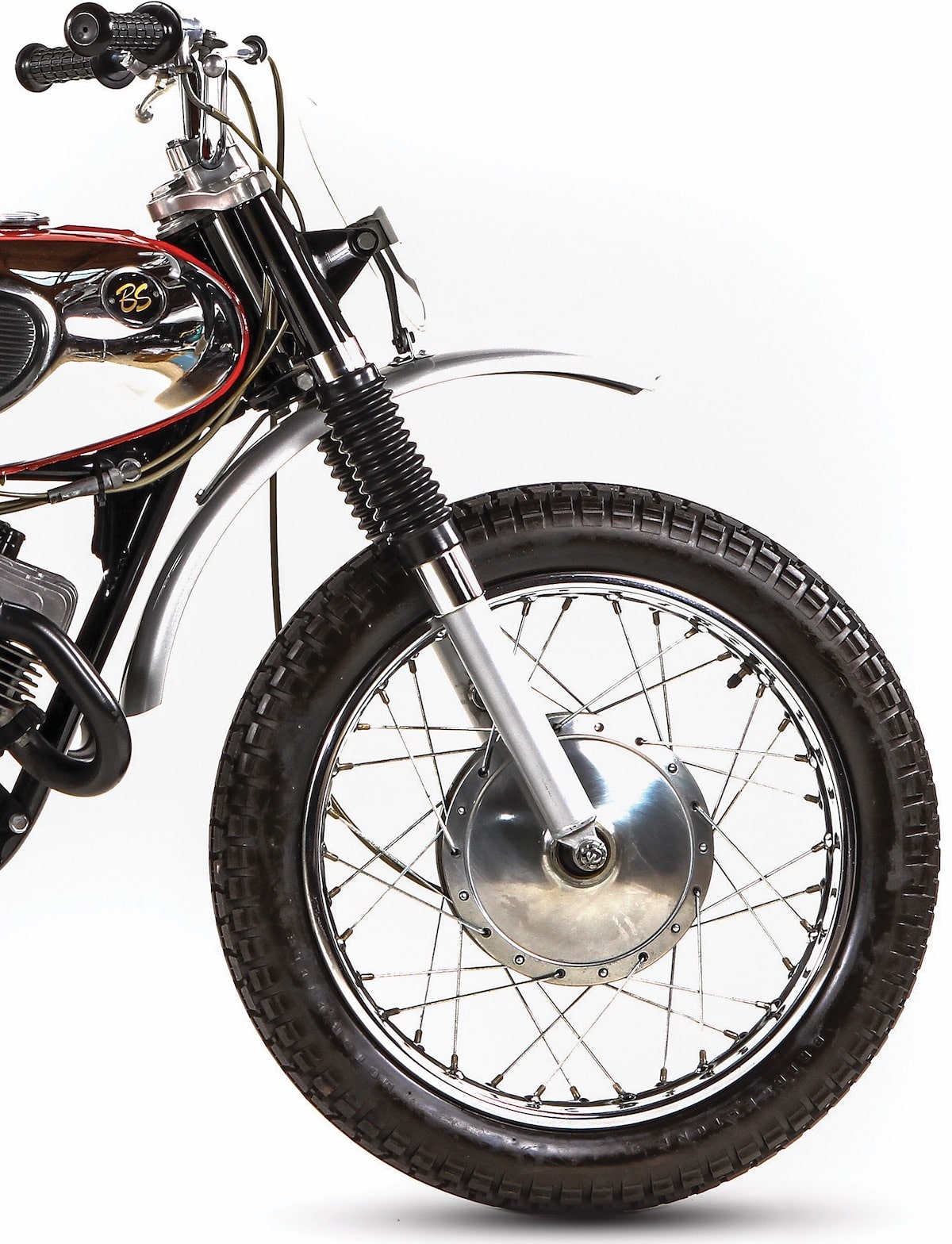 The 1967 SR175 was a hand-assembled factory racer based on the production DT175 Dual Twin street bike and HS174 Hurricane Scrambler. The $580 SR175 was a notch above the competition in finish, technology and performance. Featuring dual-rotary valves, polished ports, stuffed cranks and a tube steel frame, the SR175s were rocket ships. They absolutely dominated the 175cc and 200cc classes in scrambles, dirt track, road racing and drag racing, but the high-tech features came with a higher retail cost, which contributed to lackluster sales.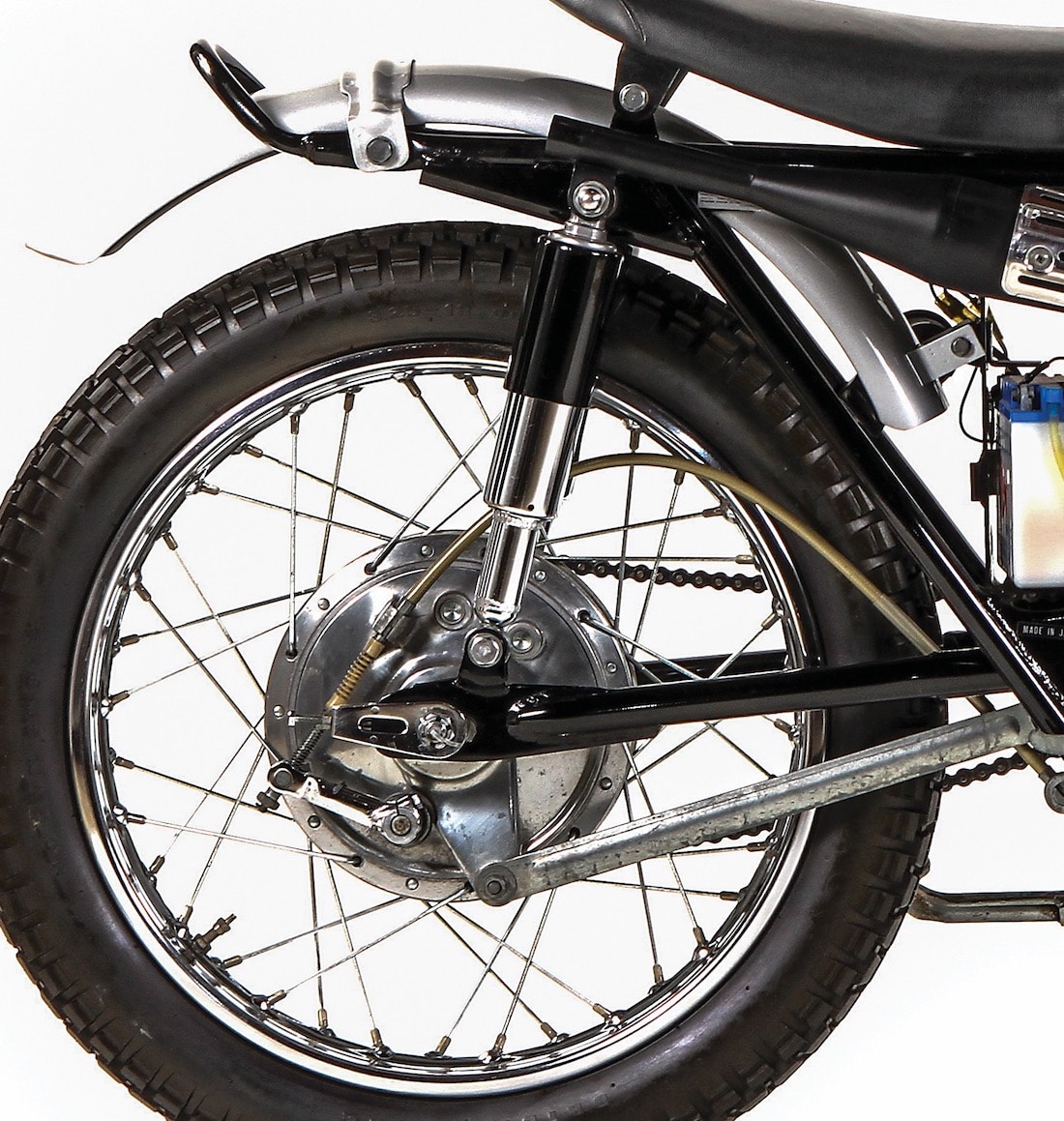 Motorcycle production was only a sideline to the tire business. Unconfirmed reports claim that the Japanese government brokered a deal with Bridgestone to drop out of motorcycle manufacturing in return for additional tire business.
In street trim you wouldn't think that this production bike would dominate in scramble, dirt track and road racing in the late 1960s.
Following the 1971 model year, Bridgestone closed its motorcycle division and sold its tooling to Taiwan's BS Tailung company. BS Tailung made replacement parts for previous Bridgestone models, and virtually all NOS Bridgestone parts available today originated in Taiwan, not Japan. BS Tailung also manufactured the small Chibi, Tora and Taka mini bikes that were distributed by Rockford Motors. BS Tailung ceased operation in 1975.