CLASSIC MOTOCROSS IRON: 1963 YAMAHA 250 ASCOT SCRAMBLER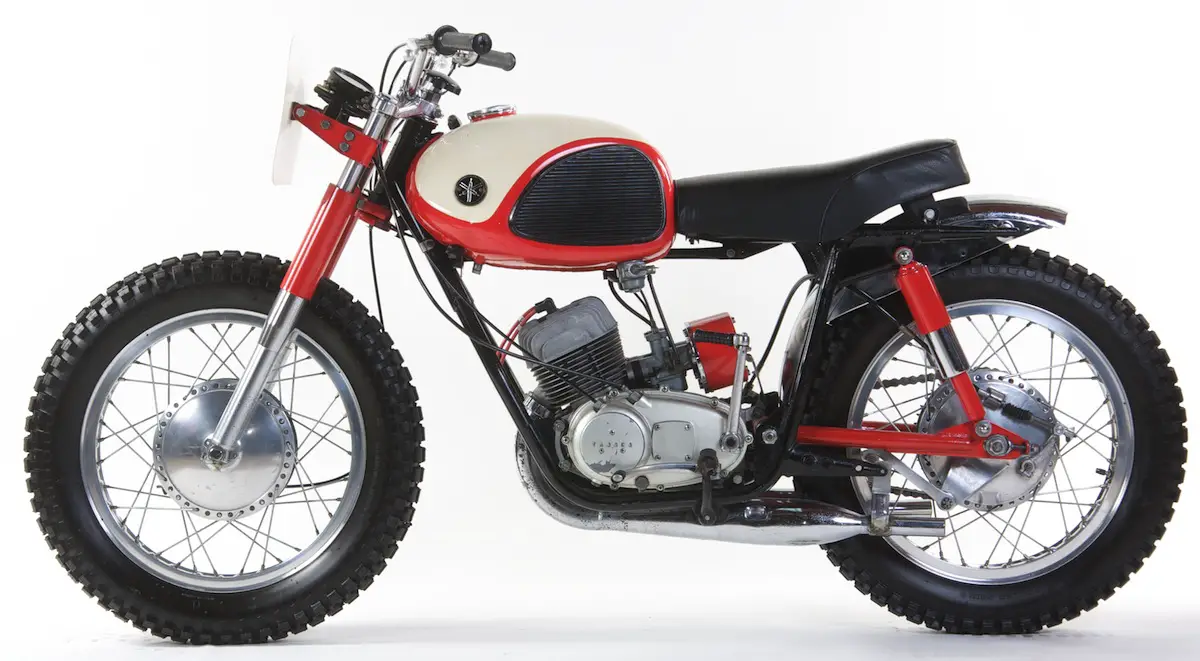 By Tom White
Southern California's Ascot Park was the hotbed of flat-track racing in the western United States in the 1960s and 1970s. AMA rules required first-year professional riders to compete on 250cc machines until they made enough advancement points to move up to the Amateur class. Amateurs and Experts rode machines up to 750cc (four-stroke twins or 500cc four-stroke singles).
The top prospects in the 250 Novice class often showed up with twin-cylinder Yamaha TD1 engines in custom frames built by Trackmaster and Redline. Yamaha decided to seize the opportunity and publicity from winning races by introducing the Ascot Scrambler. This limited-production model was derived from the street-going YDS2 model (with aluminum cylinders similar to the TD1 road racer model). The carburetors were 24mm Mikunis—larger than the 22mm units on the S2, but smaller than the 1-1/16-inch Amals that came standard on the TD1. The Ascot Scrambler had chrome expansion chambers and TD1 brakes.
Sales were brisk, but owners soon found out that the handling was not on par with the custom frame twins that were being raced at Ascot. Imagine a 35-horsepower machine with a peaky powerband and a short wheelbase. Production of these very unique machines lasted from 1962 to 1967 with very few changes. The 1965 and later models had a fiberglass racing seat, which is the only way to tell the difference between the earliest models.
Restored Ascot Scramblers are very difficult to find. This Early Years of Motocross Museum bike was found in London, England.
1963 YAMAHA 250 ASCOT SCRAMBLER FACTS
WHAT THEY COST
The retail price in 1963 for a brand-new Ascot Scrambler was $745. This Early Years of Motocross Museum example was purchased for $7000 as pictured and is easily worth twice that!
MODELS
The Ascot Scrambler was unique in that it was designed and built to be used at one racetrack (although it could be used at other oval dirt tracks). The production was limited, but in 1964 Yamaha updated the YDS3 Street Scrambler with an upswept pipe, skid plate and lighting.
WHAT TO LOOK FOR
Make sure it is actually an Ascot Scrambler. The TD1 wheels and brakes with alloy rims, front number plate with brackets, expansion chamber exhaust, unique clamp-on air filters and a tach are standard items. They are difficult to find separately—and virtually impossible to replace. This bike's serial number is D6-5327.
For more info on classic bikes go to www.earlyyearsofmx.com