CLASSIC MOTOCROSS IRON: 1964 DOT DEMON 250 SCRAMBLER
The DOT company was founded by Harry Reed in Manchester, England, who built the company's first motorcycle in 1906. The name, DOT, was said to stand for "Devoid of Trouble" and is included in later models' fuel-tank logos. DOT made everything from street bikes to three-wheel utility vehicles, but when the motocross boom started in the 1960s, DOT pushed hard to be a player in what was then known in Britain as "Scrambles." DOT specialized in two-stroke bikes. By the late 1950s and early 1960s, DOT was one of five British companies building competitive two-stroke scramblers. The other companies were Villiers, James, Greeves and Cotton. Until the early '60s, all of these bikes used Villiers engines.
The DOT Demon 250 Scrambler never won a major World Championship or even a British Championship, though it was a runner-up several times. The DOTs were well designed and well built. The leading-link forks had very long shock dampers and were unique. The Demon's frame had a square front downtube and an aluminum gas tank, fenders and other components. Compared to competitors like Greeves and Cotton, the DOT was much lighter, and, with the polished aluminum tank and red frame, a lot prettier. Power output was a modest 20 horsepower (out of a very loud, open end, blooey pipe that ran under the left side of the engine). Later DOT's had a variety of up-pipes.
Only a few DOTs were ever imported to America via Landefeld Motors in Los Angeles, California. The Early Years of Motocross Museum searched high and low for several years to find one, and our featured bike was finally purchased from a collector in Australia. Decades later, the DOT is still a strikingly beautiful machine that almost seems ageless.
After motorcycle production stopped in late 1968, DOT-Armstrong continued producing shocks for motorcycles and automobiles.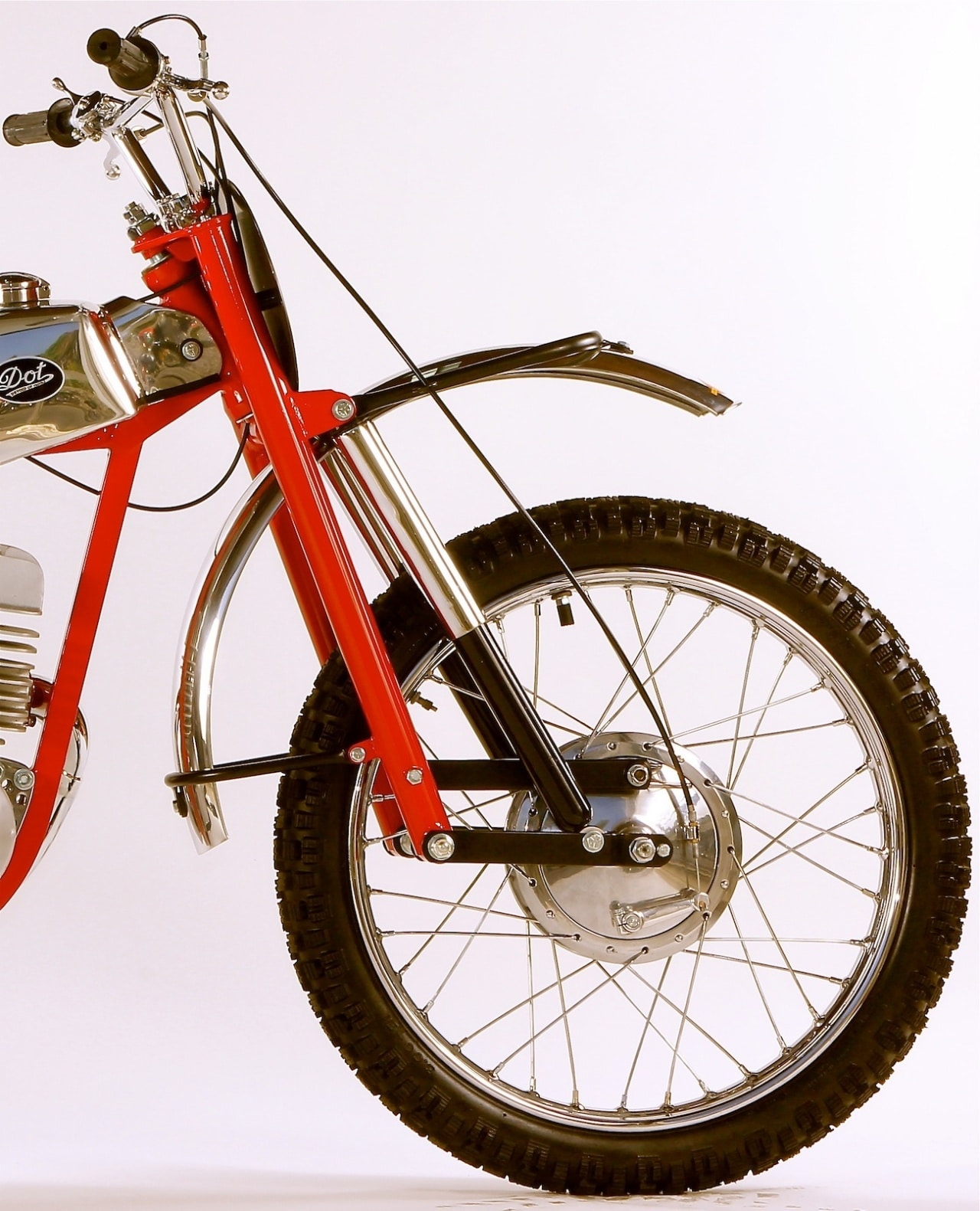 1964 DOT 250 DEMON SCRAMBLER FACTS
WHAT THEY COST
In 1964, the suggested retail price for a DOT 250 Demon Scrambler was $795. The Early Years of Motocross Museum paid $15,000 for MXA's featured DOT. The high price is due to large demand and product scarcity.
MODELS
DOT made a variety of machines over its 52-year history, including the DOT Bradshaw street bike, the DOT White Strength Scrambler, three-wheel utility vehicles and several trials bikes. The 250 Demon Scrambler was the only model imported to America.
WHAT TO LOOK FOR
It's not a DOT without the beautifully sculptured aluminum tank, short chrome "Blooey" pipe, Girling rear shocks and the "long-damped" leading-link forks. The good news is that those parts are still available.
PARTS SUPPLY
Contact the DOT Owner's Club at www.dot-motorcycle-club.co.uk.