CLASSIC MOTOCROSS IRON: 1971 DUCATI 450 R/T DESMO
BY TOM WHITE
In 1926 Antonio Ducati and sons Adriano, Marcello and Bruno began producing radio tubes and condensers at the Societa Scientifica Radio Brevetti Ducati in two factories—one in Bologna and one in Borgo Panigale, Italy. During WWII the allies bombed the Ducati factories because they were making military parts, destroying the Panigale factory. Ducati's electronics business resumed after the war, but since they had production space in their remaining Bologna factory, they partnered with SIATA (Societa Italiana per Applicazioni Tecniche Auto-Aviatorie) to develop a 48cc, push-rod, four-stroke engine that was sold in a box and could be attached to a bicycle. It was called the Cucciolo (little puppy) and was a tremendous success in war-ravaged Italy. The Ducatis decided to build complete motorcycles and split the electronics company and motorcycle company into Ducati Meccanica SpA and Ducati Elettrotecnica.
Ducati built its first motorcycle in 1949 around a big-bore 60cc Cucciolo engine, but soon expanded the line into 125cc, 175cc and 200cc machines.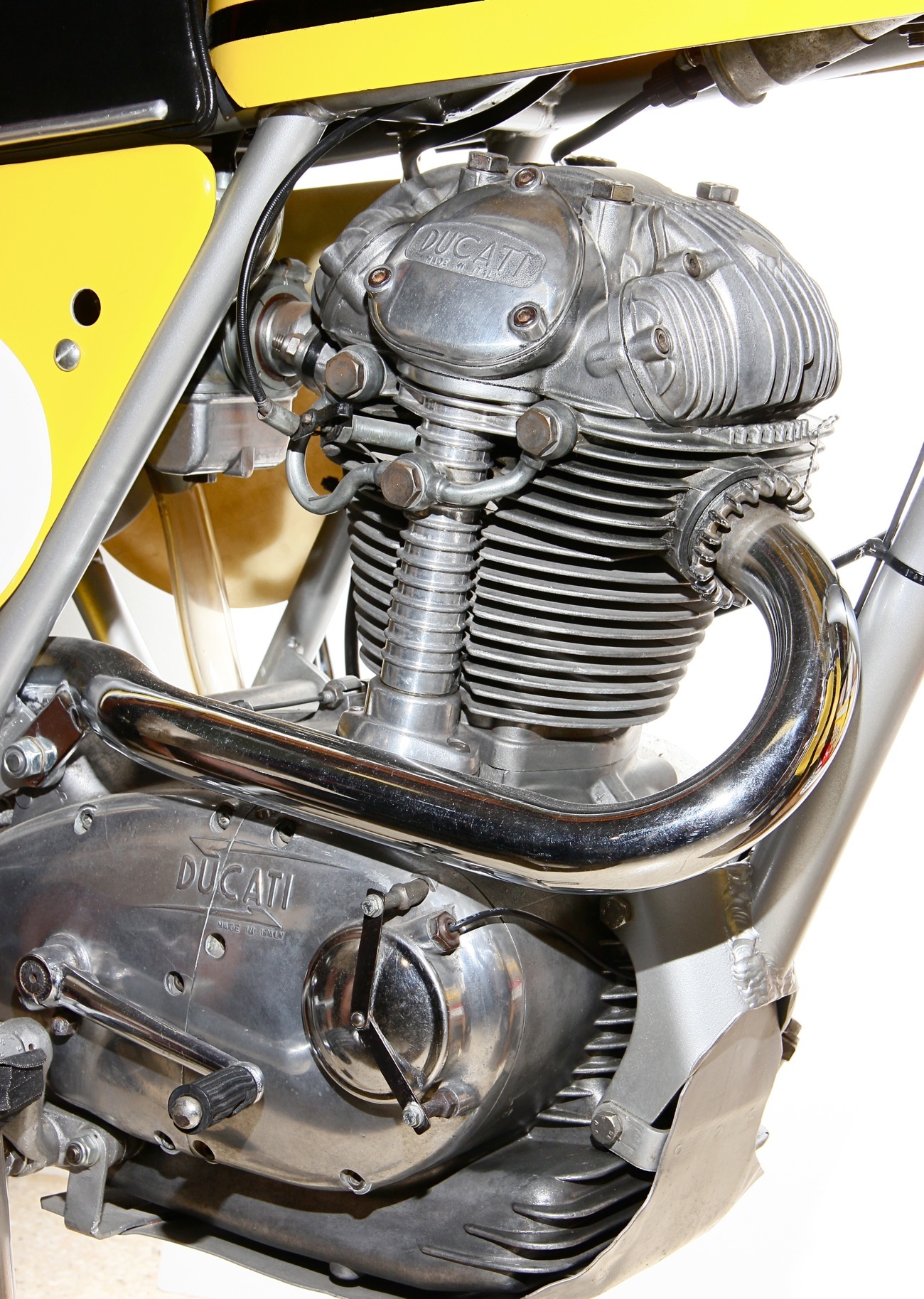 Ducati might have failed, like many post-war Italian motorcycle manufacturers, except for the fact that in 1954 the company hired engineer Fabio Taglioni. Taglioni's big idea was to control valve float by having the valves positively opened and closed without valve springs. Taglioni's  Desmodromic system uses dual rocker arms on each valve—one for opening and one for closing the valve. The Ducati 450 R/T was the only motocross bike ever fitted with Desmodromic valves.
In 1969 desert ace Doug McClure won the Baja 500 on a 350cc Desmo Ducati. Following this success, U.S. importer Berliner Motors requested a 450cc off-road version to compete against the popular BSA 441 Victor. The bright yellow 1971 450 R/T (road/trail) was built exclusively for the American market. The 436cc four-stroke engine was solid, albeit introduced in the midst of the two-stroke craze. It made a torquey 38 horsepower but weighed close to 300 pounds. Although the engine was powerful, the frame was poorly designed. The engine was too far rearward for the short-wheelbase chassis. The Ducati was difficult to turn. With American riders enamored with lightweight two-strokes, the Ducati 450 R/T Desmo would only be imported into America in 1971. It sold poorly. Varying estimates peg the total number of imports between 100 and 200 units. That would normally make them collectors' items, but that said, collectors don't seem to be drawn to them (and vintage motorcycle racers rarely compete on them because of their poor handling). A nicely restored example sells for around $6000.