CLASSIC MOTOCROSS IRON: 1971 RICKMAN ZUNDAPP 125 METISSE
British Grand Prix stars Don and Derek Rickman manufactured eponymous motorcycles from 1960 to 1975. Although the Rickman brothers originally focused on making Reynolds 531 frame kits for BSA, Triumph, Norton and Matchless engines, they knew that to sell motorcycles in large numbers they needed to make complete bikes. Sadly, the British motorcycle industry would not sell engines to the Rickmans, which forced them to go looking for foreign sources for engine packages.

The Rickmans formed agreements with Hodaka to supply them with 100cc engines, Zundapp for 125cc engines, and originally with Bultaco (1965) and finally Montesa for 250cc engines. These small-displacement Rickmans, in comparison to the kit bikes with British four-strokes in them, were mostly destined for the burgeoning American market. At one point, Rickman sold 4000 bikes a year. The American demand was for small-displacement two-strokes, and the Rickman engine deals were timed perfectly to increase their U.S. market share.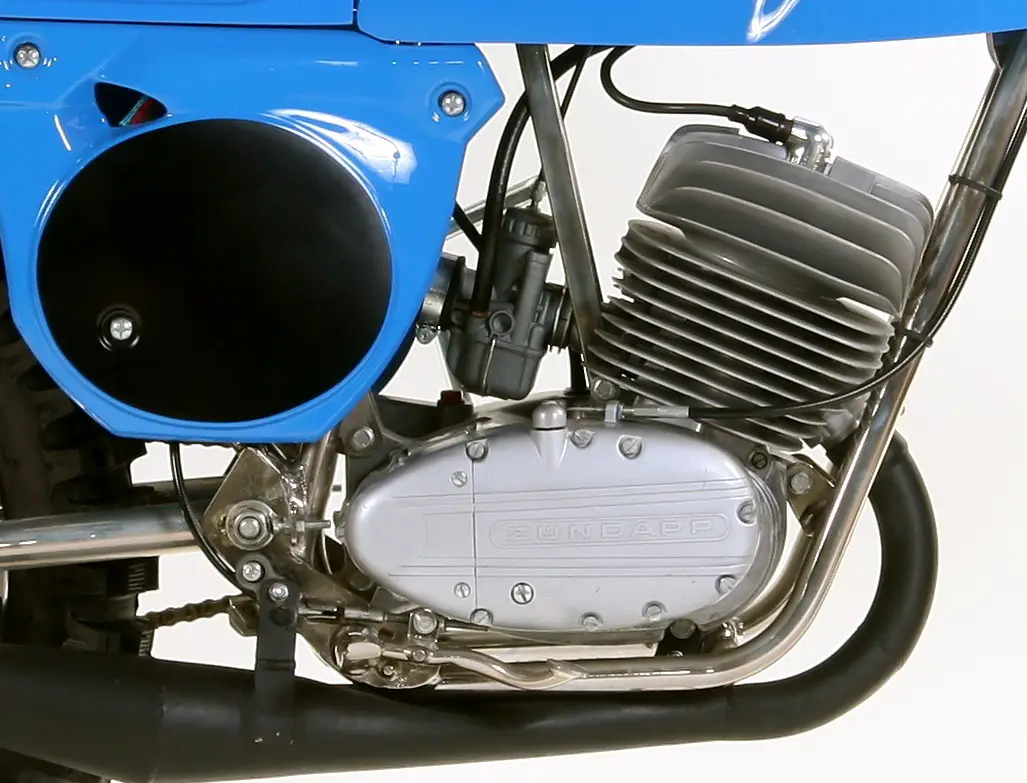 The 1971 Rickman Zundapp 125 Metisse was a classic example of what was possible. The components were of the highest quality, including baby Ceriani forks, Girling shocks, Magura levers and a potent Zundapp engine. Sadly, the very high $895 asking price limited the bike's commercial success. Eventually, production Japanese-built motorcycles improved to the point where there was no market for the Rickman brothers' kit-style machines. They diversified into garden furniture, hospital beds and Rickman Ranger kit cars. The Rickman brothers sold their company in the mid-1980s, but today Rickman motorcycles are in great demand. There are currently three companies making Rickman replicas.
1971 RICKMAN ZUNDAPP 125 METISSE FACTS


WHAT THEY COST: A 1971 Rickman 125 cost $895.00. This machine was donated to the Early Years of Motocross Museum by Jack Martin in honor of Curtis Keller. The restoration cost about $6000.
MODELS: You could purchase a Rickman frame in 1971 for a Yamaha, Penton, Sachs or Bultaco 125cc powerplant and build the machine yourself. If you wanted a complete 125cc machine, it had to be Zundapp powered.
WHAT TO LOOK FOR: Today, you can still purchase new Rickman-replica frame kits, but no one would go through the expense of building a fake Rickman Zundapp 125. Parts are difficult to find for the Zundapp, especially with the earlier engine that is in this bike.
PARTS SUPPLY: Visit Rickman Motorcycles LTD at www.rickman-motorcycles.com. For Zundapp engine parts, contact www.fmunsters.nl.
For more info on classic bikes go to www.earlyyearsofmx.com