CLASSIC MOTOCROSS IRON: 1972 ZUNDAPP MC 125 DETONATOR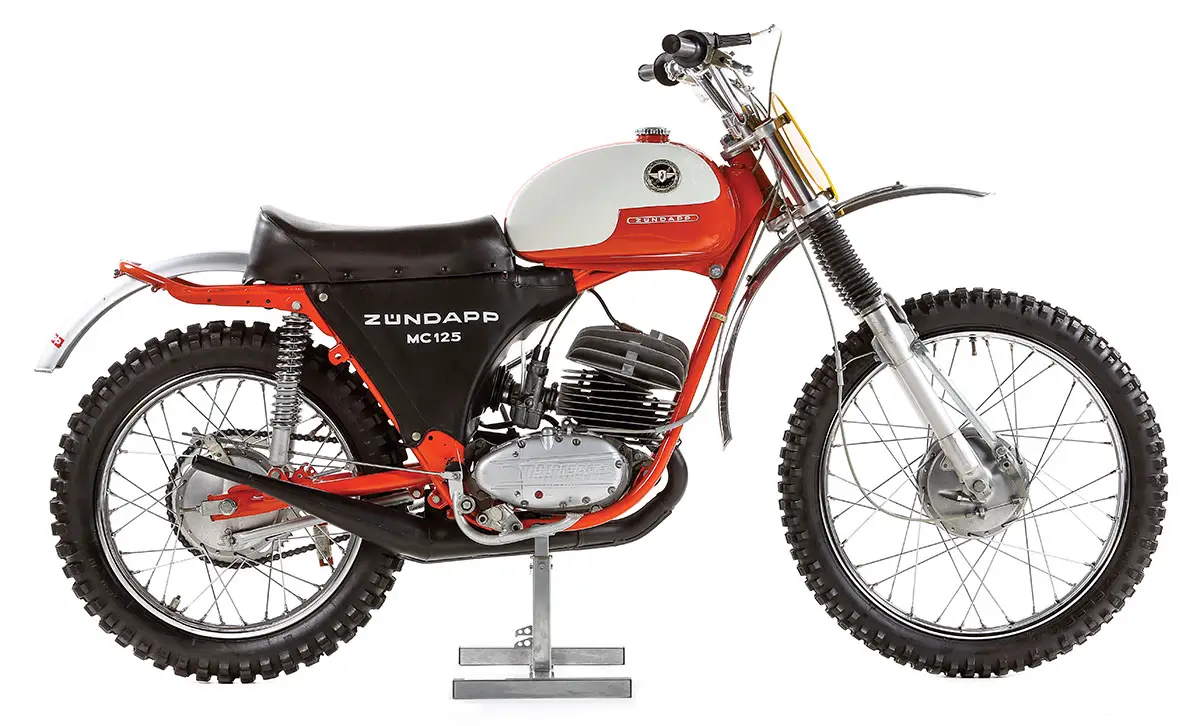 BY TOM WHITE
The 1972 Zundapp MC 125 was called the "Detonator." That may seem like a strange name for a motocross bike, but Zundapp was a company that started life as a producer of detonators (the devices used to set bombs off). Zundapp was founded in 1917 to build detonators for the German Army during World War I. After the war, owner Fritz Neumeyer turned Zundapp's attention to building motorcycles to satisfy the rising demand for affordable motorized transportation in post-war Germany. By 1933, Zundapp was building a "heavy motorcycle" that featured an enclosed driveshaft and crankshaft. The Zundapp KS750 used a flat-four boxer engine (a layout adopted by Honda for the Gold Wing in 1974), and 18,000 were produced for the German Wehrmacht in the Second World War. You often see Zundapp KS750s with a sidecar attached in World War II movies, including The Great Escape.
In 1958 Zundapp moved from Nuremberg to Munich to concentrate on building small two-stroke machines for civilian use in Germany. To prove the quality and performance of their little street bikes, the factory organized a race team to compete in the International Six-Day Trials (ISDT). Considered the ultimate test of man and machine, the ISDT was the proving grounds for European machinery. While competitors like Hercules and Zweirad Union chose bikes straight off their assembly lines with minor improvements, every Zundapp factory-backed ISDT bike was a custom-made competition machine that only externally resembled the Zundapp GS125 it was based on. 
Zundapp's success at the ISDT was legendary but very limited in motocross. The company's greatest motocross success was when Andre Malherbe won the 1973 and 1974 125 World Cup Championships the year before the race was elevated to  FIM World Championship standing.
The suggested retail price for a Zundapp MC125was $749. Zundapps were distributed in the USA by MED International on the West Coast (this was an Edison Dye-owned company) and by Rockford Motors on the East Coast. Vintage Zundapps are not high on vintage collectors' lists, as very few motocross models were sold in the USA. Zundapp made three models for the American market: the MC 125 (motocross), GS 125 (enduro) and KS 125 (street). The MC 125 used quality components. Collectors should look for Magura controls, Metzeler tires and Bing carburetors. The airbox has a Naugahyde enclosure, rubber-mounted front engine mounts, a steel fork brace and an artistic steel tank with a gold Zundapp logo.
MXA's example has never been ridden and is valued by the Early Years of Motocross Museum at $6000. The Zundapp factory was shuttered in 1984, and the name was sold to the Xunda Motor Company in Tianjin, China.