COOPER WEBB GIVES HIS OPINION: SHOULD SUPERCROSS BE THE FIRST SPORT TO COMPETE AGAIN?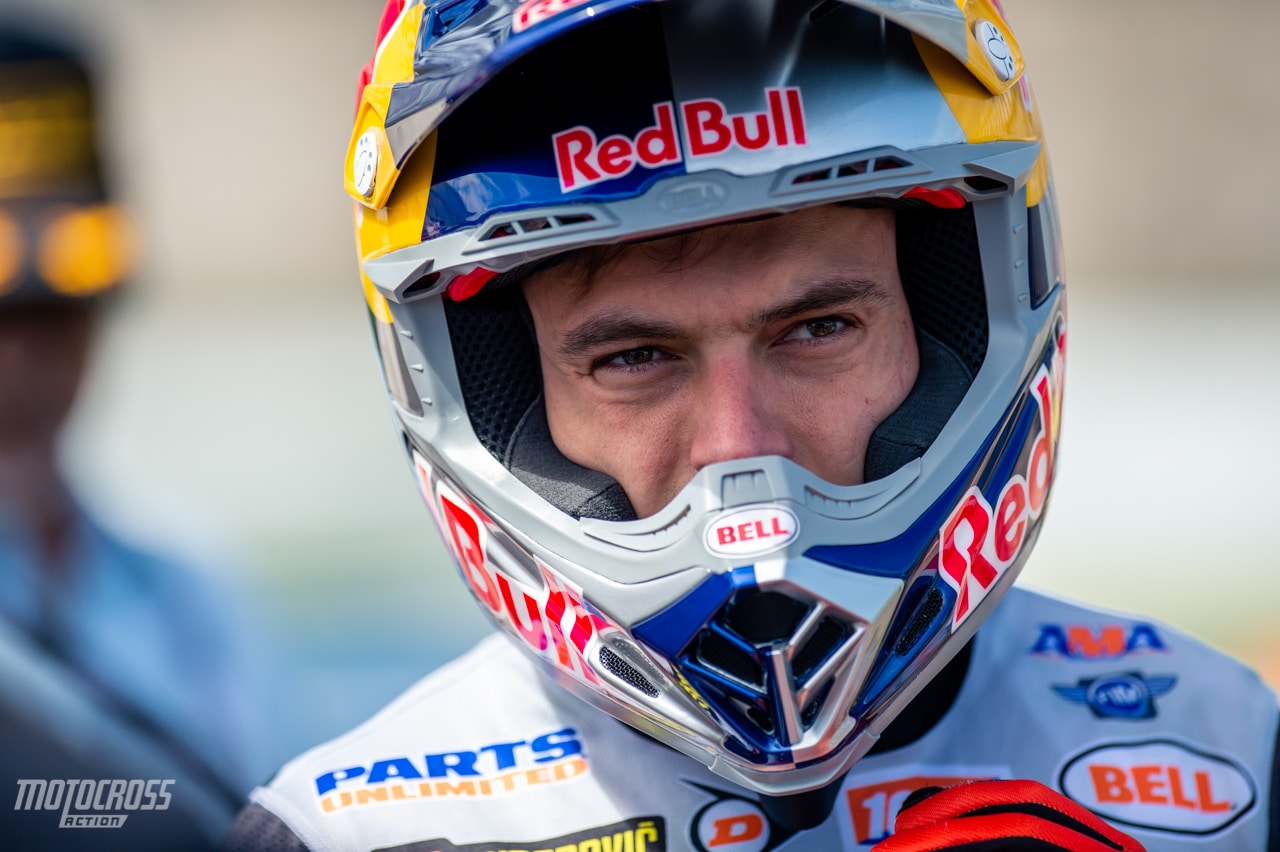 COOPER WEBB GIVES HIS OPINION: SHOULD SUPERCROSS BE THE FIRST SPORT TO COMPETE AGAIN?
Will the 2020 Supercross season be back underway sooner than we expected? While the world is in closure mode, there are people on both sides of the fence debating on what to do next. Some want to extend the forced shutdown believing that it will lessen the deadly effects of the coronavirus and put an end to it quicker, while others believe that we should open the economy back up to lessen the damage to countless other aspects of life (while still allowing those who don't want to go outside, to stay home).
We don't have political or medical answers here, but we are hopeful that the 2020 Supercross season and the AMA Nationals will be able to run this season. Not for our sake, because MXA's job remains the same with races or without them. We test bikes, evaluate products and do how-to articles whether the Pros are competing or not. But we hope this for our industry's benefit. As Cooper Webb states below, riders have taken pay cuts, race team, manufacture and other motocross industry employees have been laid off, furloughed or forced to take their paid vacation and nobody wants to see any of that.
Cooper Webb posted on his instagram Thursday morning, April 23rd, to give the world his thoughts on the situation. Multiple sources have told us that Feld Motorsports would be making a decision on Friday, April 24th, whether or not they'll be able to finish the season in an empty Phoenix, Arizona, stadium before the AMA Nationals start. But we find it hard to believe that they'll be able to have a clear answer on this by tomorrow as it's not really up to Feld, rather it's up to the CDC, the state of Arizona and the local governments to allow this to happen. You can scroll down to read Cooper Webb's opinion on the whole ordeal and for more info about the rumors of Supercross finishing before the Outdoors start, click the link below.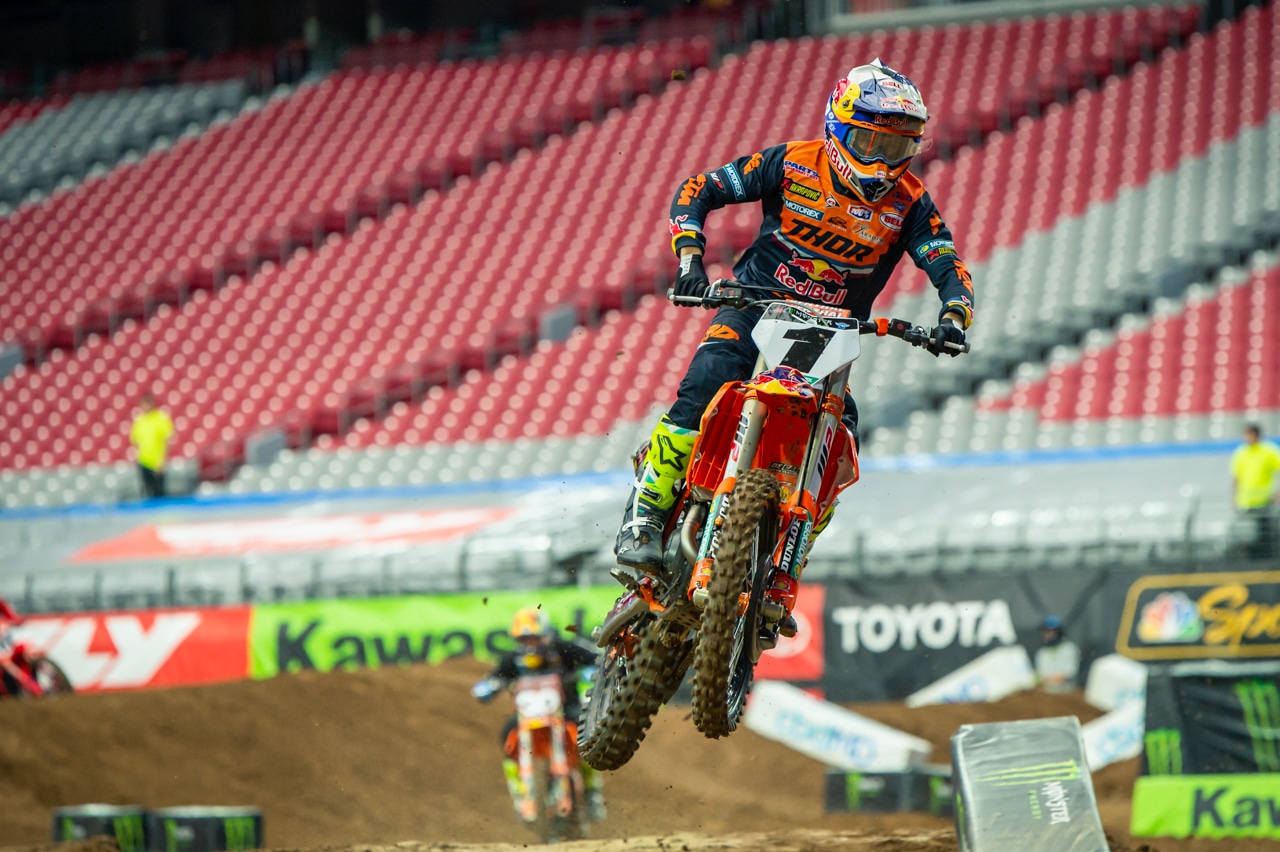 Cooper Webb in an empty State Farm stadium for the Glendale Supercross just outside of Phoenix, AZ, earlier this year for press day.
Cooper Webb posted via instagram: "As some of you know and have heard there's an opportunity to go racing around May 15th. I've been asked my opinion and have been on the phone talking to multiple different people about it the last few weeks. As of April 17th it sounded like a go, but as of yesterday it is becoming questionable because some teams and riders feel there isn't enough time to get ready. I'm blessed to be on @ktmusa where we are always #readytorace but this had me thinking a bit. Feld is prepared to bring back employees, work with the riders an teams to have very limited amount of people at the venue and in the stadium, have multiple health care workers to check every single persons temperature and symptoms every time we come into stadium, as well as to be the first sport back to action while practicing social distancing with some adjustments to the racing and schedule with unfortunately no fans allowed at stadium. I know myself and almost every person in our industry has had some pay deduction or even extreme been laid off until we are back racing. I feel as professional Supercross racers it's our jobs to be ready to race and do our jobs whenever called upon. As of April 17th an possibly prior riders got told of the possibility of racing May 15 which made it fair to everyone to know that in 4 weeks we could be back racing. With bikes ready, SX settings we already have, the 26 weeks of sx we've already done this year (off-season preparation) with 3-4 days of riding each of those weeks ( appx 95-105 days of riding sx) I feel like we should do our SX/Mx community a favor and try to be ready to race. With that being said it gives us an opportunity to grow our sport, give people jobs back, and give all you fans a chance to see us race on TV while we do everything possible to stay safe, clean and do the proper testing to insure we don't spread this virus. A bit of a rant but that's how I feel what do you guy think? Would you like to see us race @supercrosslive soon?"