COOPER WEBB INTERVIEW: "I AM VERY CONFIDENT AFTER THESE TWO RACES"
COOPER WEBB INTERVIEW: CONFIDENCE IS HIGH GOING INTO THE ANAHEIM 2 SUPERCROSS
Simply put, Red Bull KTM's Cooper Webb's 2022 was a disaster on the racing side. Maybe part bike, part rider, Webb was nowhere near the 2019, and 2021 seasons where he won the 450 Supercross titles. After an injury at the Detroit Supercross round this past season sidelined him for indoors, Webb would go on to take the summer off as well. In the downtime Cooper rode some off-road and welcomed the birth of his daughter. Coming into 2023, the North Carolina native was considered a big question mark. Now, two rounds in, Webb has been very solid with consecutive second place finishes. It appears that Webb and the team both went to work over the summer. Is cooper webb back? We think so. We caught up with him after the San Diego Supercross press conference. 
BY JIM KIMBALL
COOPER, ANOTHER SUPERCROSS, AND ANOTHER SECOND PLACE RESULT. STILL, DO YOU FEEL YOU IMPROVED? Yes, tonight was better. I got a better start and was able to lead some laps. I felt like I was riding well, and our pace was strong. I tried to latch on, and made up a little ground, but in the end the lappers caused me to lose a little ground. So, yes, overall, it was an improvement.
YOU LOOKED AWESOME AT ANAHEIM 1, AS YOU DID HERE. YOU LOOKED LIKE YOU DID A COUPLE YEARS AGO. It felt great. Like you said, I felt like my normal self, and like the years that I had during those championship seasons, where I came through the pack there at the end. I put on a late charge, which was awesome. I'm feeling good man. I felt like we had a great, great off-season with KTM, and myself. Being back with Aldon Baker and the routine I had is really gelling well and I'm feeling like I can go win. I am looking forward to this weekend back in Anaheim but like you said, so far, I feel great racing.
Adam Cianciarulo grabbed the holeshot and Cooper Webb had to pass him on lap 4 to get into the lead. 
YOUR CORNERING SEEMS TO BE NEXT LEVEL. Like you said, I feel cornering is my specialty and that has gotten back to me. Hopefully we can keep it up the whole seventeen round series.
THERE HAS ALREADY BEEN SO MUCH SAID ABOUT THE NEW BIKE. ARE YOU NOW GETTING IT DIALED IN TO WHERE IT NEEDS TO BE? Yes, with the new bike, everything was brand new. In 2021, we had such a great bike, and we were so used to it. So, for Supercross last year, they changed every component on the thing. Honestly, we just struggled last year. We got it a little late and did not get enough parts and enough time. This year, we pretty much started from scratch in the off-season and went through every part, piece by piece. And they (KTM) really listened to the rider this time. I feel like last year, maybe they were trying to make everything like the 2021 bike, but this thing was brand new. So, it took a while to get used to it. I think we are in a good spot no. I am confident with it, and that is felt standard throughout the team. I think everybody with the first year with a brand-new motorcycle, across the board, seems to have some time that they need to figure it out. I feel like we have it figured out now.
Cooper led for only one lap before the defending Champion, Eli Tomac, made his way by.
IT MUST BE DIFFICULT WITH SO MANY MOVING PARTS LITERALLY, AND WITH THE TEAM SPREAD OUT? Like you said, it is tough. There is always so many moving parts, right? It is tough to make it work for everyone right away. It takes racing, it takes data, it takes experience with it and race conditions. It is one thing where we go to practice track, and we ride the same track all the time. It feels great but once you get to a race, that is when you start to learn the most about the motorcycle. As I said, I last year, we were able to learn from some of the things that worked and learn from some of the things that did not. We are now into a much better spot.
The San Diego Supercross 450 Main Event podium. 
LAST SUMMER, YOU RACED LIKE SOME OFF-ROAD RACES AND SCRAMBLES. HOW FUN WAS THAT?  It was absolutely great. I was able to just ride dirt bikes for fun again, which I have not been able to do in about fifteen years. It was cool to do some off-road races, do some hare scrambles, and just some local racing. I rode all types of different KTM's throughout the summer, two-strokes, 125's, 450's, 250's. It was cool just to experience that again and see all the different bikes that KTM has made and see how good they really are. It was fun, and I enjoyed it a lot. It was a good reset mentally for me, and we were also able to start testing for Supercross a lot earlier. September was about when we started testing, and that allowed us time to run through stuff, and really have some productive days.
DID YOUR RIDE AT ANAHEIM 1 PROVE THAT THINGS ARE HEADING IN THE RIGHT DIRECTION? Yes. It was unfortunate that we got delayed for Oakland, but I think we are in the right spot. And honestly, as you go through the season, you will learn a little bit more here and there. We did a few small test sessions during this two weeks just to improve some things. I think we are really in a good spot and want to keep it going and hopefully go ahead and get the first win of the season soon.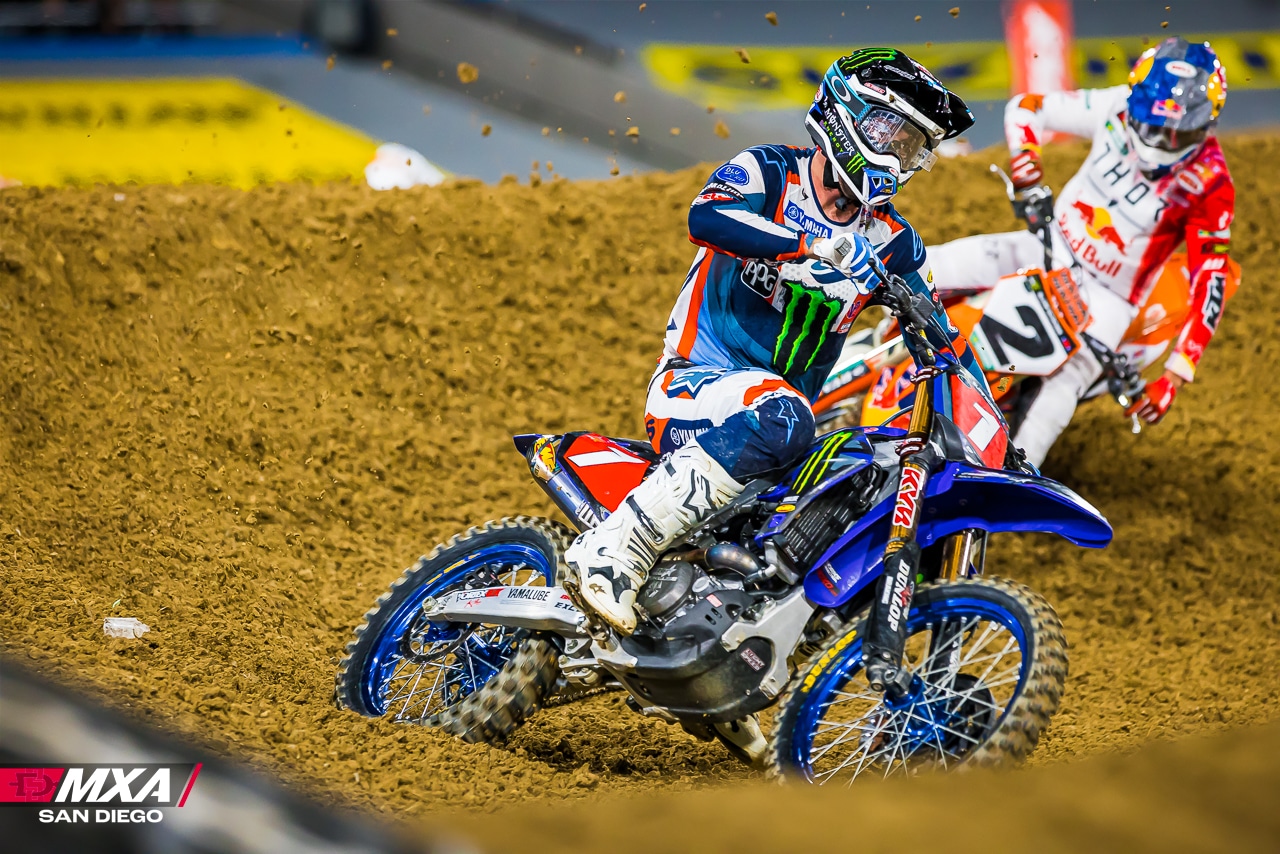 Cooper Webb chasing after Eli Tomac in the 450SX Main Event.
ON THE PERSONAL SIDE, YOU ARE NOW A FATHER. HOW HAS THAT CHANGED? It has been great!  It has really been a great chapter in my life and that wife, and I had a baby girl. So, it is super exciting, and I think for me, once I get done riding and away from the track, it gives me a lot of joy when I am at home to be around her and watch her grow.  It has been great.

AGAIN, YOU LOOKED AWESOME AT A1 AND SAN DIEGO. I AM EXCITED TO SEE HOW THE SEASON PLAYS OUT.  Yes, me too. I had a great run with not the best start. I had to work my way through the pack and pass some fast guys in Anaheim, and then got a better start and led a few laps in San Diego. I am very confident after these races, and I feel like I am in a good spot to put myself in another chance to win a championship this year. That is the goal and that is what we are going to work towards.