QUARANTINE PRODUCT TESTING WITH MXA: FXR HELIUM LE GEAR
MXA COVID-19 QUARANTINE PRODUCT TESTING WITH MXA:
FXR RACING HELIUM LE GEAR
Since the Coronavirus pandemic has shut down approximately 60 percent of Southern California, we've had to be frugal when testing our new FXR Helium limited edition gear. This Red and Black Helium LE gear recently hit the market and before we bring it to the track, we had make sure it passed the office test. Luckily, with the Helium's lightweight polyester-spandex mesh, we didn't overheat, even when we ran into writers block. The athletic fit and ultra-lightweight construction of the Helium gear kept us comfortable and unrestricted while making runs to and from the coffee room. All jokes aside, the Helium gear is very comfortable and of course we are big fans of the sublimated MXA logo in the front of the jersey.
The best way to write a gear test is by wearing the gear while you're writing it. Yes, this is 100 percent true. No, we aren't actually writing the test yet. Luckily we know some guys with private tracks we can ride on, 6-feet apart from each other of course, during the coronavirus quarantine.
Checking out the May issue of Motocross Action Magazine. Want a sneak peak at it? Click here.
Since FXR Racing first got into motocross in 2001, they've made a serious splash in the industry. Instead of paying big money to sponsor a Championship caliber rider off-the-bat, FXR focused on covering the privateers with their products and now, in 2020, former 2011 250 West Coast Champion, Broc Tickle became the brand's first "big named" Supercross rider. Not that Kyle Chisoholm, Chris Blose, Enzo Lopes, Jacob Hayes, Joey Crown, Jerry Robin and Chase Marquier aren't great riders, because they are, but they haven't won Supercross Main Events yet. By decking out many of the top privateers, FXR is getting exposure on the the starting line at Supercross and they're getting the FXR name out there.
Enzo Lopes (66) and Jerry Robin (67) wearing another FXR Racing Helium LE kit on the line at the Arlington Supercross. 
When we interviewed Club Mx Yamaha rider, Enzo Lopes we had a chance to ask him about his FXR gear. Enzo Lopes said: "Oh, it is awesome. They are a great group of guys and they have really, really cool gear. It fits very well."  We also asked Jacob Hayes the same question. After riding for multiple different teams and wearing many different brands over the years, Jacob said: "FXR has been by far the most comfortable gear I have ever worn. They have put a lot of effort into their product and I think it shows. They definitely put themselves on the radar of being a great gear company, and a great company just in general."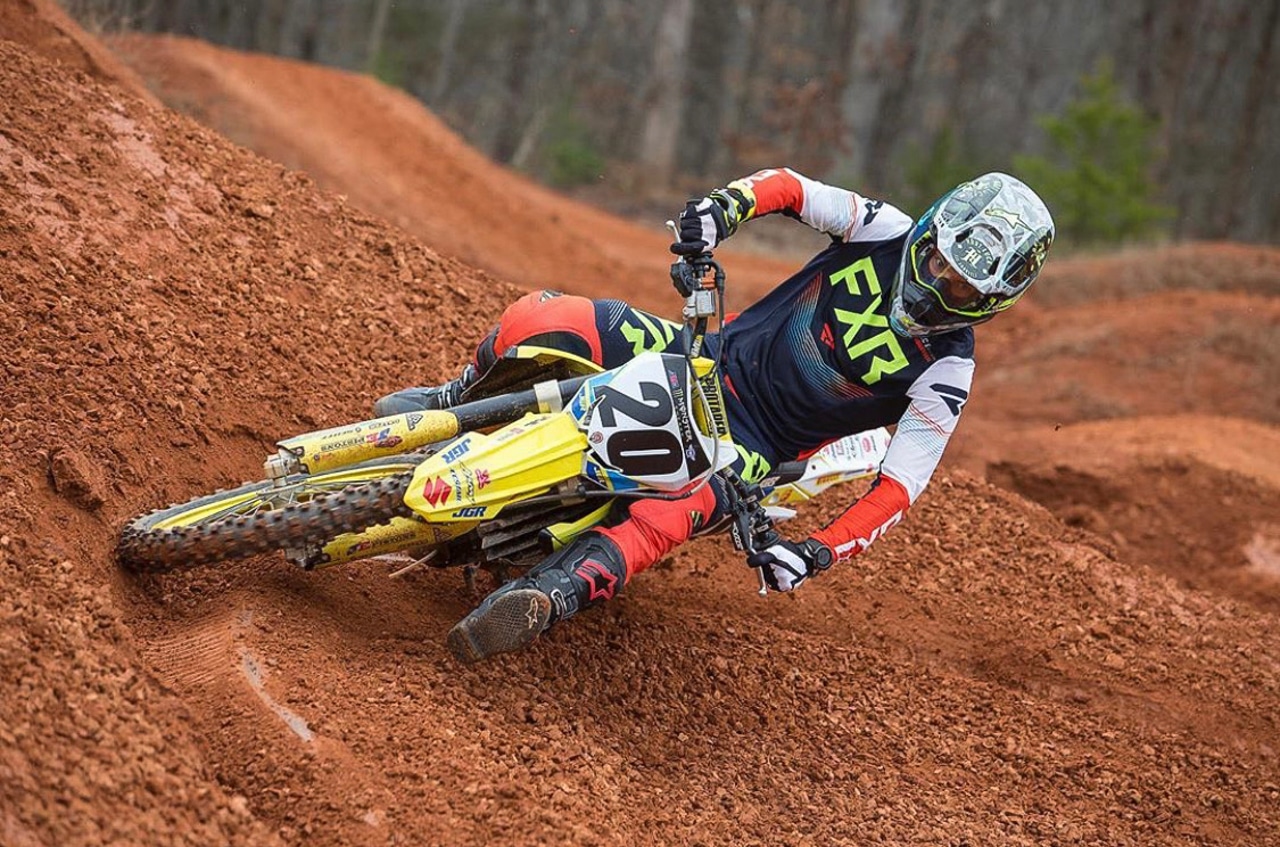 Broc Tickle wearing another set of FXR's Helium LE gear. This is the Mightnight/Hi-vis/Nuke color way. 
FXR HELIUM DETAILS & SPECS
Lightweight polyester-spandex mesh combined with high performance polyester knit
Superior air flow design in the arms and shoulders
Athletic fit with ultra-lightweight construction
Moisture-wicking yarns provide quick-dry performance
Shaped front collar and tapered cuff
Drop-tail hem and long length protect midriff exposure
Fade-free sublimation prints
Check out www.fxrracing.com for more info
After a day at the office, we're always more tired than we are after a day at the track.
FXR RACING'S 30–DAY SATISFACTION GUARANTEE
FXR is a premium apparel company and wants to ensure you are completely satisfied with your purchase of FXR Racing Product. If for any reason you are unhappy with an item you have purchased, you have 30 days within receiving your order shipped confirmation email to request a return!
Remember that thing that was allover the internet for a few days when everyone was balancing their brooms and blaming it on the earth's abnormal amount of rotational pull? It was a myth.