CZECHO 250/450 MOTOCROSS GRAND PRIX: MORE OF THE SAME AS TONY CAIROLI WINS HIS 50TH GRAND PRIX

Tony Cairoli. Photo: Ray Archer
Five-time world champion Tony Cairoli wrote himself into the sport's history books on Sunday when he won his 50th Grand Prix victory Czech Republic Grand Prix. Only three riders have ever achieved the 50-win milestone, Joel Robert in the 1970s and Joel Smets and Stefan Everts in the ?90s.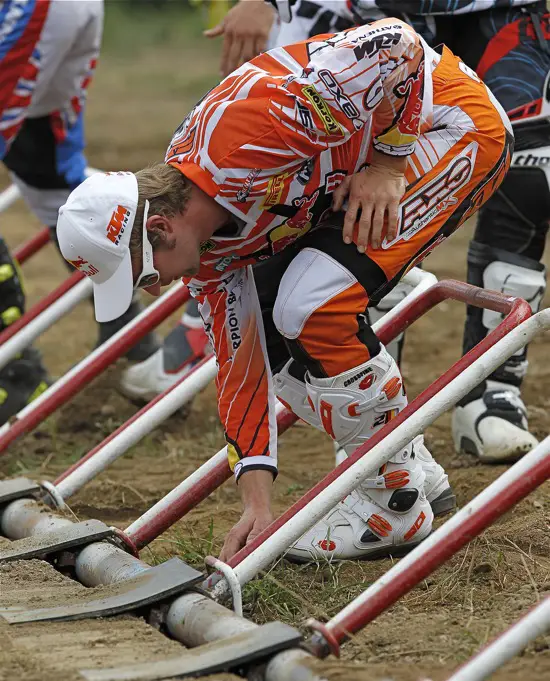 Max Nagl will be dropped by KTM at the end of ther2012 season, so he is riding to impress the Honda, Kawasaki, Suzuki and Honda bosses. Photo: Ray Archer

Ken DeDycker wants to beat Max Nagl, but it didn't happen in Czecho. Photo: Ray Archer

Tanel Leok went 12-6 for ninth in the 450 class, while Clement Desalle was third overall with a 4-2. Martin Michek (232) was 16th overall.

CZECHO RESULTS: 450 Class
1. Antonio Cairoli…1-1
2. Christophe Pourcel…2-3
3. Clement Desalle…4-2
4. Max Nagl…3-4
5. Xavier Boog…6-7
6. Ken de Dycker…7-8
7. Rui Goncalves…11-5
8. Gautier Paulin…5-11
9. Tanel Leok…12-6
10. Gregory Aranda…..10-9
Other notables: 11. Evgeny Bobryshev…9-10; 12. Shaun Simpson…8-14; 13. David Guarneri…13-13; 14. Kevin Strijbos…15-12; 18. Sebastien Pourcel…16-28; 17. Jonathan Barragan…27-16.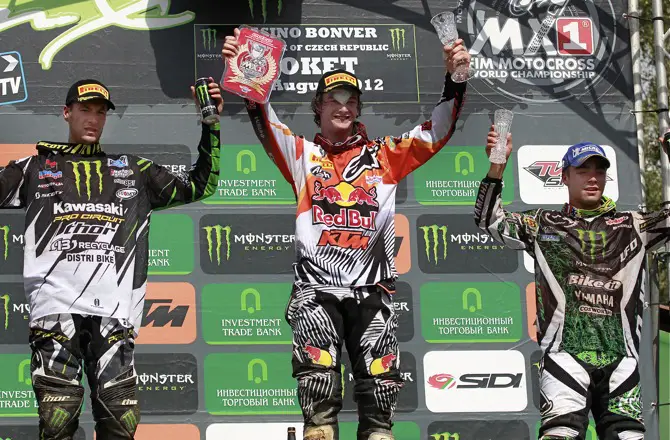 Tommy Searle, Jeffrey Herlings (with bandage on his forehead from his Russian car crash) and Zach Osborne. Photo: Ray Archer

Zach Osborne (338) made the podium in Czecho.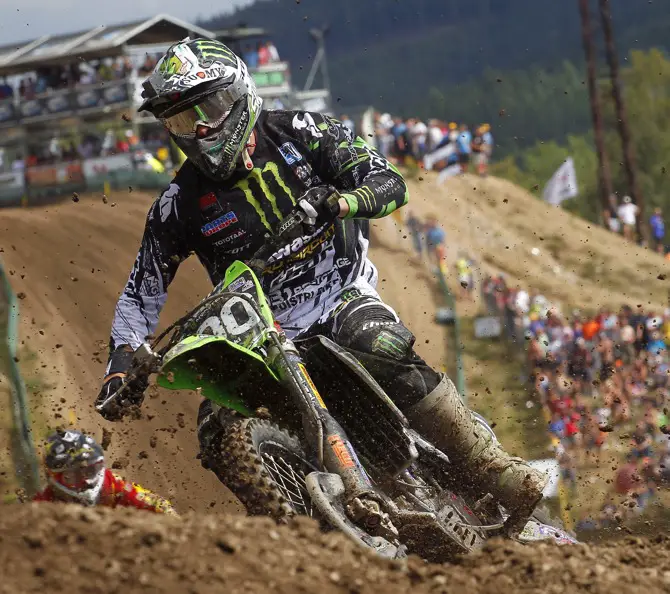 Tommy Searle (100) is watching his last chance at being 250 World Champion slip away.
CZECHO RESULTS: 250 Class
1. Jeffrey Herlings…1-1
2. Tommy Searle….2-3
3. Zach Osborne…4-4  
4. Jake Nicholls…3- 5
5. Romain Febvre…8-6
6. Valentin Teillet……9-7
7. Max Anstie…5-12   
8. Joel Roelants…10-9
9. Jose Butron…6-13
10. Jeremy van Horebeek…31-2
Other notables: 11. Dylan Ferrandis…14-8; 12. Glenn Coldenhoff…13-11; 13. Alessandro Lupino…7-17; 14. Alexander Tonkov…34-10; 16. Jordi Tixier…11-34; 18. Elliott Banks-Browne…12-31.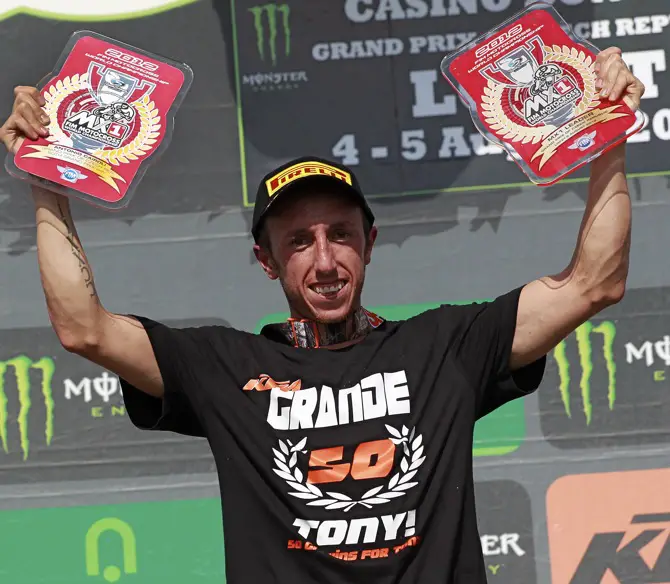 Cairoli celebrates his 50th GP victory. Photo: Ray Archer

Honda's Rui Goncalves had an 11-5 day in Czecho and is hanging on in ninth in points, but is now mathematically eliminated from the title chase.

FIM 450 WORLD CHAMPIONSHIP POINTS STANDINGS
(after 12 of 16 events)
1. Cairoli, Antonio…492
2. Desalle, Clement…462
3. Pourcel, Christophe…435
4. Paulin, Gautier…402
5. de Dycker, Ken…368
6. Strijbos, Kevin…319
7. Boog, Xavier…306
8. Leok, Tanel…277
9. Goncalves, Rui…273
10. Shaun Simpson…223

Jeremy Van Horebeek lost a big chunk of change to Herlings in the Czech Republic. Jeremy is 89 points back from the lead…which his number signifies. Photo: Ray Archer

Valentin Teillet (37) grabs the holeshot with Glenn Coldenhoff (25) in tow in the 250 class.

FIM 250 WORLD CHAMPIONSHIP POINTS STANDINGS
(after 12 of 16 events)
1. Herlings, Jeremy…528
2. Searle, Tommy…471
3. van Horebeek, Jeremy…439
4. Roelants, Joel…367
5. Nicholls, Jake…325
6. Tixier, Jordi…319
7. Anstie, Max…263    
8. Butron, Jose…241
9. Ferrandis, Dylan…233
10. Lupino, Alessandro…214
TAKE A LAP OF THE CZECH GP TRACK WITH RUI GONCALVES