MOTOCROSS ACTION WEEKEND NEWS UPDATE: SLOW DOWN, IT'S COMING
RYAN VILLOPOTO FLUNKS MOTOCROSS 101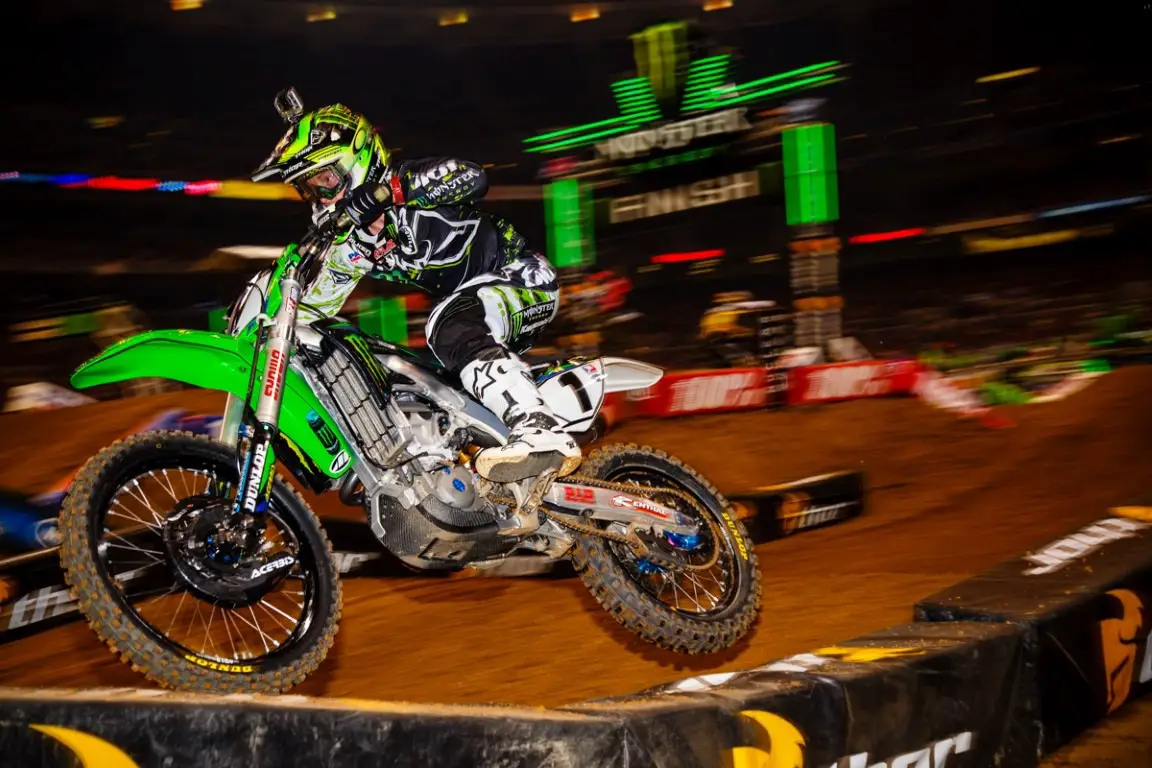 Ryan Villopoto is a motocross history beginner.
When asked about racing the GPs in an interview that ran on virtually every moto website this week, Ryan was asked about the possibility of winning. He said, "First of all, to have an American win in the first year would be huge."
The facts: Ryan Villopoto would not be the first American to win in his first year—that as done by Danny LaPorte back in 1982…and it was huge.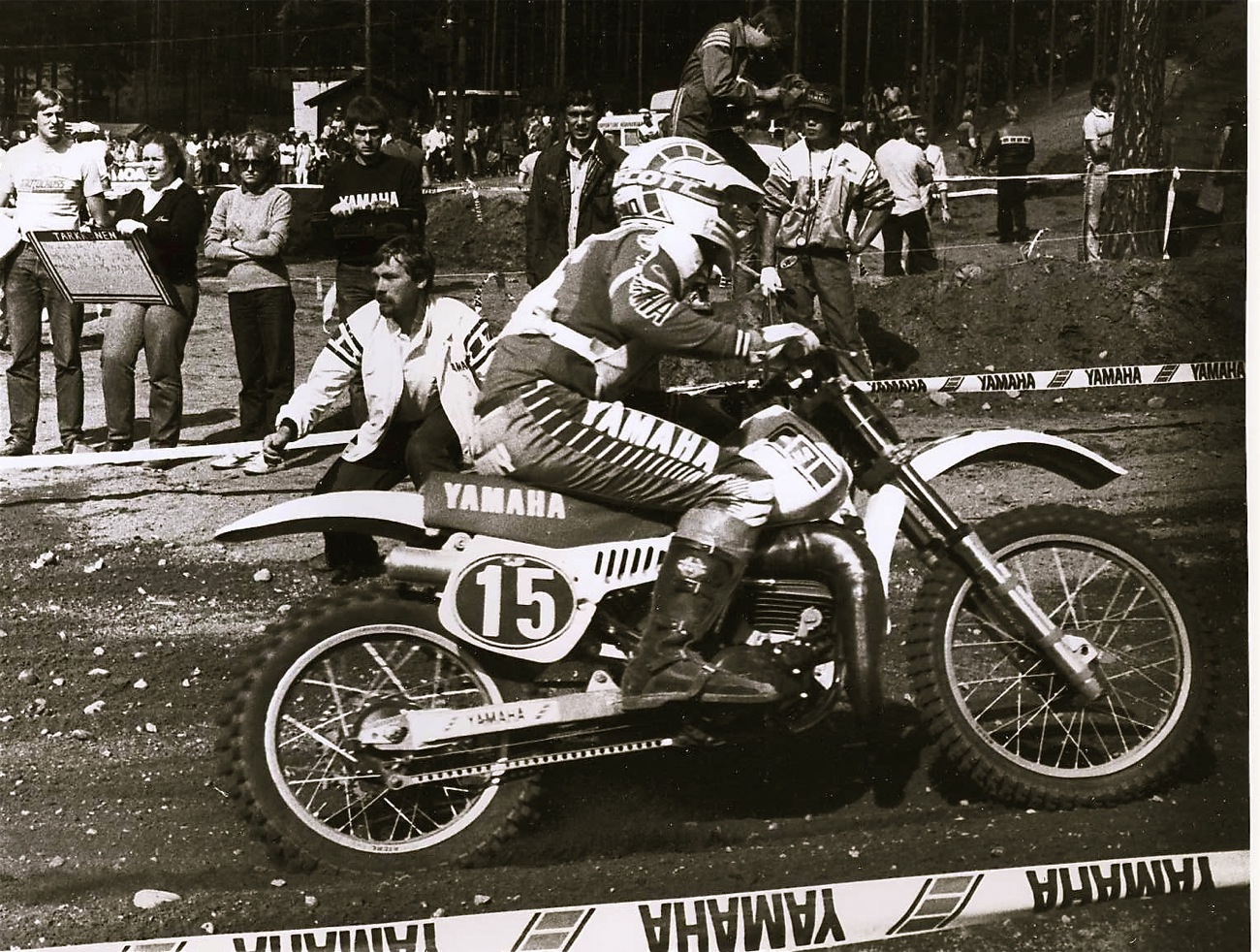 Danny LaPorte won the FIM 250 World Championship in his first year in Europe back in 1982.
Ryan added, "Once again, this is something that has never been done. This is an American rider going to Europe, not a European coming this way."
The facts: Sorry Ryan, but you are not a pioneer. Many Americans have gone to Europe before you—including AMA National Champions and MXDN team members. And saying that it has "never been done " shows a serious lack of knowledge about the sport, but worse gives short shrift to Marty Smith, Mike Healey, Donny Schmit, Bobby Moore, Jim Pomeroy, Brad Lackey, Marty Tripes, Phil Larson, Danny Chandler, Mike Young, Gary Semics, Danny LaPorte, Jim Gibson, Mike Brown, Bader Manneh, Ryan Hughes, Trampas Parker, Mark Blackwell, Billy Liles, Tallon Vohland, Rodney Smith, Broc Glover, Jimmy Decotis, Chuck Sun, Marty Moates, Jimmy Albertson, Mike Guerra and others. Not to mention the fact that neither the interviewer nor the websites corrected Ryan's repeated errors.

Then Ryan said, "Looking at going to Europe and making that move and being the first one to do that, that wasn't what drove me at first either."
The facts: If Ryan Villopoto manages to win a World Championship he won't be the first one to do it. He won't be the second. He won't be the third. He won't be the fourth. He won't be the fifth. He won't be sixth. He won't be seventh. He won't be the eighth. But, he will be ninth — after the following American World Champions (who among 6 share 8 title).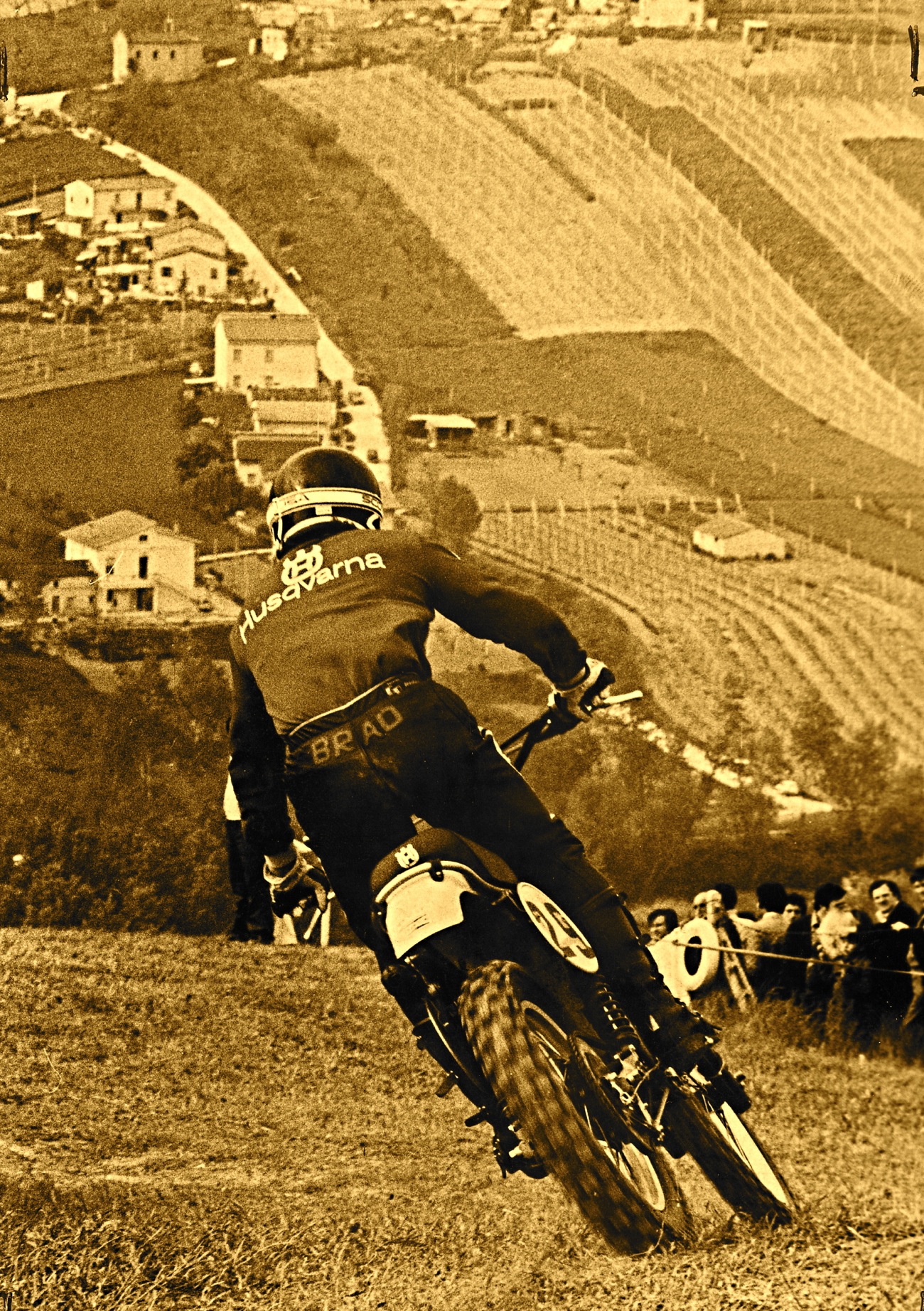 Brad Lackey was the first American to win an FIM 500 World Championship —one week before Danny LaPorte won the 250 title.
1982… Brad Lackey (500)
1982… Danny LaPorte (250)
1989… Trampas Parker (125)
1990… Donny Schmit (125)
1991… Trampas Parker (250)
1992… Donny Schmit (250)
1994… Bobby Moore (125)
1991… Trampas Parker (250)
Come on, Ryan. Learn about your sport. This is basic stuff.
SLOW WEEK! THIS WEEKEND'S RACING RESULTS

Taylor Robert (left), Cody Webb (center) and Taddy Blazusiak (right) made the Salt Lake City podium. Photo: Drew Ruiz

ENDUROCROSS RESULTS: SALT LAKE CITY
1. Cody Webb
2. Taddy Blazusiak
3. Taylor Robert
4. Mike Brown
5. Colton Haaker
6. Max Gerston
7. Ty Tremaine
8. Nick Thompson
9. Bobby Prochnau
10. Geoff Aaron
SWEDISH SUPERCROSS RESULTS: 450 CLASS
1. Jason Anderson
2. Mike Alessi
3. Phil Nicoletti
4. Josh Hill
5. Shane McElrath
6. Fabien Izoird
7. Jake Canada
8. Jack Brunell
9. Loic Rombaut
10. Toni Eriksson

AUSSIE SUPERCROSS RESULTS: 450 CLASS (ROUND ONE)
1. Matt Moss
2. Adam Monea
3. Kirk Gibbs
4. Lawson Bopping
5. Kade Mosig
6. Sam Martin
7. Jake Moss
8. Jay Marmont
9. Josh Cachia
10. Jesse Dobson
AUSSIE SUPERCROSS RESULTS: 250 CLASS (ROUND ONE)
1. Brendan Harrison
2. Kyle Peters
3. Gavin Faith
4. Jackson Richardson
5. Lewis Woods
6. Hayden Mellross
7. Taylor Potter
8. Ryan Marmont
9. Luke Arbon
10. Nick Sutherland
AUSSIE SUPERCROSS RESULTS: 450 CLASS (ROUND TWO)
1. Matt Moss
2. Adam Monea
3. Lawson Bopping
4. Kirk Gibbs
5. Jake Moss
6. Sam Martin
7. Jesse Dobson
8. Kade Mosig
9. Daniel McCoy
10. Josh Cachia
AUSSIE SUPERCROSS RESULTS: 250 CLASS (ROUND TWO)
1. Gavin Faith
2. Taylor Potter
3. Kale Makeham
4. Brenden Harrison
5. Jackson Richardson
6. Kyle Peters
7. Hayden Mellross
8. Luke Arbon
9. Nick Sutherland
10. Ryan Marmont
RESULTS: 24 HOURS OF GLEN HELEN      
OPEN PRO:
1. Robby Bell / Justin Seeds / Ryan Dudek / Ryan Abbotoye
2. Colton Udall / Sean Collier / Mark Samuel / Ian Young
3. Nick Stover / Nick Garvin / Kevin Barboasa / Bryan Birch
OVER-30:
1. Kelly Gelhaus
OVER-40:
1. Jerry Black
OVER-50
1. Kris Goolsby
IRONMAN
1. Robert Foster
WOMEN
1. Ashley Jung
MXA PHOTO OF THE DAY: SOMETHING YOU NEVER WANT TO HAPPEN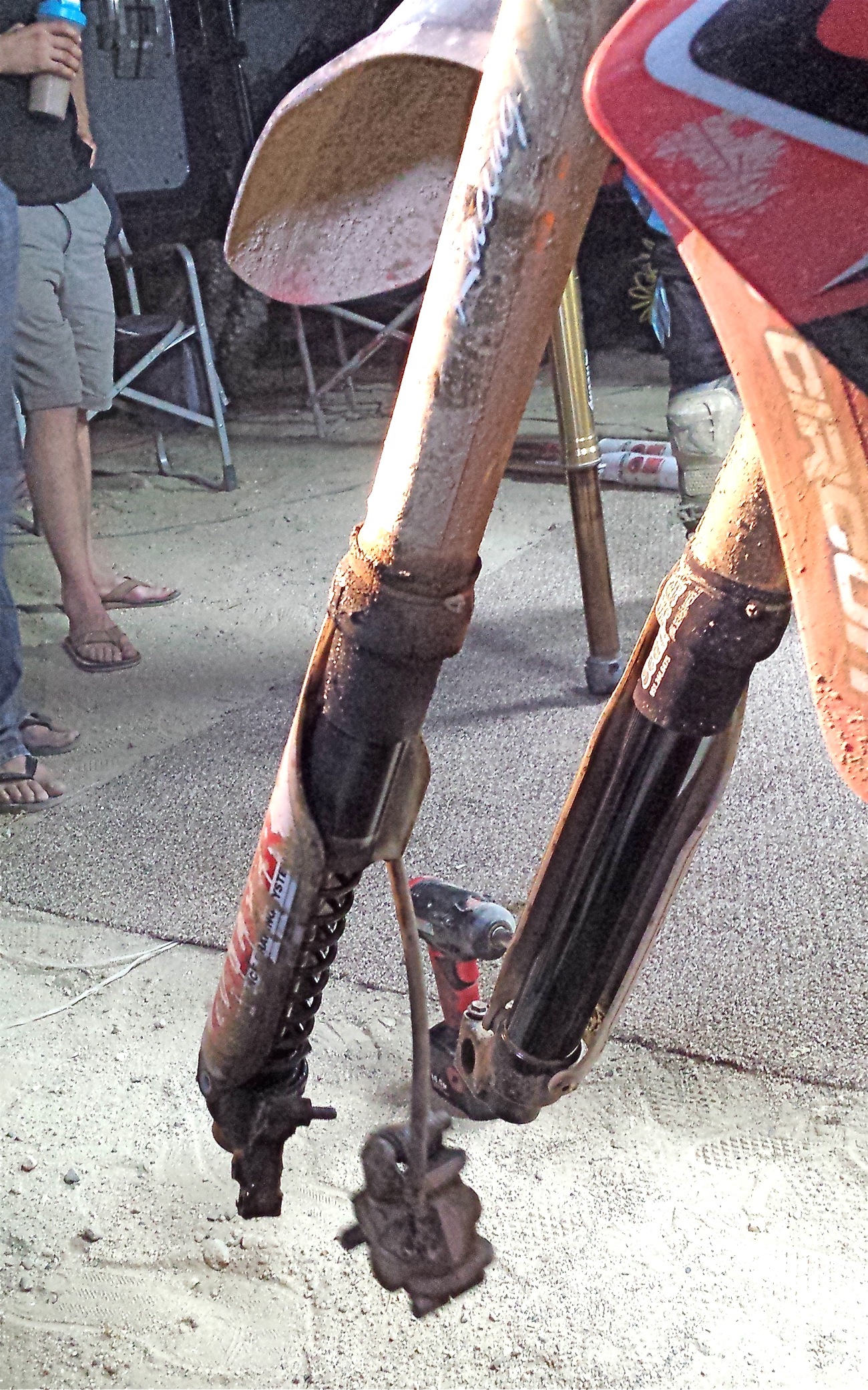 The fork leg on Colton Udall's Honda CRF450X came unthreaded from the fork lug in the middle of the "24 Hours of Glen Helen." The forks stayed together because of the cartridge rod. Photo: John Perry

CLEAR YOUR SCHEDULE SO YOU CAN BE AT THESE UPCOMING RACES

2014 AUSTRALIAN SUPERCROSS CHAMPIONSHIP
October 18………..Phillip Island
October 19………..Phillip Island
November 8………Brisbane
2014 GEICO ENDUROCROSS  CHAMPIONSHIP
October 18…Everett, WA
November 15…Boise, ID
November 22…Ontario, CA
2014 MONSTER CUP
October 18….Las Vegas, NV
2014 WORLD OFFROAD CHAMPIONSHIP (WORCS) SERIES
October 17-19…Primm, NV
2013 ALL-JAPAN MOTOCROSS CHAMPIONSHIP
October 26…………Sugo
2014 CANADIAN ARENACROSS CHAMPIONSHIP
October 24-25…………..Armstrong, BC
November 7-8…………..Cloverdale, BC
November 28-29……….Chilliwack, BC
December 5-6……………Chilliwack, BC
2014 REM OCTOBERCROSS (FORMERLY COMMOTION BY THE OCEAN)
October 25………………..Glen Helen, CA
2014 WORLD VETERAN MOTOCROSS CHAMPIONSHIP
November 1-2…………….Glen Helen, CA
2014 PARIS SUPERCROSS
November 15-16……………Bercy
MXA TEST RIDER REMINDER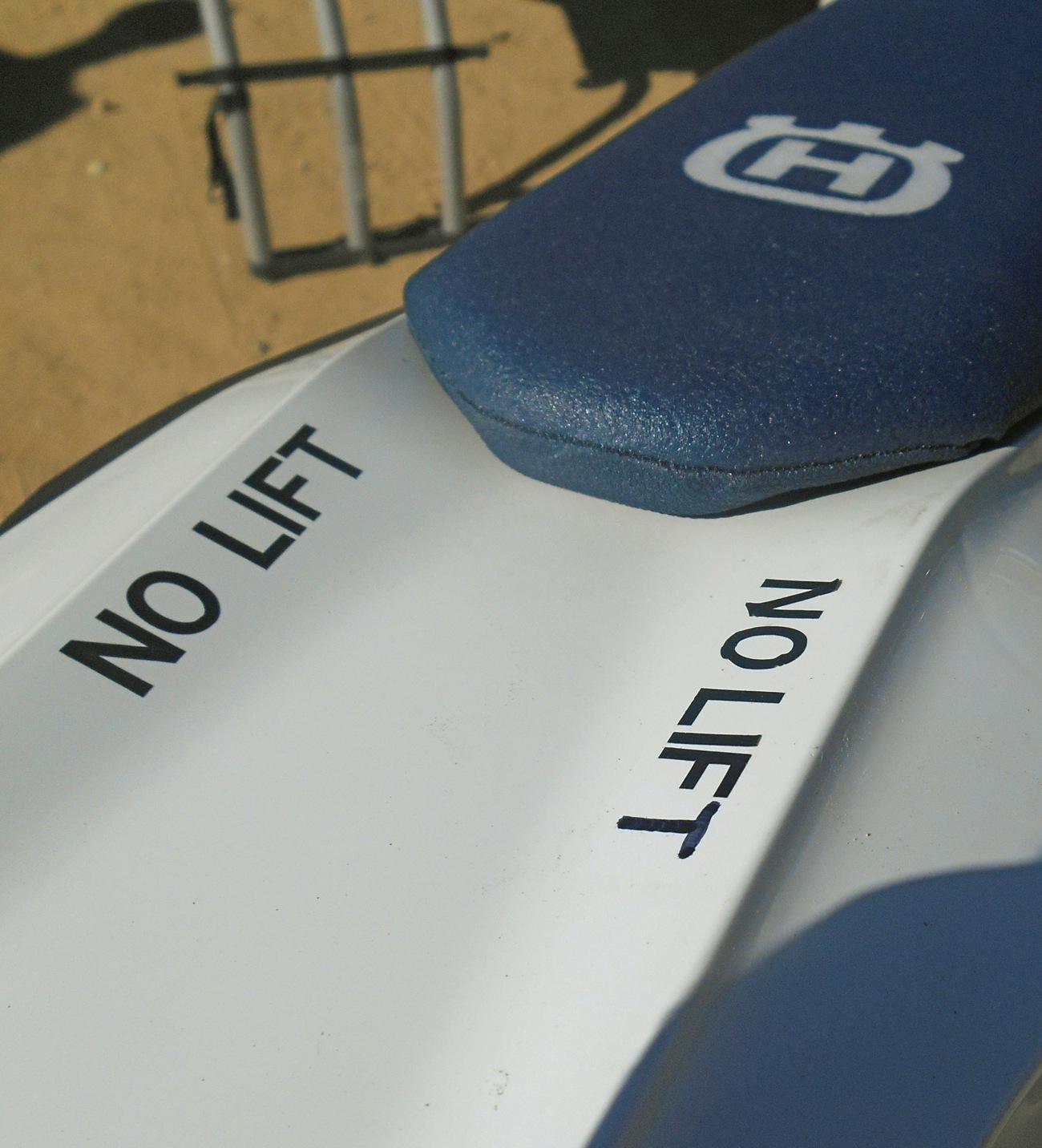 Never pick a Husqvarna up by its rear fender. Only use the hand holds. MXA puts these airplane stickers on the rear fenders to remind the test riders — and it doesn't always work.

2015 FIM WORLD MOTOCROSS CHAMPIONSHIP
Jeffrey Herlings (right) will be back in the 250 class in 2015 to try to get his former number one plate away from new Kawasaki rider Jordi Tixier (left).
Feb. 28…………………Losail, Qatar
March 8………………..Si Racha, Thailand
March 29………………Neuwuen, Argentina
April 19………………..Arco di Trento, Italy
April 26………………..Valkenswaard, Holland
May 10…………………Talavera, Spain
May 24…………………Matterley Basin, Great Britain
May 31…………………Villars Sous Ecot, France
June 14………………..Maggiora, Italy
June 21………………..Teutschenthal, Germany
July 5…………………..Uddevalla, Sweden
July 12…………………Kegums, Latvia
July 26…………………Loket, Czech Republic
Aug 2…………………..Lommel, Belgium
Aug 16…………………Trinidade, Brazil
Aug 30…………………Assen, Holland
Sept 13…………………Leon, Mexico
Sept. 20……………….Glen Helen, USA
THIS WEEK'S BIRTHDAY BOYS: ALBEE TURNS 42

Former World and AMA National Champion Greg Albnertyn celebrates his 42nd on Monday.
Oct. 10…Jeff Cernic
Oct. 12…Cody Cooper 1983
Oct. 13…Greg Albertyn 1972
Oct. 13…Mike Shield
Oct. 14…Todd Lentz
Oct. 14…Ron Joynt
Oct. 15…Matt Walker 1981
Oct. 15…Jimmy Decotis 1991
Oct. 16…P.J. Larsen 1990
MXA TRICK OF THE WEEK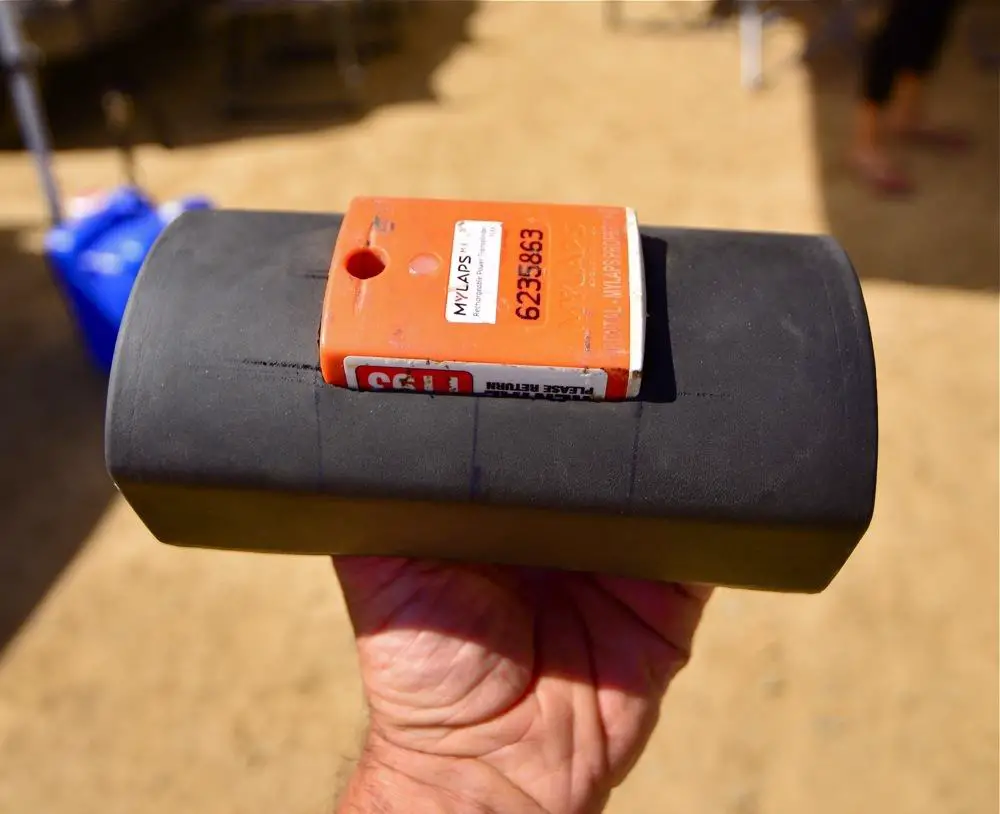 Most riders struggle with mounting their transponders, but Ken Ehlers came up with a slick solution. He cut a cavity in his Renthal crossbar pad and put his transponder in it. No zip-ties. No duct tape. No hassles.
DUCATI-POWERED VOLKSWAGEN XL SPORT PROTOTYPE
Volkswagen's 197-hp two-seat XL Sport is powered by the Ducati's 90-degree, 1199cc, Superleggera, V-twin engine. It is mated to a seven-speed, dual-clutch, DSG transmission.
BAGGETT TO WEAR JUST 1 HELMETS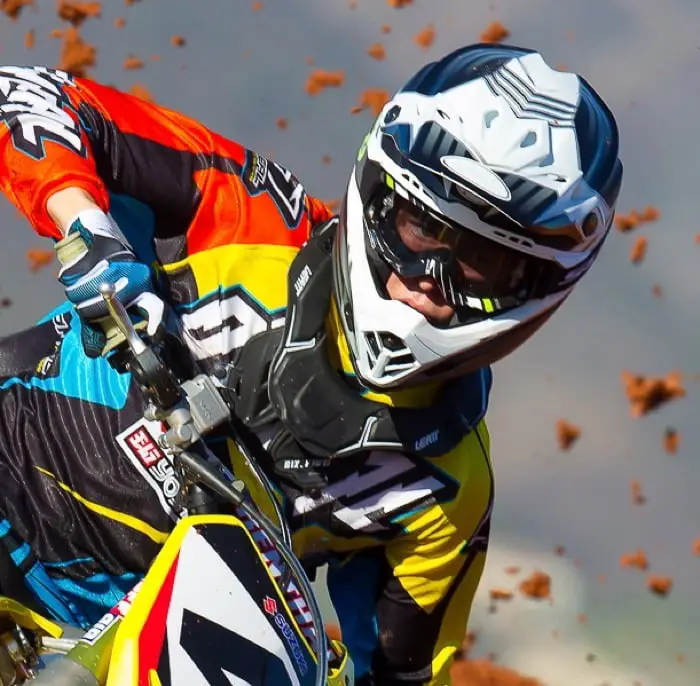 Blake in his new O'Neal gear and a photoshopped helmet.
Because he is moving from the Pro Circuit team, and their Thor clothing and helmet deal, to Yoshimura Suzuki, Blake Baggett is free to sign all new clothing and helmet deals. No surprise that O'Neal snapped up Baggett, but what was a surprise was that Baggett signed to wear a Just 1 helmet. Never heard of them? That's because the Italian helmet isn't available in the USA…yet.

This is what a Just 1 helmet looks like.
In fact, Even Blake didn't have one when he shot his Suzuki publicity photos—as he is shown above wearing a photoshopped Bell helmet. Baggett will begin wearing a Just 1 helmet at the Monster Cup next weekend. Just 1 will offer a Baggett Replica later this year.
HONDA'S MOST CREATIVE TV AD EVER

WHAT THE MXA WRECKING CREW HAS BEEN UP THIS WEEK (A PHOTO SAYS A THOUSAND WORDS)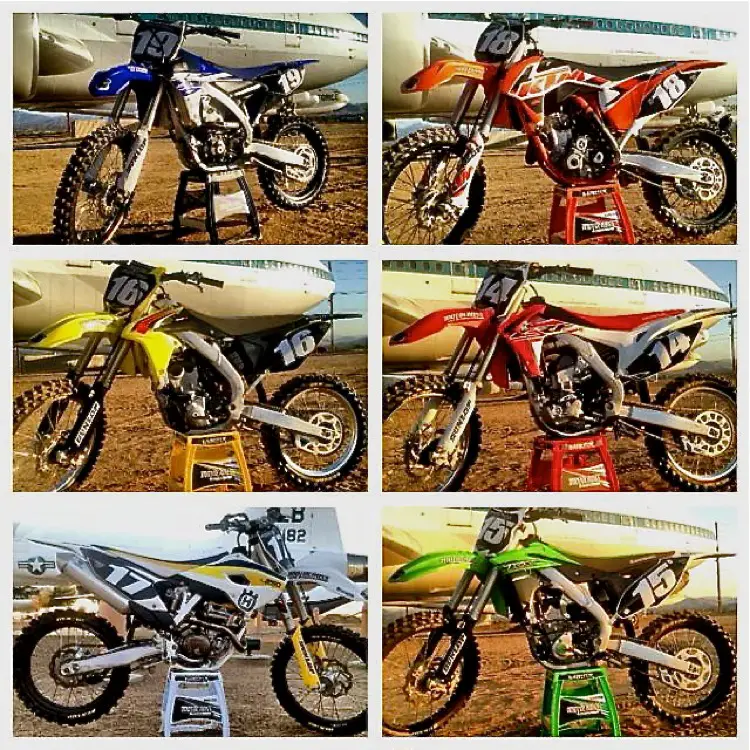 If you guessed that we didn't take a taxi to the airport — you would be right.
RYAN VILLOPOTO ON HIS EURO DECISION
2014 REM OCTOBERCROSS COMING IN OCTOBER 25 — DID YOU THINK IT WOULD BE IN JULY?

For more info go to www.remsatmx.com
SEBASTIEN TORTELLI TO DO MX SCHOOL AFTER OCTOBERCROSS, BUT BEFORE THE WORLD VET

Two-time World Champion Sebastien Tortelli from Champ Factory Motocross School is pleased to announce a full two-day training camp October 27-28, 2014 at Glen Helen Raceway in San Bernardino, California. The track will be reserved exclusively to the students of the Champ Factory MX camp to perfect their riding and get ready for the upcoming race events. Tortelli and his professional staff will have the students from 9:00 a.m. to 4:00 p.m. with for two full days with an hour lunch break each day. The camp will be open to all levels of riders that want to learn or racers of the World Vet Championship. We will focus on technique in cornering, jumps, line selection, starts, passing and sprint laps and more.
The two-day training camp is $400 for both days and you can reserve a spot by signing up at www.champfactory.com. Space is limited, so sign up by next week to get a Champ Factory T-shirt, special discount from Matrix Concepts, 100% Goggles, and more Champ Factory partners. If you have additional questions, please call (858)866-6107.
LOOKING FOR SOMETHING A LITTLE DIFFERENT?
Much like TM in Italy, Czech manufacturer VM Motors build kart engines. The VM MX450 features a slant-back-style engine, ala Yamaha, housed in a hanger frame with a girder-style swingarm. The suspension is by Ohlins.
The exhaust pipe exits out of the back of the cylinder and loops around before exiting to the right side muffer. The swingarm pivots on a forging that is bolted to the upper birdcage.
PANIC REV'S "CAMP REV" COMING IN DECEMBER


For more info contact [email protected] or (626) 991-1877.
FREE RIDE DAY AT GLEN HELEN (QUADS, BIKES, SXS, RZRS) ON NOVEMBER 7

I would like to personally invite you to a free offroad ride day out at Glen Helen Raceway, Friday, November 7, 2014. This is the Second Annual Utility OffRoad event and all bikes, quads, 4 wheelers and RZR's — all levels are welcome.  The purpose of this event is to get the offroad enthusiasts or fans, that work in the utility industry, to come out and have some fun offroad riding together. I have been in the utility industry for almost four years and have met many offroad enthusiasts, that I thought this event would be an awesome way to connect, while having a great time.
Please come out to Glen Helen on Friday, November 7,for a free event sponsored by Pacific Power Reps and manufacturers. The In-N-Out Truck will be there for lunch, serving up your favorite burger. We will also be having a raffle and auction with great prizes. All money that is raised will go directly to an Injured Lineman Fund. Please note that all level of riders and spectators are welcome.  Glen Helen Raceway is a race park with several hundred acres of tracks, trails, and a parking area for all levels, from beginner to Pro.
No bike? No problem! Suzuki will be out there with demo bikes and quads to test and ride, so dust off the cobwebs and come out. Please RSVP if you plan to come out at [email protected]
Thanks, Greg Albertyn
MEMORIES OF THE WAY WE WERE: WE WERE AN AGGRESSIVE GROUP
2014 WORLD VET MOTOCROSS CHAMPIONSHIP IS THREE WEEKS AWAY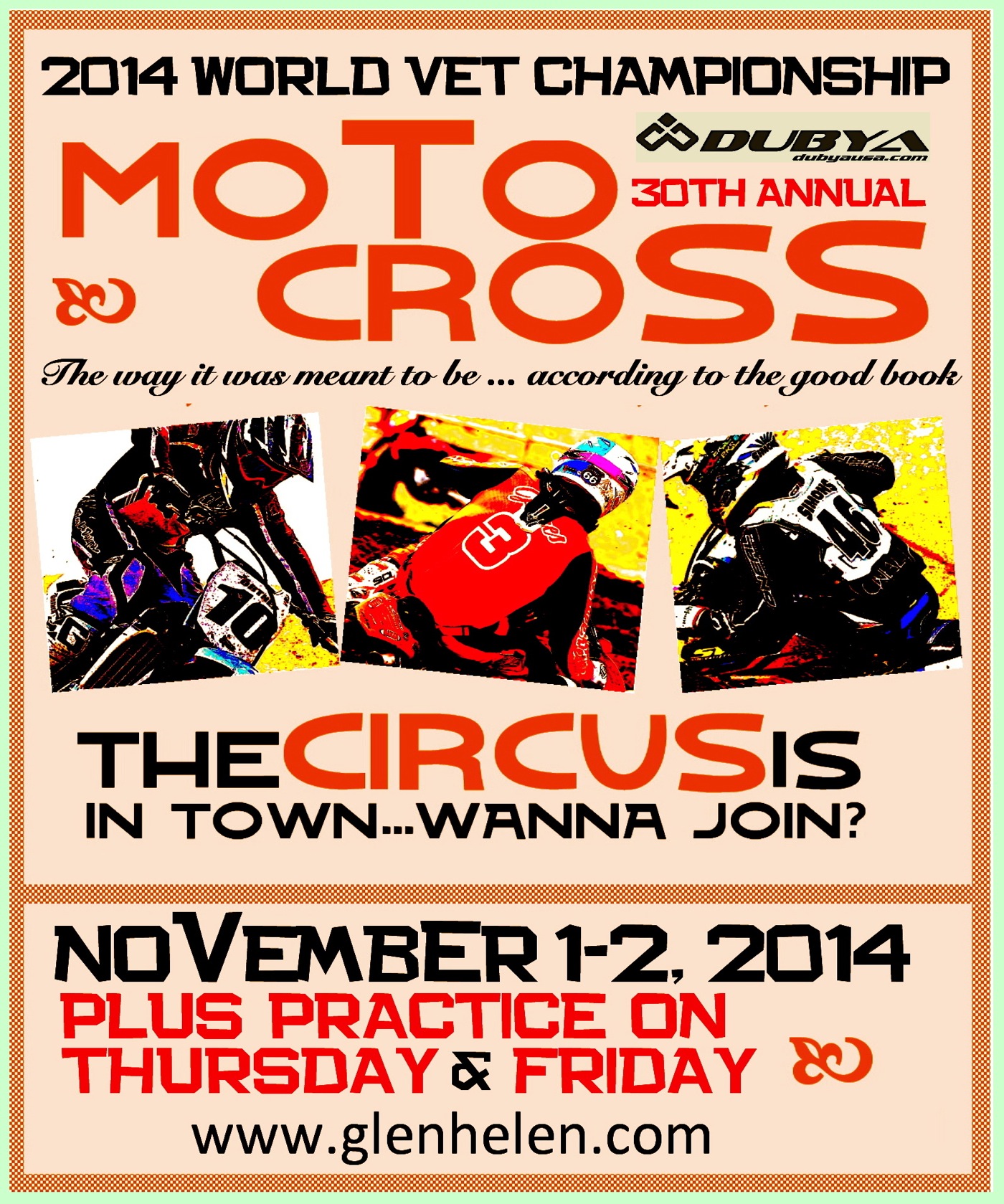 For more info or to pre-enter go to www.glenhelen.com
Photos; John Perry, Ray Archer, John Basher, MXA archive, Drew Ruiz, Monster Energy, Kawasaki, Suzuki