DEAN WILSON INTERVIEW: CORONAVIRUS, SUPERCROSS & TRAINING IN THIS UNCERTAIN TIME

DEAN WILSON INTERVIEW: DEAN TALKS ON THE CORONAVIRUS PANDEMIC, 2020 SUPERCROSS & TRAINING DURING THIS UNCERTAIN TIME
Rockstar Husqvarna factory rider Dean Wilson was the first to post on Instagram about the cancelation of the Indy Supercross. Before that he also talked about racing in front of an empty Lucas Oil Stadium in Indiananapolis. After Dean spilled the beans, we later got the official word of the five races being canceled and the postponing of the 2020 Monster Energy Supercross season. MXA's Jim Kimball decided to call Dean the other day, to talk about the current events. Dean was just getting back into his supercross groove after recovering from his hip dislocation that he suffered at MEC. We wanted to talk to the 28-year-old about the coronavirus, his season to date, and his partnership with O'Neal. 
By Jim Kimball
WHAT WERE YOUR THOUGHTS WHEN YOU HEARD THE INDIANAPOLIS SUPERCROSS WAS CANCELED? It was crazy. When you think to the beginning of the year, who would have thought that it would come to a halt like this? Originally, Indy was going to be no spectators, that was cool, but then things just changed so fast, and they canceled it entirely. It is just crazy, not only Supercross but all the racing and sporting events across the world. Formula One, MXGP, and everything all came to a halt. It's truly crazy to just be alive at this time during something so crazy. This has never happened in my lifetime, so it is crazy to live through it.
Dean Wilson started off the season injured, but he raced through the pain and he currently sits ninth in the 450SX Championship point standings while the season is on hiatus. His best finish in 2020 was a sixth at the Tampa SX.
WHEN DID YOU FIRST STARTED HEARING ABOUT THIS, DID YOU EVER REALIZE IT COULD GET TO THIS POINT? I remember seeing some stuff on Instagram about the coronavirus. It started in China, then started spreading, and just got bigger and bigger. There a lot of things going on, and you don't know what to believe and what not to believe. But I definitely don't take it lightly and want to be smart about it. It has been a crazy past month for sure.
Dean Wilson and Justin Barcia literally rubbing elbows.
THE ROCKSTAR HUSQVARNA TEAM IS SCATTERED AROUND THE COUNTRY, BUT WHAT IS THE ATMOSPHERE LIKE WITHIN THE TEAM? The team sends us weekly updates on what is happening on their behalf. As you know, everything is pretty shut down right now, so all the mechanics and team are stuck at home as well. It is one of those things right now where everyone just plays it by ear, and that is just how it is going to be for a month or so.
"You really have to be smart about riding at the edge. The hospitals and everything are filled up, and you are doing a sport, so it is important to respect that factor as well."
HAS THE CORONAVIRUS ALTERED YOUR RIDING OR TRAINING AT ALL? I have taken this time to just rest a little bit as we always are on the go every weekend in Supercross. I am using this time to rest and recover. I am still training and riding twice a week outdoors until we really know what is going on. But you really have to be smart about riding at the edge. The hospitals and everything are filled up, and you are doing a sport, so it is important to respect that factor as well.
Dean Wilson in his Alpinestars M10 helmet. Notice the blue cap sticking out of the bottom on the right? That's a inflation device used to helmet medics take helmets off easier incase of an injury. We've never heard of them actually being used, but all AMA Pro riders are required to have them in their helmets.
IN MANY WAYS, IT WAS MIRACULOUS THAT YOU WERE ABLE TO RACE AT ANAHEIM 1 DUE TO YOUR HIP DISLOCATION AT MONSTER CUP. It was a tough one for sure. My goal when I got injured was always to be at Anaheim 1, but I did not know if that was possible. I only got two weeks of riding before the race, so I was really far behind. I was only riding at like 70 percent of my ability. The first eight races were some of the toughest races that I have ever done. I was under prepared and still healing from my injury. But I just wanted to collect points and keep getting better. I feel like I was really starting to improve. By the time they stopped the races, I feel like I was starting to get back up to where I normally am and feeling healthy again. The racing was stopped, but I am still glad to be feeling good again. It was definitely one of the toughest injuries that I have been through.
Dean Wilson's factory Rockstar Husqvarna FC450 under the tent. 
SO, YOU ARE NOW GETTING BACK TO WHERE YOU SHOULD BE? You know, I am getting there. It just takes time to heal. It was a big injury, so for me to come back for Anaheim 1, obviously, I was not completely healed. You could definitely notice it in my riding and my fitness. I was so far behind at Anaheim 1, and I am really happy to be back to where I should be now.
I KNOW THAT YOU MOVE BETWEEN CALIFORNIA AND FLORIDA DURING THE SEASON. WHERE ARE YOU NOW? Florida is where I am at this time of the year. They say that the virus dies off faster in the heat, in the colder conditions, it seems to stick around more. I am happy that I was in Florida. It is important to keep your hands clean, distance yourself from people, and do all the other precautionary measures. It is just a crazy, crazy time.
WHERE ARE YOU TRAINING RIGHT NOW? I just do all the training on my own, and I ride at what is called the "Compound 83" spot. It is Chad Reed's old compound in Florida, so it is a super good track.
Sand in Supercross makes for great photos, but it's not always loved by the riders.
YOUR ARE O'NEAL'S PREMIER RIDER, WHAT IS IT LIKE BEING A PART OF O'NEAL? Being a part of the O'Neal family is awesome. They are a great company, but more importantly they are great people. I love their gear and I have nothing but good things to stay about them. They have always been there for me through the thick and the thin and that is what I like so much about them. They are always there for me. They are such a great company overall, and I am really happy to be a part of it.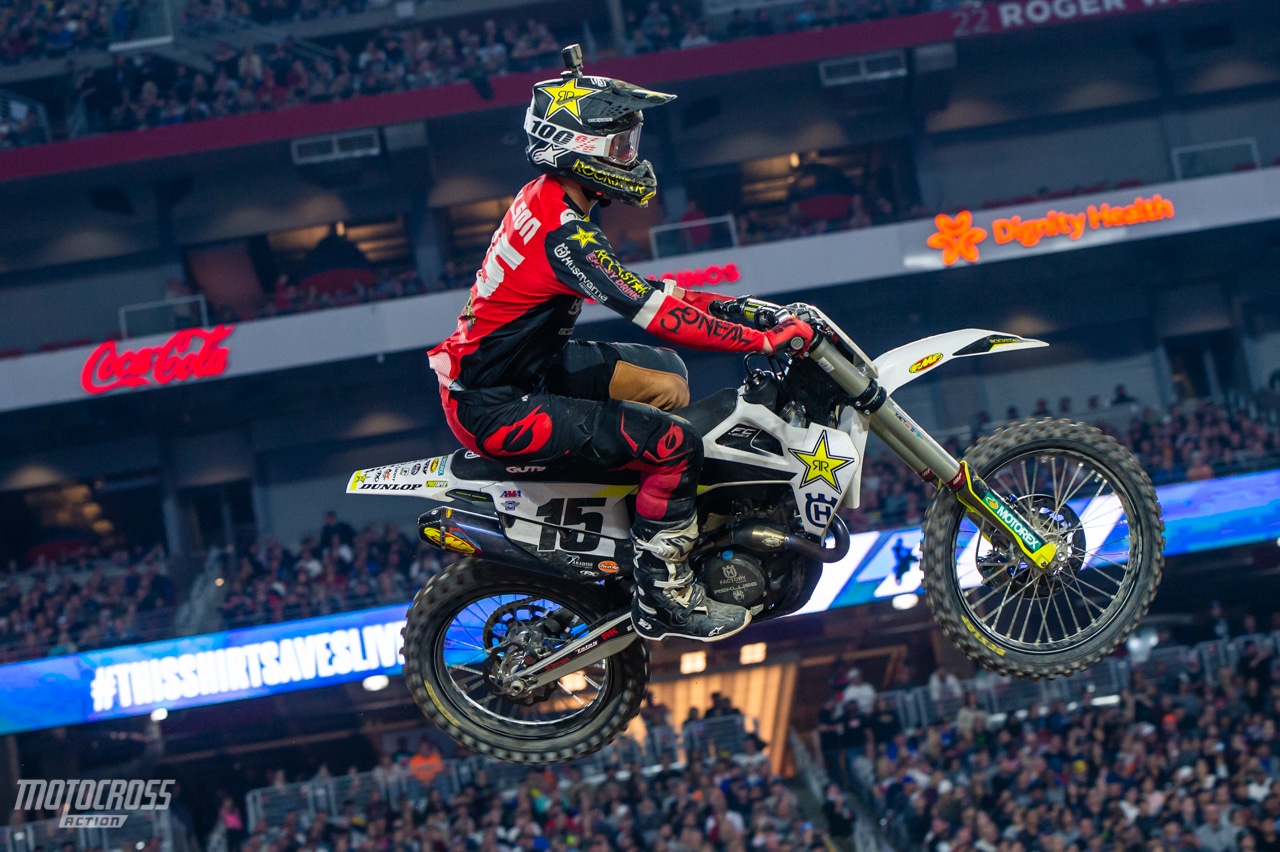 Dean Wilson in O'Neal's all-new Prodigy gear at the Glendale Supercross.
THEY HAVE A NEW PREMIUM RACEWEAR LINE CALL "PRODIGY," DID YOU HELP DEVELOP THAT? I try to help them as much as I can when it comes to fit, comfort and materials. I don't have all the say, I just give my two cents of what could be better. I think the gear came a long way from where it was. I think the looks and comfort has come a long way. It is definitely one of the top gear brands out there.
AS A WRAP UP, SHOULD THE SUPERCROSS SERIES BE CALLED AND CHAMPIONS BE CROWNED, OR SHOULD IT BE DELAYED AND START AGAIN LATER?I definitely want them to continue finishing it, but we will just see what happens. I feel like I can move up in the standings and I really want to get on the podium. I have not had a chance to do that yet, so I definitely want more racing to happen so I can try to stand on that box.