DEAN WILSON INTERVIEW: WHEN THE GOING GETS TOUGH, THE TOUGH GET GOING
DEAN WILSON INTERVIEW: WHEN THE GOING GETS TOUGH, THE TOUGH GET GOING
Recent years have seen Dean Wilson's motocross career full of highs and lows. The lows mostly being serious injuries, races sidelined, and a brief move back to the privateer rank. However, Wilson has persevered and had some bright moments. Among the good times in Dean's career has been his amazing relationship with his fans, his Grandpa Earl video that has over 16-million views on youtube, his podium at the final 2020 Supercross, his resigning with the Rockstar Energy Husqvarna factory team for 2021, and his recent marriage. MXA recently tracked down Dean at his Florida home after a training session at the Baker Factory. 
By Jim Kimball
DEAN, EVEN WITHOUT COVID-19, IT HAS BEEN AN INTERESTING YEAR FOR YOU HASN'T IT? It was definitely an interesting year. Going back to Monster Cup 2019, I dislocated and broke my hip. It was a really, really bad injury. At first, I thought that there would be no chance that I would make the Anaheim 1 opener, but as time went along, I began to come around. I worked really hard at my physical therapy and did everything I possibly could. I got on the bike about two weeks before Anaheim. I clearly had zero prep and was not in shape yet. But, midway through the season was when I started to pick up and get to where I needed to be. I got through the first five races, got some top ten's, and then crept into the top five. It was a challenging year, but at the same time, I came around at the end of it. At Salt Lake City, I felt like I was really starting to be myself again. Then I ended up getting a third place and a podium at the last Salt Lake City round, which was awesome. That was a big achievement from where I came from. I could barely even walk at the beginning of December, so to be able to land on the podium at the end was awesome.
Dean in the early morning sun at Red Bud.
"A LOT OF PEOPLE FROM THE OUTSIDE DO NOT REALLY UNDERSTAND WHAT I WENT THROUGH JUST TO GET TO A1. NEVER MIND MY RESULTS OR ANYTHING, JUST TO BE THERE WAS A BIG ACCOMPLISHMENT"
HOW SEVERE WAS YOUR HIP INJURY? It was pretty bad, and definitely the most painful injury I have ever had.  My hip was out for a good three hours, so it was really painful. To come back from that, I was happy to be able to race and do what I love. It was also broken which was the tough part. Once the hip was in, really, I think I could have ridden in maybe four weeks or so, but the fact that I broke it in three places, made it a really difficult injury. That is what took the healing so long. But we made it happen. A lot of the people from the outside do not really understand what I went through just to get to A1.  Never mind my results or anything, just to be there was a big accomplishment. 
HOW GREAT WAS THE HUSQVARNA PODIUM SWEEP AT SALT LAKE CITY FOR YOU? That was awesome, and I did it with my teammates. That was cool too, because that race was the first 450 main that I had ever gotten the holeshot in. I led about eight laps before Jason got by me with Zach right behind him. I don't feel like I could have held the pace. I got a little bit tight while in the lead, so I did not fight for their two spots too hard. To see them up front and then me in third was awesome. It was so good for the team.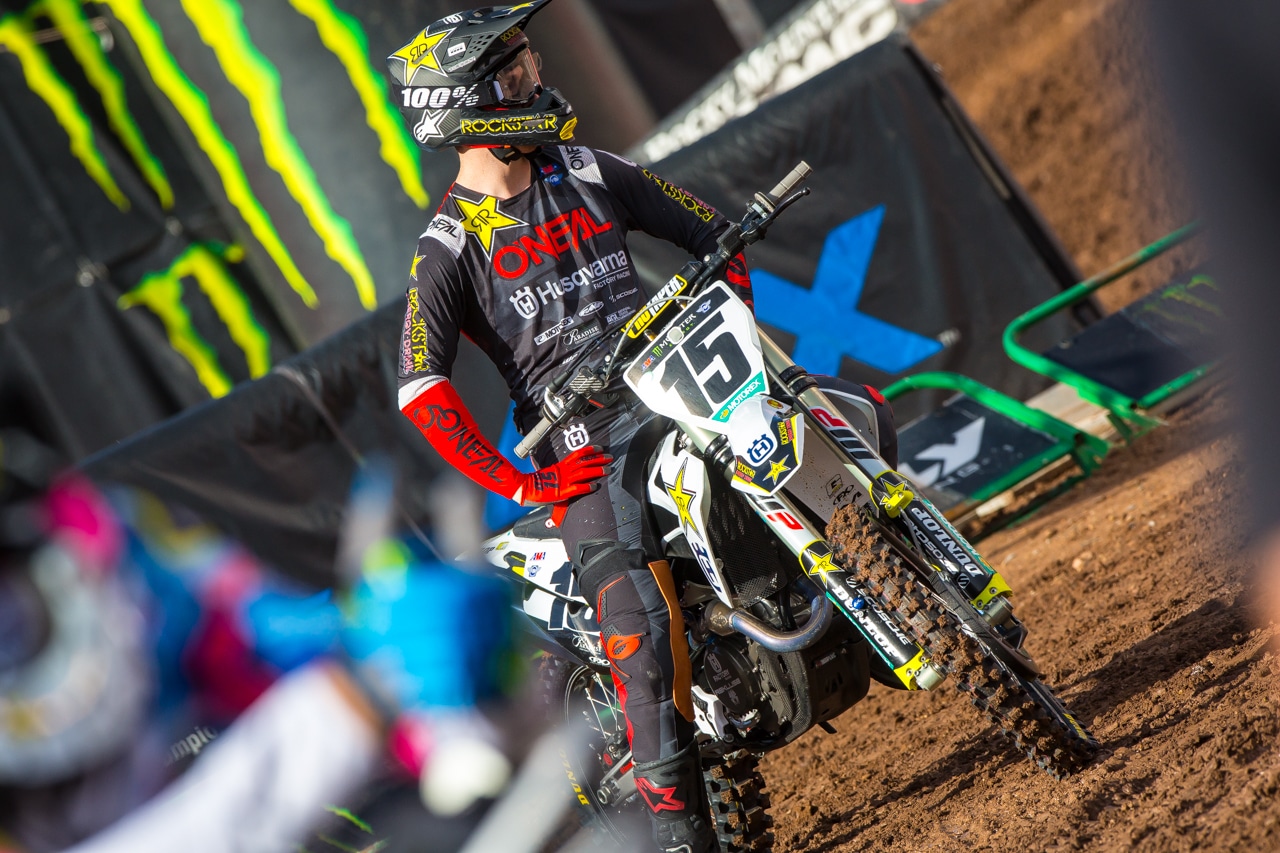 Fortunately for Dean, he doesn't have to worry about searching for new sponsors as he gets to keep all of his current ones going into 2021.
AND THAT SUPERCROSS FINISH MUST HAVE GOT YOU PUMPED FOR OUTDOORS. Yes, for sure. I felt really good for outdoors and was working hard. Then we got pushed back again for outdoors, and it made it a long summer. The first couple of rounds were mud races. Then at Ironman I crashed in practice and injured my knee. So, it was really tough, but I tried to get through the Red Bud National. I just knew something was not right, but I tried. Then I spoke to the team and got an MRI which showed my meniscus was torn. So, we decided that I should get that cleaned up and focus on 2021 Supercross.
"I COULD HAVE QUIT MANY TIMES, BUT I NEVER DID BECAUSE I KNEW THAT THERE WAS MORE OUT THERE THAT I COULD STILL ACHIEVE."
EVEN WITH ALL YOUR SERIOUS INJURIES YOU HAVE PERSEVERED THROUGH IT. My career has been definitely nothing short of difficult. I have had a lot of injuries, but many of those injuries were actually not my fault. Many were bike issues, or mechanicals. That was always hard to take, of course, some of them were my fault. It is tough, but I love what I do. I know that I have the potential to be up there and it is all about having the right perspective. If I had the wrong perspective, I would have quit ages ago. But I really believe that I can run up there with the front guys. I have proven it over and over again, but I just have not been doing it consistently. That is the goal; to be running up front consistently. I have great sponsors, fans, and support. When the day comes that I do hang it up, I will be quite satisfied and happy. I could have quit many times, but I never did because I knew that there was more out there that I could still achieve.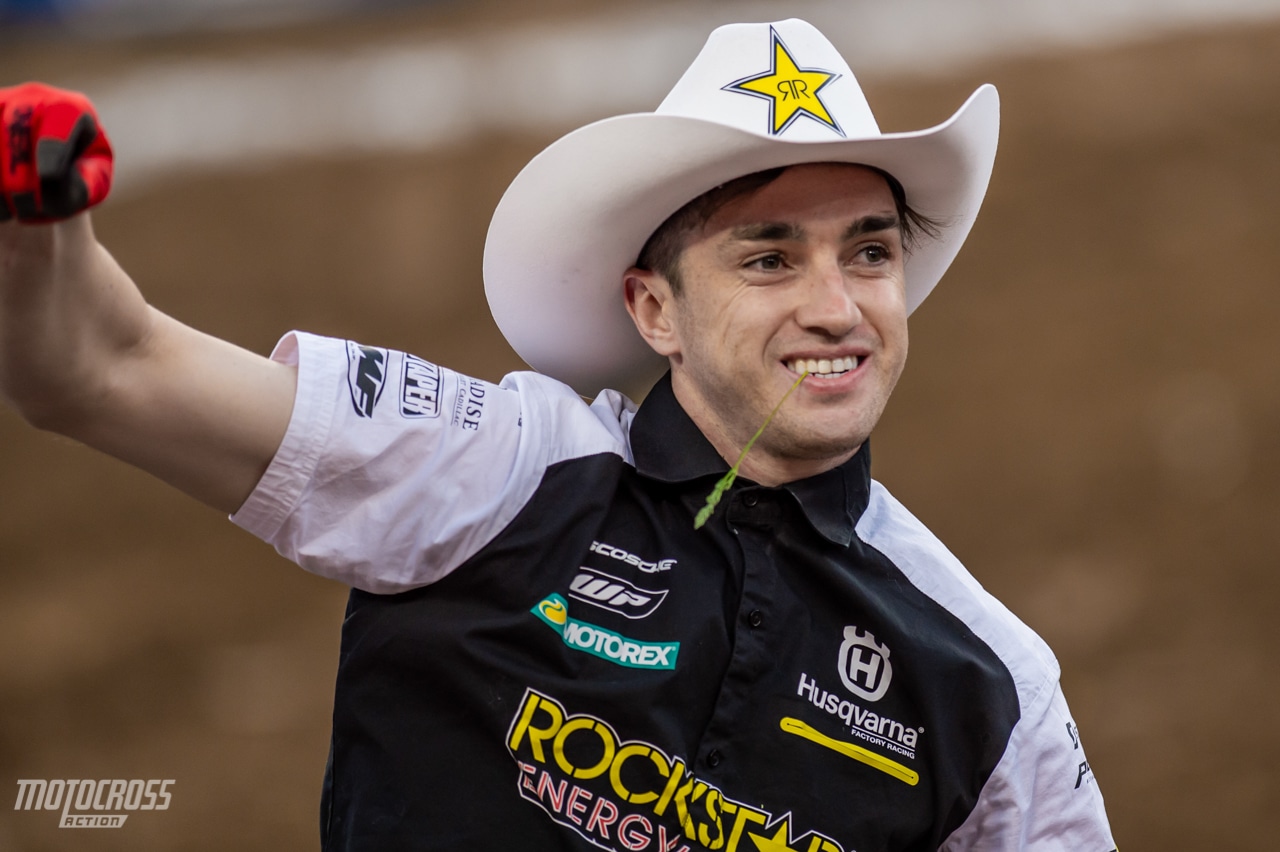 I OFTEN THINK THE MOVE FROM THE 250 CLASS TO 450 CLASS IS BIGGER THAN MANY REALIZE. Yes, going to the 450 class is a huge jump. Not only like motorcycle wise but mentally it is really tough because we race 17 Supercross races almost without a break. Then if you get injured at one race, that can be three or four rounds that you are going to miss. It is really, really important to stay healthy. To be at every race, there is only sometimes three or four guys that do that out of the whole paddock.  We ride three days during the week while we are racing, we race on the weekend, and that is four times. If you do the math, that is a lot of riding that we are doing, so injuries do happen. Also, the 450 takes a lot out of a rider; you just have to be strong physically and mentally for that class. 
Dean Wilson is a fan favorite and a tough competitor. When most riders would sit out a few races to wait until their fully ready and fully healthy, Dean shows up to go racing anyways. 
HOW DIFFICULT IS IT MANAGING INJURIES AND RESULTS TO LAND THE NEXT CONTRACT? That is actually a really great question because I have been in that boat where I am riding injured and racing injured. From a fan's perspective, people are like thinking "What is he doing?  Why is he struggling?" The team or whoever wants you to keep it quiet. And you also want to keep it quiet because you are still looking for a job next year. That is one of the hardest things; if you have an injury, you are riding through it and trying to tough it out, and people do not know how hard and difficult that is. When you are suffering through that and your results are not what they should be, it takes a lot out of you. You are trying to get a job for the next year and secure that. The sport is definitely for the nitty, and the gritty. You have to be tough and it is not always perfect. You have to take what you get and do your very best – that is all you can do. 
Thumbs up for Dean as he got the opportunity to re-sign for 2021 halfway through the 2020 season. 
I WOULDN'T WANT TO BE IN THAT POSITION. I have been through that position twice in my career, and it was honestly miserable. In 2018, I raced all year with a torn ACL, but did not say anything about it because I wanted to try and get resigned for the next year. I could still race through it, and actually got a podium, but it was just miserable. Any time I would dab my foot on the ground my knee would swell, and you would have to baby it. I kept trying to plug away trying to get a ride. If I went and had surgery, I would really not get a ride. But sure enough, at the end of the 2018 Supercross season, someone crossed jumped me at Glen Helen and I tore my other knee. I then had two torn ACLs. I lost my ride and other sponsors. I got two ACL reconstructions and when I came into the 2019 season as a privateer on the Husqvarna, I was super motivated. Results do all the talking that is for sure. Results are the primary factor in our sport, and it has always been like that, so you just have to make it happen.
"SOME PEOPLE WILL SAY, 'HOW DOES THIS GUY HAVE A RIDE?' IT IS FUNNY BECAUSE IF YOU THINK SINCE 2017, EVERY YEAR I HAVE BEEN ON THE PODIUM ON THE 450."

IT MUST HAVE BEEN GREAT TO HAVE SIGNED FOR THE 2021 SEASON HALFWAY THROUGH 2020 THEN? It is definitely a good feeling that you got your job secured. I love my team, the Rockstar Energy Husqvarna team. Extending my contract with them made things so much easier, because I kept everything the same. I have the same helmet, gear, boots, and goggles. I was very grateful to get the call from Roger DeCoster and get the deal done. Some people will say, "how does this guy have a ride"? It is funny because if you think since 2017, every year I have been on the podium on the 450. And getting on the podium is not easy with how hard that class is. I definitely worked hard, earned it, and I am going to continue too. Now I am going to keep working my hardest and give this opportunity at the Baker's Factory all that I have and see where it takes me.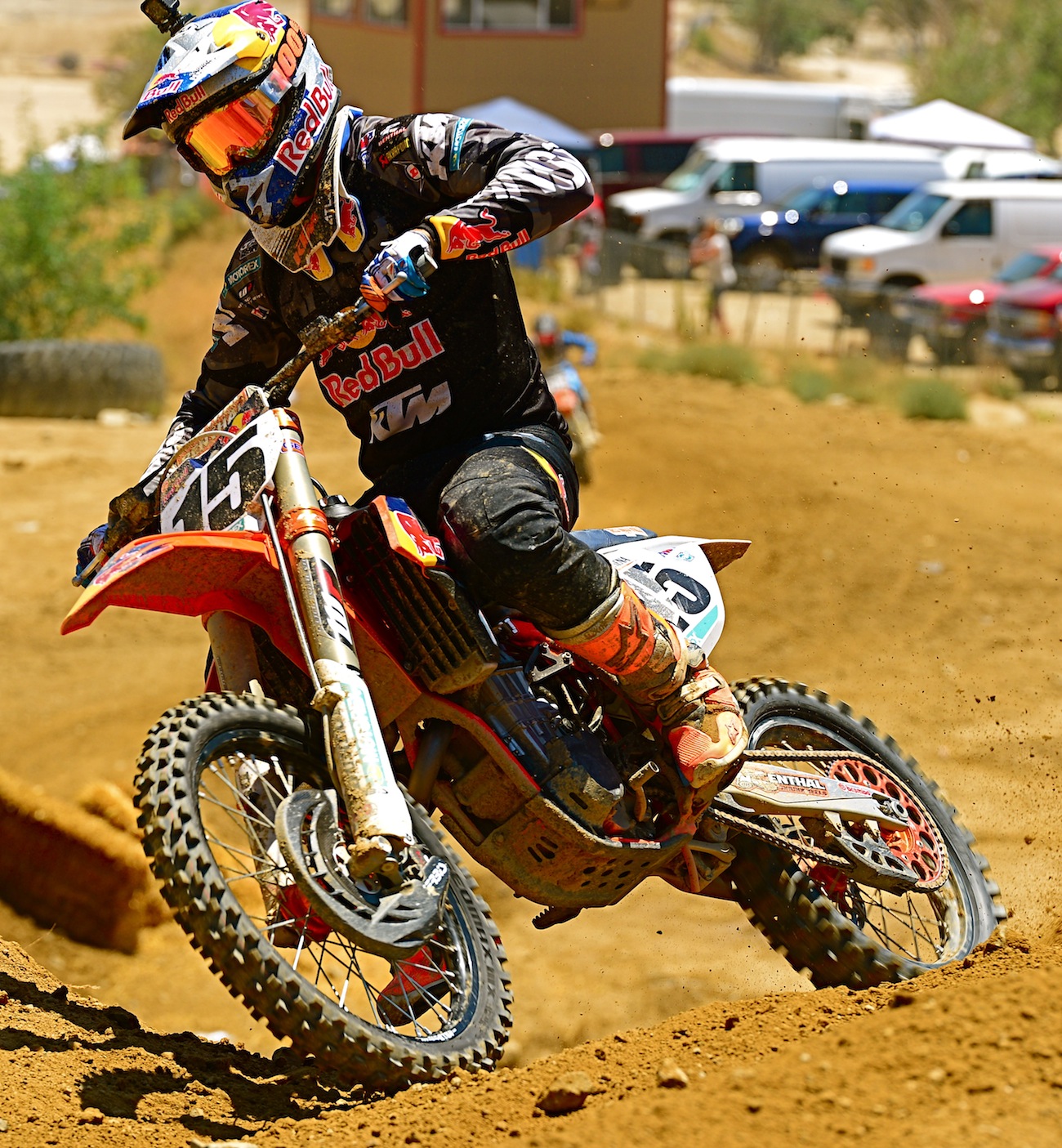 Dean when he was on the KTM squad.
WHAT IS IT LIKE AT THE BAKER'S FACTORY? It is tough for sure. We are in boot camp right now and working hard but that is what you do in boot camp. You always wake up sore, and you just grind it out. But I knew that coming in, and I expected that. I have always worked hard my whole career. Sometimes I feel like I have done too much where it has put me backwards. I still have a few years left in me. This opportunity came up and I'm going to give it my best and see how it turns out. The results speak for themselves at the Baker's Factory. All I can do is everything I am told to do and show up to the races well prepared.
IN SPITE OF BEING IN "BOOT CAMP" HAVE YOU HAD ANY FUN THIS OFF-SEASON? I had a good off-season with getting married. My mentality is that "if I am going to work this hard, I am going to enjoy it and I am going to enjoy the process." if you are working hard and having fun doing it, the results will come.  
We spotted Dean practicing at Fox Raceway just before he got back into the Supercross grind. 
ARE YOU LOOKING FORWARD TO THE DIFFERENT SCHEDULE THIS NEXT YEAR? I think it will be fine. It is cool to knock off a few races in a week. It is awesome because really, we would be riding during the week anyway. I like it. I feel like Salt Lake City Supercross went pretty well. I am looking forward to it. 
LET'S WRAP THINGS UP WITH YOUR 2021 EXPECTATIONS. HAVE YOU SET ANY SPECIFIC GOALS? Nothing too crazy.  Honestly, my goal is just to get really good starts. I want to be up there on the starts and that will lead me to good finishes.  It is such a stacked class, in that if you don't get that start, you are going to make life really tough on yourself. I am looking forward to the series and having a good off-season will be really good. I have not had a good off-season since 2019, so it is good to go in healthy, hungry, and excited.