THE BIKE THAT TURNED A PRIVATEER INTO A FACTORY STAR
Click on images to enlarge
Sometimes things seem so simple at MXA that we expect all the pieces to fall into place without us even trying. And so it was with our Dean Wilson project YZ450F. But, nothing is ever as easy as it seems. We had some hoops to jump through, questions to answer and problems to solve. Here was the Dean Wilson YZ450F riddle and how we solved it.
WHY ON EARTH DID WE WANT TO BUILD A REPLICA OF A BIKE THAT DEAN ONLY RACED FOUR TIMES? It does seem odd that we chose to build a replica of the bike that Dean Wilson started the season on before getting a fill-in ride at Rockstar Husqvarna. Why were we interested? We like Dean Wilson. He is friendly, outgoing, funny and a hard worker. More important, Dean didn't sit at home on the couch when the 2017 Supercross season started. He got a Yamaha YZ450F and went to the races in what was essentially a pickup truck. We liked the story line, especially when he did well enough to get a factory ride out of his go-it-alone effort.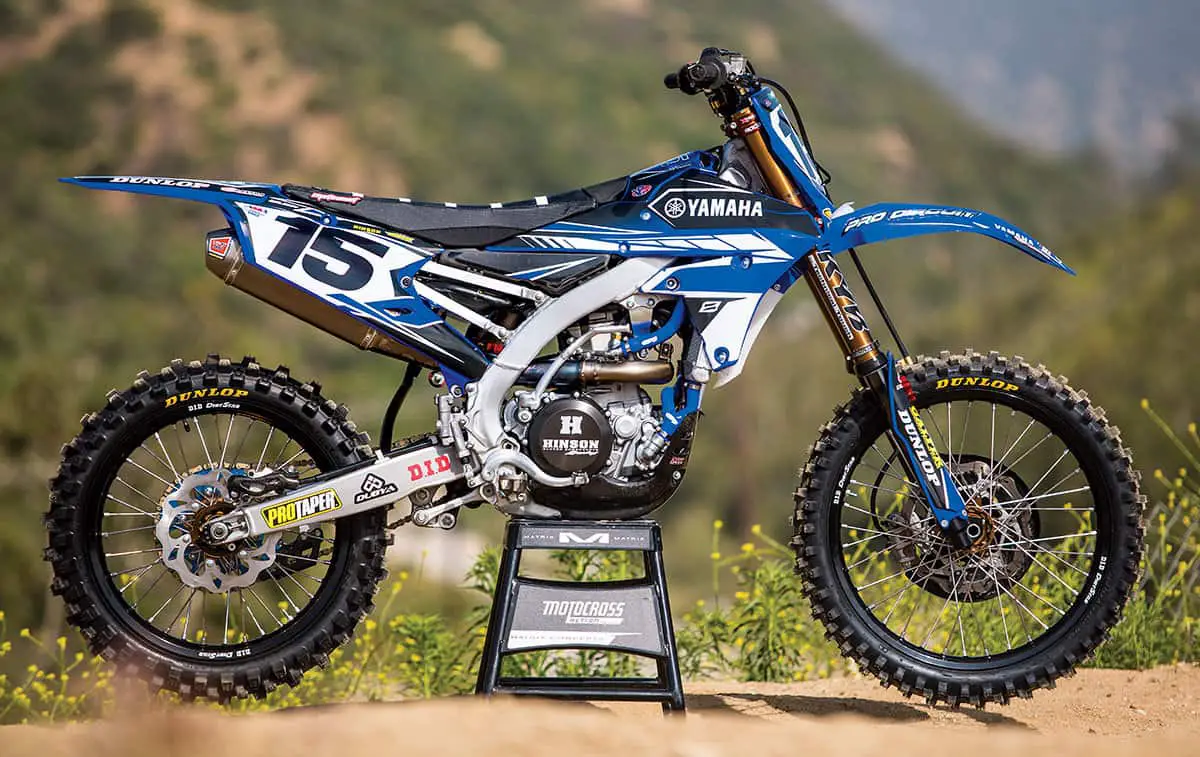 WHY DIDN'T WE BUILD A CHAD REED OR COOPER WEBB YZ450F REPLICA? For the simple reason that Yamaha wasn't going to give us any works parts, secret maps or technical data to replicate its works bikes—although we don't know why not. Yamaha certainly didn't set the world on fire in the 2017 Supercross season. Only three Yamahas scored 95 percent of the points that YZ450Fs earned in 2017—and there were hardly any Yamahas in the 450 class to speak of, let alone test. Those three were Reed's, Webb's and Wilson's bikes. Thus, if we wanted to build a trick 2017 Yamaha YZ450F, it only made sense to choose between one of the three—and there was one factor that swayed us to choose Dean Wilson's bike.
WHAT WAS THE ONE FACTOR THAT MADE US WANT TO BUILD A DEAN WILSON REPLICA YZ450F? Mitch Payton gave us Dean's engine. Dean didn't need it once he moved to Husqvarna. Mitch didn't need it cluttering up his race shop. And, since there weren't any YZ450F riders of note after Webb and Reed, MXA was gracious enough to take Dean's YZ450F engine off their hands.
WHAT WAS SO SPECIAL ABOUT DEAN WILSON'S YZ450F ENGINE? Dean's YZ450F engine was special because it didn't have any secret parts. That made it interesting. Why? Because it could be built by any enterprising YZ450F rider—be he a Vet, Novice, Pro or Professional Practice Rider. It wasn't unobtanium; it was obtanium.
WHAT WOULD IT COST TO REPLICATE DEAN'S YZ450F ENGINE? Once you do a little work on a YZ450F engine, you start looking for ways to make the powerband more manageable. Thus, Pro Circuit didn't go looking for beaucoup horsepower. However, Dean's engine did pump out 62 horses. Still, they wanted better throttle response from low to mid and a very linear power delivery across the board.
WHAT WAS SO SPECIAL ABOUT DEAN WILSON'S YZ450F? IT DIDN'T HAVE ANY SECRET PARTS. IT WASN'T UNOBTAINIUM; IT WAS OBTAINIUM. Dean's engine was still expensive. It cost nearly $4500: Cylinder head porting was $649.95; Copper/Berylium valve seats, $520; Pro Circuit-designed piston, $369.95; Pro Circuit camshafts, $914.95; Pro Circuit intake valves, $357.95; Pro Circuit exhaust valves, $357.95; Hinson clutch cover, $169.95; gasket set, $68.31; NGK LMA-R8G00 spark plug, $7.95; and an AMA-legal Pro Circuit Ti-6 Pro exhaust system (Dean's pipe came equipped with an oxygen sensor bung to help with dyno tuning), $1064.95. We were all in at $4500—a bargain price for an engine that was Supercross-worthy. You could add another $1000 for a full Hinson clutch.
ONCE WE HAD THE ENGINE, WE CALLED DEAN TO TRACK DOWN HIS PLASTIC, GRAPHICS, SEAT, WHEELS, BRAKES, HOSES, TRIPLE CLAMPS. LEVERS AND MISCELLANEOUS PARTS. DEAN SAID THAT MOST OF THE PARTS ON HIS YZ450F HAD BEEN PARTED-OUT, AND HE DIDN'T HAVE ANYTHING THAT WASN'T WORN OUT OR USED. No problem. We started making calls. Our first call was to Split Designs to get Dean's complete graphics package. At first they said that they were busy making a management change and couldn't help us. In frustration, we ordered stock Yamaha plastic as an easy bail-out and made plans to get Decal Works to build us similar—but not exact—Dean Wilson cosmetics. Then, Split called back and said they would make us a one-off set. Great, except it didn't fit the brand-new blue YZ450F plastic that we ordered in haste. No problem, we called Cycra and had them send us the correct plastic, and, while we were at it, we sent out for the MotoSeat seat cover, Works Connection holeshot device, VP Racing fuel, DT-1 air filters, Maxima engine oil, CV4 hoses, ARC levers, Galfer over-size rotors, TM Designworks chain guide, LightSpeed carbon fiber brake rotor guards and chain guide, and miscellaneous added parts.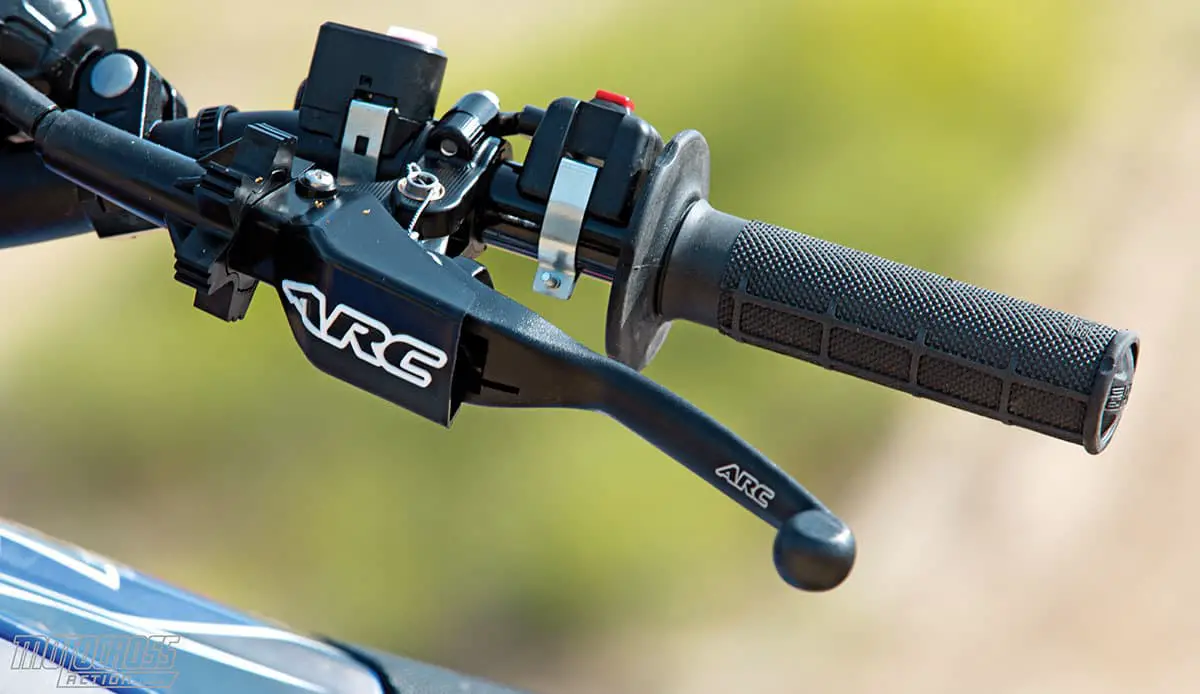 WHAT ABOUT DEAN'S KAYABA WORKS SUSPENSION? AT FIRST WE THOUGHT THAT SINCE IT WAS JUST A REPLICA OF DEAN'S YZ450F, WE WOULD HAVE TO MAKE SOME COMPROMISES IF WE COULDN'T SWING THE ACTUAL PARTS. We had Bones Bacon re-valve our stock Kayaba SSS shock and forks and even thought about putting Showa A-kit stuff on the bike. But, in a stroke of genius, we called Technical Touch. They handle Kayaba's aftermarket suspension business. And, since we had no shortage of experience with Kayaba's A-kit-style $4500 Factory Kit spring fork, we asked them if they would lend us their best shock and fork combination for our Yamaha YZ450F. "No problem," they said. "Swing by and pick it up. We still have the set we gave you for your earlier YZ-F projects sitting here." Quick like a bunny, we had works suspension on our Dean Wilson replica. Plus, they threw in the $900 Xtrig ROCS triple clamps to hold the forks in place. We added the ARC levers and Pro Taper Fuzion bars.

THE LAST PIECES OF THE PUZZLE WERE THE WHEELS AND BRAKES. Dubya USA offered to give us a set of wheels that would replicate what Dean ran, including the Kite hubs. We then added the Galfer rotors to up the stopping power. Now we could leap tall buildings in a single bound, without it being our last bound.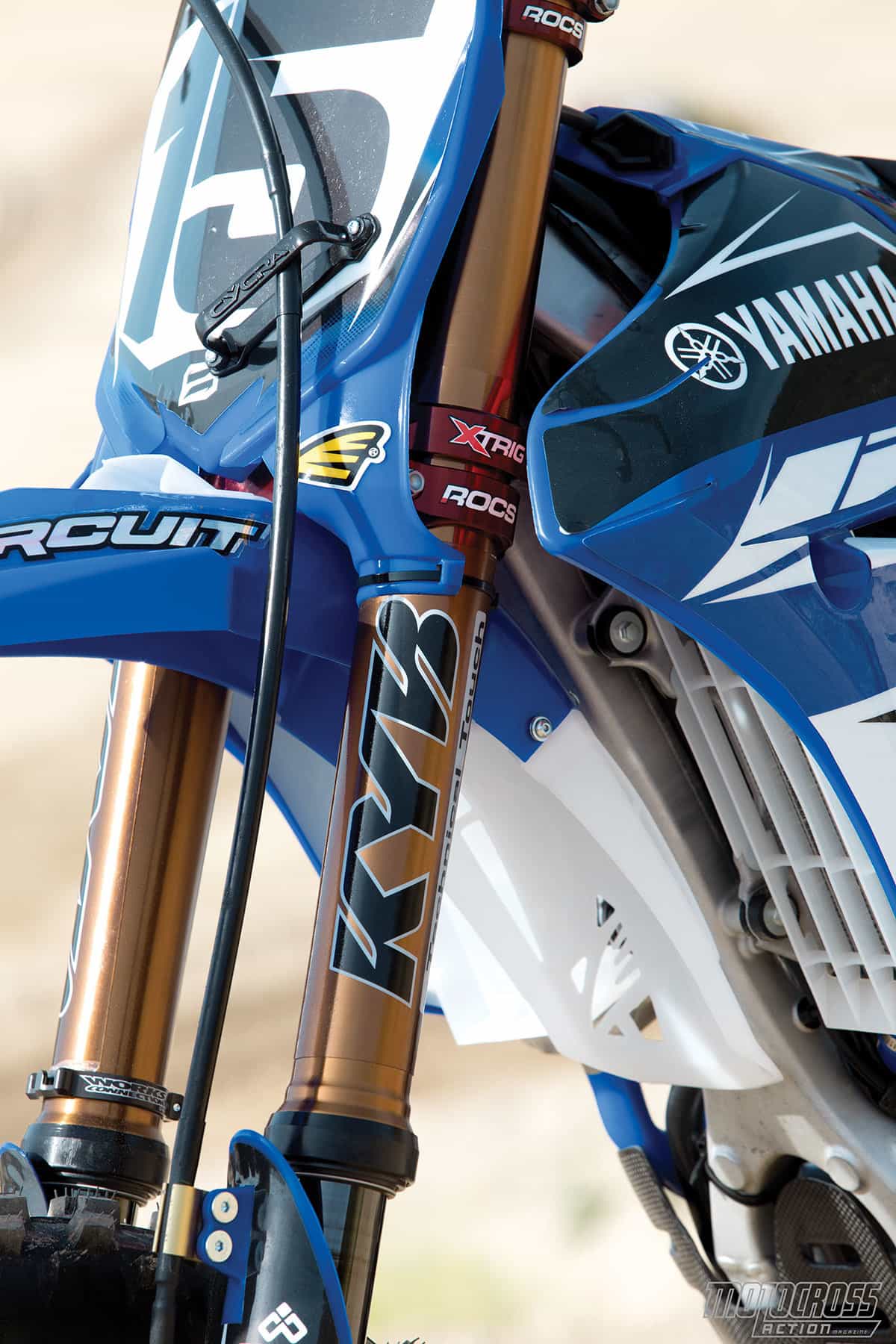 WHAT STARTED AS AN OFFER TO GIVE US DEAN'S ENGINE ENDED UP WITH US GETTING CLOSE TO ONE OF ONLY THREE YAMAHAS TO SCORE SIGNIFICANT POINTS IN THE AMA SUPERCROSS SERIES. But, the question remained as to how well it would work. We spent some test time working out the adjustments and settings with our Pro test riders before handing the bike over to a wide variety of Vet, Intermediate and Novice test riders.
HERE ARE THE PARTICULARS.


Power. It was fast, but it wasn't hard to ride. The powerband was tuned for more low-to-mid power, which is where a Supercross engine needs to be. What surprised us most was that it was so easy to ride that we could use the abundant power without fear. It was much more linear than the stock engine, not as abrupt and devoid of jerkiness. It could be rushed off the bottom, if need be, but it never scared the test riders. The power was broad, but there was no need to rev it. On a Supercross track, there aren't many places to go for broke at high rpm; the majority of the time the power is kept in the low-to-mid sweet spot to get up and over big jumps with very little run.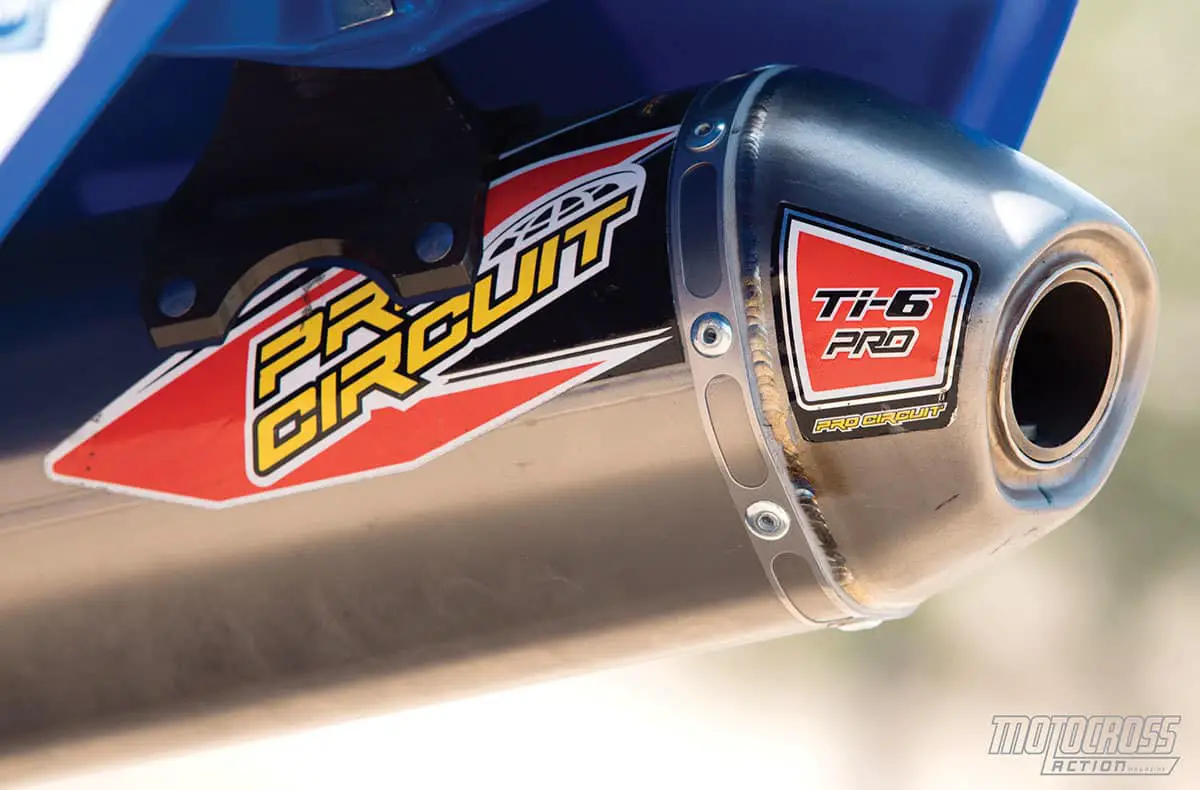 Sound. We could have gotten more power if we had selected Pro Circuit's Ti-6 exhaust pipe instead of the Ti-6 Pro, but we didn't want to break Dean's engine package apart, even though we didn't need to meet the AMA 2-meter-max sound requirements.
Suspension. Kayaba's Factory Kit spring fork is a closed-cartridge system with Kashima-coated inner cylinders for better wear resistance and DLC (Diamond-Like Carbon) coating on the inner tubes for reduced friction. The Factory Kit's base-valve piston and mid-speed valve are revised for more damping control, which makes the end of the stroke much more progressive.
On the track, the Kayaba Factory kit fork worked wonders. It was extremely fluid, especially in transition from small chop to heavy impacts. Bottoming resistance was plush without the occasional spike that comes with the standard SSS fork. There weren't any points in the stroke where we thought the Kayaba Factory kit forks needed to be changed; however, we weren't running Dean's Supercross valving, which meant that our Pro test riders could bottom the forks, but they knew that a couple small changes would have the Kayaba forks working perfectly for them and worse for the slower test riders.
We vetoed their requests and honored the Vets.
The bottom line: you can build this bike; however, to get as close as we did, you will need a boatload of money. No test rider ever said, "I wish you had saved money by putting on cheaper suspension" or "Couldn't you have skipped the cams to save some cash?" We spent money where Dean spent money, and we ended up with a bike that was good enough to catch the attention of a factory team in only four races. Have you got four races to spare?
DEAN WILSON REPLICA YZ450F SUPPLIERS
www.procircuit.com
www.protaper.com
www.dubyausa.com
www.technical-touch.com
www.lightspeedcarbon.com
www.galferusa.com
www.cycraracing.com
www.splitdesignco.com
www.motoseat.com
www.arclevers.com
www.tmdesignworks.com
www.hinsonracing.com
www.dunlopmotorcycletires.com
www.dt1filters.com
www.worksconnection.com
www.maximausa.com
MXA VIDEO: DEAN WILSON YAMAHA YZ450F REPLICA