DEAN WILSON SIGNS WITH ROCKSTAR HUSQVARNA FOR 2020
DEAN WILSON SIGNS WITH THE FACTORY ROCKSTAR HUSQVARNA TEAM FOR THE 2020 SEASON
Dean Wilson is very happy to be back with the Rockstar Husqvarna team for the 2020 Monster Energy Supercross and AMA Pro Motocross seasons. 
Dean Wilson has gone back and forth between being a factory rider and privateer rider over the last few years. Once he made the jump to the 450 class, Dean spent the 2015 and 2016 seasons with the Red Bull KTM Factory team, but unfortunately he struggled with injuries both years and the team didn't resign him for 2017. Dean began the 2017 Supercross season  as a privateer on a Yamaha 450 before Christophe Pourcel left the Rockstar Husqvarna team which opened up an opportunity for Wilson. Bobby Hewitt, owner of the Rockstar team signed Dean during the week leading up to the Oakland Supercross and he stayed with the team for the rest of the 2017 and the entire 2018 season. Then, with Zach Osborne moving up into the 450 class for 2019, the Rockstar Husqvarna team tried their best to work out the details to resign Dean for another year, but it didn't work out. With two 450 riders and three 250 riders already signed, Dean was the odd man out.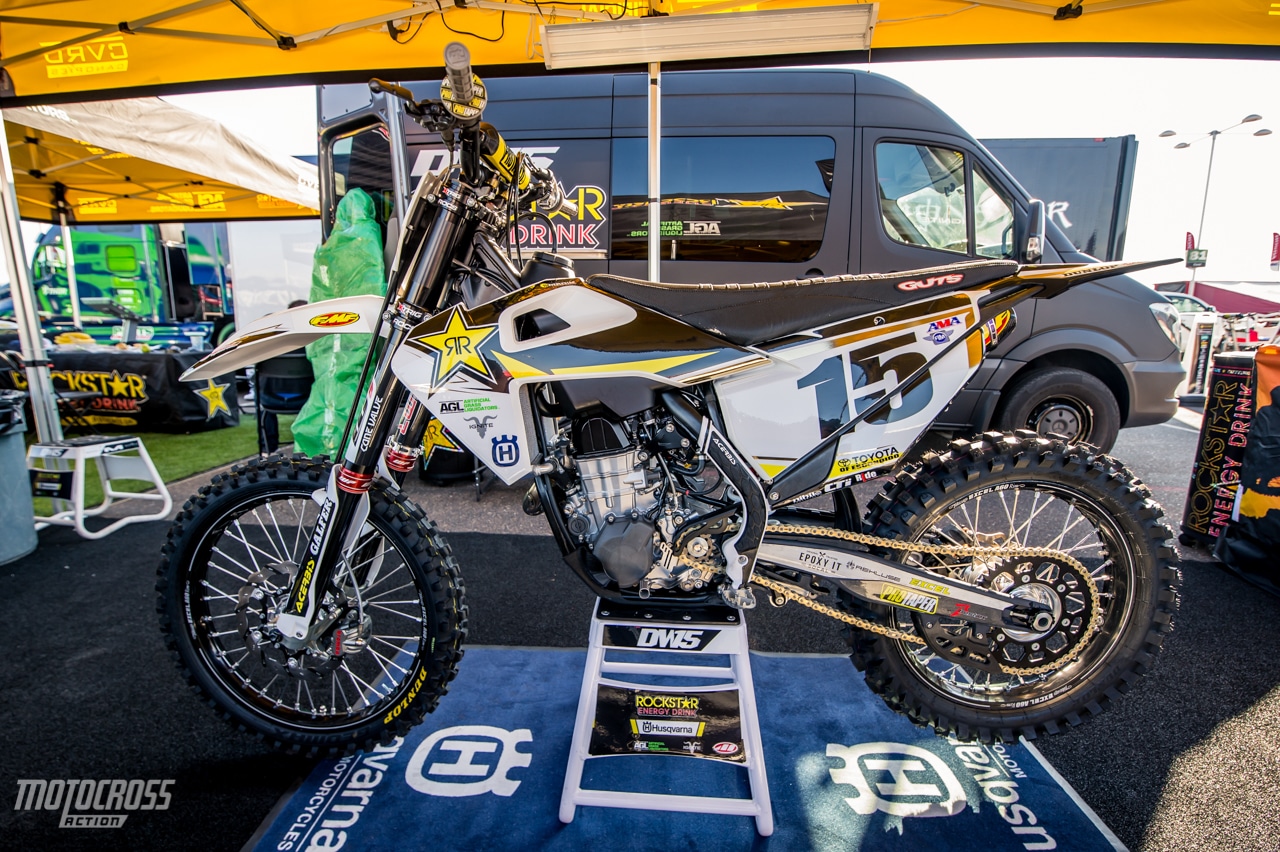 Dean Wilson's factory supported Husqvarna FC450 and sprinter van pit set up from Anaheim 1 earlier this year. 
Once again Dean went back into privateer mode for the opening rounds Supercross. But in 2019 it was a little different. Dean stayed on the Husqvarna brand and with support from the race team and Rockstar Energy he went racing. The 2019 Anaheim 1 Supercross was a complete mud race and Dean Wilson came out swinging and shocked the industry by leading the 450 main event for 15-minutes before eventually dropping back and finishing fourth. Dean continued as a privateer until the Minneapolis Supercross when he rejoined the Rockstar Husqvarna team as a fill-in rider for the injured Jason Anderson.
Dean Wilson finished third overall at the 2019 Houston Supercross Triple Crown.
Dean continued to improve as a factory rider again before he eventually reached the podium by finishing third at the Houston Supercross. Unfortunately Dean has still experienced some trials throughout the 2019 season. Dean had a bike malfunction at the Denver Supercross that resulted in crash in which he hurt his shoulder. Dean's Supercross season ended with only the Las Vegas finale left on the schedule and he would also miss the first half of the AMA Outdoor Nationals. Finally, once he was ready, Dean made his comeback to racing at the Redbud National where he finished ninth overall. Many thought this injury in the middle of the 2019 racing year would hurt Dean's chances at earning a ride for 2020, but luckily for him, the Rockstar Energy Husqvarna team has made room for him under the tent next year and we are happy to see the rider from Scotland secure a factory ride.