DEAN WILSON STORMS REM GLEN HELEN IN USGP PREP

Click on images to enlarge
Photos by Debbi Tamietti & Mark Chilson
Dean Wilson. Photo: Debbi Tamietti
With the USGP only six days away, Dean Wilson returned to Glen Helen's REM races for one final tune-up before next weekend's big shindig. The REM track is on the same ground as the old Arroyo Cycle Park from 1974 and will not be part of the USGP track. So why has Dean been coming to REM? It has the one thing that Dean wants—it's rough. Very rough. REM's combination of square-edged bumps, tricky off-cambers, soaring elevation changes and decomposed granite soil make it close to the roughness of a GP or National track and less like the typical SoCal jump track. Dean won the 450 Pros and the Open Experts in his four-moto day.
Justin Jones. Photo: Debbi Tamietti
REM was a tough day for Justin Jones, as the 2015 ISDE was finishing up and he wasn't there. One year ago, Justin won a Gold Medal and led the U.S. Junior Trophy team to the overall victory. He had hoped to repeat that feat this year. But, while leading the Baja 500 a couple months ago he was struck by a truck that had wandered out on the course. Justin broke and dislocated his hip and is just now getting back to racing. Justin was the second fastest 45o Pro at REM. He was second in the first moto behind Dean Wilson and ahead of Dominic Desimone, Tyle Entricknap and Kristoffer Palm. But in the second moto he crashed and had to settle for a 5th for 4th overall.
Tyler Enticknap (235) and Kristoffer Palm (63). Photo: Debbi Tamietti
It was a great day at REM for both KTM and Husqvarna. Between them, the two Austrian brands won the 450 Pro class (Dean Wilson), 250 Pro class (Shawn Rhinehart), 250 Intermediates (Mitchell Falk), 125 Intermediates (Matthew Cook), Over-60 Experts (Will Harper), Over-50 Novices (Robbie Carpenter), 250 Beginners (Andrew Jolley), Over-50 Elites (Andy Jefferson) and Over-50 Intermediates (C.T. Falk). Also for the first time ever, KTMs were the dominant brand among all the motocross racers at REM. KTM had 38% of the riders (and if you included Husky with KTM they had 43%). The next closest brand was Yamaha at 27%, Honda at 16%, Suzuki at 8% and Kawasaki at 7% percent. The remainder were a few TMs and Betas. The older the classes the larger the percentage of KTMs. In fact, in the Over-60 class, which had 20 riders,  half of the field was on KTMs (and KTMs swept that podium with Will Harper, Bob Rutten and Gary Jones)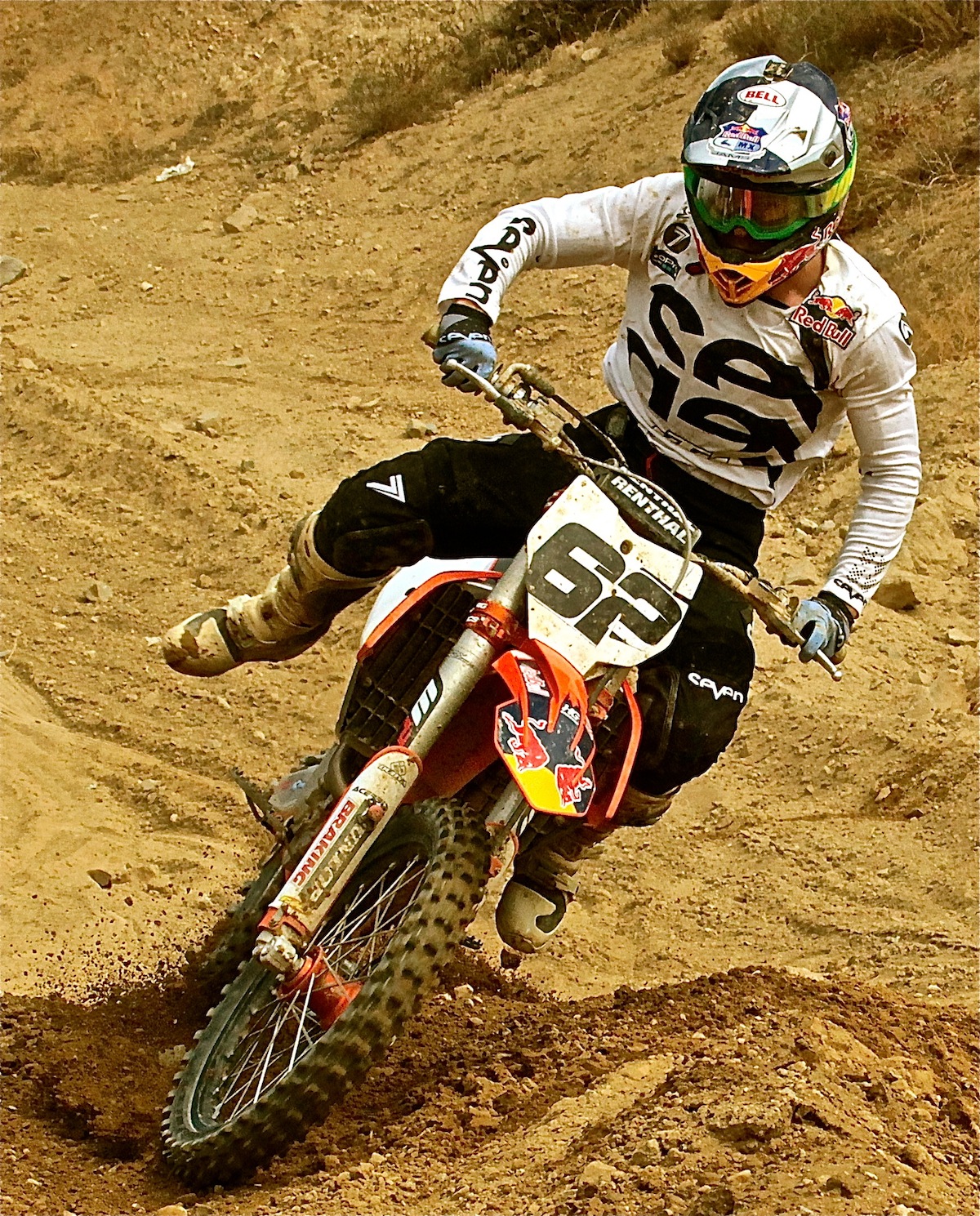 Mitchell Falk does the first step of a mistake. Photo: Debbi Tamietti
This is the second step. Mitchell recovered and won the 250 Intermediate class with a 2-1 over Willy Simons, Jr. 1-2. Photo: Debbi Tamietti
The 250 Intermediate class was a thriller. In the first moto, Willy Simons, Jr. got in front of KTM's future star Mitchell Falk and would never give up the lead. The two riders yo-yo'ed back and forth, but Simons was first, Falk second, Aryton Ward third, Jake Ochos fourth and Pablo Mogollon fifth. The second moto was a reversal with Falk first and Simons second. Jeff Ward's son Aryton was third overall with a 3-4.

In the 250 Intermediates it was Cole Tompkins (133), Willy Simons (246) and Mitchell Falk (62) early in the first moto. Photo: Debbi Tamietti
Aryton Ward. Photo: Mark Chilson
Andy Jefferson won the Over-50 Elite class on a Husky FC450. Photo: Debbi Tamietti
The Over-50 Elite class was an all-Husqvarna show as Andy Jefferson and Jon Ortner cleared out from the rest of the field (which also included the Over-50 Experts), but they didn't get completely clear as Dean Wilson was racing in the Open Expert class (which started 30 seconds in front of them). While Jefferson and Ortner put their white Huskys in front, Wilson came from behind them and began lapping his way through the complete Over-50 Expert field. Some riders were easy for Dean and others put up a fight, if only briefly. Finally on the very last lap, Wilson caught Andy Jefferson with four corners to go and lapped the complete field.

Jon Ortner went 2-2 in the Over-50 Elite class on a Husqvarna FC450. Photo: Debbi Tamietti
The Over-50 Experts were honored to be lapped by a factory rider as they engaged in their own weekly war. Luther French won on a Suzuki with a 1-1. Then, came down the pits after the day was done and borrowed Jon Ortner's Husqvarna FC450 for a spin to see if that will be his next bike. Bryan Friday was second in the Over-50 Experts with a 2-3. The top ten was French, Friday, Phil Dowell, Robert Reisinger, Dave Eropkin, Joe Sutter, Val Tamietti, Mark Hall, Ron Shuler and Randy Skinner. Will Harper, who won the Over-60 Experts, had a fourth in the first Over-50 Expert moto, but got a flat on his way to the starting line for the second moto (not on the track, but in the pits).

Phil Dowell had a message on the back of his helmet for the M&M loving Val Tamietti. It was meant to be read from behind Phil—which is where Val was. Photo: Debbi Tamietti
Kent Reed holeshot one of the Over-60 Expert motos, but ended the day with a 9-9 score for ninth overall (isn't math wonderful). Photo: Debbi Tamietti
In the Over-60 Experts Will Harper (1-1), Bob Rutten (2-2) and Gary Jones (3-3) squabbled over the victory as the Indian Dunes hero, Baja winner and four-time 250 National Champion gave no quarter. The small difference between them promises to tighten up when REM racing resumed after the Glen Helen USGP and WORCs races. Mike Marion two-stroked it to third with a 5-4 in front of fellow smoker pilot Ken Ehlers (4-5). Lyle Sweeter was sixth with three-time Over-60 World Vet Champion Bill Maxim in seventh.
Robbie Carpenter (132) found another gear in this corner. Photo: Debbi Tamietti
For three weeks Robbie Carpenter has been racing his new 2016 KTM 350SXF, but this week was the first time that he has raced it without the choke being on. The 2016 KTM's have the choke on the bottom of the throttle body and you push it in to engage it instead of pulling the knob out as on most other band. Robbie didn't know this, but just before practice he found out that he had been racing with the choke on. He fixed his flaw and went out and went 1-1 in the Over-40 Novices ahead of a top five of Pete Vetrano (3-2), David Gilbreath (2-3), Gary Taylor (4-4) and John Willoughby (6-5). The week before, Robbie Carpenter finished 7th.
Brian Calhoun. Photo: Debbi Tamietti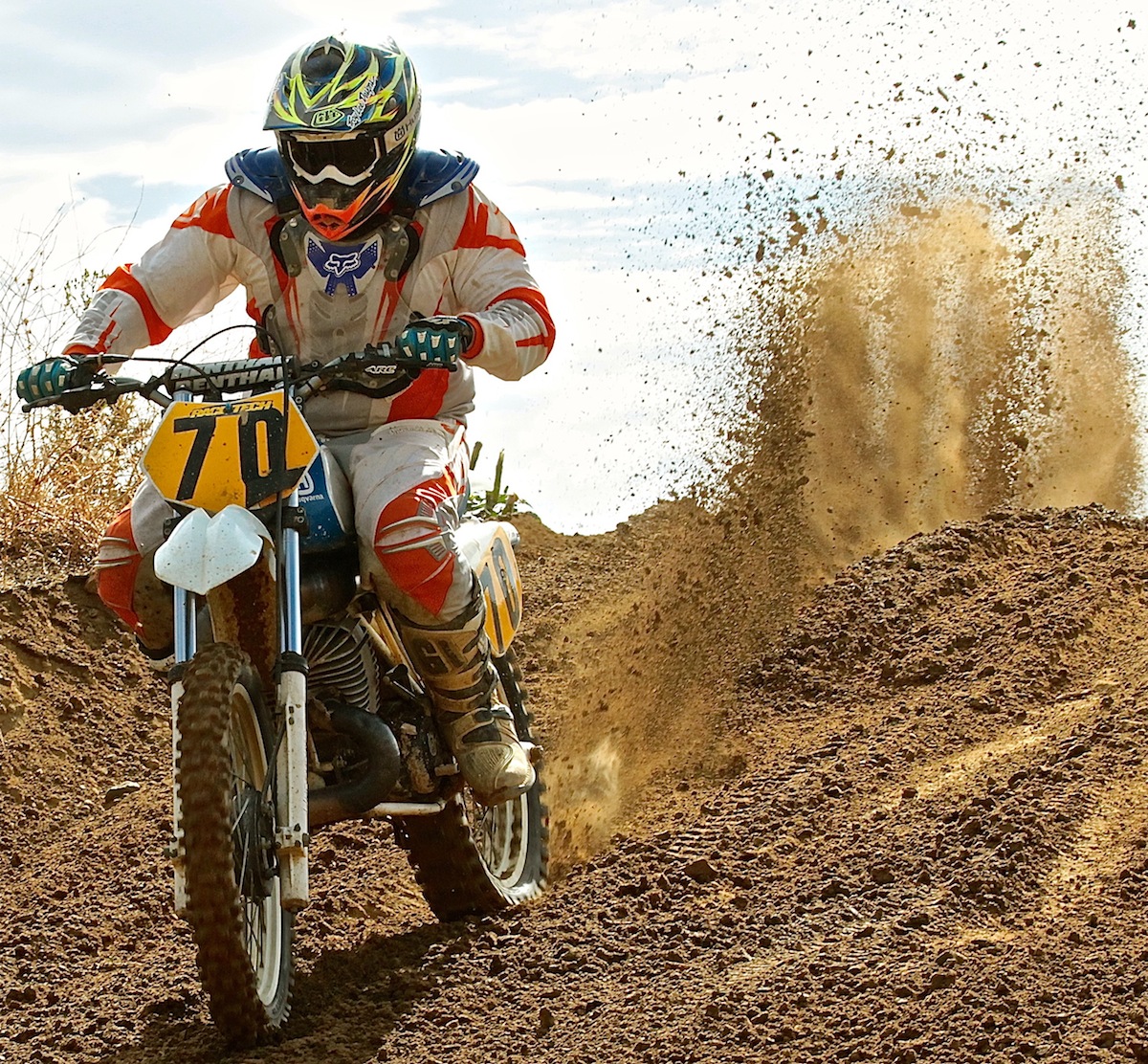 Frank Emeron. Photo: Debbi Tamietti
The old bike movement is alive and well at REM. Not only did Brian Calhoun win the Over-40 Intermediates on a 2003 Yamaha YZ250 two-stroke, but Frank Emerson went 8-9 on a 1983, four-speed, twin-shock, air-cooled, Husqvarna 500CR in the Over-50 Novices (beating half of the field).

Nicholas Ziegler was sixth in the 250 Novice class. Photo: Debbi Tamietti
In the Novice classes, Robby Schot won the 125 Novices, Mark Puckett took the 250 Novice win, while Zack Randolph went 1-1 in the 450 Novices. The Vet Novice victory went to Kuwaiiti rider Moaath Alansari, who also went 4-4 in the 450 Novices.
Greg Pierce was very impressed with Mitchell Falk's technique in this corner. Photo: Debbi Tamietti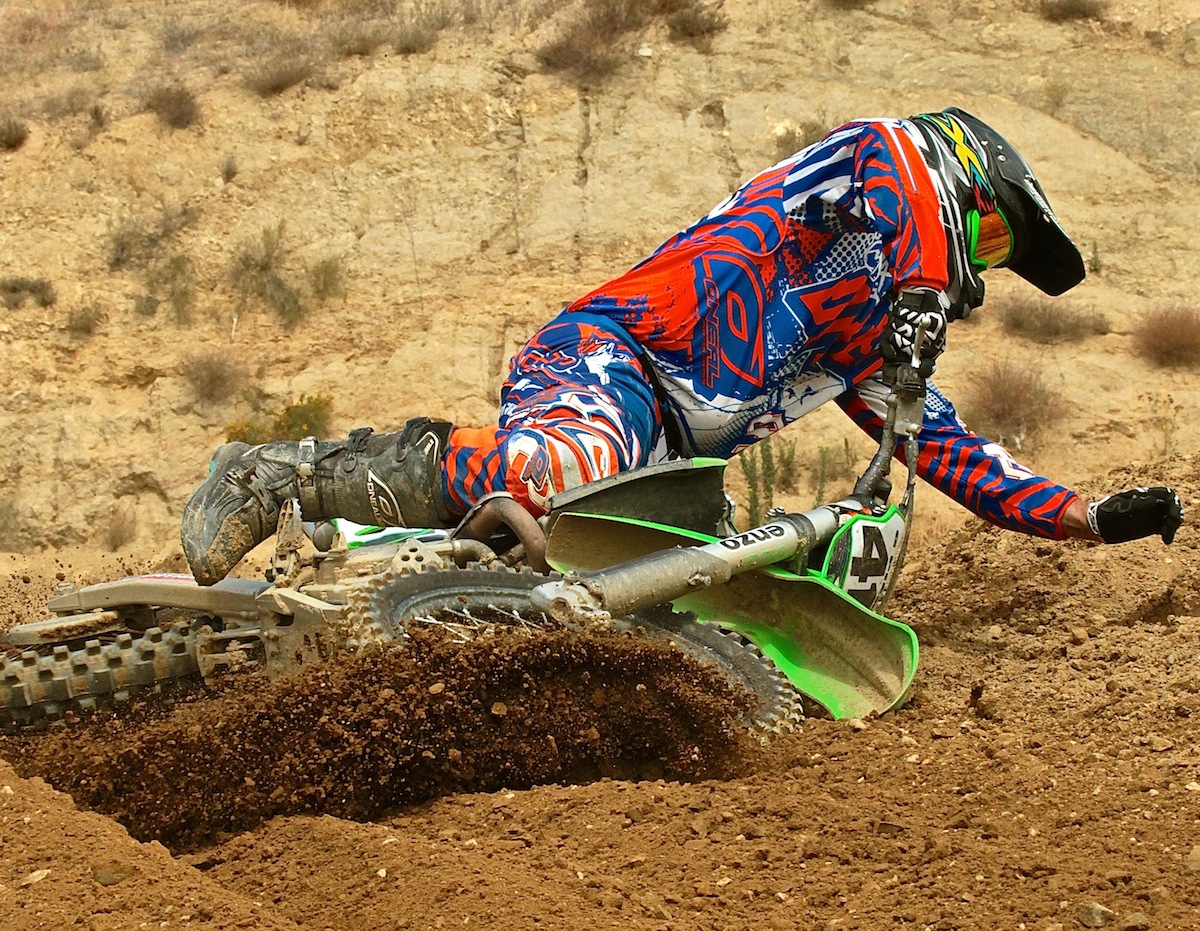 But Greg had a worse result than Mitchell. Photo: Debbi Tamietti
Syd Woods (489) was fourth in the Over-50 Novices with a 3-5. Photo: Debbi Tamietti
One more shot of Deano putting the power down. Photo: Mark Chilson
Because of the USGP next weekend and a WORCS race on September 27, REM will take a two-week break before holding four races in October (those races lead up to the Dubya-sponsored World Vet Championship on November 7-8), In fact, the October 31 race, the yearly REM Octobercross, will be held the new World Vet layout instead of on the REM track. For more info go to www.remsatmx.com.