DEAN WILSON TALKS TRAINING WITH DAVI MILLSAPS & HIS RACING FUTURE
DEAN WILSON INTERVIEW
Obviously, Dean Wilson is well known as number 15, which he has now worn for much of his career. However, I think of the born in Scotland rider as number 108. This was the number he wore back in 2010 when I first met him in his Pro racing debut. His impressive fourth overall Outdoors in the 250 class that season earned him the 2010 "Pro Motocross Rookie of the Year" title. Furthermore, it was only one year later, when Dean captured the 2011 250 motocross championship. Later when Wilson moved up to the 450 class, injuries slowed his progress. Nonetheless, Dean finished just off the 450 Pro Motocross Championship podium in 2017, and he was just outside the top five in the 2018 and 2019 450 Supercross Championships. Now, Dean has left Rockstar Husqvarna and decided to stop racing Outdoors, in order to pursue WSX and AMA Supercross on the Firepower Honda team, with big changes both professionally, and personally (becoming a father). 
BY JIM KIMBALL
---
DEAN, CONSIDERING THE EXTENT OF YOUR INJURY DURING SUPERCROSS, HOW WAS IT TO FINISH OFF YOUR FINAL PRO MOTOCROSS RACES? It was okay. It was good for me to be out there. I knew this would be the last year outdoors of my career, so I really wanted to be out there. It was just hard to come back from that injury because my body went anemic after my injury in Supercross. I really had to build my blood system back up after that injury. With coming back, I mainly just wanted to earn myself a spot with Team Great Britain for the Motocross Des Nations team. I did that and got a few top tens, so it wasn't too bad.
BEING ANEMIC MUST REALLY MAKE IT HARD BECAUSE IT ZAPS THE STRENGTH FROM YOU. I lost so much blood that I almost needed a complete blood transfusion but did not end up getting it. So, I had to naturally let the blood build back up. That is what took me so long on getting back for that blood to build back up.  
Dean Wilson being helped off the track after getting a foot peg to his butt at St. Louis.
THIS PAST YEAR WAS YOUR LAST OUTDOOR SEASON, BUT YOU ARE RACING SUPERCROSS IN 2023. WHY LEAVE MOTOCROSS IF YOU'VE HAD GREAT RESULTS OUTDOORS IN THE PAST? Yes, that is true. But I have had torn both of my ACLs in me knees so many times, and have had so many knee injuries that my knees just really cannot stand the outdoor grind anymore. Outdoors is just too hard on it on them, I just can't handle it. It's just too much load, so that is what really made my decision. If I could at least just get by in Supercross that would be ideal, and hopefully extend my career a couple more years.
WHAT ARE YOUR PLANS NOW? I'll be racing AMA Supercross and World Supercross, plus I will be racing the Australian series and living over there for a couple of months. That should be fun, and I would enjoy that. There is some good money to be made still, and that is the plan.
YOU REALLY SEEM TO BE GOOD WITH ALL OF YOUR SPONSORS. HUSQVARNA AND O'NEAL GAVE YOU A GREAT SEND OFF BEFORE SWITCHING TO HONDA AND FLY RACING. I have always tried to have a good relationship with all my sponsors. Being loyal and having a good relationship is important to me, and I had that. Rockstar Husqvarna and O'Neal did a lot for me. Of course, I will now be with Honda and Fly Racing, and believe I will grow my relationship with them, while still maintaining my past friendships and relationships.
I THINK ITS SO IMPRESSIVE HOW YOU LEFT ROCKSTAR HUSQVARNA AND A COUPLE WEEKS LATER YOU WERE RACING WORLD SUPERCROSS ON FIREPOWER HONDA. It was a big load for sure. It was not ideal to just jump into a race like that with no time on the bike, but it was just what I was signed up to do, so I did it. Sure, it didn't go the greatest, but I still gained a lot of good racing experience and I learned a lot with the bike. It was good in a sense as well. 
YOU IMPROVED FOR ROUND TWO IN AUSTRALIA. Yes, I got a little more time on the bike and by Australia, I was quite a bit better. Unfortunately, I got a flat tire in one of the races, so that really screwed up my score, but I was in the top four. My speed was pretty good in qualifying and I was definitely looking a lot better. Unfortunately, just needed more time, that was all I really needed. 
OVERALL, IT WAS GOOD PREPARATION FOR 2023 RIGHT? Yes, I felt pretty good coming back from it, I just knew that I was not that prepared going into it, so it was not really my best performance. It was good to see that I had some decent speed, but I just really need to work on the bike and work on myself and get it ready. That is what I really needed. The next time I line up, I will be definitely a lot better off.  
THERE ARE LIKELY SO MANY DIFFERENCES FROM YOUR ROCKSTAR HUSQVARNA TO YOUR NEW FIREPOWER HONDA, IS THERE ONE THAT STANDS OUT MOST? They have a lot of their own different characteristics. The engines are different, the Austrian to Japanese frame is completely different. Obviously, it feels like a Japanese bike, as it should. It reminds me of the Pro Circuit days when I was on a Kawasaki. The Austrian (KTM/Husky) bikes are a lot different, so I'm still learning the Honda, but I am liking it a lot so far.  
YOUR LIFE HAS BEEN VERY BUSY RECENTLY, YOU'VE GOT A NEW RIDE AND TEAM, YOU'VE BEEN TRAVELING A LOT AND YOUR WIFE JUST HAD A BABY. It has been a crazy few months for sure. Adjusting to a new team, having a baby boy, just a lot of things, so it has been a big adjustment period. But I have been plugging away, and now feeling I like where I am at. I really enjoy being a dad. It is a lot of different way of thinking now, but I like it.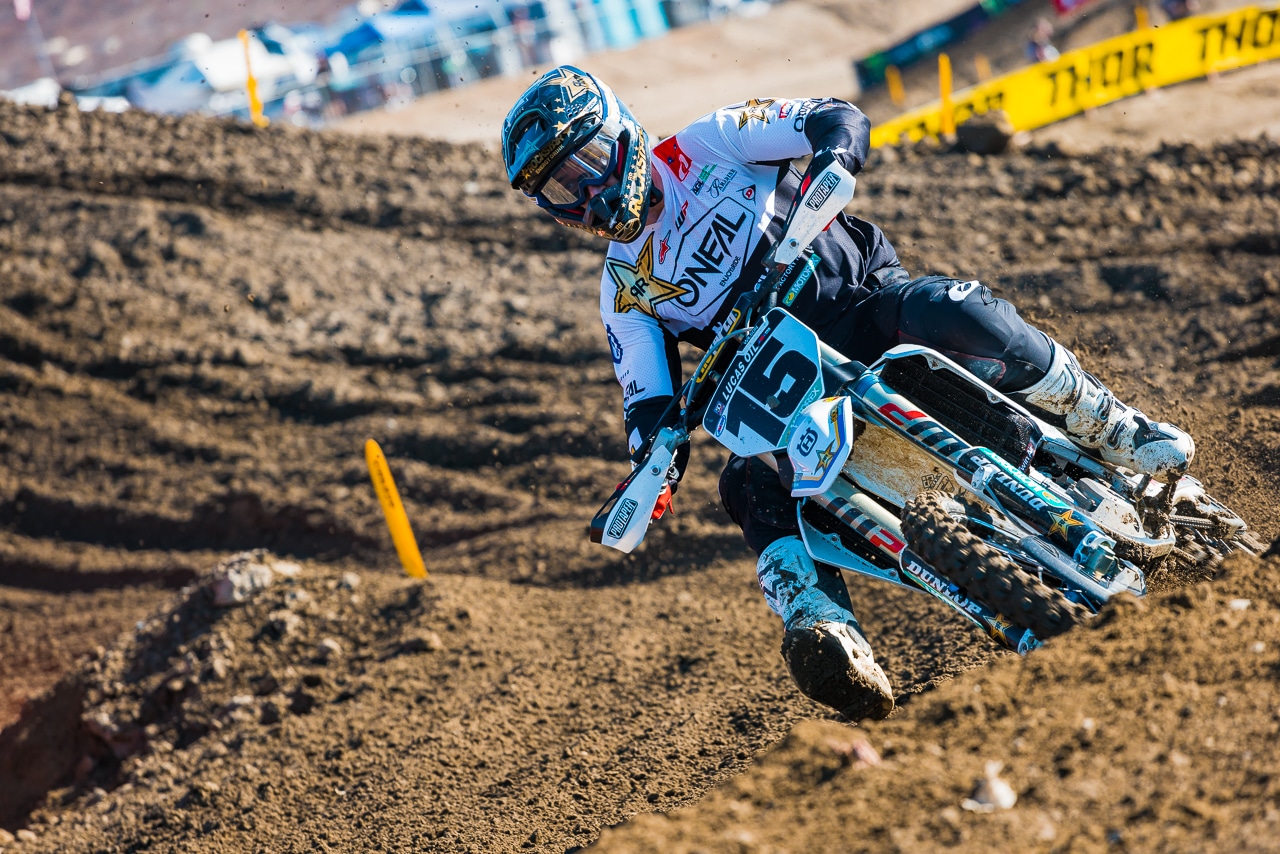 Dean Wilson at the 2022 Fox Raceway 2 National, his last AMA Outdoor race of his career.  

YOU ARE LIVING IN SOUTHERN CALIFORNIA; WILL YOU STAY THERE THROUGH SUPERCROSS? I will be back to Florida eventually once the series goes east.
DOES THE FIRE POWER HONDA TEAM HAVE A PLACE IN FLORIDA? Yes, their team is based out of MTF (Millsaps Training Facility) in Cairo, Georgia. 
I UNDERSTAND THAT YOU ARE WORKING WITH DAVI MILLSAPS; IS THAT TRUE? Yes, I am, and it has been good. I only recently hired Davi, we worked together for a few weeks now, and it has been good. I wanted someone to help me on the track. This might be my last year of racing so I really want all the help I can get. I always really liked the way Davi rode on the motorcycle, and I felt like he could help me with my riding and training. It was just an opportunity that was available. So far so good. I am enjoying it and it is good to have someone that has been there before helping you.  
I DID NOT REALIZE THIS COULD BE YOUR LAST YEAR OF RACING COMPLETELY? Yes, we will see, it just depends on how my body feels. It's a very dangerous sport and if you are not making good money and are not getting the stuff you want, it is not worth it, because it is just too dangerous. 
I SAW IN YOUR VLOG THAT YOU ARE IN THE MIDST OF YOUR TRAINING BOOT CAMP. That will probably go all the way till the first race, and then you know it is a seventeen-round series, so we will adjust from there. You are always constantly adjusting because you must listen to your body and see how you feel and try to get the most out of what you can.
DO YOU HAVE ANY TYPE OF GOAL OR EXPECTATION FOR SUPERCROSS IN 2023? I would be happy with a top ten in the championship—I would be happy with that. Obviously, better than a top ten would be better. It is a stacked class within the top ten, so I think it is good for me and where I am at. If I do better than that, that would be awesome.
WHAT IS YOUR TAKE ON WORLD SUPERCROSS? I enjoyed the World Supercross. It was good for me for where I am at in my career. It is another avenue to make money racing—so it is good. You get to travel the world, and race Supercross. I cannot complain, and I felt like it was run well. There were a few little things that could be better, but that is the same as in American Supercross too.