DEAN WILSON WINS REM: GIANT PHOTO GALLERY

Photos by Debbie Tamietti, Dan Alamangos, Jody Weisel and Rich Stuelke
Click on images to enlarge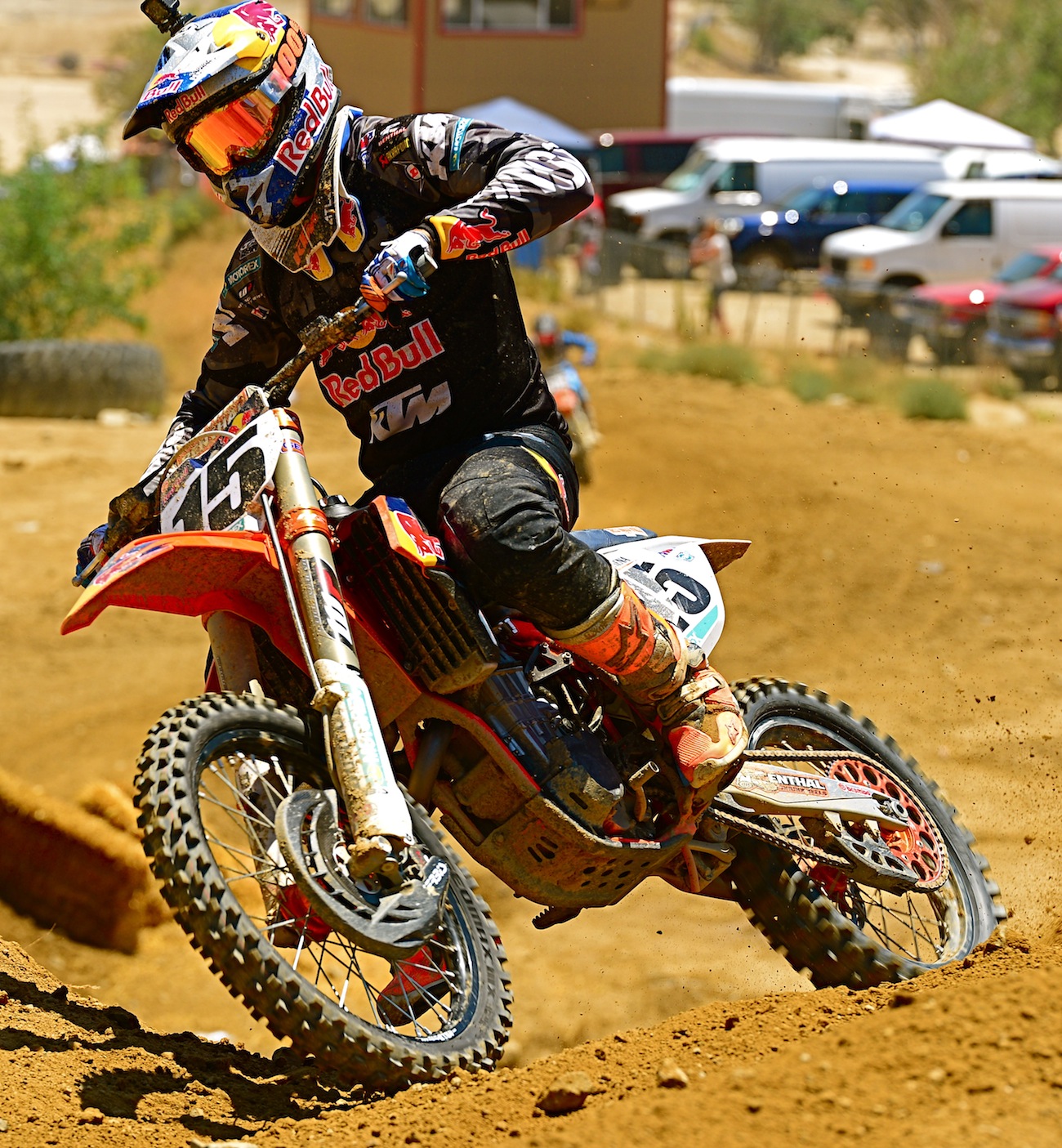 Dean Wilson came to REM to test his new knees before returning to the AMA Nationals in two weeks. He not only won the 450 Pro class, but REM let him race a second unclassified class so that he could get in four hard motos.

Perhaps the biggest surprise was that MXA's Dennis Stapleton holeshot the first 450 Pro moto on MXA's Factory Edition ahead of Wilson's works bike. What powered Stapleton's 450SXF? An R&D Genius throttle body. Dennis would win the Vet Pro class and Wilson would go on his merry way after dispatching with Dennis.

Dominic DeSimone (595) used a 3-2 to take second in the 450 Pro class. Here, he checks his six, but it looks more like his 3.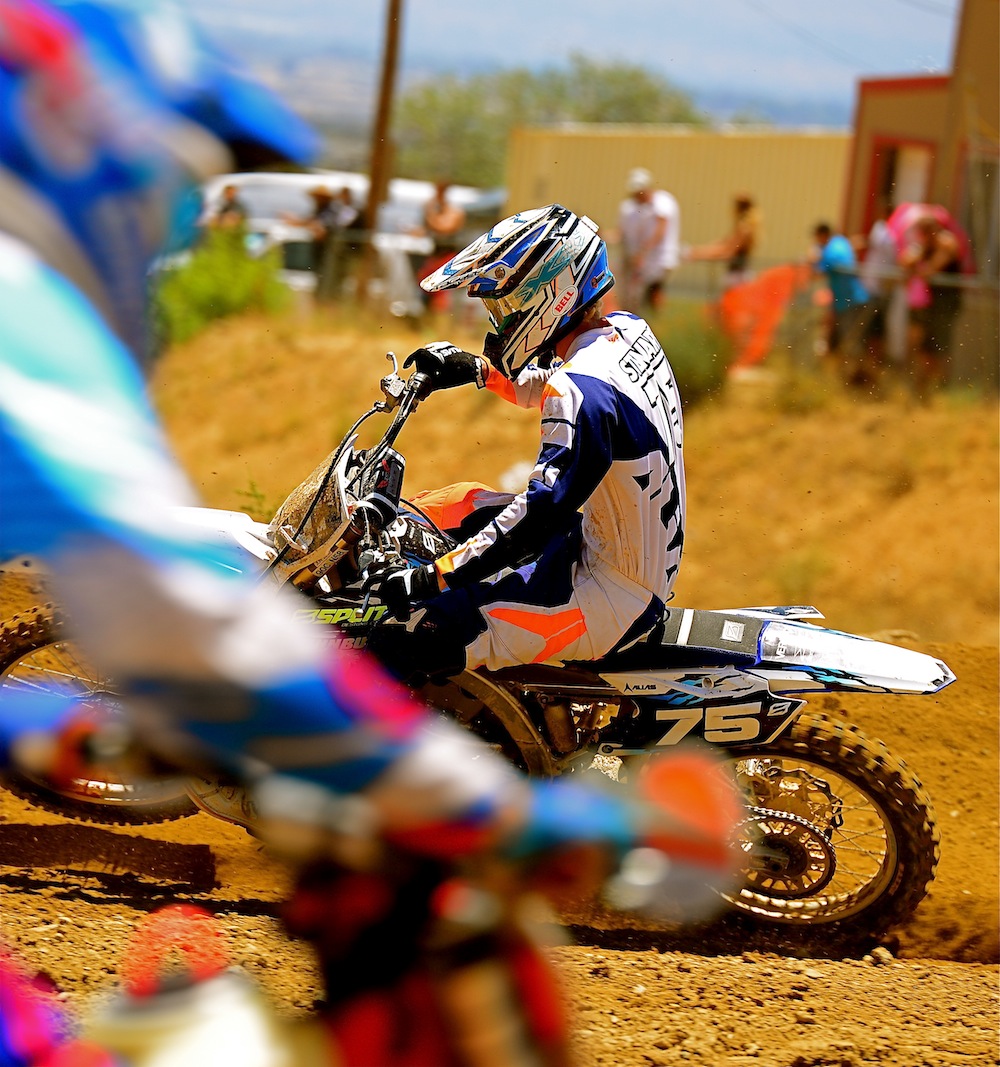 Trevor Stewart's 2-3 got nipped for second overall in the 450 Pro class by De Simone's 3-2.
Brazilian Vinnie Angelini wanted to hide the competition into the ground, but, in this case, the ground won. Vinnie recovered to win the 450 Intermediate class.
This week's winner of the "Greg Groom Creative Line Award" goes to Tristian Higgins (411), who cut this corner so many times that we lost count. It wasn't that he cut it to gain ground, because he wasn't catching anyone. He just couldn't stay on the track.

MXA's John Basher (86) is giving up his beloved Yamaha YZ125, so he came to Glen Helen to race it one more. John will head MXA's East Coast division starting next month, but he wanted to race with his buddies at REM one final time.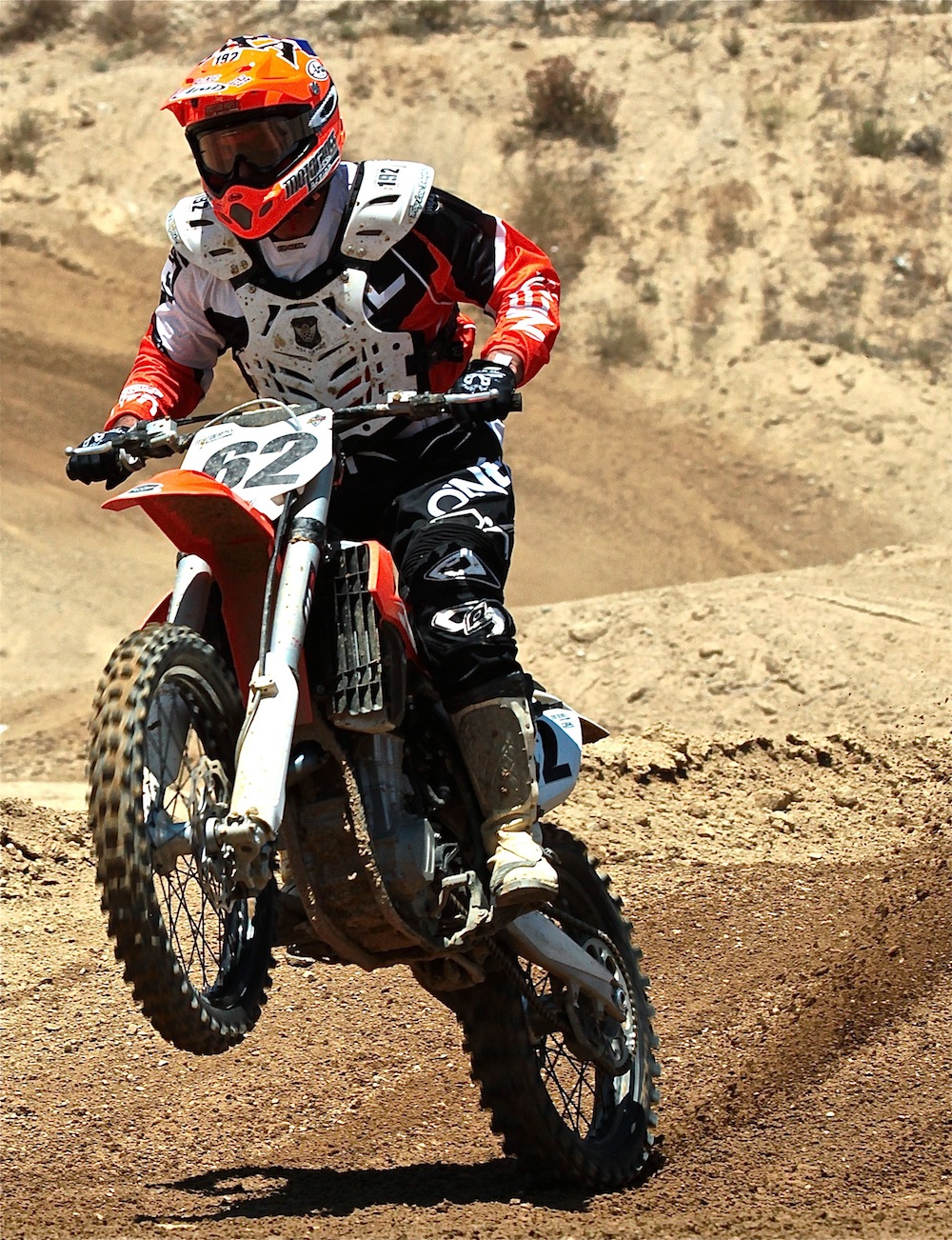 As always, Jody Weisel (62) raced a different bike in each moto—the first on a 2016 Honda CRF450 and the second on a 2016 KTM 450SXF. He was one of four MXA test riders who swapped bikes during the day.
The MXA gang spent all day Thursday testing set ups at Glen Helen on the 2016 RM-Z450, YZ450F, 450SXF, KTM 125SX and Honda CRF450, then came to REM on Saturday to race the bikes. Stapleton was testing maps with R&D's Dean Dickenson.
This is an amazing photo. On the left is Terry Varner, who went into cardiac arrest in the pits six months ago. Terry was lucky that racer Rick Parker (right) was at the track. Parker, a fireman, jumped in to give CPR to Varner while the ambulance crew shocked him five times. Varner actually died, but was brought back to life on the drive to the hospital. Parker stayed with him from the moment he collapsed until he was in the emergency room. This week's race was the first time that they had been at the same race. Note the quadruple bypass scar on Terry's chest.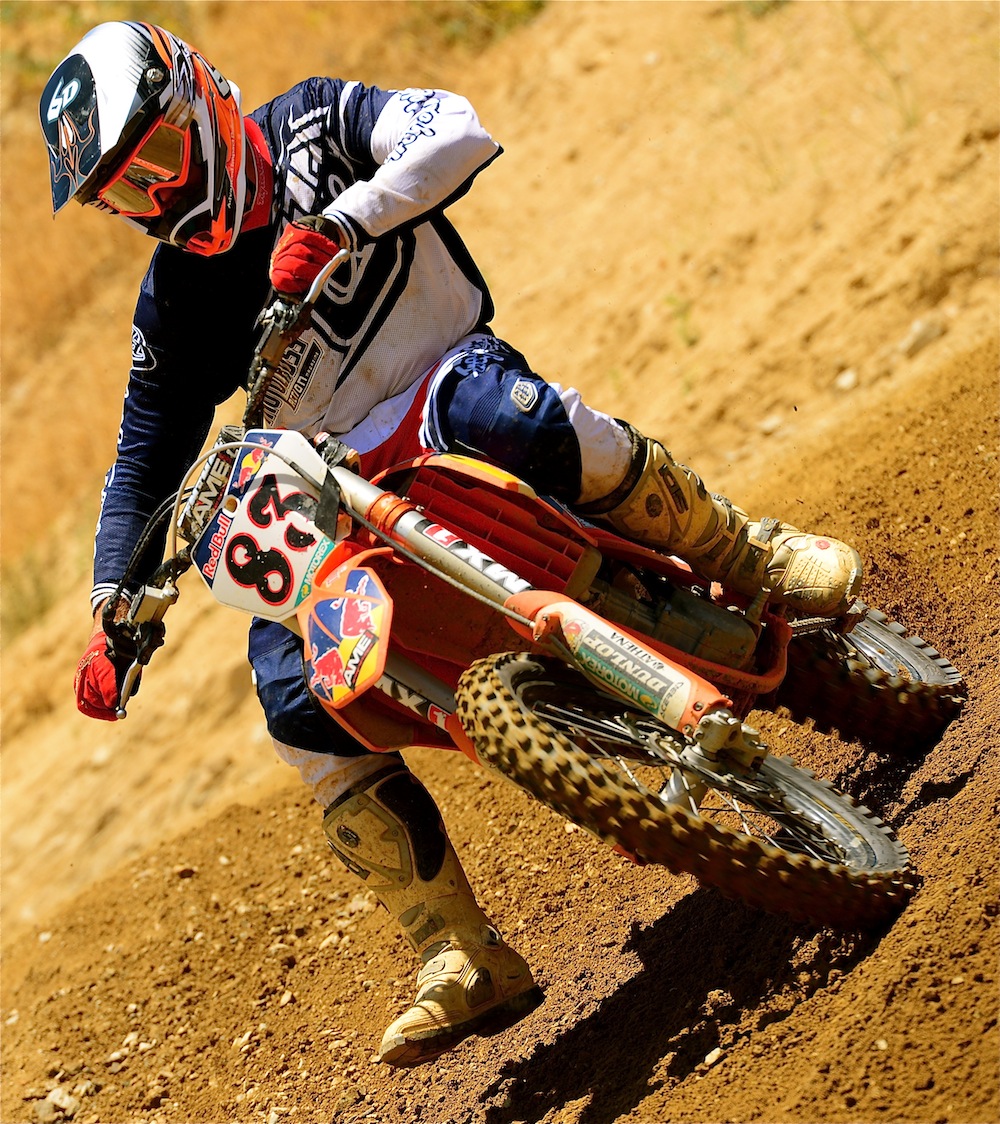 AME Grips' Bob Rutten won the Over-60 Expert race. With 20 Over-60 riders on the gate at REM this week, Rutten had his hands full with a top ten of Will Harper (2-2), John Alden (4-3), Ken Ehlers (5-4), Mic Rodgers (7-5), Mitch Evans (6-6), Mike Marion (3-9), Lyle Sweeter (8-7), Kent Reed (9-10) and Bill Maxim (13-8).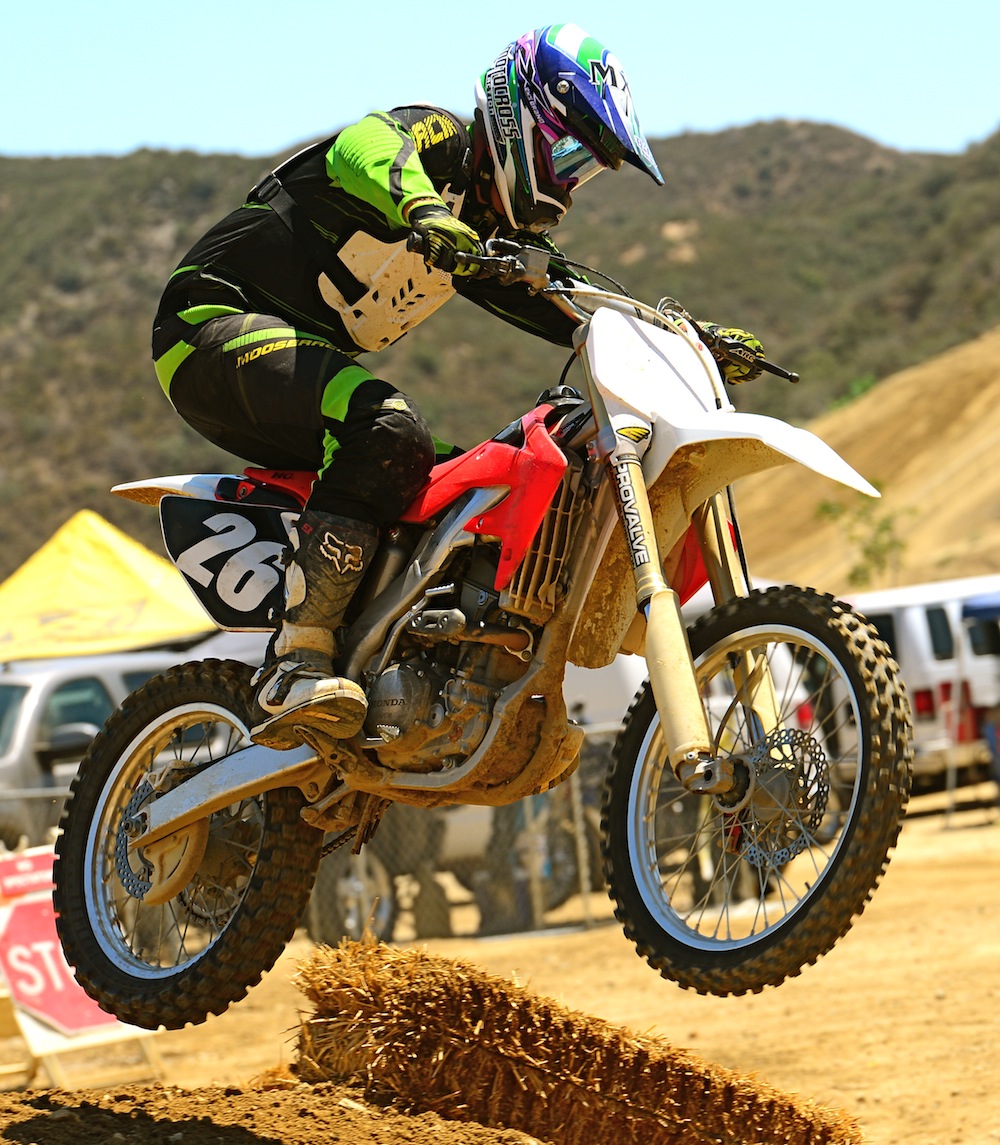 Proof positive that you don't need a new bike to be succesful. Josh Fout (26) raced his ancient Honda CRF250 to second overall in the 250 Beginner class.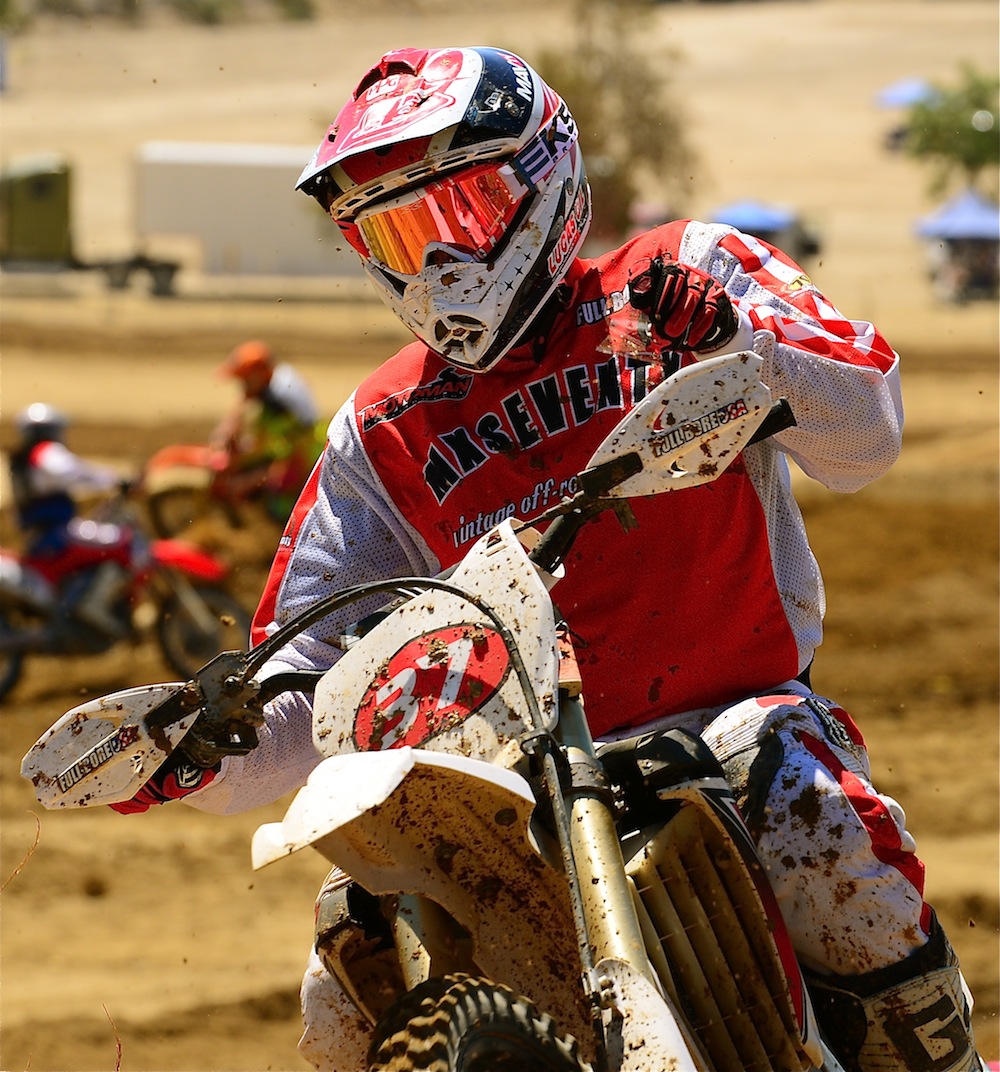 Pete Vetrano does his signature freestyle trick. It's called "one hand six inches off the bars." Pete was second in the Over-40 Novices and 7th in the Over-50 Intermediates.
REM is always packed with foreign riders. This week Ryusei Itsuka (above) and Kai Okumura came from Japan and were joined by riders from Sweden, Kuwait, Australia, England, Russia, Holland, Mexico and Ireland. And that isn't counting Scotland's Dean Wilson.

Unless Maxx Murphy (256) knows one of Greg Groom's secret shortcuts, he has this straight all messed up.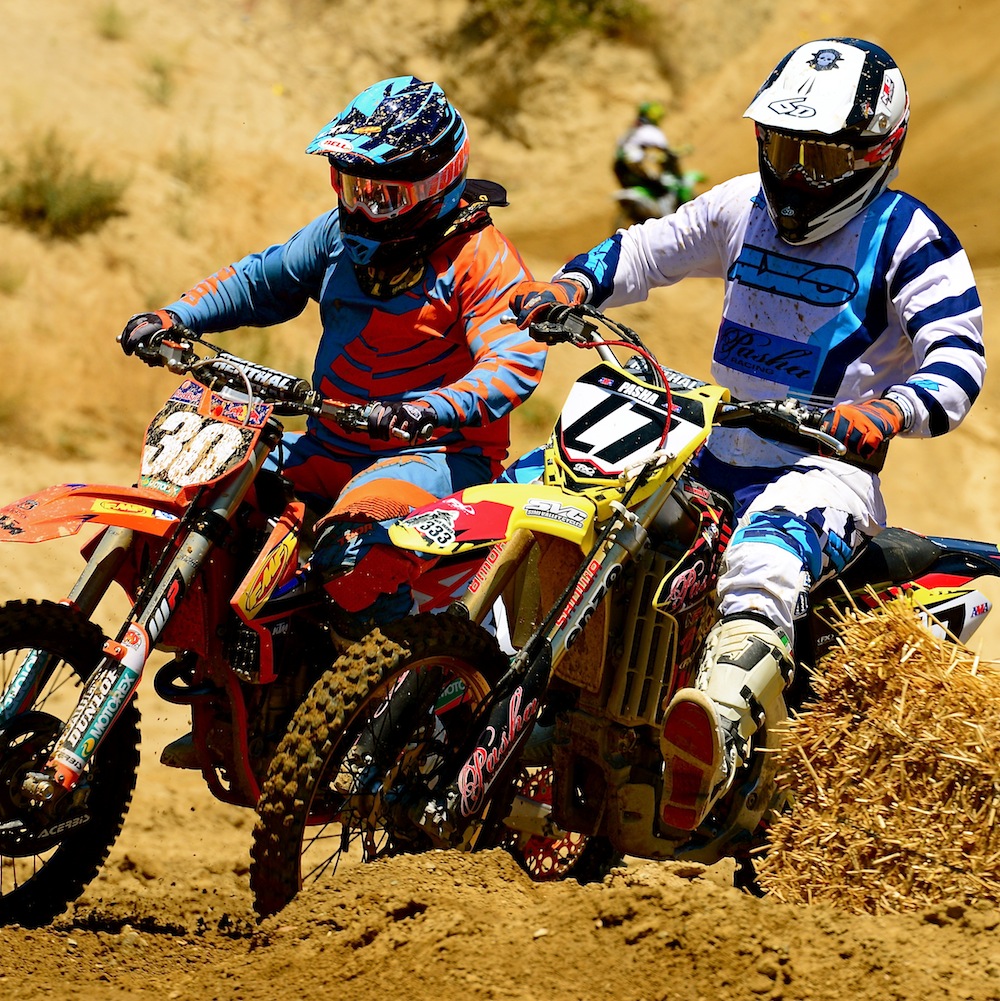 Ireland's David O'Connor (30) and Hollywood stuntman Pasha Afshar (7) fight for room in the Vet Novice class. O'Connor would go on to finish second overall with a 3-2 behind winner Steve Lindwall.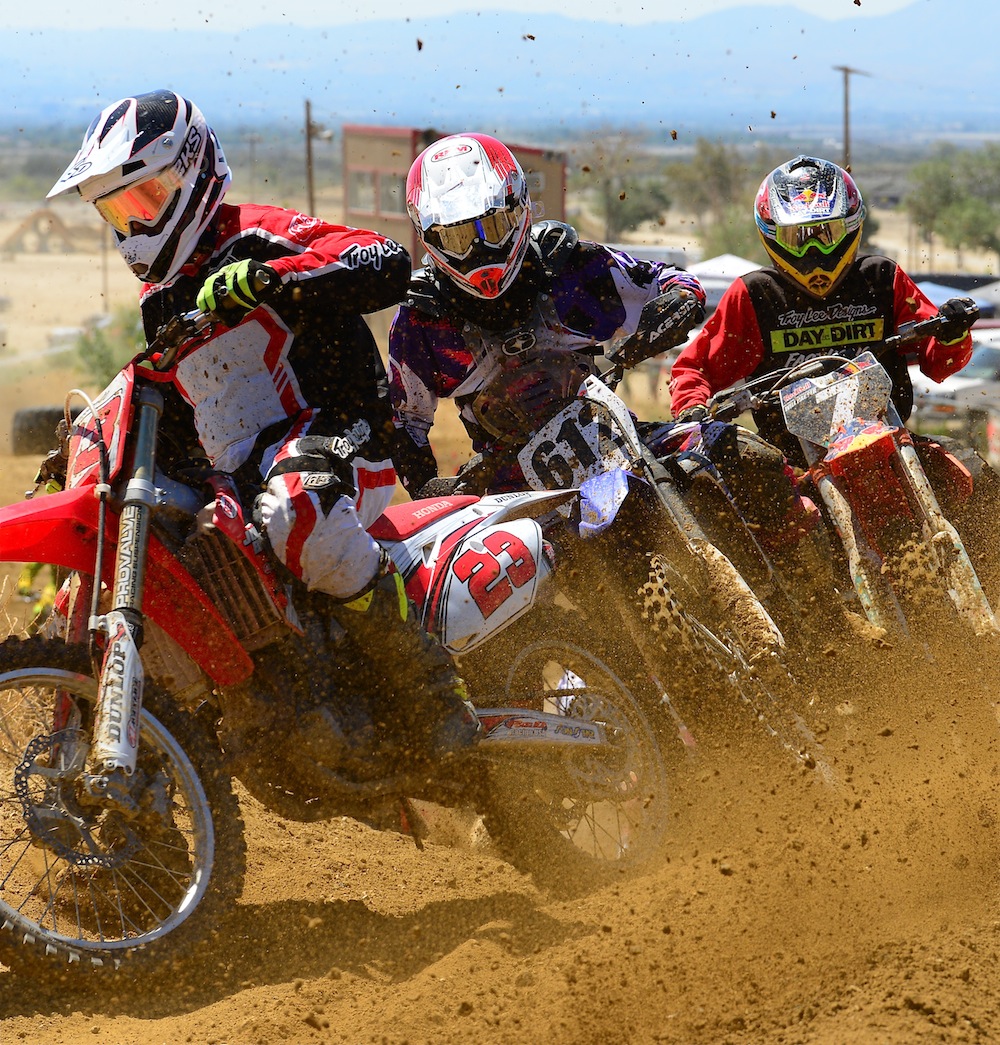 Hollywood stuntman Will Harper (7) came home from six months in Australia, where he was working on "Pirate of the Carribean 5" to race with his buddies. They greeted him with open arms as Phil Dowell (23) and Steve Pfaff (612) say hello with some aggressive riding.

If you think that the bump that Randy Skinner is bouncing over is bad, look ahead to the one that is blowing Dan Alamangos' feet of his pegs.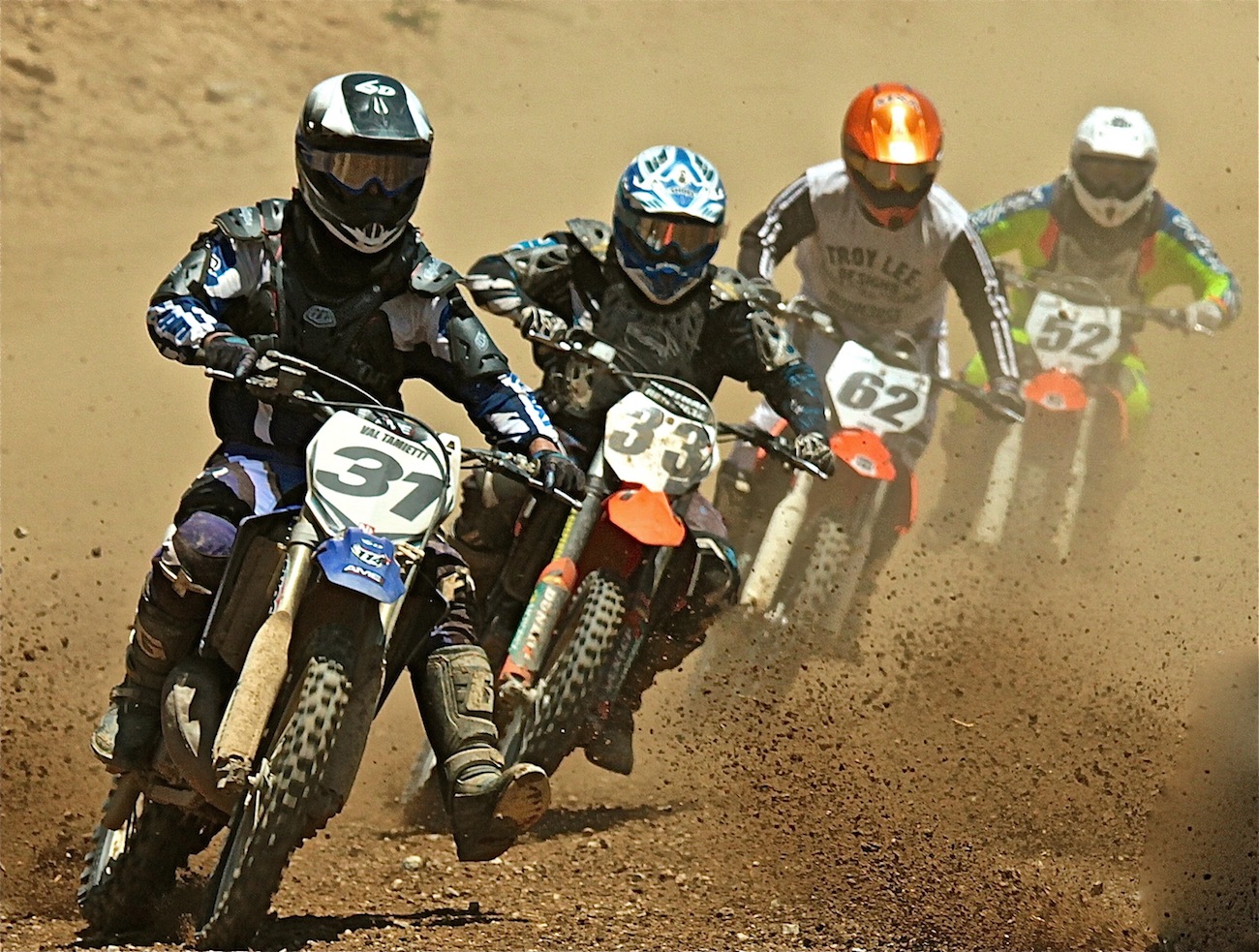 For some reason REM racers love to fly in formation. You could shoot this style of photo in virtually every moto. Here, Val Tamietti (31), Ron Shuler (33), Mark Hall (62) and Randy Skinner (52) sweep through…what else, a sweeper in the Over-50 Expert class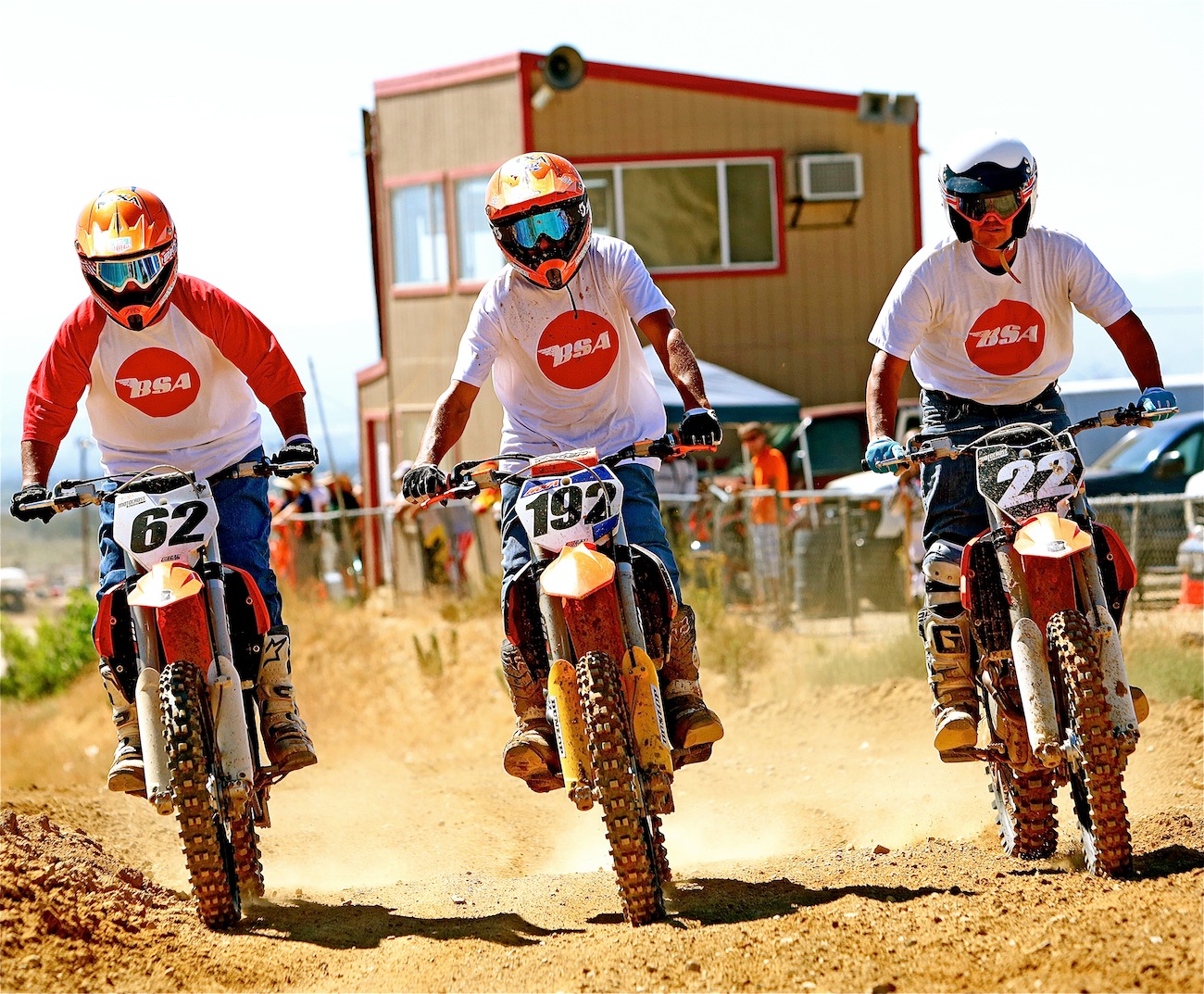 As a celebratory tribute to MXA's Feets Minert, who celebrated his 84th birthday on Thursday, there were BSA T-Shirts printed up to honor the Catalina Grand Prix winner and BSA factory rider. Photo: Rich Stuelke

The birthday card. Photo: Rich Stuelke

Tom White (52) leads Bill Seifert (37). They were engaged in an all-out duel to make the top 10 in the Over-60 Expert class along with Jody Weisel. In the end Jody went 11-12, Bill 10-14 and Tom 14-11, And none of them made the top 10 as three-time Over-60 World Champion Bill Maxim took the tenth spot with a 13-8.

Jon Ortner (65) won the Over-50 Elite class on MXA's 2016 Yamaha YZ450F. How did he do it? Someone suggested to him that perhaps he should press Yamaha's all-new launch control button for the second moto. REM has a concrete start. Ortner went 2-1 over Ian Fitz-Gibbon's 1-2.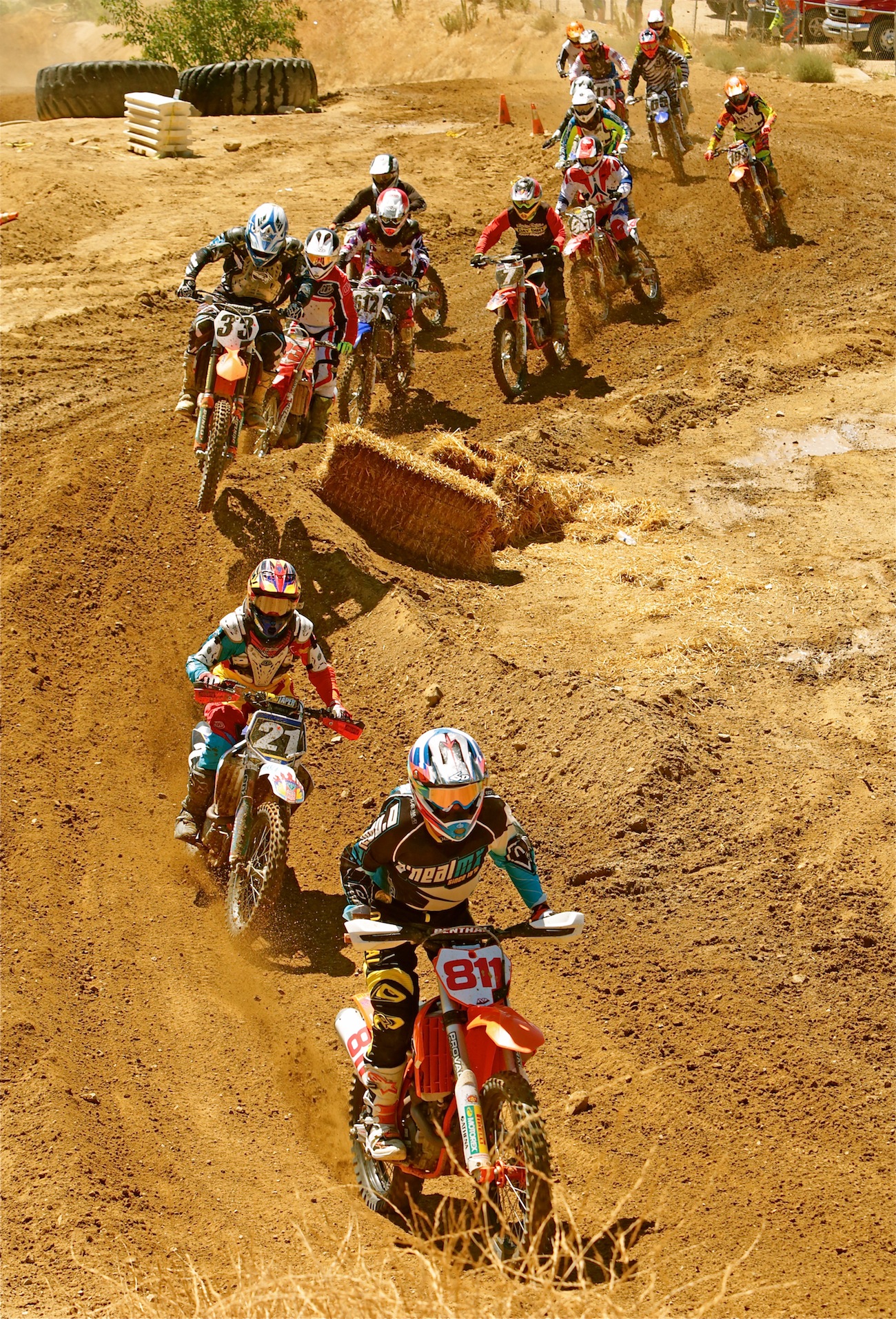 Dave Eropkin (811) leads the fast 50s with Ian Fitz-Gibbon (21) and Ron Shuler (33) in pursuit. Believe it or not, the rider who would eventually take the overall win in this class, Jon Ortner (65), is the blue Yamaha at the back of the long conga line. This was the moto before he discovered that the 2016 YZ450F has launch control for concrete starts. Photo: Rich Stuelke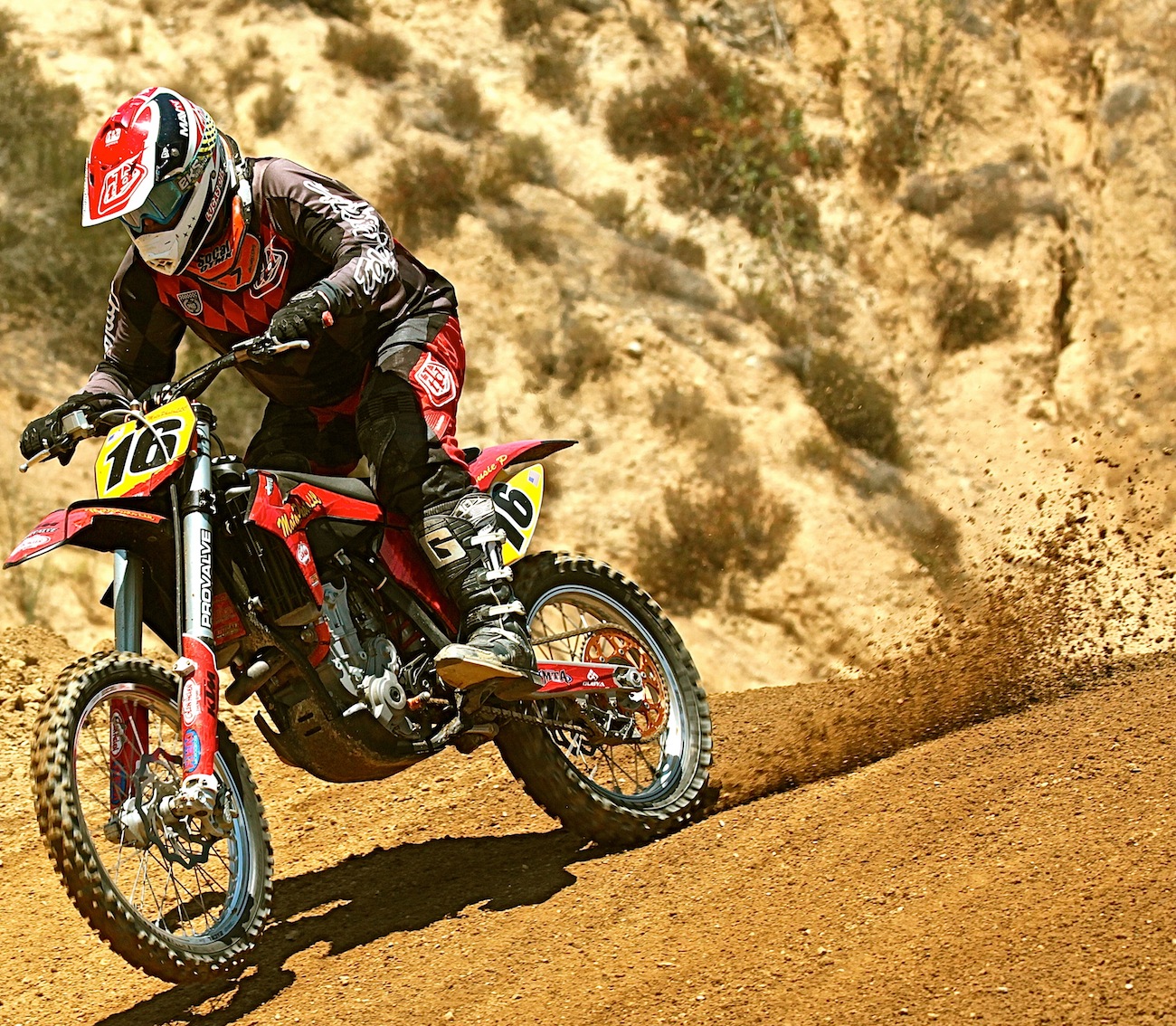 Rich Stuelke was a High School Principle, but after he retired he thought he'd like to be a motorcycle racer. Now he is.
For more info about REM go to www.remsatmx.com. REM will race for the next seven weekends without a break.