DEBBI TAMIETTI'S GIANT GLEN HELEN PHOTO GALLERY
Click in images to enlarge
You can't tell what happened in a first turn crash by asking the men who were there. Instead, photographic proof tells the whole story. It looks like Dean Sarver ran into the back of Jon Ortner (10). This sent Ortner careening up the hill and Sarver's buddy Scott Highland (39) zeroing in on the fallen rider.
But Highland's number 39 Suzuki gets hit by the KTM below him, which enables him to miss ramming his buddy. As Highland lays his Suzuki down, the KTM hits the fallen bike in the rear wheel.
In this frame the KTM rider is catapulted into the air, Scott Highland's Suzuki is sliding towards the fallen Honda and Jon Ortner (top) is thrown over the bars.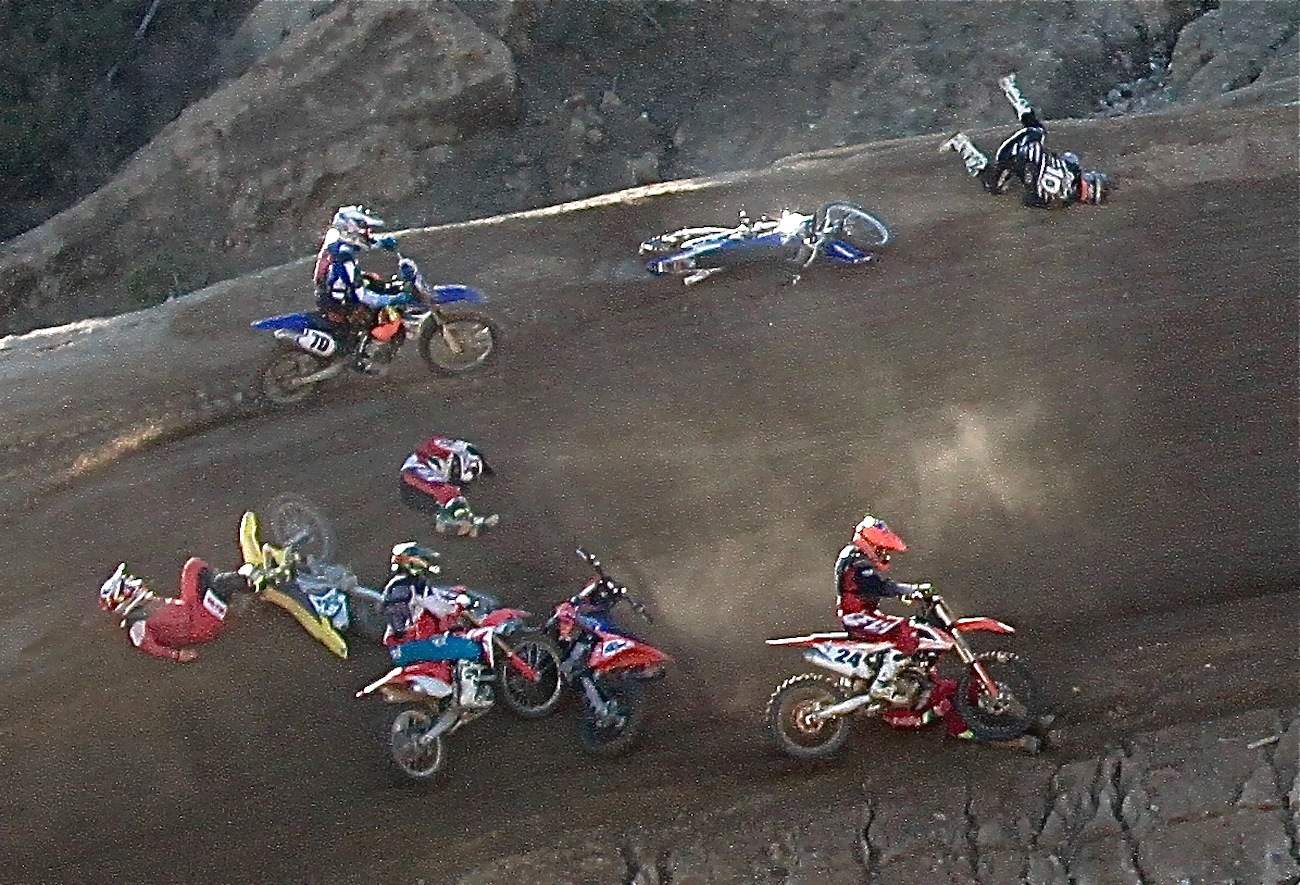 The Honda without a number on it centerpunches the fallen KTM, while Dan Alamangos (24) runs over the legs of the KTM rider. Meanwhile, Jon Ortner (1) hits the deck. When it was all sorted out and the race red flagged, Dean Sarver suffered a broken collarbone and everyone else restarted.
That's Brandon Sussman (12) behind the sand curtain.
Travis Freistat's Honda sprays roost and rocks into infinity or the next rider — whichever comes first.
Dennis Stapleton won the Vet Pro class on a 2017 TM 300FI-MX.
Chuck Sun went partying after the Anaheim Supercross and could only run one moto at the "Day After the Night Before" race. He borrowed MXA's TM 300 four-stroke.
Evergreen Gordon Ward (444) just keeps on racing, winning and having fun.
This time of year there are no palm trees back home in Sweden. It also isn't 80-degrees, but Jeff Oxelmark isn't complaining.
Todd Gravitt put his 'Zook wherever he wants it.
Jon Ortner lofts his Yamaha YZ250 two-stroke down the front straight. Only the palm trees still have their leaves at Glen Helen.
Scott Highland (39) came from North Carolinato go to Anaheim Stadium on Saturday and race at Glen Helen on Sunday. Now that's a vacation!
D.R. Clement (70) and Phil Dowell (23) find the rhythm in Glen Helen's unrhythm section.
Bob Weber leaned on it. And it moved. That's 100 percent traction.
By late afternoon  the track is 90% in the shade, but the other 10% is blinding sun that shines directly in the rider's eyes. Jody Weisel extended his visor with a spare goggle lens and duct tape. This wasn't for roost, but to block the sun going up the hills.
Val Tamietti is back from shoulder surgery… or was that shoulder surgeries?
Noah Hickerson was second in the 250 Pro class.