DEBBI TAMIETTI'S GIANT REM GLEN HELEN PHOTO GALLERY
Glen Helen sits at 2000 feet above sea level. The mountains in the background are between 7000 to 10,500 feet ASL. No matter how high Bryan Friday (43), David Cincotta (861), Craig Davis (811) or Pete Murray (25) fly, they are going to be specks against that back drop.
At most racetracks it is hard to scrape up one or two riders over 60's years old. At REM this Saturday there were 27 riders that old—and five over 70. David Eropkin (811), Bob Rutten (83) and Mike Monaghan (orange helmet) were the three fastest.
Darren Berg is a two-stroke guy. His yellow liveried Yamaha YZ250 is hooked up in this sandy corner— as is his matching yellow and black gear.
Hawaiian Brian Medeiros (934) navigates down a loose and loamy straight — it takes a little leg swag to keep his KX250 going straight.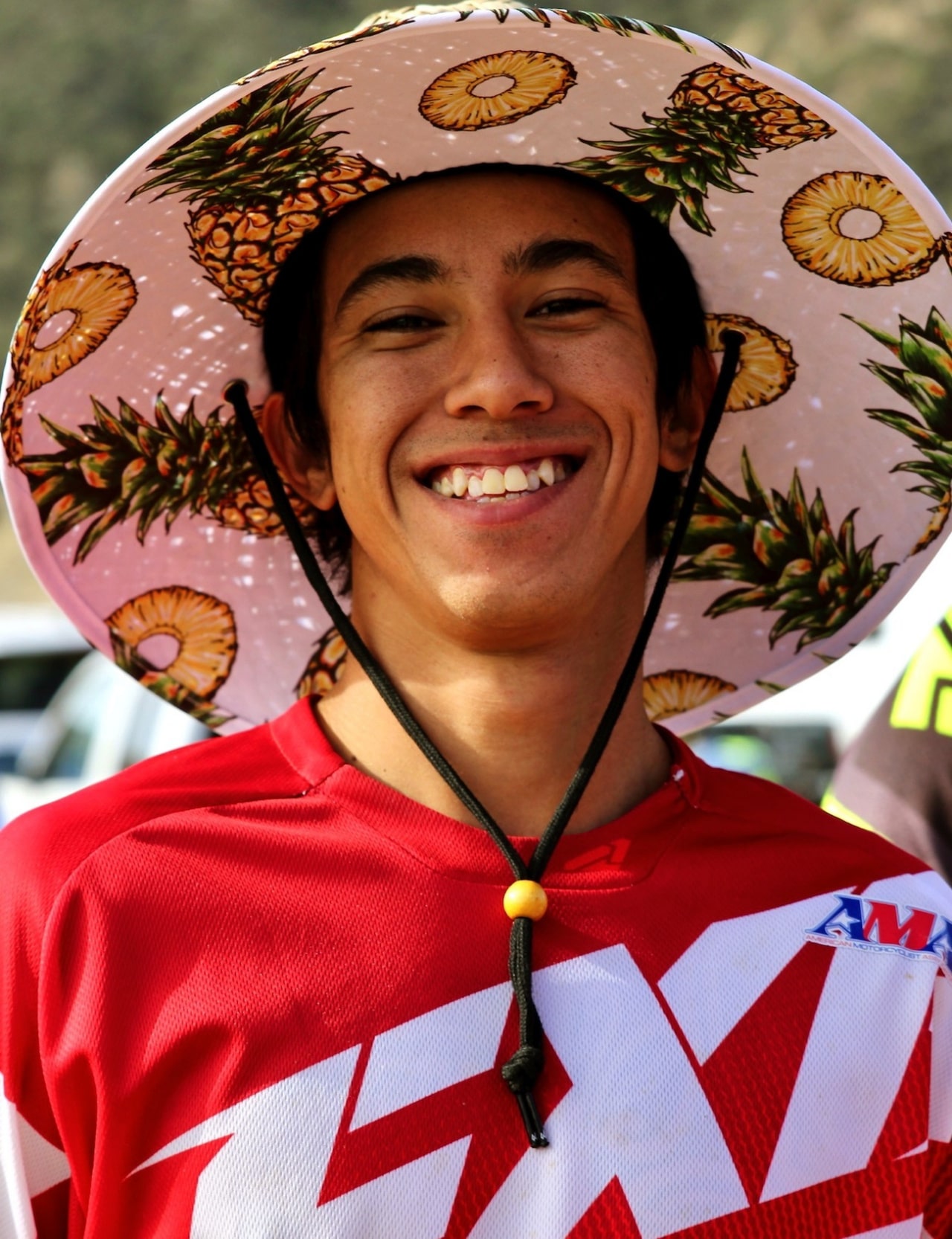 Brian Medeiros' pineapple hat allows him to represent Hawaii while on the mainland chasing an AMA Pro career.


From Sweden to the USA via Chile.  Rickard Hansson, son of former Swedish star Peter Hansson, has been away from home for awhile. He was in Chile at the ISDE before coming to SoCal.
This is the Over-60 class Flying-V with Jody Weisel (38) at the point. Bob Rutten (83) and Steve Marques (104) are the second row.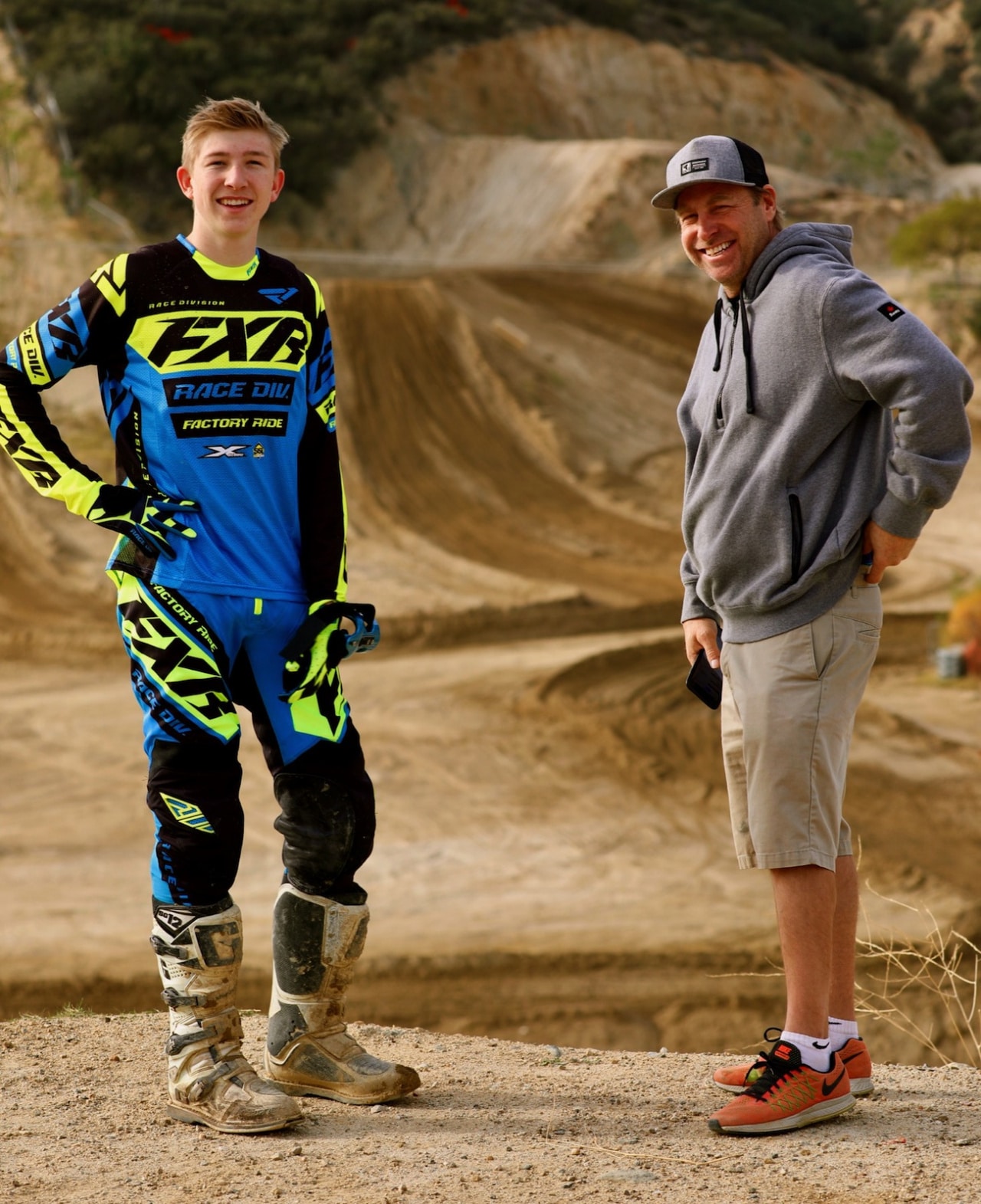 Zach Taylor (left) and dad Rich Taylor (right) are one of the many father/son combos led by former AMA Pro riders tutoring their sons during the formative part of their racing careers. Except Rich ha to mentor both Zach and Richard. Listen to dad!
MXA test rider Dan Alamangos launches a 2019 KTM 250SXF up into the back canyon on the REM track.
Over-50 Elite racer and former AMA Pro Jon Ortner leaves the tell-tale trail on his way to the Over-50 Elite win.
This moose gear is in no way related to the official Moose Gear — nor is that pink TM 300 in any way a reflection on David Cincotta's strange tastes. Well, actually it is.
TM importer Ralf Schmidt (left) not only knows David Cincotta (center), but employs him. MXA's Jody Weisel was hoping of getting a moose suit for himself.

You gotta stay loose. Randel Fout deomonstrates.
Shaun Hillion (413) and Rickard Hansson (75) went 3-2 and 2-3 in the 450 Pro class — with the Swede getting second overall.
Jon Ortner drives from Santa Barbara every weekend to race at REM. It is a 300-mile round trip. This weekend, when Jon got to Glen Helen's front gate, the lady at the ticket booth said that his engine sounded bad. It turned out that Jon had let the oil run a little low. How low? He had to add a gallon of oil. The smiling guy under his arm is the Gene Boere. He sold Jon the van six months ago.
There are always feel good stories at the races and one of them this weekend was the return of Doug Redding (484). Doug had to quit racing when he was disagnosed with cancer, but he's back on the track.
Richard Taylor at speed.

Tyler Rich (225) and Ryan Rich (129) went one-two in the 250 Beginner class. Their dad, Ron, was fourth in the Over-50 Novice class.

Mike Burgmeier (999) leads Pete Vetrano (37) in the Over-40 Novice class.
Brian Martin (65) and Gene Boere (62) were third and fourth in the Over-60 Intermediate class.