DEBBI TAMIETTI'S GLEN HELEN MOTOCROSS PHOTO GALLERY

Click on images to enlarge
Photos by Debbi Tamietti
Doug Dubach doesn't have 25 World Vet Championships for nothing. He rode effortlessly to pull away for the Over-50 Elite class victory.
Everything looks good here for South African Alan Jullien (70). Although he got a bad start, he's got the inside line on Jungle Jim Chamberlain (170) and has his sights set on Bob Weber  (6).
But, what you can only barely see in the first photo is that Alan's rear wheel hit the inside bank of the first corner. In a delayed reaction, his bike kicks violently to the side.
Alan high-sides while going wide open in third gear.
This starts a sequence of Alan cartwheeling down the track with his bike chasing him. Amazingly, he got up and walked away. But, he didn't go back to the starting line after the red flag. The 6D guys, led by Bob Weber, took Alan's helmet with them at the end of the day to check it over.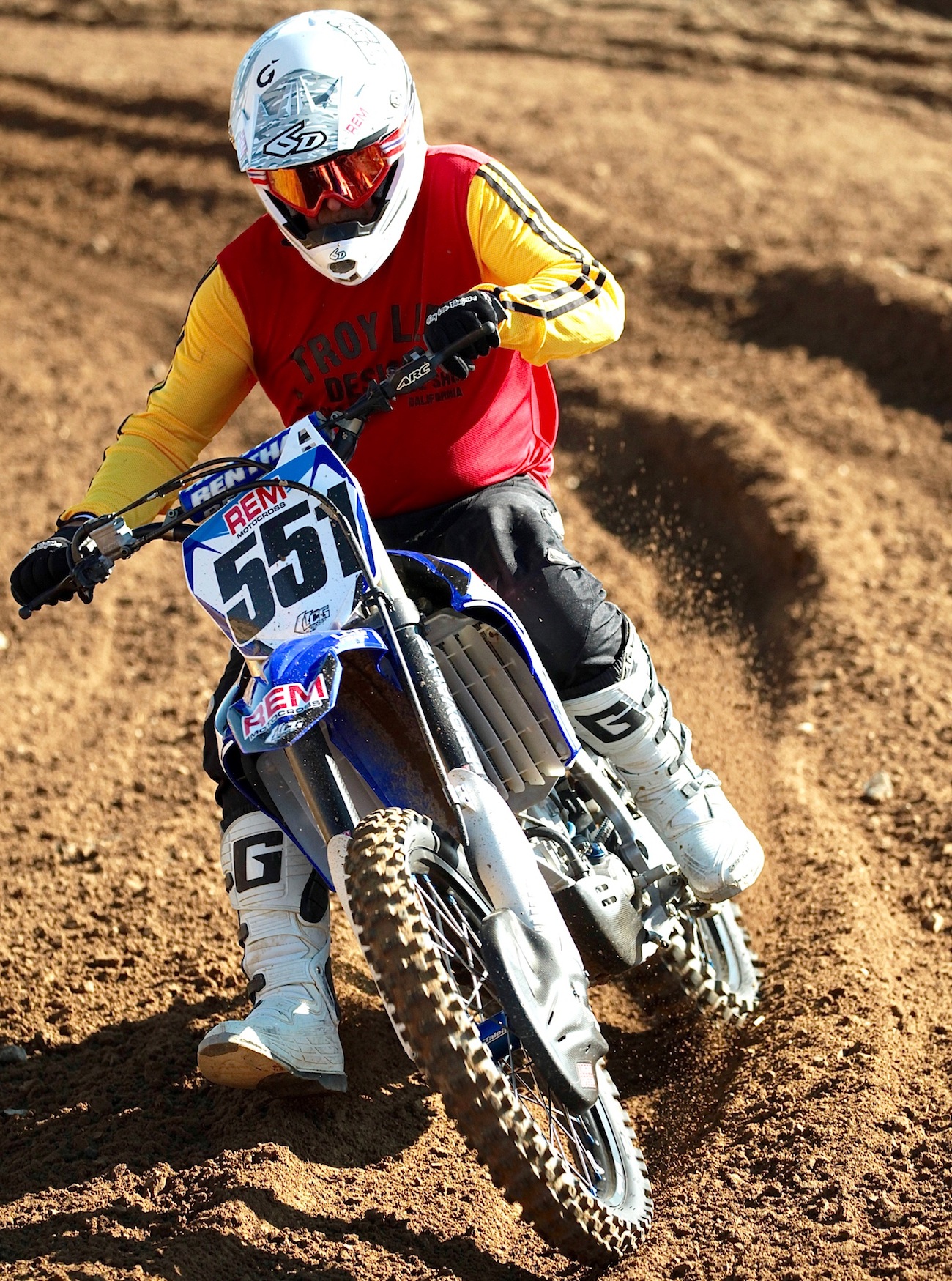 Some days the promoter can't resist racing instead of working. Here, REM promoter Frank Thomason (551) takes advantage of the sunny SoCal weather and the track he worked on for all of the REM regulars.
Carter Dubach is following in his dad's footsteps. Doug Dubach was Yamaha's chief test rider for decades and now Carter is working as MXA's minicycle test rider on our 2016 Yamaha YZ85 test.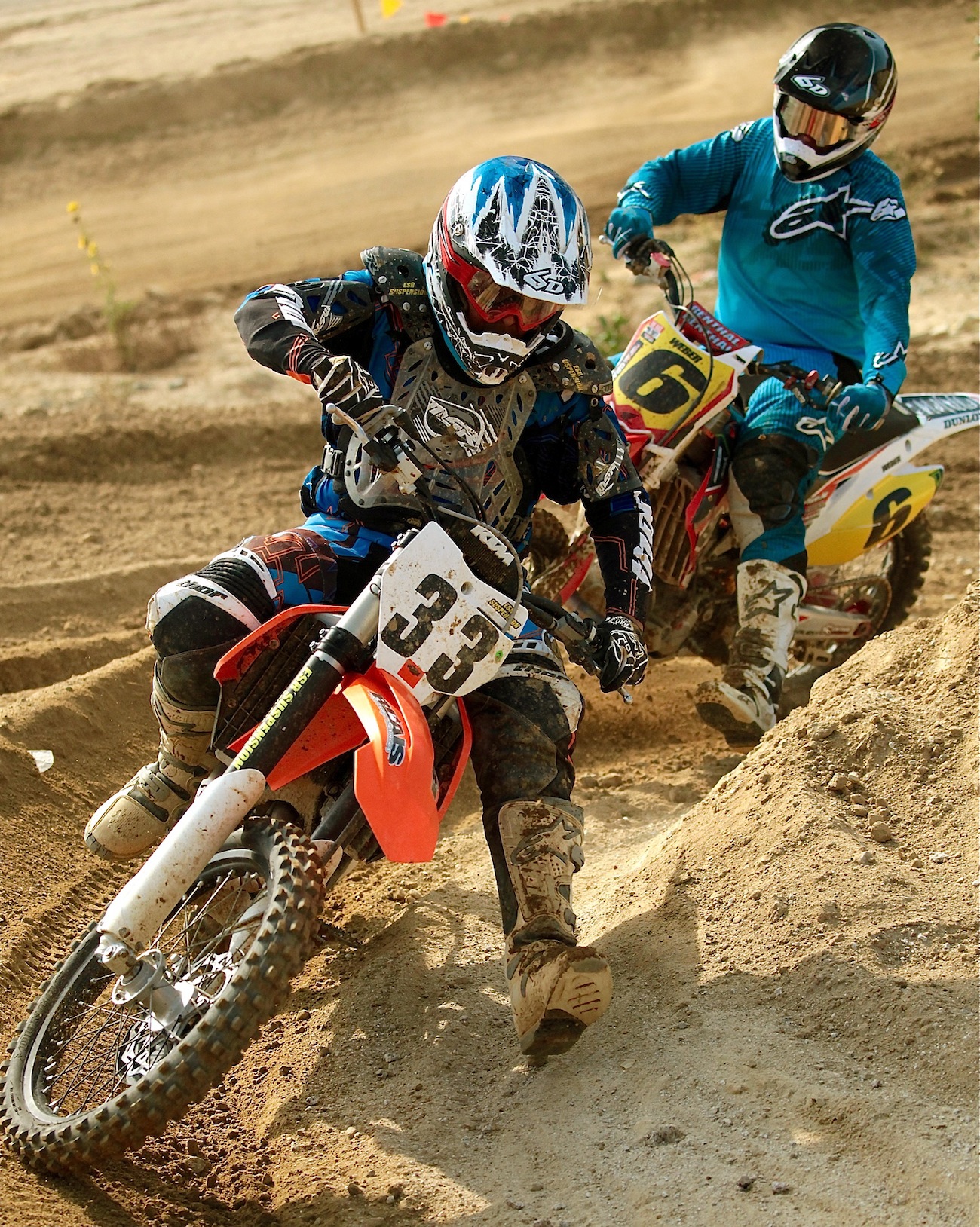 There is no racetrack in the world with more 6D helmets than REM Glen Helen. Here, Ron Shuler (33) leads 6D founder Bob Weber (6) in the Over-50 class.
Randel Fout (65) wrings out MXA's project YZ450F for a future magazine test. The bike has a stock engine with an DR.D exhaust, new mapping, Cycra plastic, Decal Works graphics, white Tusk wheels, the engine moved forward in the frame, one-inch lower radiators and JGR adjustable subframe and linkage. And, Randel needs new boots.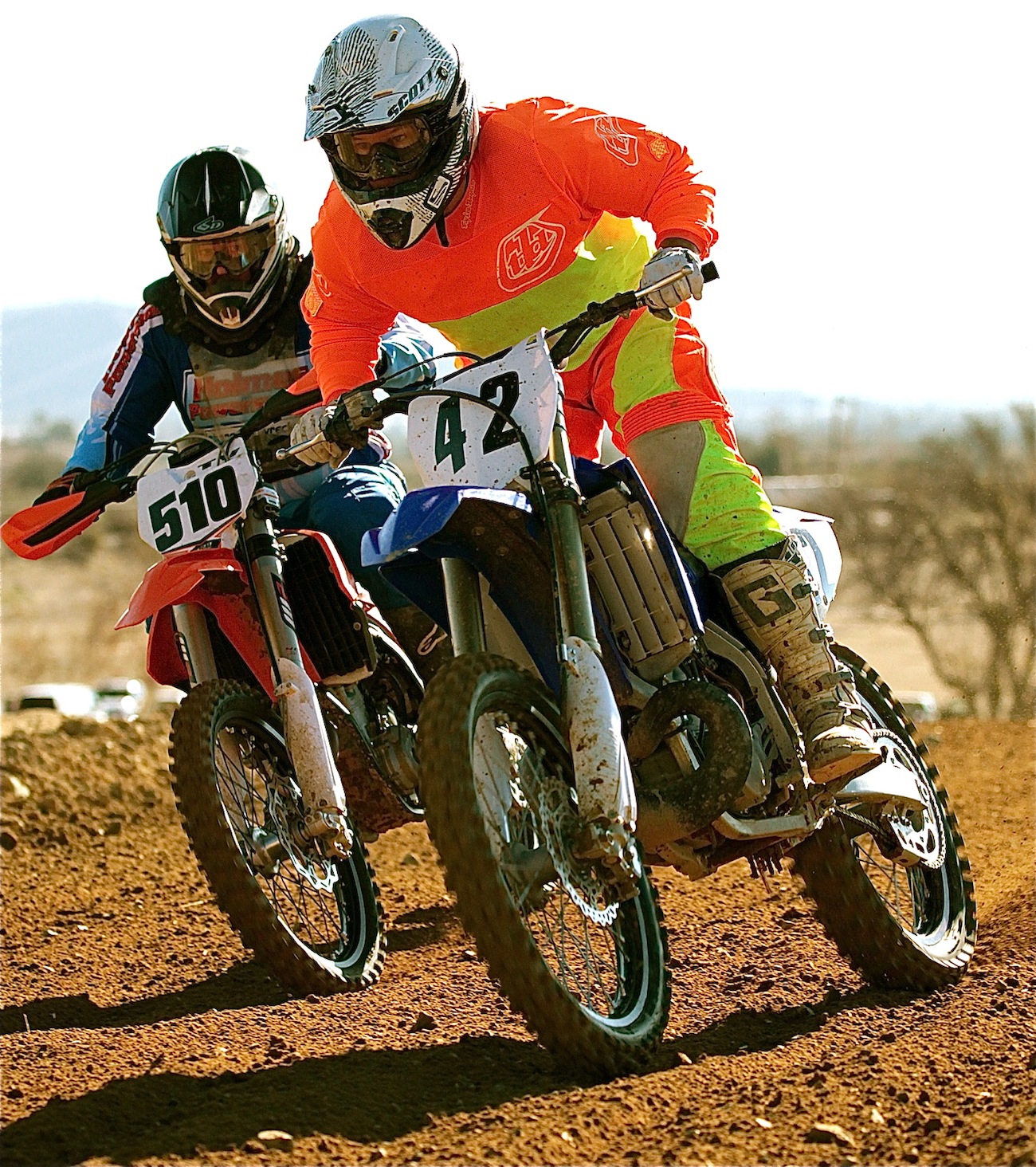 If you ever have a car accident you need to call these two guys. Tom Holmes (510) owns a chain of auto body shops, while Marc Crosby (42) is the Dentist of the Stars.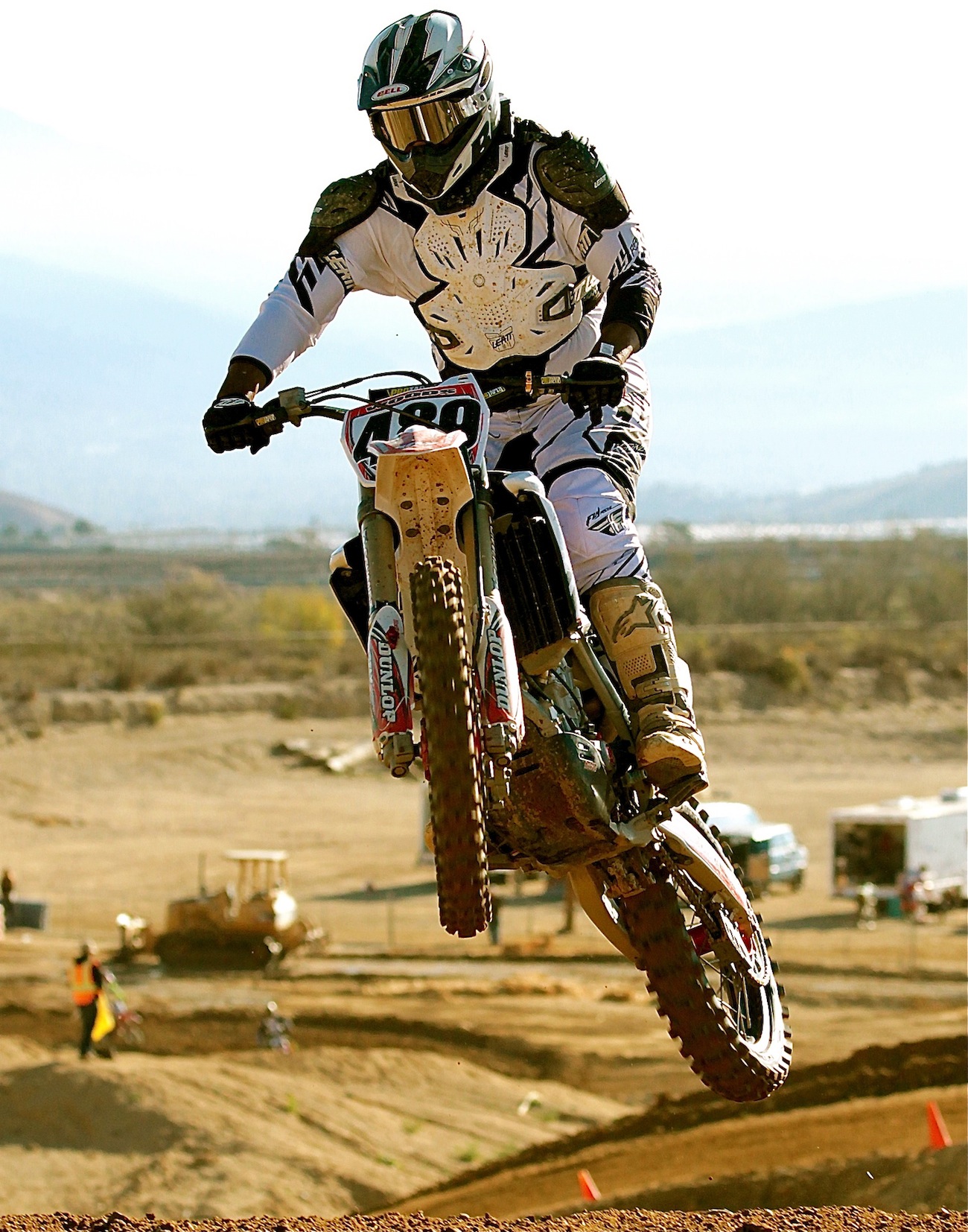 Syd Woods (489) grabs a little air time on his way to a 5-3 finish in the Over-50 Novice class.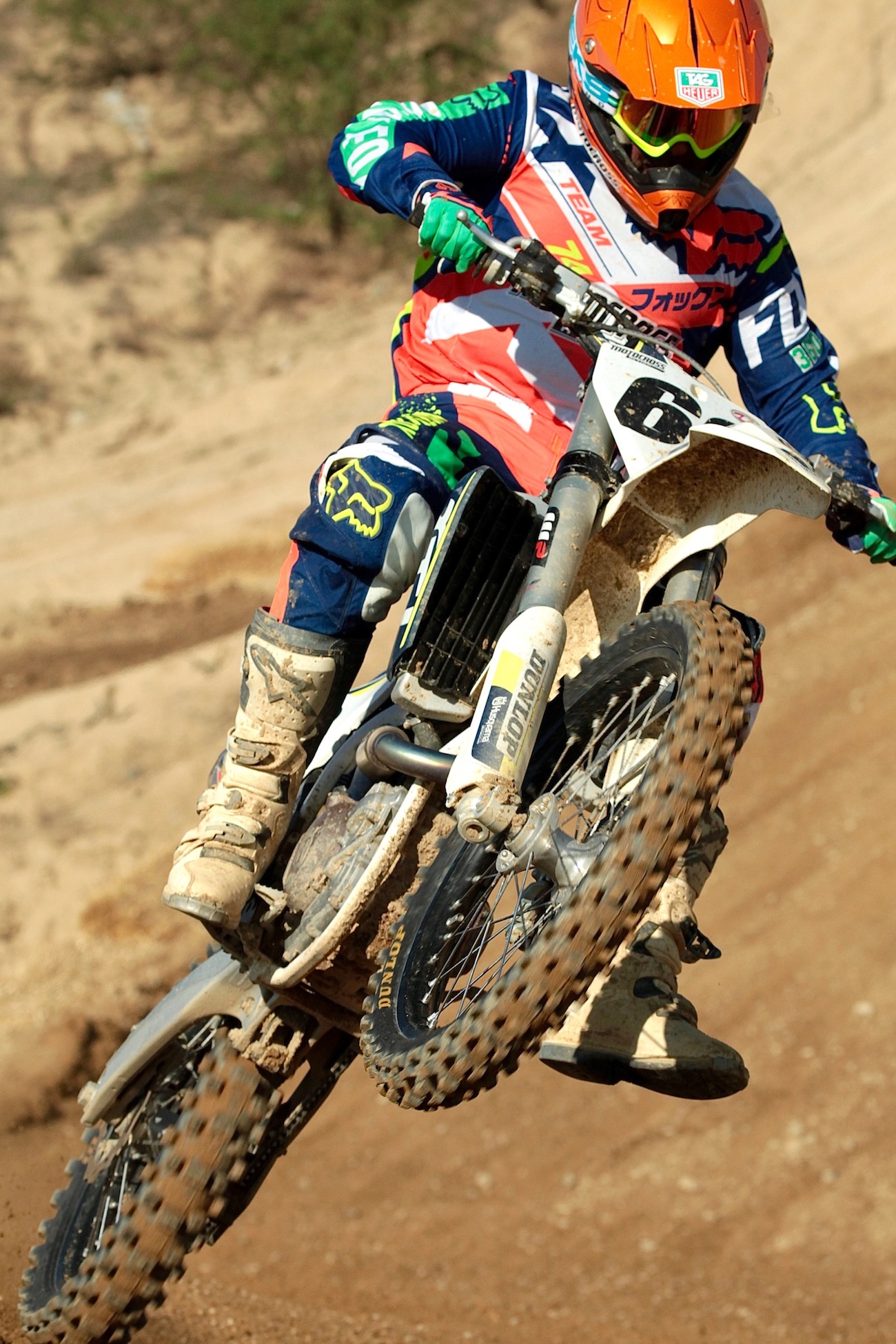 Mark Hall raced four motos, but split his time between racing MXA's stock 2016 Husky FC450 and the Dick's Racing/MX1 suspension FC450. Mark, Jody Weisel and Dick Wilk all raced the two Huskys for a direct comparison.

Jody Weisel on the Dick's Racing/MX1 Suspension Husqvarna FC450. For some unknown reason Jody decided to race in four-year-old Thor gear at the final REM race of the year (and 30-year-old boots). 
David Cincotta (861) and Ralf Schmidt (73) have spent all of 2015 in hand-to-hand combat with each other. Schmidt, on a TM144MX, typically stalks the faster-starting Cincotta and makes his move late in the moto. That's what happened this weekend also.
This is the front of the Over-60 Expert class. There are more riders yet to come over the hill. Ken Ehlers (103) leads Kent Reed (491), Jim Latendresse (564),  Lyle Sweeter (55), Mitch Evans (4) and Mike Marion (behind Latendresse).



Wyatt Cameron was second in the 85 Expert class to Carson Mumford.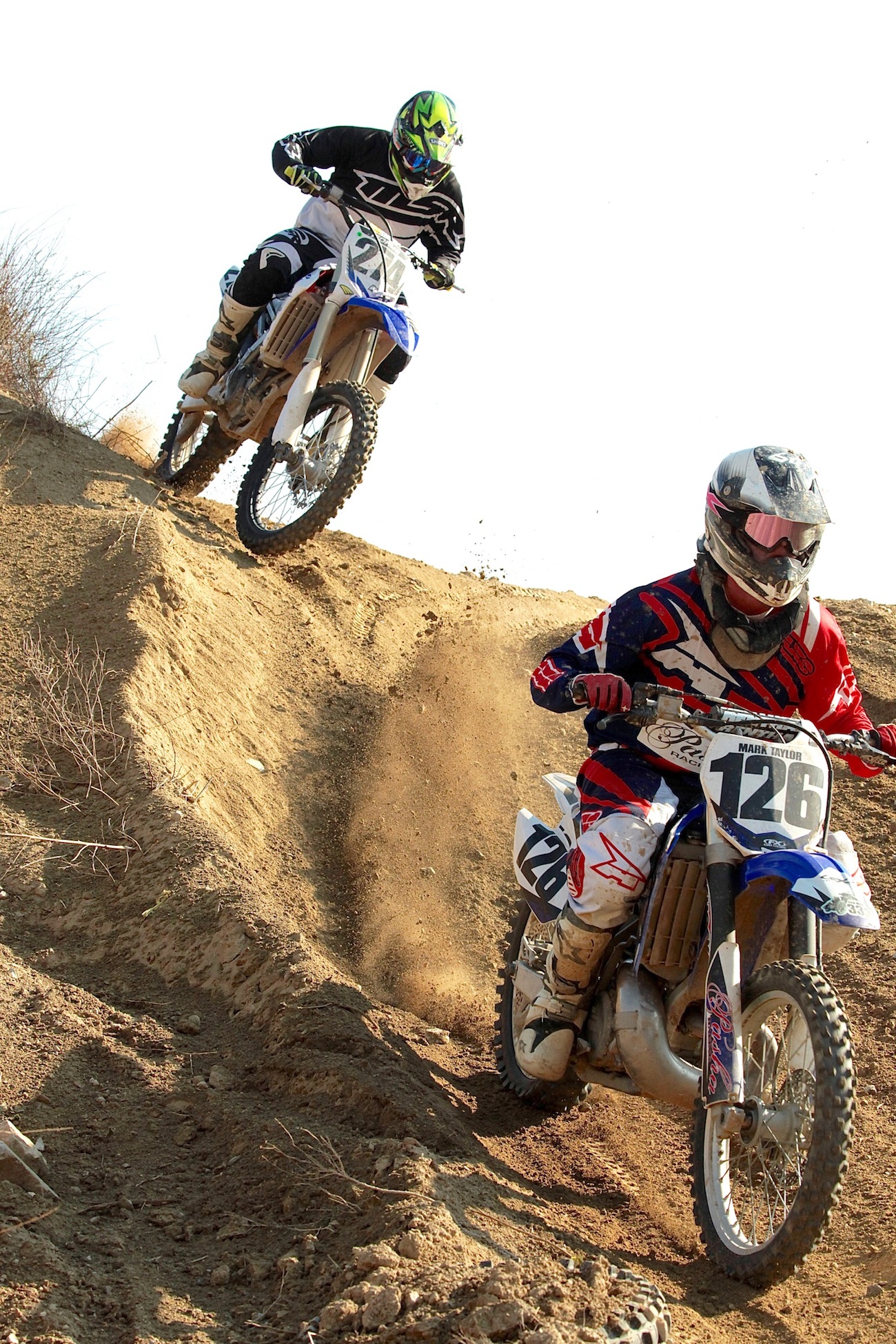 The rut that Mark Taylor (126) is coming out of was so deep that Zach Randolph tried to go around it. Sadly, the rut was the only way to get through this corner.

Dave Eropkin (811) color codes his gear—helmet matches boots, boots match jersey, fork guards match disc cover.
Lyle Sweeter does a perfect 1970's cross-up. He wasn't doing it as a parody—Lyle was in his 20s in 1970.