DEBBI TAMIETTI'S GLEN HELEN PHOTO GALLERY

Click on images to enlarge
Glen Helen uses fire hoses to water the parts of its tracks that the water truck can't reach. And occasionally the hoses fail. Here, Jody Weisel double-folds the hose so that the end will stop flailing around until he can get to the valve. He learned this trick building AMA National tracks at Saddleback and Glen Helen.
Bradley Taft's rear wheel churns up a paddlewheel-style roost as his front tire looks for traction.
Dennis Stapleton (184) wheelies over the rise of this 90-degree left-hand hump. You can see how early he turned the throttle on by tracing the roost trail behind him.

Australian Dan Alamangos (24) is a motocross racer who took up photography to fill his spare time at the track, but first and foremost, he's a racer. Note the deft one-finger approach to both levers.
REM held a Pee-Wee race this past weekend. The entry fee was $5 and dad could ride shotgun if he wanted to. Here, Bryan Friday (10) shadows the real talent in the family—Ryder Friday (42).

KTM's David O'Connor (3) styles for awhile in the Vet class before getting down to business.
Syd Woods uses muscle power to augment the horses of his YZ450F. Syd swept both moto of the Over-50 Novice class at REM.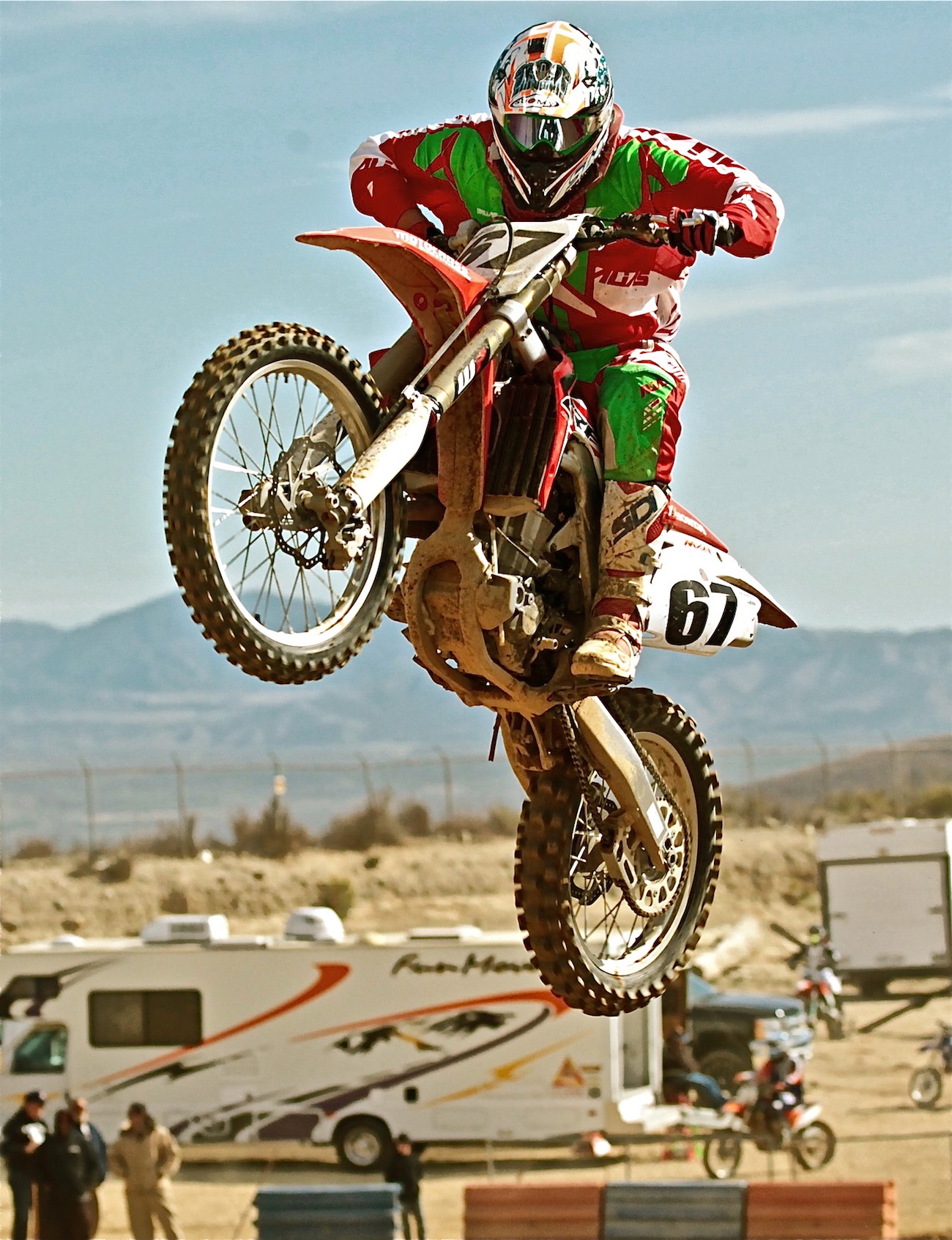 Cole Tompkins grabs a little air on MXA's WP Cone Valve fork-equipped 2016 Honda CRF450.
Just like in the Good Old Days—Dave Eropkin (811) and Jon Ortner (10) relive the past from 30 years ago.
This is how you blow up a berm. Randel Fout (52) has perfect form (and no fingers on the clutch or the brakes) as he powers his KTM 350SXF out of a banked right-hander. Yes, those are Showa TAC A-Kit air forks on the front.

When there is only one 2016 TM 450FI-MX in the country you'd think MXA would be careful with it. Nope, five different MXA test riders spent time in the saddle. Here, Mark Hall spends some time out of the saddle.
Kent Reed  (491) and Jason Chism (26) race towards a fast right-hand sweeper.
Not everybody makes it through every corner. This is Matt Chism. You know that this had to hurt.
Broadi Davis (126) can't whip his YZ250F any farther than this. Well, he could whip it another inch, but then his rear tire would hit the bank and he'd be whipping it in a completely different direction.
Jason Goss (828), leads Marc Crosby (42) and Ty Larson (16) over a tabletop. Only Goss has handguards on, but there are enough rocks lying around to warrant Crosby and Larson thinking about it.