DENNIS OF ARABIA: MXA GOES IN SEARCH OF THE SPIRIT OF MOTOCROSS IN FAR-OFF PLACES


IN MANY WAYS, LINING UP ON A GATE NEXT TO A BUNCH OF RIDERS THAT I'VE NEVER HEARD OF BEFORE IS MORE SATISFYING THAN RACING ON THE SAME TRACK WITH RYAN VILLOPOTO.
In many ways, lining up on a gate next to a bunch of riders that I've never heard of before is more satisfying than racing on the same track with Ryan Villopoto. Why? Motocross will always be about fun in my eyes. Sharing stories with new found competitors and friends after a moto in the Philippines, Hong Kong, Abu Dhabi or Sweden is the main reason why I spend an inordinate amount of time in airliners. Sure, the Hangtown National is practically in my backyard, but I don't get the opportunity to discuss the start or uphill step-up jump with Ryan Villopoto or Ryan Dungey after the race. They have security, a press relations person or a team manager to usher me out from under their awning. If I get past the guards, all I find waiting for me is the locked door of a plush motor home. That's the way it typically goes in American motocross.
The MXA wrecking crew jokes that I'm the motocross version of Bear Grylls. Like the wilderness survival expert, I flourish in the harshest conditions in the most remote locations on the planet. I blend into my surroundings?right down to the local dress. I'm not afraid to eat foreign food?unless it's still moving. I pick up strange languages fast?and when I don't, I make some wicked hand signals. These survival traits have afforded me opportunities that many other American motocross racers would balk at. My objective is to travel the world (at the expense of different race promoters), experience different cultures, race dirt bikes, make lifelong friends and spread the good word of motocross?so far so good.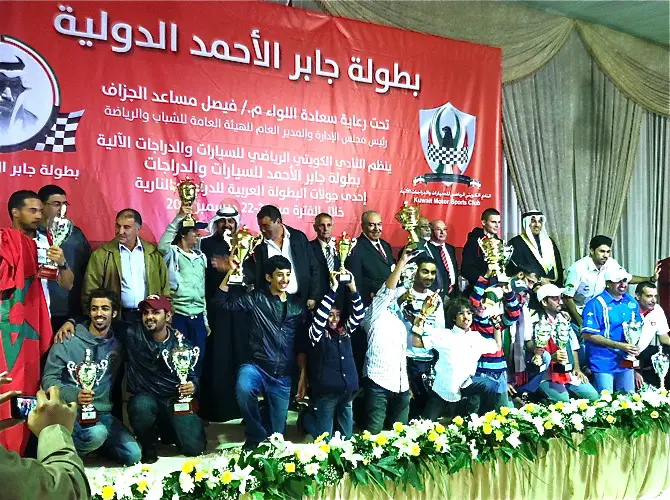 The post-race awards ceremonies are lavish and well done.
IT'S NOT LIKE I HAVE A BUCKET LIST, BUT I HAD NEVER BEEN TO THE MIDDLE EAST, AND I WAS EXCITED TO CHECK IT OUT.

In October 2008 I was at the World Jet Ski Finals, of all places, and I met a visiting Kuwaiti named Khaled Al-Duaij. Khaled and I hit it off immediately, and it turned out that he owns K&S Trading, an import business in Kuwait. He is also a fan of MXA. After the World Jet Ski Finals, we kept in contact through e-mails. Then, just a few months ago, Khaled contacted me about flying in for a Kuwaiti event.
It's not like I have a bucket list, but I had never been to the Middle East, and I was excited to check it out. After a 24-hour flight that crossed 10 time zones, I arrived in Kuwait City to discover a really sophisticated city that seemingly sprouted up out of the desert sand.
I won all my motos, worked on their track, taught the local riders some tricks about holding a motocross race and promised to come back to help in whatever way I could. Two months and two trips later, I held a motocross school for Kuwait's enthusiastic contingent of motocross riders and even raced a round of the Arabian National Championship series. Here's what I learned from my racing experience in the mysterious Middle East.
There seems to be general ignorance about Kuwait. First, Kuwait is friendly to the United States. Second, Kuwait doesn't promote international terrorism, and, in fact, Kuwait has worked closely with the U.S. to eradicate terrorism. Third, I've never been subject to any anti-American sentiment during my trips to Kuwait. Just the opposite. I was welcomed with open arms by everyone. People were interested in learning more about the U.S., and English was widely spoken.

The young Kuwaiti motocross racers are enthusiastic about the sport and want to learn everything about it.
I MAY NOT FULLY UNDERSTAND THE ARAB CULTURE, BUT I ADMIRE THEIR DEDICATION TO THEIR RELIGION. PRAYER IS DONE FIVE TIMES A DAY?AND IT STARTS AT HOURS WHEN I'M SOUND ASLEEP.
Yes, there are some culture shocks. It was unusual to see many of the women covered up in what is called an abaya ("body covering") and a hijab ("head scarf"). And, social interaction was different than in the USA. Typically, all the men remain together and don't address the women. Sadly, when all you can see is their eyes, eye contact isn't encouraged between men and women. I may not fully understand the Arab culture, but I admire their dedication to their religion. Prayer is done five times a day?and it starts at hours when I'm sound asleep. Many of the young Kuwaitis are not satisfied by their rigid cultural dogma, just as many young Americans rebel against our rules and regulations.
As proof, I was taken to a place called "Love Street." It is a six-mile-long road where the young congregate. Many younger Kuwaitis drive fancy cars, motorcycles and ATVs along the road. Some try to impress women by popping wheelies and revving their engines. There is no helmet law in Kuwait, so these are some of the best wheelie riders in the world?to be anything less than spectacular means a trip to the hospital. They place a great emphasis on wheelying and were always asking to see me wheelie. Once I saw how good they were, I begged off. As a rule, the ability to wheelie is rarely of value in professional racing?except during the opening ceremonies (and for some reason, the Supercross promoters never invite me down to take part).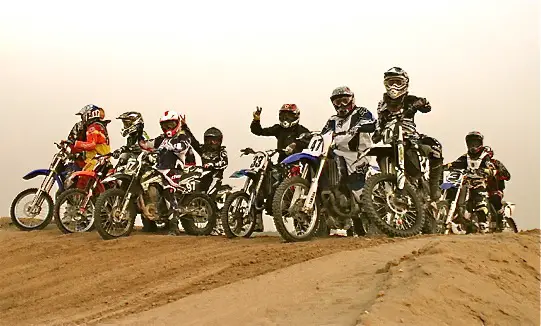 The Kuwait Motocross Club isn't big by American standards, but there was a time when the USA only had 35 motocross racers.

The Kuwait motocross club consists of 35 riders?that's it! All the riders are best friends. They go to the motocross track every day to work on it. Motocross is a hobby for them, and while they take racing seriously, they aren't interested in knocking each other down to get a position. I lied to them and said that we didn't knock each other down in America, either. I can only hope they never see a video of Justin Barcia. Most of the fast Kuwaiti riders are over 25 years old?although there are two up-and-coming 65cc riders that have the talent and potential to race in Europe or the U.S. Most of the guys ride Yamahas, and that's because Yamaha has the best dealership in Kuwait. Khaled Al-Duaij, along with Shaikh Ahmed Al-Sabah, the boss of the motocross club, have tried to grow the riding scene, but many people view the sport as dangerous. It's also extremely expensive, and it is difficult for importers to bring in gear and parts.

Sand makes up Kuwait, thus, the local track is made of sand.

Even though the sport is considered dangerous, I noticed that the Kuwaiti riders didn't strap their helmets on. It turns out that no one ever explained to them how the D-strap works. During my motocross schools, I stressed the hazards of not tightening your helmet strap and taught them how to feed the strap through the D-ring. I also had to bribe some of the riders to do more laps, because they aren't used to doing long motos. They typically race for five laps on an under two-minute-long track. I had to convince them that you don't practice for a five-lap moto by riding for five laps, but by building your strength, endurance and speed through constant repetition. By the end of my last trip to Kuwait, they were pushing their physical capabilities, getting faster and strapping their helmets.
IT GETS SO HOT THAT PEOPLE WORK LATER THAN NORMAL, STAY UP UNTIL THE WEE HOURS OF THE MORNING AND DON'T START WORK UNTIL CLOSE TO NOON.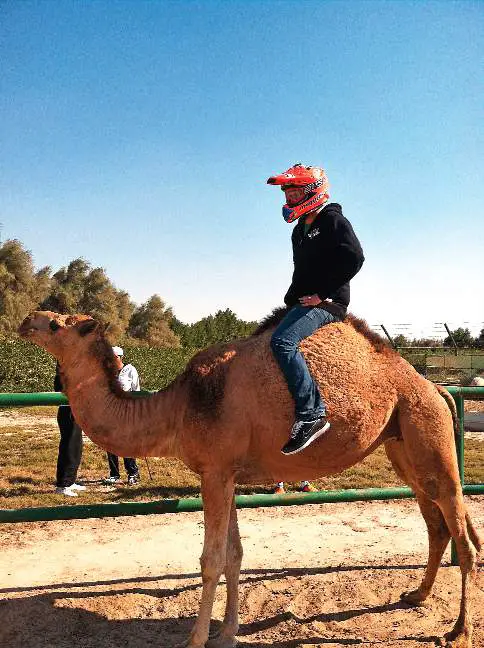 You can't visit the Middle East without riding a camel. Dennis decided to take some extra precautions before climbing onboard.

During the winter months, the Kuwaiti weather isn't altogether different from Southern California. The temperature hovered around 70 degrees during the day, and it was always sunny. However, in the summer, the heat is unbearable. It gets so hot that people work later than normal, stay up until the wee hours of the morning?because it's the coolest time of the day?and don't start work until close to noon. The motocross crowd shows up at the track around 3 p.m. in the winter; they don't even bother riding in the summer heat. In general, the motocross season in the Middle East is about four months long. And on my most recent trip, Kuwait was socked in due to a massive sandstorm. I felt like I was standing inside a huge vacuum cleaner.
Kuwait City is absolutely beautifu. The city is defined by the Kuwait Towers, which happen to be the main attraction. Kuwait sits right on the Persian Gulf, and the waterfront is very impressive. The architecture within the confines of the city is jaw-dropping, and there's a lot to see. I didn't get much of an opportunity to tour Kuwait City, since my objective was to train the riders and race as often as possible, but I'd easily go back as a tourist.

Dennis Stapleton is fourth from the left, in the orange helmet. He was running second overall in the Arabian National Championship when his Suzuki blew up.

When Kuwait hosted a round of the Arabian National Championship, my pal, Khaled Al-Duaij, flew me in to contest the race. I lined up on the same gate as riders from Morocco, United Arab Emirates, France, Algeria, Tunisia and Saudi Arabia. I was the only American in the bunch. The competition was very good, and I was running second until my bike blew up. Of course, the track was sand with many jumps. In general, the track was rather technical. There were very few spectators; only family and friends of the racers came out to watch and cheer.
My trips to Kuwait are further proof that motocross is alive and well throughout the world. Right now, there are 35 Kuwaiti riders, but there was a time when there were only 35 motocross racers in America. The sky's the limit in the untouched corners of the motocross world. Hopefully, the sport will thrive in a country that has withstood war, cultural differences and a general lack of knowledge about motocross. My goal is to continue educating people in every part of the planet and to meet as many passionate enthusiasts as possible.
One day I'd like all the riders that I've met in my foreign travels to come to the USA and race with my buddies and me. Motocross is a brotherhood that extends beyond social, cultural, religious or government constraints. And, we all speak the same language. Braaap!
Illustration by Eduardo Gutierrez Torralba