DEREK DRAKE INTERVIEW: WE CATCH UP WITH 18-YEAR-OLD TROY LEE DESIGNS RED BULL KTM SUPERCROSS ROOKIE

DEREK DRAKE INTERVIEW: GET TO KNOW THE 18-YEAR-OLD TROY LEE DESIGNS RED BULL KTM SUPERCROSS ROOKIE
After a tough 2019 season, the Troy Lee Designs Red Bull KTM 250 team came into 2020 with all-new riders. Derek Drake and Pierce Brown weren't new to the Troy Lee team as they had been apart of their amateur program and raced in the 2019 Pro Motocross season, but they were both rookies on Supercross. Brian Moreau came over from France for his first try at American SX and MX while Brandon Hartranft was had the most experience out of the group, but he was still only entering his third year of Pro racing, he was new to factory bikes and KTMs in general as he spent his first two years on the Cycle Trader Rock River Yamaha team. In this interview, we catch up with Supercross rookie and San Luis Obispo, California native, Derek Drake. He looked great in at round four in Glendale as he finished a solid third in main event number two of the Triple Crown event. At this point, Drake is ninth in the 250 West Coast Supercross series while the 2020 season is put on an extensive break due to the coronavirus pandemic. MXA'sJim Kimball was able to catch up with the 18-year-old to learn his thoughts on the season so far.
By Jim Kimball
DEREK, HOW DO YOU RATE YOUR ROOKIE SUPERCROSS SEASON TO DATE? So far, in my rookie Supercross season I've been feeling a lot better on the bike during the week, while practicing and during the day at the races during qualifying than my results in the Main Events have shown. I believe that they can definitely be up there. Stuff that has happened in the first lap or so is my fault, and I just put myself in bad positions. With that and other things happening like that here and there, it has held my Main Events back a lot. But at that main in Glendale, I got a good start and I finished 3rd in the second main event. Overall, it has been good. I am looking forward to more Supercross. They just posted that it is not done, I think the plan is to go back into Supercross after outdoors and finish it off. So, I am excited for that.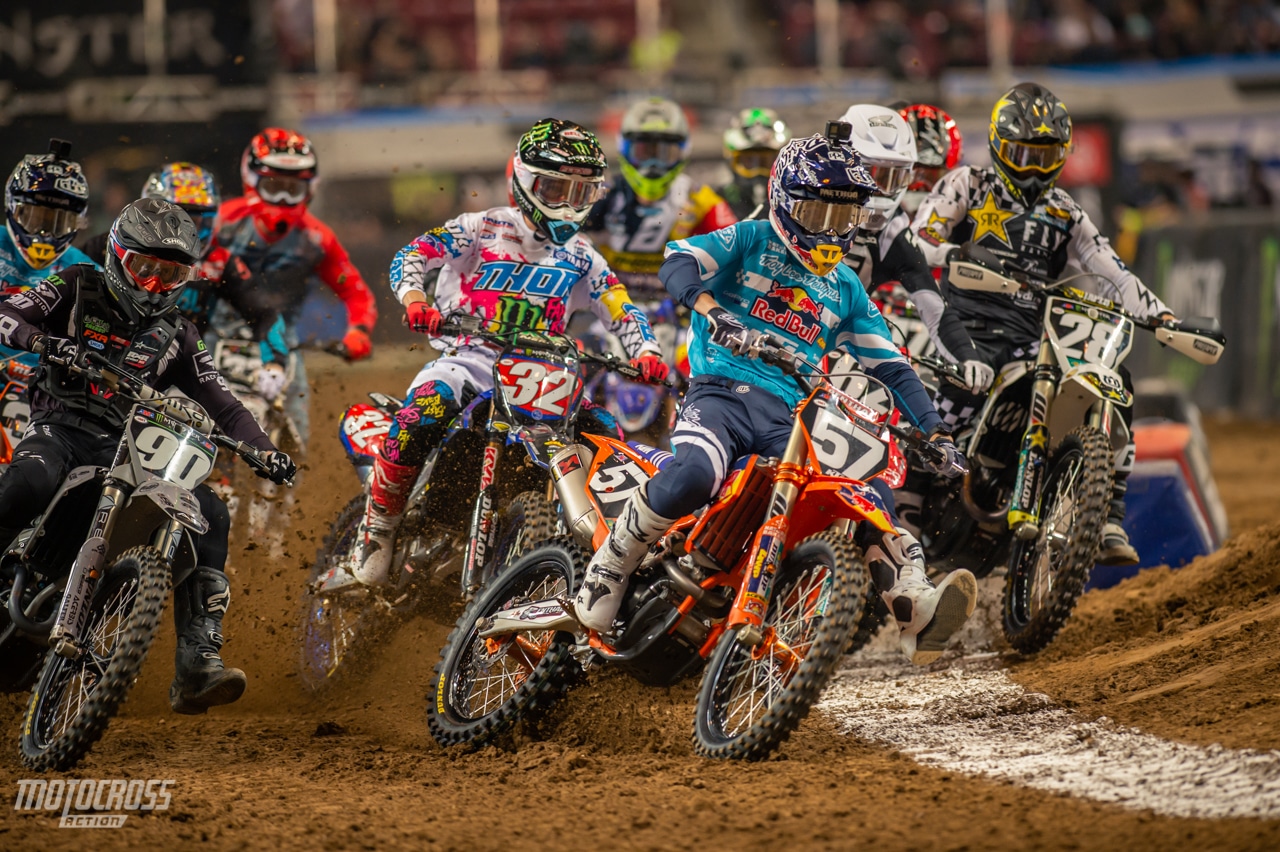 Derek Drake's starts so far this year have been very impressive, he's been at the front of the pack more often than not.
YOU TURNED PRO LAST YEAR AT HANGTOWN FOR THE OUTDOORS SERIES, BUT HOW HAS IT BEEN TO RACE IN A STADIUM FULL OF FANS? It is definitely a lot different, even from when I did Monster Cup as an amateur. Supercross is different, especially with the whole series going week after week – it is different. There is a new animal, there are a lot of distractions and variables during the race day, so it is hard to keep focused on what you have to do when it comes to Main Event time. That has been taking me some time to get used to for sure.
HAVE YOU BEEN ABLE TO LEARN FROM YOUR TEAMMATE BRANDON HARTRANFT WHO STARTED HIS THIRD YEAR IN SUPERCROSS THIS SEASON? He has definitely given me some advice on race days when we are out in the locker room. He has some more experience in Supercross than me, and he has been very good. The whole team has been really good, so I am happy that we are going to finish it off.
Derek Drake being interview by Supercross Live personality, Jim Holley. 
WHAT DO YOU THINK ABOUT THE RECENT NEWS THAT INDICATES SUPERCROSS MAY RESUME IN THE FALL? It is definitely not the preferred route to take, but also somewhat the only route for them to get it in. It has to get in one way or another, so we do not have a choice. I would rather race than not race. I think they are definitely going to go with the fall plan.
AT THIS POINT, I WOULD ASSUME THAT YOU HAVE BEEN TRANSITIONING INTO OUTDOORS? Yes, we have been riding outdoors basically. I have only touched the Supercross track once since San Diego. So, with all that is going on right now, we have only ridden Supercross one time. The main focus is outdoors now, starting in June for round one in Florida.
Derek Drake (233) grabbed the holeshot at the Florida National in 2019 and led the 250 class at the hot and rough WW Ranch event until he made a mistake and crashed, but he was very impressive while leading and the rest of the pack wasn't catching him.
I RECALL YOU HAVING SOME PRETTY GOOD MOTO FINISHES LAST YEAR IN OUTDOORS. AM I RIGHT? Yes, I think so. I led in Florida for a little bit before I crashed. I got a couple of tenths in some motos. I am definitely looking forward to my sophomore season with how much experience I have gained through my rookie season last year. At almost every round, I would be leaving the track thinking, "man, I just wish I could race tomorrow and everything will be a lot better." It is like I know the tracks now, that is not an issue and I am looking forward to it. It was definitely fun.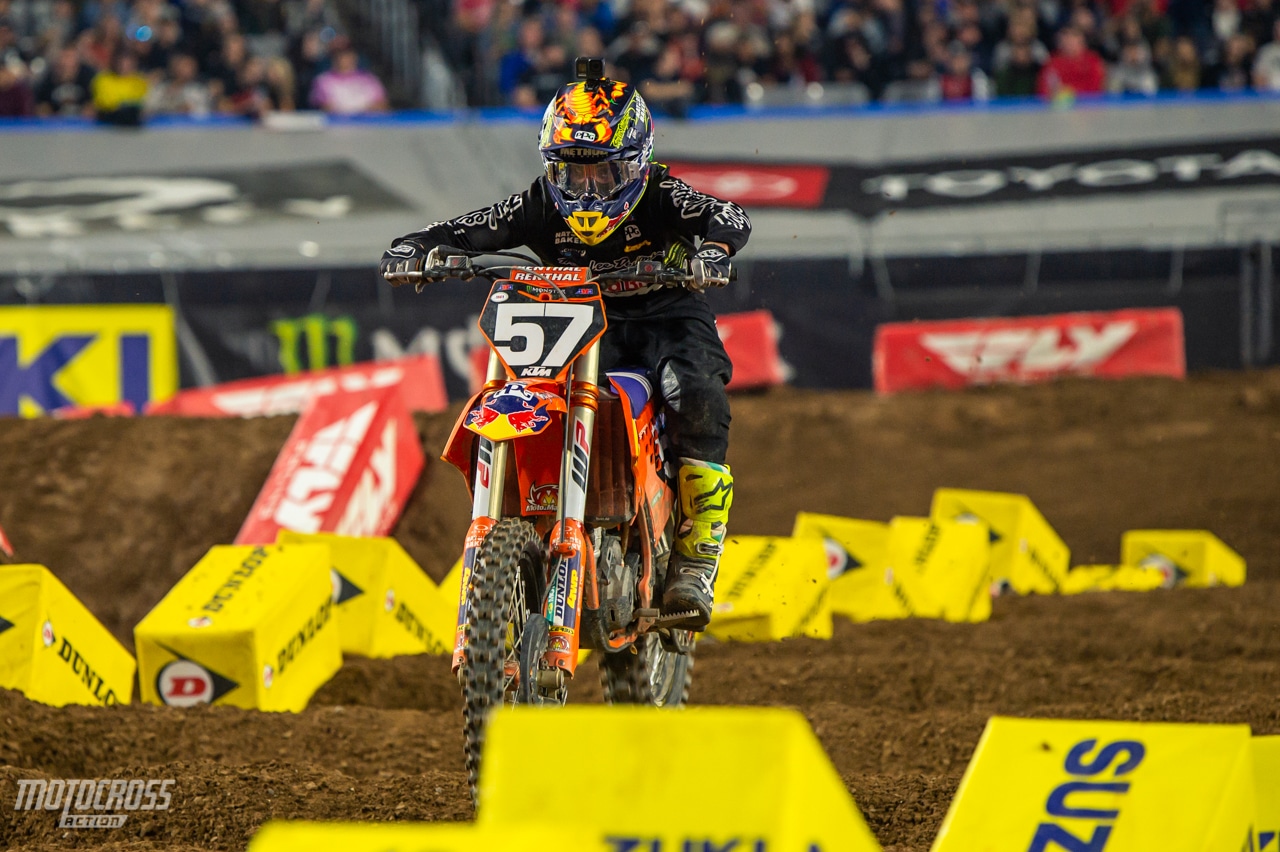 Besides his third place in the second Triple Crown Main Event at Glendale, Derek Drake's best finish so far this year was a seventh place at the Oakland Supercross. 
I FEEL THAT I NEED TO ASK YOU A LITTLE ABOUT YOUR TEAMMATE, BRIAN MOREAU THAT WAS INJURED SO BADLY. WHAT ARE YOUR THOUGHTS ABOUT BRIAN? I got to know Brian really well with the only few months we have known each other. We became really close friends, seeing each other every day, and he such is a great guy. I text him here and there, ask him how he is doing, and how the updates are going. Hopefully, he can make a full recovery and we will see him again.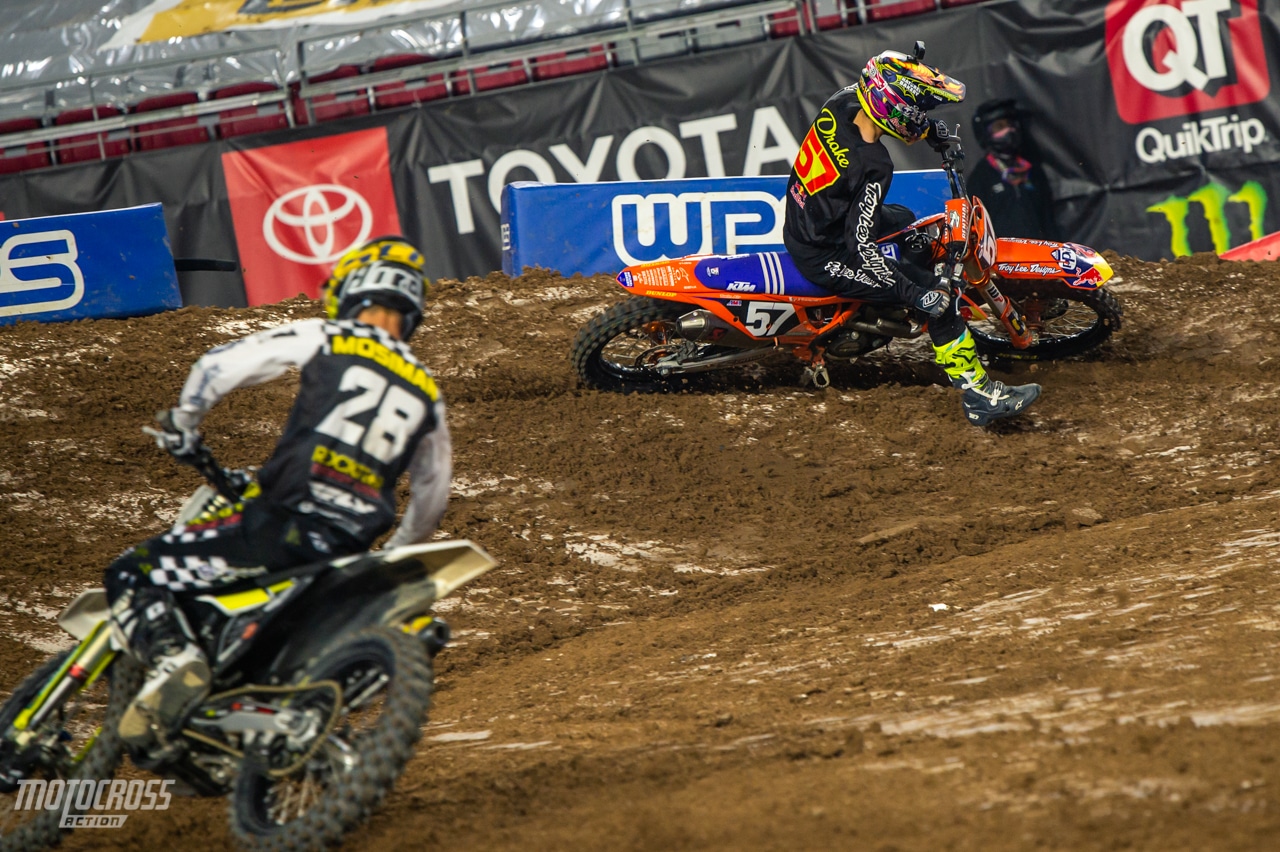 Michael Mosiman (28) and Derek Drake grew up racing against each other and have remained good friends for years. They first battled on 50s, then 65s, then 85s and Superminis. Now in 2020, they have been able to battle again at the highest level of racing. 
ALONG WITH RACING THE WEST COAST SUPERCROSS SERIES, YOU LIVE IN CALIFORNIA. WHAT IS YOUR SCHEDULE LIKE? During the pre-season, October through January, we rode together every day. But once the Supercross series started Brandon and I started racing together, so we were on the same schedule and Pierce (Brown) and Brian (Moreau) would still be at the track too. We were somewhat on different schedules because we were racing on the weekend and they were not. We still got to ride together, but not how it was in October through January. The plan is to go to Florida for the summer and we will all be riding together out there.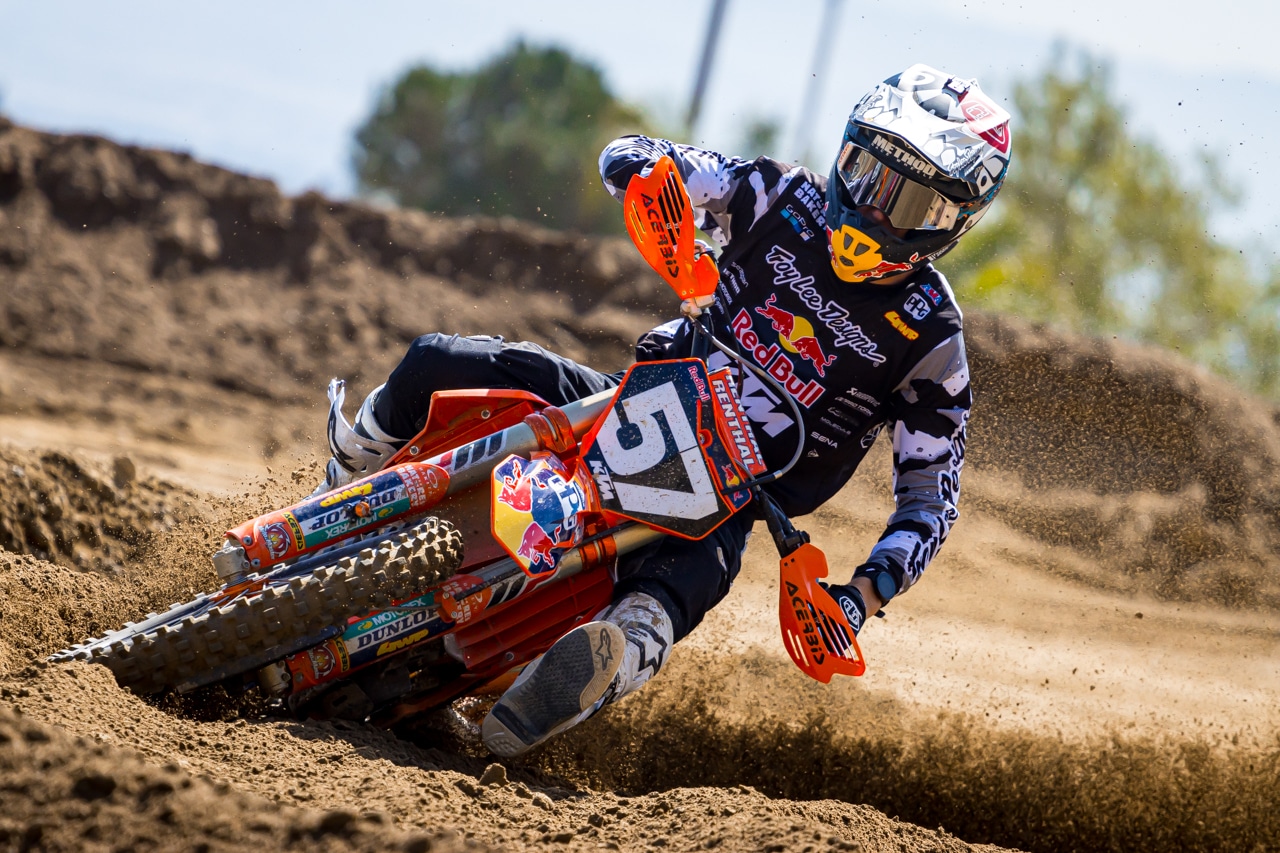 Derek has been riding on Outdoors lately in preparation for the 2020 Pro Motocross season. Trevor Nelson took this photo of Derek training at Glen Helen.
WILL YOU BE RIDING AT THE BAKER'S FACTORY? Yes, we have two trainers, well three technically, but yes Aldon is the main guy. Then Mike Brown, and Seth Rarick work for him. So, all of us communicate and get our work done.
WHAT IS YOUR SCHEDULE LIKE RIGHT NOW WITH THE CORONAVIRUS SLOWING THINGS DOWN AROUND THE WORLD? Well, we are still putting in our work, still training, and doing everything the same, except we are just not racing on Saturday. But we cut back to riding only two days a week. Actually, right now, we are not riding at all, so we have two weeks off the motorcycle and then we will get back into it.