DOCTOR D WINS "DAY ONE" OF THE 2010 WORLD VETERAN MOTOCROSS CHAMPIONSHIP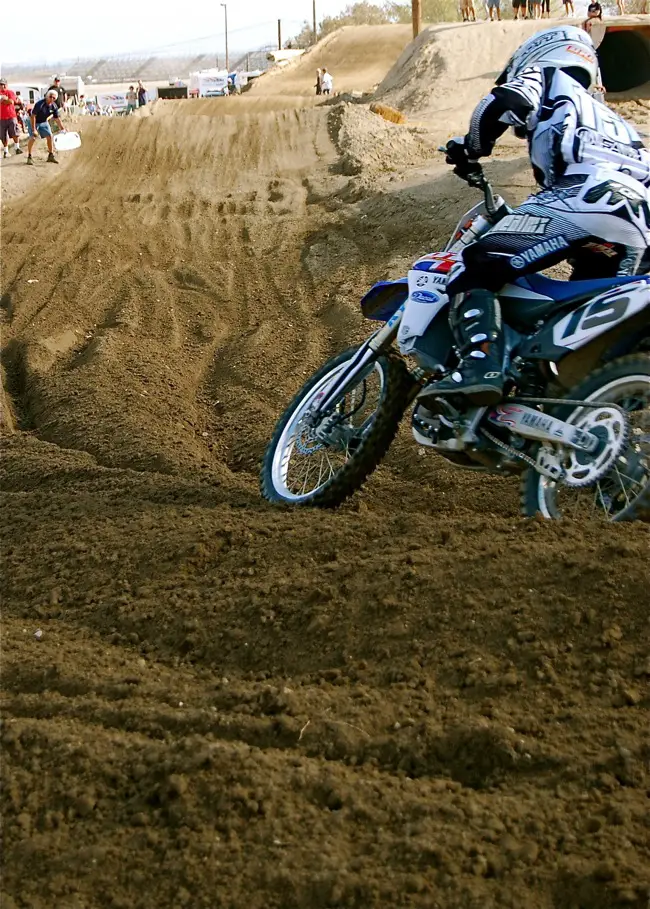 Doug Dubach led every lap of Saturdays' Over-40 World Vet Championship.
Doug Dubach has won 18 World Vet Championship titles over the last 18 years. He added the 18th on Saturday at Glen Helen. The 47-year-old still has to defend his Over-30 Pro Championship on Sunday, but with his win on Saturday at Glen Helen he cemented himself into the Vet racer record books forever.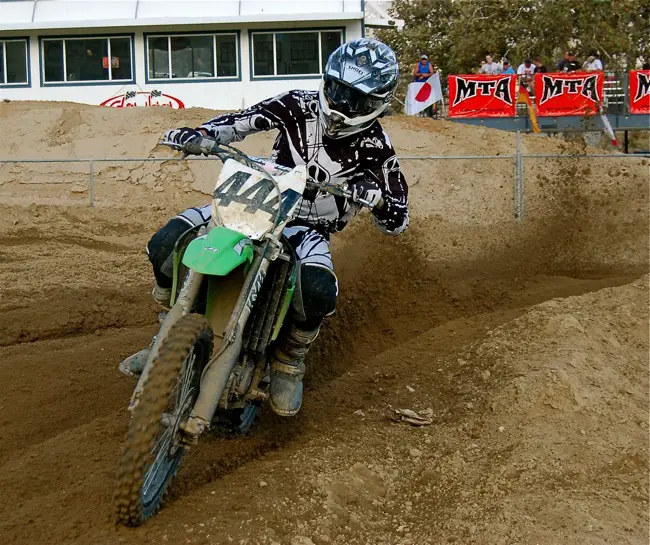 Gordon Ward has had a long career as a professional racer.
Dubach holeshot both motos with Gordon Ward directly behind him both times. Gordon won the 1993 World Four-Stroke Championship, but has never won a Vet title in any age group?he came close this year. In the first moto, Ward made three big charges up to Dubach's rear wheel, but each time Gordon charged forward, Dubach would response with a burst of speed of his own. These constant surges cracked Ron Lechien, who rode a safe-and-sane pace to third in the first moto with Nicoll fourth, Eric Sandstrom (the 2008 Over-40 Champion) in fifth, World Jet Ski Champion Victor Sheldon sixth and MXA test rider Willy Musgrave in seventh. The top ten was rounded out by Texan D.I. Wood, Tim Tynan and Shawn Wynne.

Ron Lechien had the speed to run with Dubach and Ward, but the distance was a little too much.
The second moto was a virtual replay of the first, but this time at the midway point Dubach pulled away from Gordon Ward, while former GP rider Kurt Nicoll caught and passed Ron Lechien. Musgrave charged his 2011 CR250 two-stroke up to fifth with Victor Sheldon sixth, Jonathan Rhodes seventh, Shawn Wynne eighth (also on a two-stroke), TimTynan ninth and D.I. Wood tenth.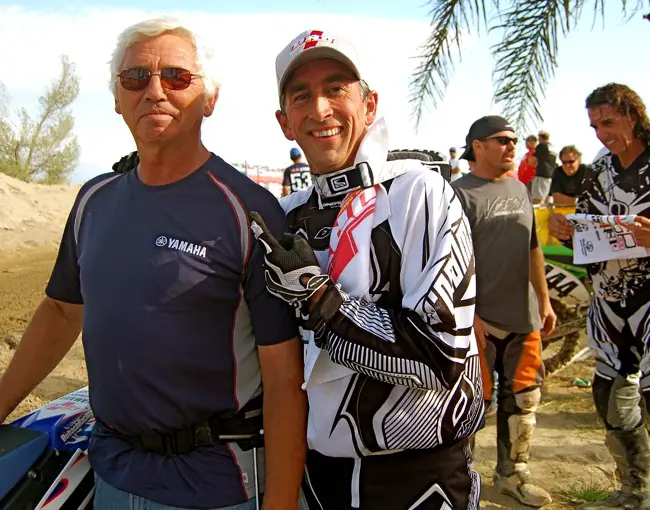 Doug Dubach drafted his former AMA National mechanic Alan Olson (who works for rival exhaust pipe manufacturer Vance & Hines) to wrench for him this weekend. Doug had a brake failure in the first moto that kept Alan scrambling before the second moto.
Doug Dubach has won the Over-40 Championship in 2003, 2004, 2005, 2006, 2007, 2009 and 2010. He has also won the Over-30 Championship in 1993, 1994, 1995, 1997, 1998, 1999, 2000, 2001, 2002, 2007 and 2009. Dubach also won the 2010 USGP Vet Cup race?beating the best that Europe had to offer in a two moto sweep.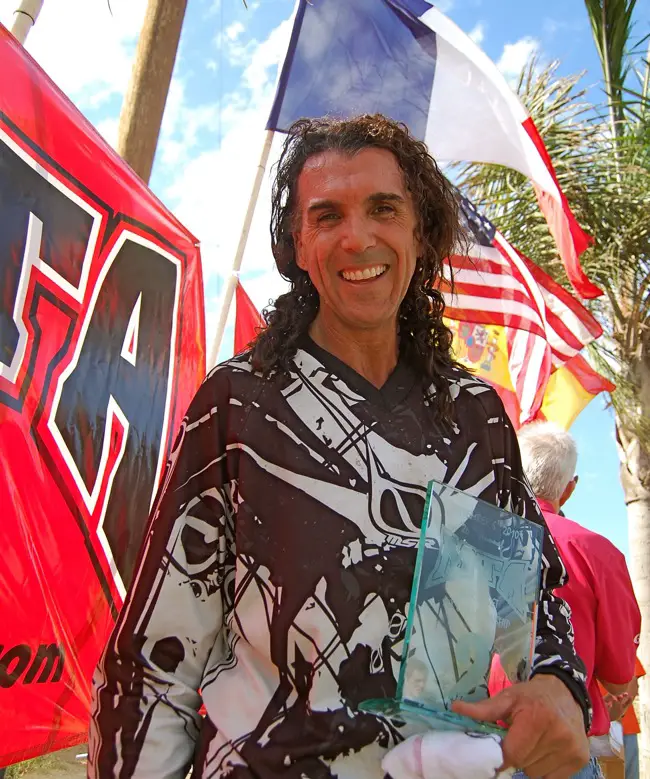 Gordon Ward was happy to finish second. He knows that time is on his side?he's 40 and Dubach is 47.

MXA test rider Willy Musgrave (422) not only sponsored the race and paid the purse, but Willy took home a fair chunk of the two grand with a fifth place finish.

THE OVER-25 PRO CLASS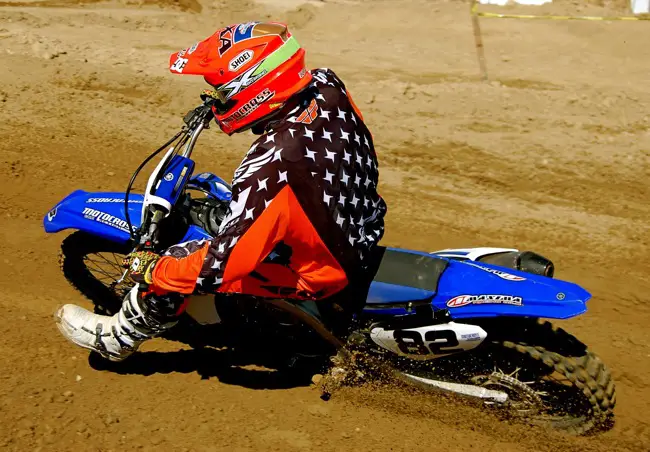 MXA's Dennis Stapleton likes to race. He came to Glen Helen to race the Over-25 Pro class and then rushed off to catch a plane to Holland (and said that he's be back at Glen Helen on Thursday for an MXA test).

At the World Vet Championship Sunday is reserved for rider who are Over-30, Over-40, Over-50, Over-60 or Over-70. The under-30 riders in the Over-25 Class are restricted to racing on Saturday only. MXA's Dennis Stapleton won both motos of the Over-25 Pro class. Charles Castloo was second and Josh James was third. Stapleton left immediately after the World Vet to catch a plane to Holland for a race.
The Over-25 and Over-40 Pro classes are the only Championship classes at Saturday's race. The Over-30, Over-40, etc, titles for Novice, Intermediate and Experts riders are contested on Sunday.

AMA National rider Charles Castloo went 2-2 in the Over-25 class.
2010 OVER-40 WORLD CHAMPIONSHIP
1. Doug Dubach…1-1
2. Gordon Ward…2-2
3. Kurt Nicoll…4-3
4. Ron Lechien…3-4
5. Willy Musgrave…7-5
6. Victor Sheldon…6-6
7. Shawn Wynne…10-8
8. Tim Tynan…9-9
9. D.I. Wood…13-7
10. Jonathan Rhodes…13-7
11. Troy Cardiel…12-11
12. Ed Foedish…11-12
13. Brian Raleigh…16-13
14. Eric Sandstrom…5-25
15. Dan Bonham…15-16
16. Kelly Olson…14-17
17. Loren Pochirowski…18-14
18. Stephen Jump…19-15
19. Jeff Vanmatre…21-18
20. Tim Hickerson…20-19
Photos by Dan Alamangos