DONNY EMLER JR. TALKS AMERICAN MANUFACTURING DURING THE COVID ERA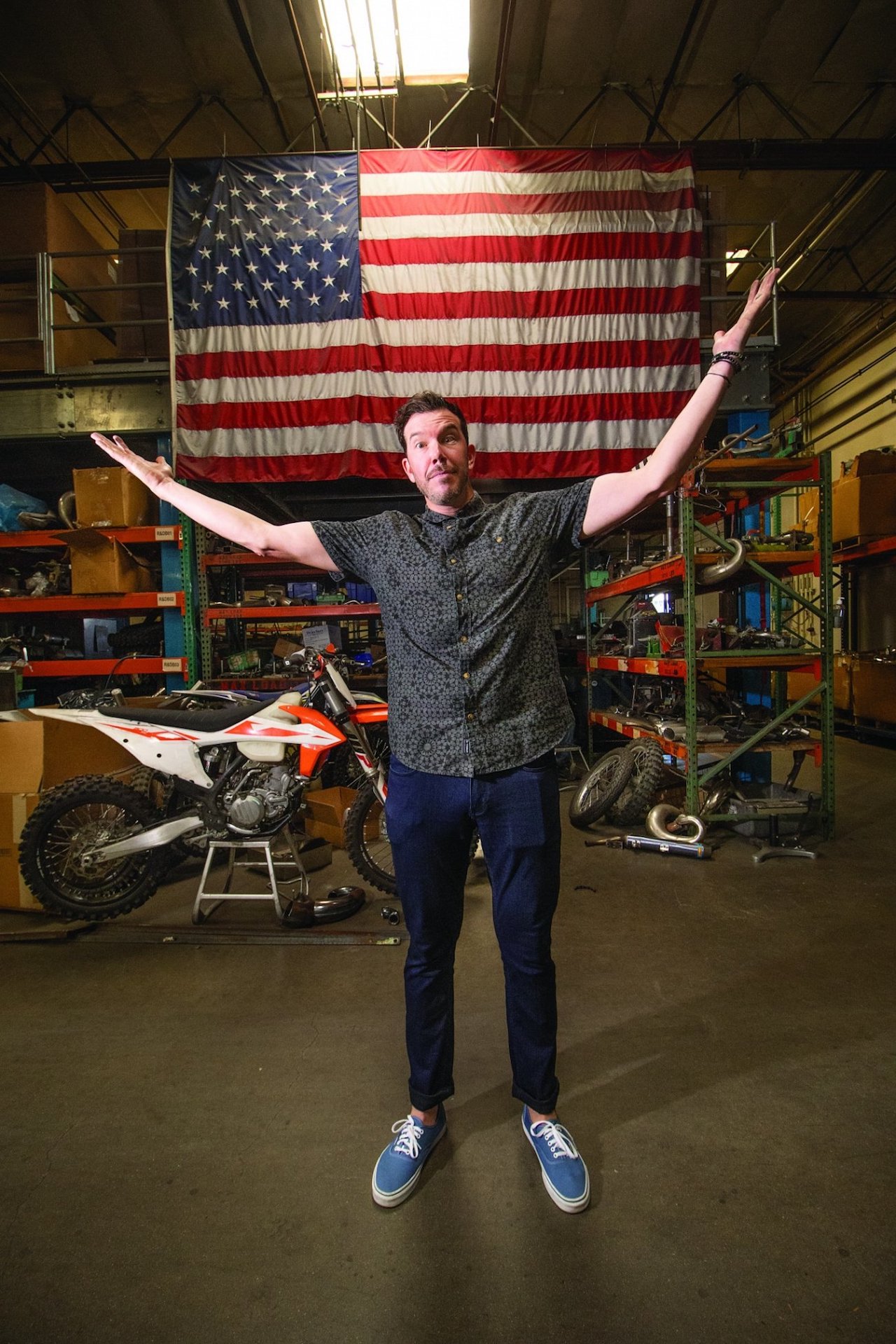 Donny Emler Jr. handles the marketing and business side of FMF Racing, and his Dad, Donny Emler Sr., still owns FMF and is living his dream working in the production shop six days a week.
BY JOSH MOSIMAN
The global economy was flipped upside down in March of 2020 when the coronavirus pandemic caused a world-wide shutdown. Originally, it looked like the motorcycle industry would face an uphill battle as races were canceled and tracks were closed; instead, the shutdown caused our sport to blossom. With schools closed, stick-and-ball sports on hold and malls, theme parks and movie theaters vacant, families were forced to either stay home or go outside. Many families either dusted off their dirt bikes or bought new ones and were reintroduced to motorcycles. Now, companies in our arena aren't looking for more business, they're struggling to keep up with the increased demand that is still heavy over a year later. For this interview, MXA sat down with FMF's Donny Emler Jr. to talk about the effects Covid-19 has had on FMF Racing and manufacturing in America.
WHAT WAS MARCH 2020 LIKE FOR FMF RACING WHEN THE WORLD BEGAN TO SHUT DOWN? I remember coming home from off-road riding with my dad and Danny LaPorte. It was so special to go riding on a weekday with my dad. I cherish those days. Then all of a sudden, we were getting phone calls that Governor Gavin Newsom is shutting down the state. We wondered, "What does tomorrow look like for FMF?" Everything was gray about what the rules and regulations would be. We thought, "Maybe this is a good time. We can get caught up." We took a week off before we said, "We need to get back to work."
FMF Racing was started in 1973 and 48 years later, they're still manufacturing power in the USA.
HOW DID YOU MOVE FORWARD FROM THERE? We followed the CDC guidelines and tried to put new rules in place. You're just not sure what to do because you know you're not only liable for people if they get sick, but you're also trying to provide them with a job and employment. At that time, there wasn't any talk of stimulus checks, so we felt a responsibility to take care of our employees.
"WE FOLLOWED THE CDC GUIDELINES AND TRIED TO PUT NEW RULES IN PLACE. YOU'RE JUST NOT SURE WHAT TO DO BECAUSE YOU KNOW YOU'RE NOT ONLY LIABLE FOR PEOPLE IF THEY GET SICK, BUT YOU'RE ALSO TRYING TO PROVIDE THEM WITH A JOB AND EMPLOYMENT."
HOW WAS FMF RACING DOING BEFORE COVID? The last couple of years have been great; we've seen solid growth. We've always kind of been backed up in our production. January and February started off great. We felt that 2020 was going well. We were winning races at Supercross, on our way to some Championships, and then March happened and the world froze.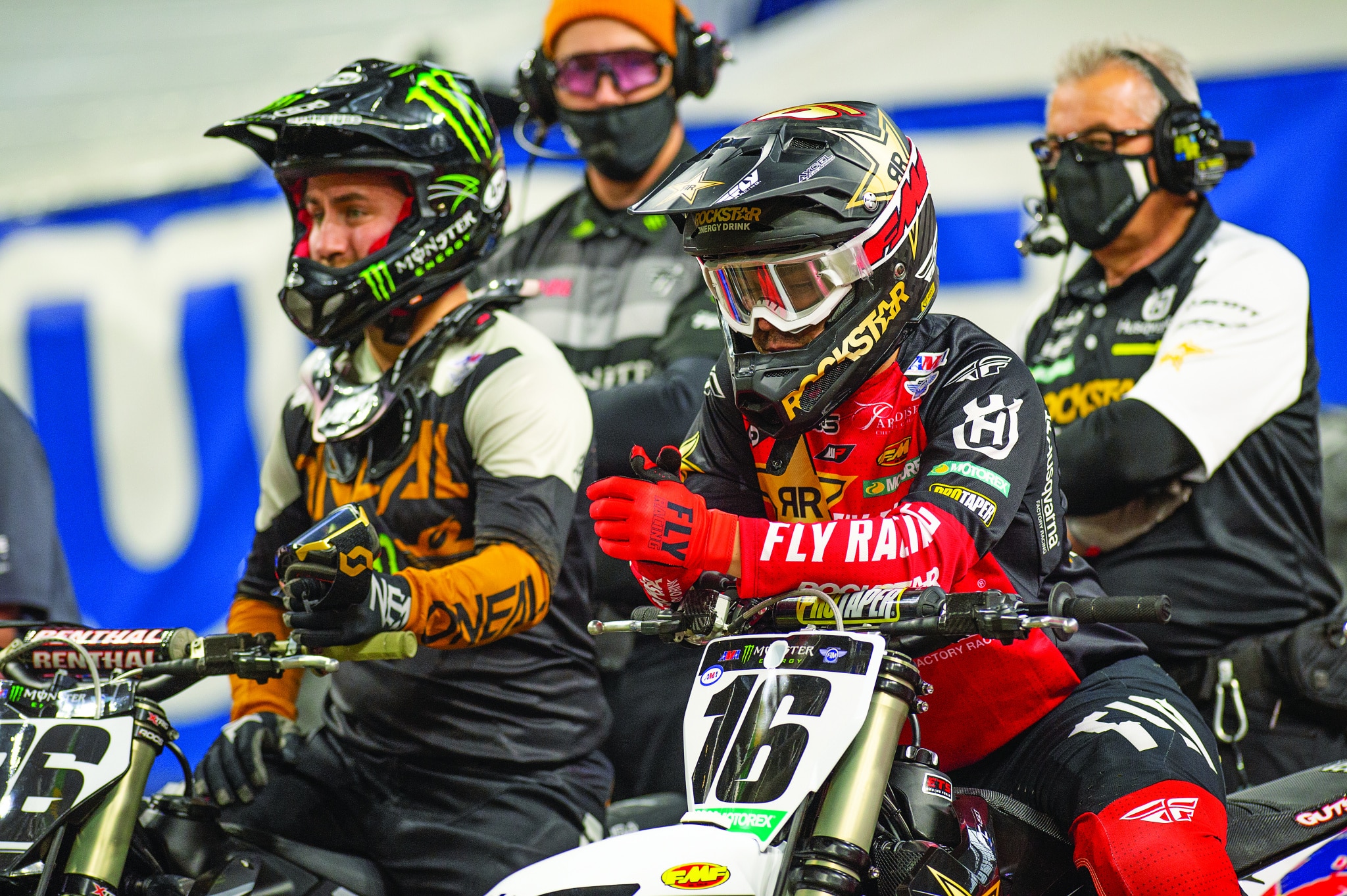 FMF Vision is the company's new goggle venture with 100 Percent. Zach Osborne is their star rider and he's coming out with a signature line of goggles soon.
HOW WAS FMF RACING AFTER COVID HIT? Our March was horrible, but there was talk of help on the way and we were hearing statistics that made us think that it was not a demon that was going to get everyone. From there, it just went month by month. There are so many people whose businesses were forced to shut down, and they couldn't provide employment to their people. At the same time, the motorcycle industry started thriving.
WERE YOU WORRIED ABOUT OUR INDUSTRY IN THE BEGINNING? I was definitely concerned, because I didn't want our sport go back to where it was when the economy turned bad in 2008. At the same time, seeing what my dad had built with FMF Racing over the last 48 years, his dream was always to be able to control everything you can in-house. If your vendors go out of business, you scramble to find someone to fill the void. FMF is in a vertical manufacturing position where we make everything in house. We really can control our destiny. We're not relying on other vendors or products coming from overseas. We'd like to produce faster, but we're at a threshold.
Two-stroke stamping.
MANUFACTURING PRODUCTS IN-HOUSE MUST HELP A TON. It does. We were able to maneuver quickly, while other companies had to cancel their production overseas and then try to turn it back on quickly when the industry started booming; but, at that point their production was canceled, and it set them back. Good or bad, no one has a crystal ball. We didn't know what this thing was going to do. If we knew this industry was going to do what it did, we would have tried to hire more people and ramp up a long time ago.
HAVE YOU HAD A HARD TIME GETTING MATERIALS LIKE OTHER COMPANIES? Most people think we can't get the material, but that's actually not the case. We get most of our material locally, and we get our titanium from Japan. We've always been really good about bulking up on that kind of stuff. The cost of materials has gone way up, but the main challenge is trying to find people to work. We're hiring like crazy, and it has forced us to figure out how to be more efficient. You never change things until you're on your heels. All of a sudden, this sport that we love is going bananas. You really have to figure out how to be more efficient and make stuff quicker.
The Covid-19 shutdowns hurt many industries, but not ours. Motorcycles are selling like hotcakes and FMF Racing is continually looking for new ways to produce products quicker.
HAS IT BEEN DIFFICULT TO RETAIN EMPLOYEES DURING THIS TIME? You're definitely going to have issues with people wanting to work. Unfortunately, sometimes the government makes it too easy for people not to work. But that will turn around. Without that happening, we wouldn't be learning how to be more efficient, so in a way it's also kind of good.
WHICH PARTS DOES FMF OUTSOURCE? We don't nickel plate the two-stroke pipes in house, but it's done right around the corner, so we drop off and pick up daily. We don't produce our carbon fiber end-caps, but they are produced in Northern California. There are some small things, such as rivets and stickers that are outsourced, but everything else is from raw material built in-house.

FMF Racing has been with the Star Racing Yamaha team since before they were big-time. Dylan Ferrandis has been doing well for their new 450 program.
WHY DID THE SHUTDOWN CREATE A BIG BOOST FOR THE MOTORCYCLE INDUSTRY? It was a weird thing. People couldn't go to work, but at the same time, they were spending more time with their families. For me, it put things into perspective. Maybe I worked too much and I didn't get to see enough of my kids growing up. I think it was eye opening. The world kind of stopped, and people had to figure out what really mattered to them.
"ALL OF A SUDDEN, THIS SPORT THAT WE LOVE IS GOING BANANAS. YOU REALLY HAVE TO FIGURE OUT HOW TO BE MORE EFFICIENT AND MAKE STUFF QUICKER."
WHAT IS THE TOUGHEST CHALLENGE FOR FMF RIGHT NOW? Our biggest challenge is overall demand right now. When you realize new bike sales alone are up 25 to 30 percent, which is pretty unheard of in our space, and aftermarket accessories, gear and parts are up 50 percent, then you understand why we're backed up. It's tough, because people complain about back orders, but we are doing everything we can to fill orders. People are spending money; they're rebuilding older bikes and they're buying used bikes. The 25 to 30 percent boost is just new bike sales. Can you imagine what used bike sales are like? It's nuts, but it's great for our sport.
FMF Racing orders material in bulk. These large rolls of steel weigh more than Donny's Toyota Tundra truck.
HOW HAS DISTRIBUTION BEEN FOR FMF DURING THE COVID ERA? We have global distribution for FMF Racing. In the U.S., we work with all three major players: Parts Unlimited, Western Power Sports and Tucker Rocky. During the height of Covid, it was tough because no one knew if motorcycle dealers were allowed to stay open. Everything was so unclear. Our sales manager, Doug Muellner, was great about having daily phone calls with the distributors and dealers asking them, "Hey, what can we help you out with?" FMF works really closely with KTM, and they actually gave us a lot of insight, because KTM was doing such a good job at communicating with its dealers. They were communicating with us, too, so we were able to use that knowledge.
HOW DID YOU HELP OUT FMF DEALERS? I had an idea to create this campaign called "Ride It Out." I printed up a couple thousand T-shirts. I literally loaded them up in my truck and drove to every local dealership that I could physically get to. I would walk in, hand them a box of T-shirts and get on social media and say, "Hey, shop local. Get out. Support your local dealer. Come on in and they're going to give you one of these T-shirts if you buy something." Our dealers are what make FMF. If we didn't have the dealers or distributors, the consumers wouldn't be able to get our product. So, having the dealers stay open was huge. Obviously, now I would imagine every dealer in the U.S. is just asking, "Hey, when can we get more product?"
The Star Racing team is known for having fast bikes. Seen here Justin Cooper and Jeremy Martin launch ahead of the 250 pack.
HOW HAS BUSINESS BEEN LATELY? When there wasn't any racing, everything just kind of froze. We couldn't even go ride at our local tracks. That was scary. You couldn't even pay money to ride your dirt bike at a track. That's when people started buying motorcycles and going to the desert or the trails to go riding. It was great to see MX Sports and Supercross put the races back in place. Our sport was second to NASCAR as the only sport that was up and running early on. Kudos to those guys. We're super glad to be supporting everything MX Sports does.
"OBVIOUSLY, NOW I WOULD IMAGINE EVERY DEALER IN THE U.S. IS JUST ASKING, 'HEY, WHEN CAN WE GET MORE PRODUCT?"
THE POWERFUL STAR RACING YAMAHA TEAM HAS BEEN A VERY SUCCESSFUL PARTNERSHIP FOR FMF. We've worked with Bobby Regan and the Star Racing team since before they were getting support from Yamaha. Bobby was just doing this as a passion project for fun. I'm sure Bobby lost a lot of money over the years, but to see where the team has been for the last 10 years is just crazy. Those guys are so dominant right now. Obviously, their bikes are good, and that's what really makes me happy. For some reason, Yamaha's YZ450F program never worked as a factory team and then, all of a sudden, it turns around with Star Racing doing it now. It just shows you how hard those guys at Star worked, because they took that YZ450F and made it an amazing motorcycle.
The man behind FMF, Donny Emler Sr.
WHAT WAS YOUR DAD, DONNY EMLER SR., DOING WHEN HE STARTED FMF? Before my Dad founded the Flying Machine Factory, he was a racer. He loved racing, and he was good. He was in the Pro class and then started realizing, "These guys are getting faster than me, but my bike is faster than all of theirs. If I can start helping some riders and let them ride my bikes, we'll split the purse." Pretty soon after that, his name started getting out as being this fantastic tuner and builder. He launched the Flying Machine Factory with a couple hundred bucks in his pocket out of his garage in Hawthorne, California.
WHAT WERE YOUR FIRST MEMORIES OF YOUR DAD AND FMF? My Dad ended up getting a 3000 square-foot building around 1974-1975, and I was born in 1981. My earliest memory of my Dad was in his first shop. He actually was living in there. He had built out a mezzanine, and I thought it was so cool because I just remember thinking my dad's got a tree house inside his shop. That's how dedicated he was to the business and the sport. Now you look and there's still a lot of great companies around, but there are not a lot of companies that are still owned by the original owner.
FMF WAS MORE THAN JUST PIPES BACK THEN, RIGHT? He was basically building a full-package motorcycle for racers, kind of like the Factory Editions of today. He was taking Honda Elsinores and other bikes, modifying them and selling them. Literally, you could buy a bike from him that was completely done with an FMF swingarm, Porcupine head, FMF pipe, suspension and stuff like that. It was basically a works bike that you could buy directly from him. The Honda Elsinore really made FMF take off.
Although inventory is low, FMF Racing isn't on vacation. The production line has been working overtime to try and keep up with increased demand.
WHAT IS YOUR DAD'S ROLE IN THE COMPANY NOW? I always joke around by saying that my dad started in a garage and he's still in a garage, only now it's a 100,000 square-foot garage. He's 70 years old and still loves being at the shop every single day, and he comes in on Saturdays, too. He just loves working in the back. He's working on equipment to figure out ways to build our products better. He still loves to ride, too.
WHAT IS YOUR ROLE AT FMF? My role is to figure out how to keep the brand striving and thriving in the right direction. I work on the business side, using the iconic logo that he's developed and kind of taking it to the next level–everything from working with race teams, advertising, all of our marketing and the apparel side. When people look at FMF, they know they're getting an American-made product, and they feel like they're a part of the FMF family.
"EVEN DURING COVID, WE DIDN'T PULL SUPPORT FROM ANY RACE TEAMS OR SERIES. WE'VE ALWAYS GIVEN BACK TO THE SPORT BECAUSE THE SPORT'S GIVEN US SO MUCH."
WHAT ARE YOU DOING TO MAKE PEOPLE FEEL LIKE THEY'RE PART OF THE FMF FAMILY? Going to events and really being on the ground level. It's not just about Pro racing. We like to win Pro races, and we put a lot of our effort there, but people don't really see it all because they're watching stuff on TV. We're really focused on being grassroots and going to all the amateur races, like Loretta Lynn's and the National Hare and Hound off-road races. FMF sponsors more events and series than any other company in the sport. Even during Covid, we didn't pull support from any race teams or series. We've always given back to the sport because the sport's given us so much. If anything, we gave it more gas instead of throttling back. By what I can see with the demand we have, I can say that people saw that, and they wanted to be a part of our movement.
Donny Emler, Jr is a busy man. He is also a big part of the Kurt Caselli Foundation.
YOUR WHOLE LIFE HAS BEEN ENGULFED IN MOTOCROSS. HOW IS YOUR PASSION FOR IT NOW? My passion is at an all-time high. I'm 40 years old, but I still love to race fun events like Mammoth and Day in the Dirt. I even qualified for Loretta Lynn's and raced it in 2013. I like to ride as much as I can. I'm kind of a dual-purpose guy. I love motocross, but I also love off-road riding. That's where my roots are, riding with my dad. Now that I have a family of my own and we're going out to the desert and camping. I am sharing the experience with my son Ethan, just like what I grew up doing with my dad. It's really special.