DR. D WINS 23RD WORLD VET CHAMPIONSHIP TITLE IN MUDFEST
Click on images to enlarge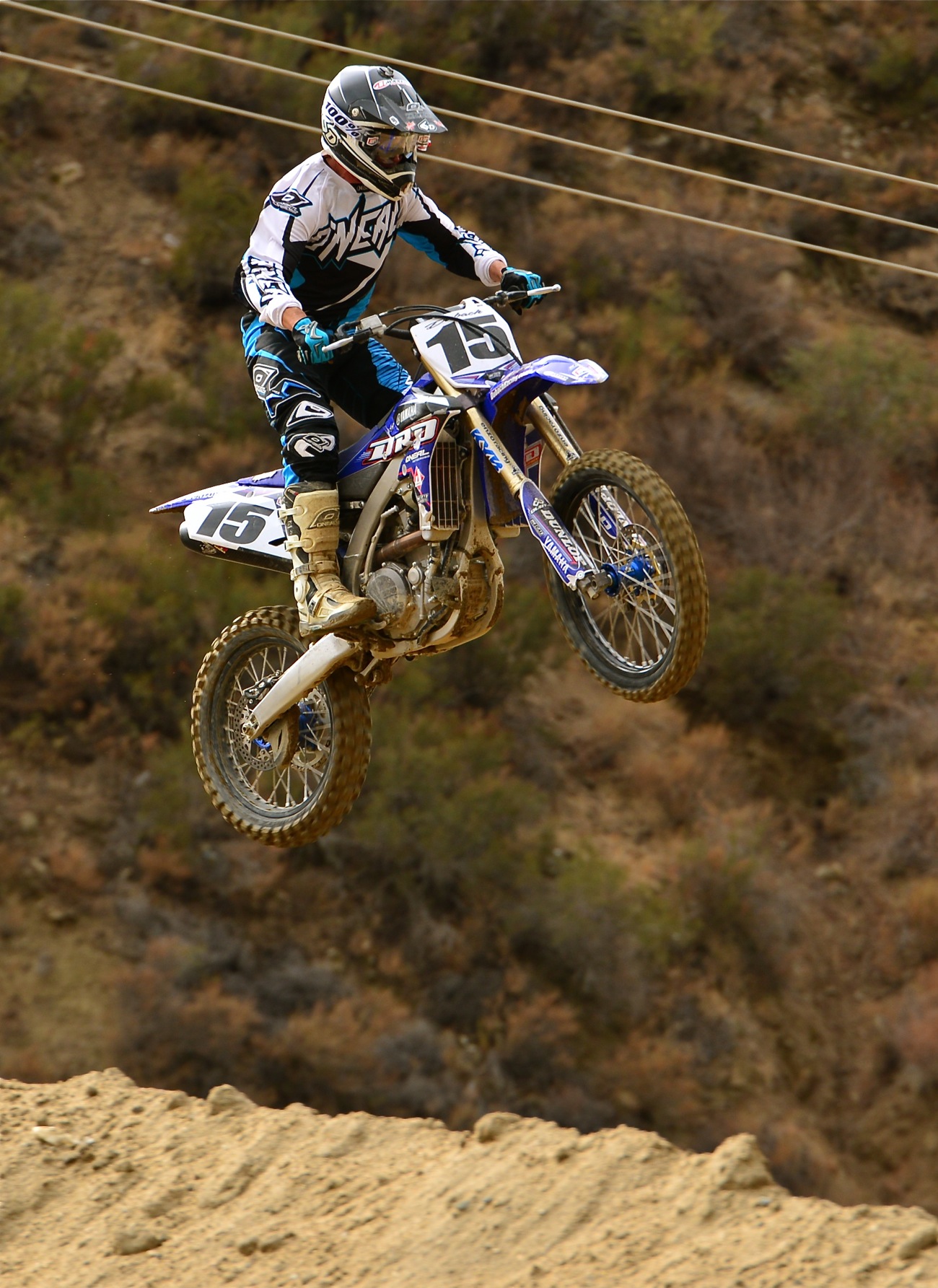 Doug Dubach (15) won the 2014 Over-40 World Vet Championship on Saturday, beating an international field. It was his 11th title in the Over-40 class. Photo: Dan Alamangos

On day one of the big Veteran shindig, Doug Dubach won his 23rd World Vet Championship title when he swept both motos of saturday's Over-40 pro class at Glen Helen Raceway. Dubach and Gordon Ward were the class of the field as the dueled out front in moto one in a private battle. In fact, both Dubach and ward crashed and had to pick their bikes up and start again. But, Dr. D (Dubach) was able to maintain his lead, while Ward fell back to fourth and had to pass Brit Brian Wheeler and Canadian Julien Cerny late in the moto to get second.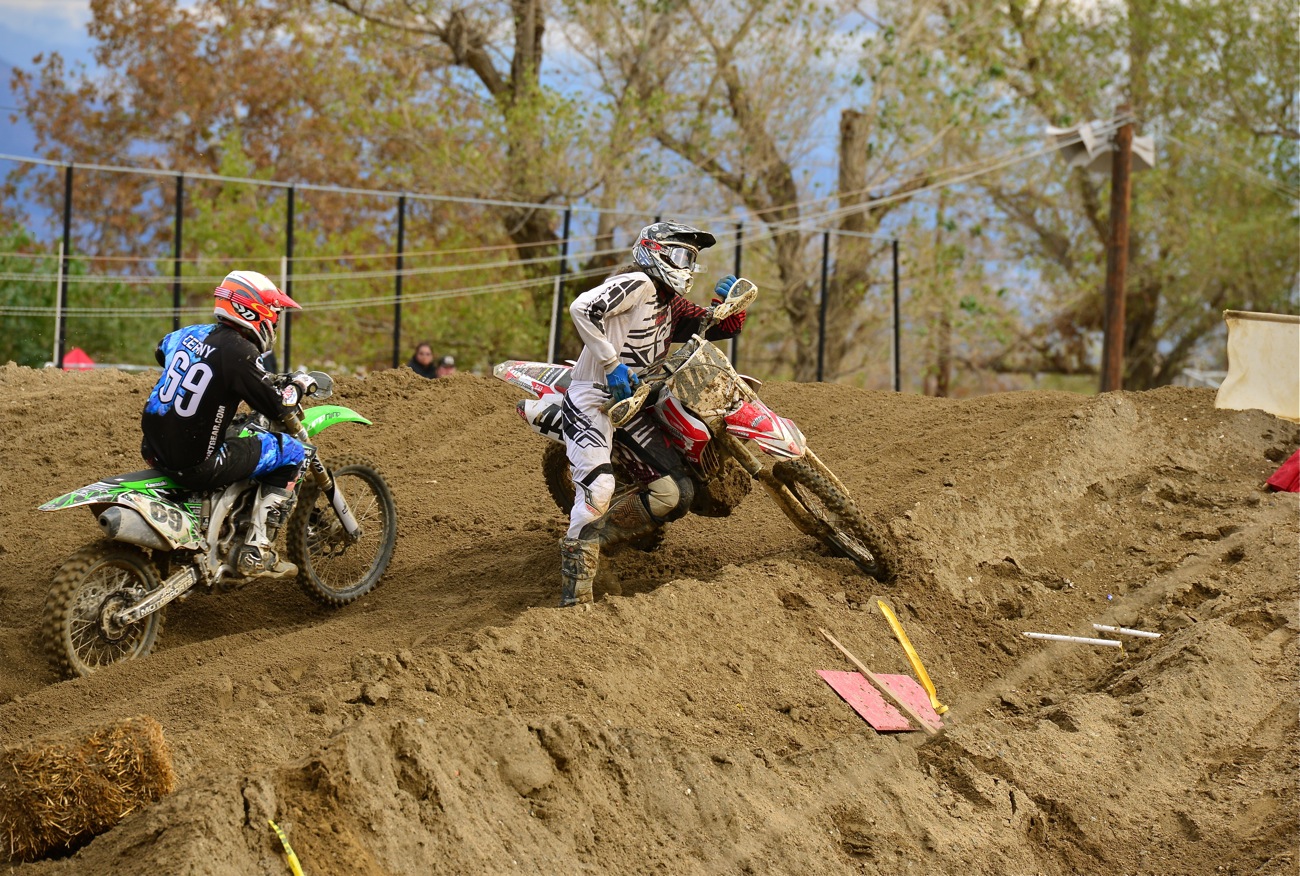 Second place was decided right here. Gordon Ward (444) corkscrewed out of this turn just as the white flag (far right) flew. Canadian Julien Cerny (69) moved past to take the second spot on the podium. Photo: Dan Alamangos

Yamaha's new submarine worked great in the shallow end of the Glen Helen's pool. Photo: Dan Alamangos

Drey Dirks  (64) had issues in moto one, but was fourth in moto two . Photo: Mark Chilson
The second moto was a repeat of the first with Dubach leading and Ward in hot pursuit. Dubach fell again when he collided with a lapper. Again Dubach remounted while still in the lead. Ward,, who was running second was not so lucky when he fell and again got passed by Julien Cerny, Drey Dirks and Brian Wheeler. Gordon pushed his way back up to second place, only to make a last lap mistake at the white flag. He tried valiantly to repassed Cerny, but didn't have enough time.
Brian Wheeler (12) had decent fourth place starts, but he couldn't make a dent in the leading trio. Everyone fell in the mud at Glen Helen and Wheeler, who should have been great in the mud, being British and all, faded late in both motos. Photo: Dan Alamangos

They don't see a lot of Icelandic motocrossers in SoCal. Stale Bjordal  went 5-7 for sixth. Photo: Mark Chilson

The final result was Dubach  1-1, Cerny 3-2 and Ward 2-3. The field had an international flavor with Brits Brian Wheeler fourth and Phil Mercer ninth. Iceland's Stale Bjordal was sixth, Kim Olsen from Denmark was eighth, Northern Ireland's Geoff Walker 15th and Canadian Luc Tremblay 17th.
Arizona's Ed Foedish (326) splashes his way to 11th overall, but what intrigues us the flagman in the background — just how deep was the mud? Photo: Mark Chilson

Shawn Wynne (9) raced a 1994 Honda CR500, with stock suspension, to tenth. Photo: Mark Chilson
Dubach will go for title number 24 on Sunday, Nov. 2,  when the World Vet continues. Dubach is the defending Over-50 World Champion and the odds-on favorite to win that class again. Saturday's races only crowned the Over-40 Champion, Sunday will see titles bestowed on the Over-30, Over-50, Over-60 and Over-70 winners.
Todd Mitchell's 6-5 defeated the Icelander and was just one place behind the Englander. Photo: Dan Alamangos

Kevin Barda (852) two-stroked it to 13th with a 14-11 score. Photo: Dan Alamangos

When one rider fell there was a 50-50 chance that he would take someone with him. Photo: Mark Chilson

RESULTS: OVER-40 WORLD VET CHAMPIONSHIP
1. Doug Dubach (Yam)……….1-1
2. Julien Cerny (Kaw)…………3-2
3. Gordon Ward (Hon)……….2-3
4. Brian Wheeler (Kaw)………4-6
5. Todd Mitchell (Suz)…………6-5
6. Stale Bjordal (Hon)…………5-7
7. Brandon Milstead (Suz)…..7-8
8. Kim Olsen (Suz)……………..9-10
9. Phil Mercer (KTM)………….11-9
10. Shawn Wynne (Hon)…….8-13
11. Ed Foedish (Kaw)………….10-12
12. Drey Dircks (Hon)…………21-4
13. Kevin Barda (Suz)………….14-11
14. Don Bisceglia (Hon)………13-14
15. Geoff Walker (Yam)……….12-15
16. Tony Amaradio (Yam)……17-16
17. Luc Tremblay (Hon)……….16-18
18. Jayson Crotteau (Hon)…..15-19
19. Troy Cardiel (Hon)…………22-17
20. Rob Deeds (YAm)………....23-20
DOUG DUBACH'S 23 WORLD VET VICTORIES
Doug Dubach had to be talked into racing his first World Vet Championship in 1993, but the former Yamaha factory rider and AMA Supercross winner has found lasting fame with his phenomenal string of wins. It is unlikely that anyone will ever match his 11 Over-30 wins, 11 Over-40 wins and last year's Over-50 title. Photo: Mark Chilson


1993
30 …Doug Dubach
1994
30 …Doug Dubach
1995
30 …Doug Dubach
1997
30 …Doug Dubach
1998
30 …Doug Dubach
1999
30 …Doug Dubach
2000
30 …Doug Dubach
2001
30 …Doug Dubach
2002
30 …Doug Dubach
2003
40 …Doug Dubach
2004
40 …Doug Dubach
2005
40 …Doug Dubach
2006
40 …Doug Dubach
2007
30 …Doug Dubach
40 …Doug Dubach
2009
30 …Doug Dubach
40 …Doug Dubach
2010
40 …Doug Dubach
2011
40 …Doug Dubach
2012
40 …Doug Dubach
2013
40 …Doug Dubach
50 …Doug Dubach
2014
40 …Doug Dubach