DUBYA USA WORLD VET CHAMPIONSHIP DAY ONE RESULTS: OVER-40 PRO, OVER-50 PRO & WORLD CUP

Photos by Jody Weisel, Mark Chilson & Dan Alamangos
Day one of the Dubya USA World Vet Motocross Championship is in the books. With 750 riders entered in a wide variety of age groups, the three premier events of day one were:
(1) The Over-40 Pro Championship, won by Mike Brown, who first won it back in 2017.
(2) The Over-50 Pro race, won by Kurt Nicoll. It was Kurt's fourth World Vet Championship (he won the Over-40 title in 2015 and the Over-50 crown in 2016, 2018 and now 2019.
(3) The third big event of day one was the World Vet World Cup team race. It is made up of national teams composed of an Over-30, Over-40 and Over-50 rider. Saturday's event was the first moto of the two-moto affair, with Team USA #2 inching out a narrow lead over Team Great Britain, with Team USA #1 moving into third. The second moto will be held on Sunday. Here are the top 20 in all three events. Sunday will see all of the amateur classes plus the Over-30 Pro race (along with Over -60 and Over-70 Championships and second moto of the World Cup).
DUBYA WORLD VET CHAMPIONSHIP OVER-40 PRO RESULTS
Mike Brown is an impatient man. He wanted to be in the lead of the Over-40 Pro class and Kris Keefer was in his way. The best way to solve that problem was with a "pick-up pass." It doesn't take a very big hole for Mike to squeeze through.
A successful "pick-up pass" requires contact. Here, Mike submarines under Keefer's Yamaha.
We failed to mention that in a "Pick-up pass," both riders have to go down.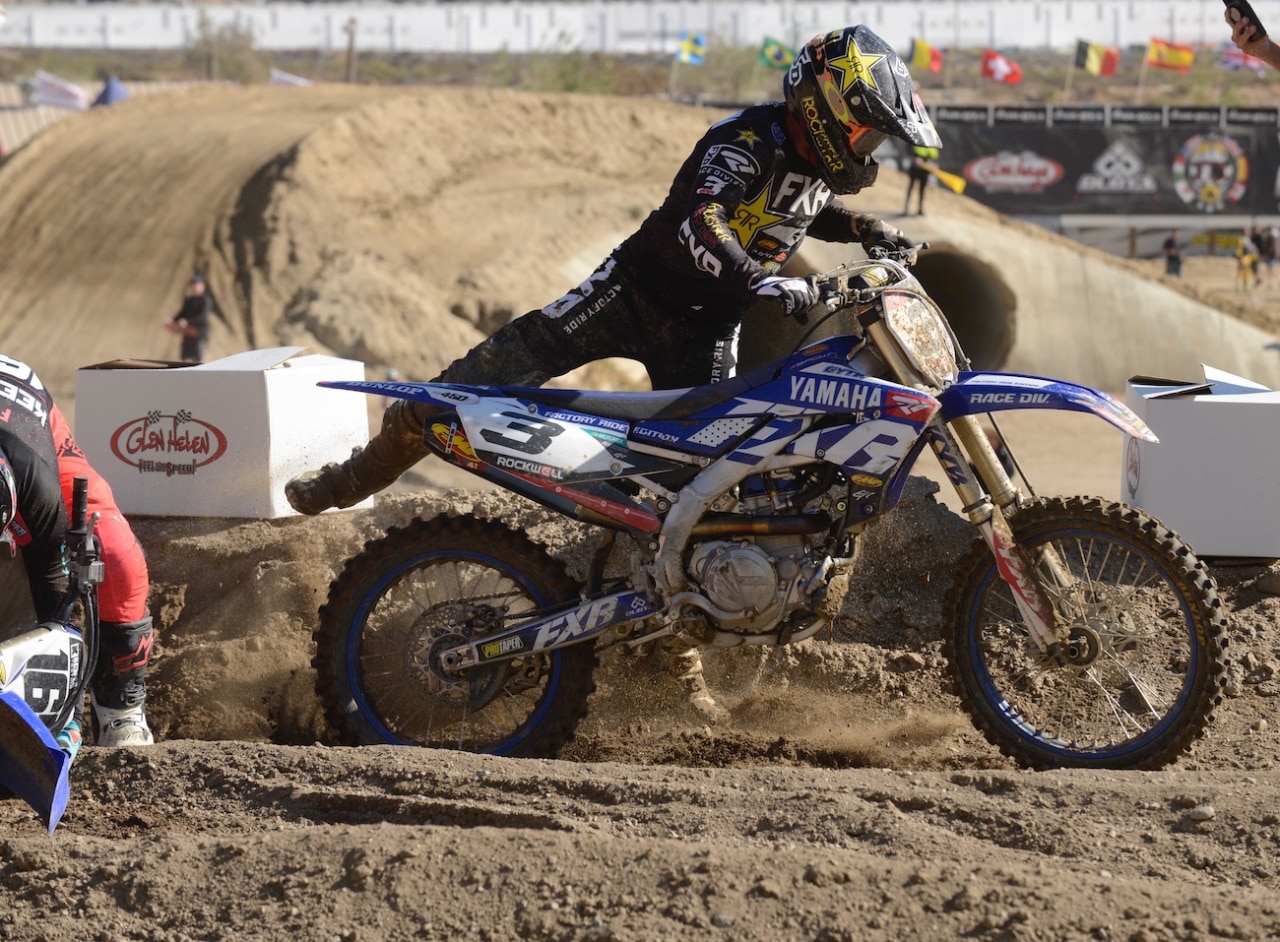 And the rider that picks his bike up first makes the pass. Voila! A pick-up pass. Mike got up to win both motos.

1. Mike Brown….1-1
2. Kris Keefer….2-2
3. Mark Tilly….3-5
4. Jeremy Chaussee…6-3
5. Joe Oehloff…5-4
6. Robb Floth…4-9
7. Tim Beatty…7-7
8. Julien Cerny…9-6
9. Shawn Highland…10-8
10. Lee Walston…11-10
Dirt Bike's Mark Tilly went 3-5 for third overall in front of Jeremy Chaussee's 6-3.
11. Andreas Hengstberger…11-11
12. Imre Adamek…13-12
13. Oscar Valdez…15-13
14. Danny Tollet…16-14
15. Todd Graviett…8-23
16. Brian Storrie…18-15
17. Shawn Bushnell…17-16
18. Ralf Schmidt…19-17
19. Jeff Willoh…12-26
20. Michael gage…23-18
DUBYA WORLD VET CHAMPIONSHIP OVER-50 PRO RESULTS
Kurt Nicoll won both motos in the Over-50 Pro class.

Ty Davis just turned 50 and decided to com back to motocross. He went 2-2.

1. Kurt Nicoll….1-1
2. Ty Davis….2-2
3. Brian Wheeler…3-3
4. Jeff Mataisasevich…5-4
5. Jon Ortner…7-5
Jeff Matiasevich went 5-4 for 4th overall in the Over-50 Pro class.

6. Tim Tynan…10-8
7. Troy Cardiel…8-10
8. Steve Nelson…13-6
9. Bryan Sabbaugh…14-7
10. Ed Heacox…12-9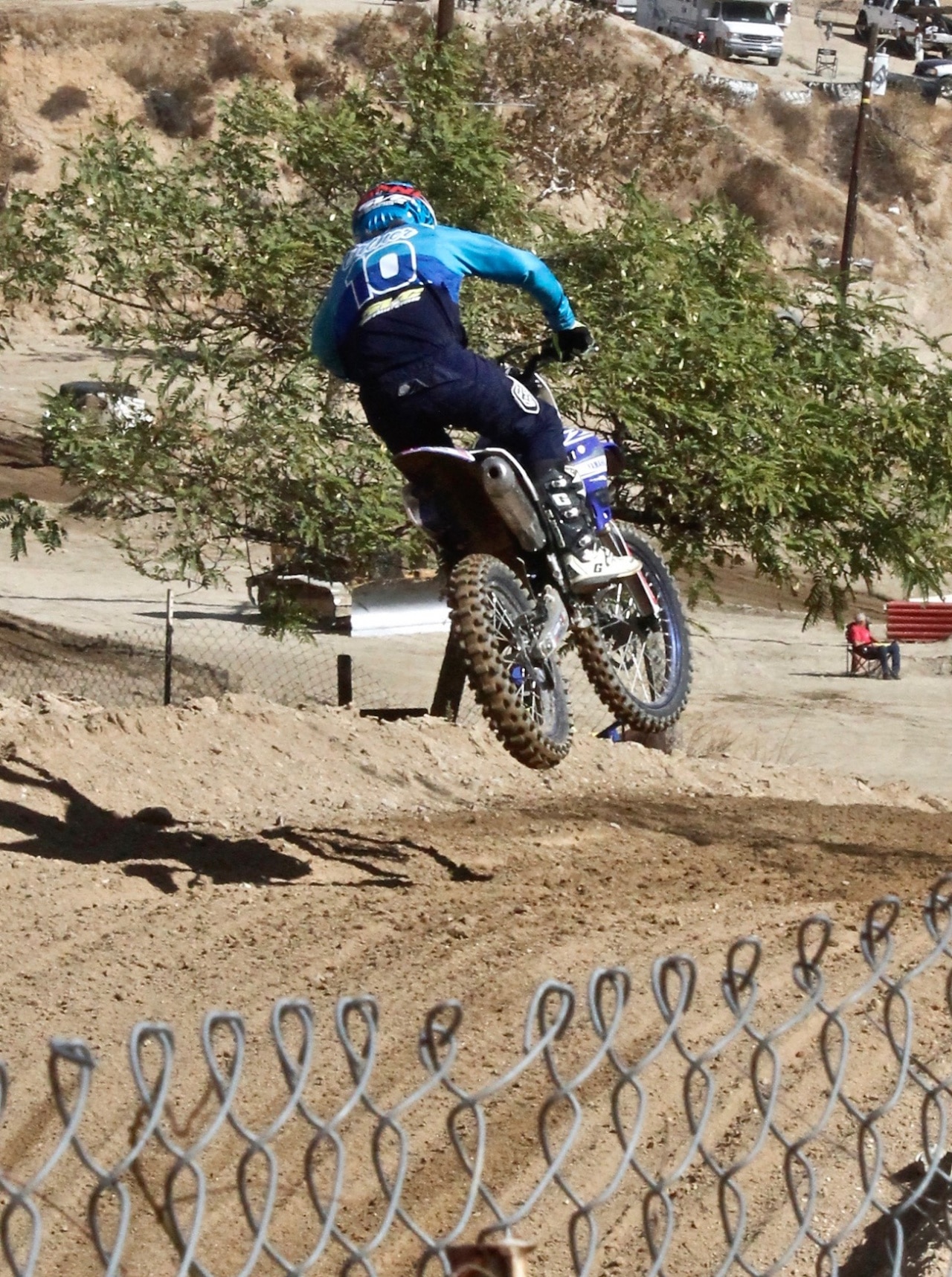 Jon Ortner got his new YZ450F on Thursday, broke it in on Friday, changed the bar postion on Saturday morning, borrowed a taller seat from MXA and got a fifth overall.
11. Craig Davis…4-17
12. Nic Wallis…11-11
13. Kevin Barda…6-20
14. Ed Foedish…9-18
15.  Tracy Bachman…16-12
16. Michael Calhoun…18-13
17. Dan Bonham…15-16
18. Kris Fagala…19-14
19. Jeffrey Vanmatre…2-15
20. Milt Reimer…17-20
DUBYA WORLD VET CHAMPIONSHIP VET WORLD CUP RESULTS: MOTO ONE
The World Cup start area was jam-packed as the riders lined up in three waves, with the 30-year-old riders going first, Over-40 riders were in the second wave and Over-50 riders in the third wave. They left at 30 second intervals.
Nations ………..Riders………………………………………….30/40/50 ……Total points
1. USA #2 (Jeff Loop, Kris Keefer, Craig Davis)…..1/2/2 =  5
2. Great Britain (Brad Anderson, Kurt Nicoll, Brian Wheeler)….2/3/1 =  6
3. Team USA #1 (Shawn Hillion, Mike Brown, Ed Foedish)….5/1/3 =  9
4. Brazil #1 (Wellington Garcia. Richard Berois, Fabio Dos Santos)….4/4/8 =  16
5. France (David Sousa, Thierry Traccan, Arnaud Demonmahou)….7/6/4 =  17
6. Puerto Rico #2 (Jon Lindberg, Jeff Molina, Ed Heacox)….12/10/5 =  27
7. Canada #1 (Tim Tremblay, Robert Martin, Alain Bourdreau)….3/15/10 =  28
8. Puerto Rico #3 (David Cincotta, Todd Gravitt, Kevin Barda)….18/5/6 =  29
9. Canada #2 (Ryan Gauld, Steve Bulyovsky, Nic Wallis)……6/14/9 =  29
10. Holland (Ralf Schmidt, Rowdy Wagenaar, Oliver Gottbehut)…..8/11/13 =  32
11. Iceland (Gunnlaugur Karlsson, Ragnar Seffansson, Haukur Thorsteinson)…15/7/11 =  33
12. USA #3 (Brandon Kirkendal, Anthony Heckart, Chuck Heckman)…..17/9/7……..33
13. Guam #1 (Charles Castloo, Zeke Daugherty, George Ellinger)…..9/12/14 =  35
14. Ireland (David O'Connor, Kenny Power, Gary Sullivan)…..14/16/12 =  42
15. Australia (Steve Butler, Dan Alamangos, Dave Feeney)….1.0/18/16 =  44
16. Spain (James Farrell, Xavier Costa, Joaquim Sunol)…..16/13/17 =  46
17. Puerto Rico #1 (Carlobi Velez, Nick Luciano, Eddie Jaramillo)….13/22/15 =  50
18. Northern Ireland (Jonathan McBride, Hugh Mc Dowell, William Burgess)…11/23/23 =  57
19. Canada #3 (Ron Jansen, Dean Murphy, Matt Hahm)….20/17/23 =  60
20. Brazil #2 (Murillo French, Artur Aguilar, Marcio Campos)….19/19/23 =  67
21. Guam #2 ( Rich Young, Jan Van Dunthwyk, Richard Hurtado)….23/23/23  =  69
QUICK & EASY WORLD CUP SCORING


SUNDAY AT HIGH NOON! MITCH PAYTON'S LIFETIME ACHIEVEMENT AWARD CEREMONY
Mitch Payton will receive the Edison Dye Lifetime Achievement Award and his spot on the Walk of Fame on Sunday at 12:00 noon to a packed house in the Glen Helen Museum.