DUBYA USA WORLD VET MOTOCROSS CHAMPIONSHIP AT GLEN HELEN GIANT PHOTO GALLERY
2019 DUBYA USA WORLD VET MOTOCROSS CHAMPIONSHIP AT GLEN HELEN: THE GIANT PHOTO GALLERY
The 2019 Dubya USA World Vet Motocross Championship and the first-ever World Cup of Nations team race is officially in the books and it was definitely one to remember. With thirteen different countries represented in the twenty World Cup of Nations classes, there was a true battle for each country's pride on line in the 30+, 40+ and 50+ World Cup gate drops.
The highly anticipated 30+ Pro class was stacked with riders like Mike Alessi, Mike Brown, Ivan Tedesco, Tim Tremblay, Brad Anderson, Dennis Stapleton, Kris Keefer, Darryn Durham, Gary Sutherlin, Mike Sleeter, Sean Collier and many more in the 30-rider gate. Beyond the incredible amount of Vet class talent that showed up for the Pro classes were large gates of Novice and Intermediate riders who also came from around the world to compete on the legendary Glen Helen track and legendary it was. Enjoy these photos from MXA's Assistant Editor, Josh Mosiman.
MIKE ALESSI VS. MIKE BROWN 30+ PRO MOTO 2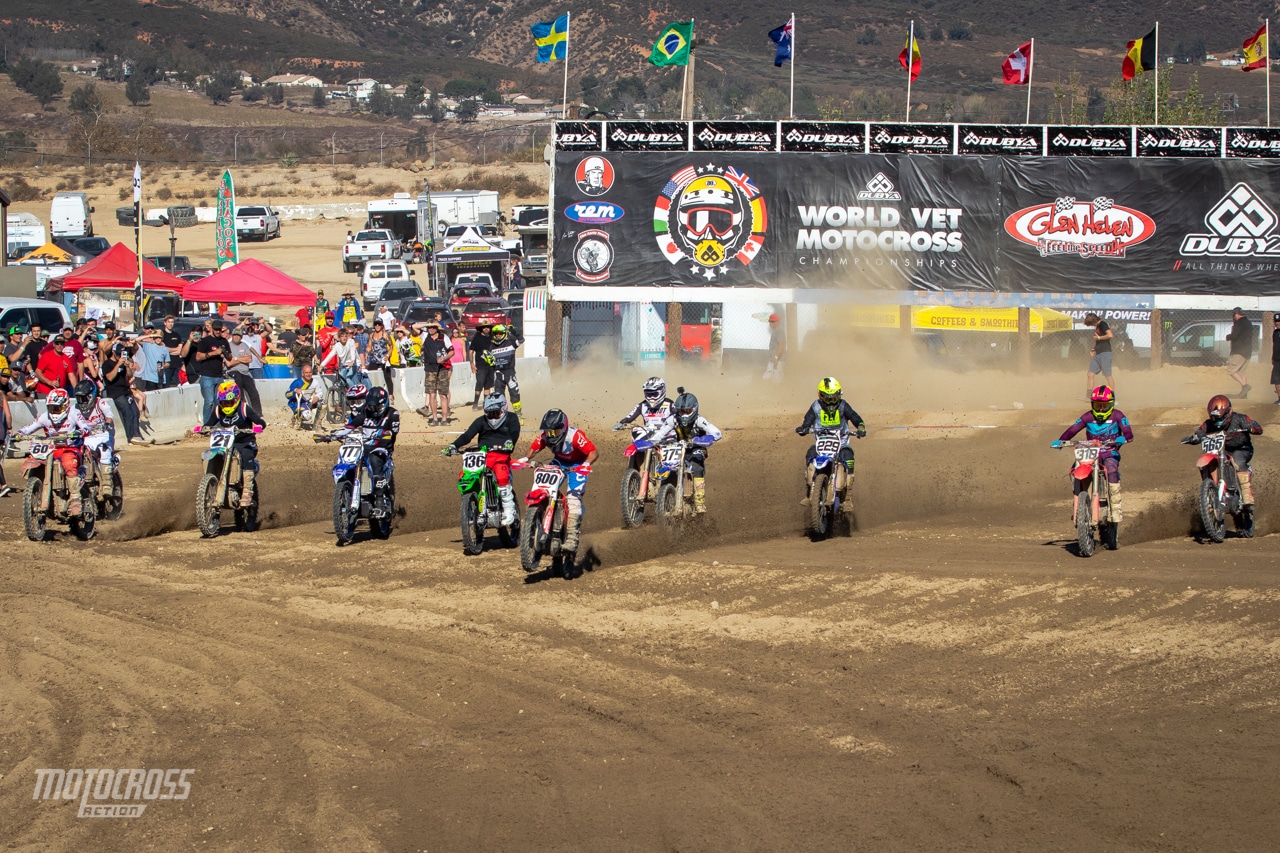 Mike Alessi flew out of the gate in Moto 2 of the 30+ Pro class.
We were surprised to see Mike Alessi on the line for the first 30+ Pro Moto on Sunday when he didn't even show up for practice and we saw him riding Supercross at Milestone on Friday. MXA's Josh Mosiman walked over and talked with Mike while he was on the line and Alessi said that he woke up at 7a.m. and called his dad saying "Hey, lets go do that Vet race, you have an outdoor bike ready?" Two hours later Mike and Tony drove into Glen Helen, Mike hopped out of his van with his gear on while Tony rolled the bike out of the trailer, still dirty from whoever rode it last. Mike missed practice, but he went out during a race before the 30+ class and he rolled around for two laps to check out the track.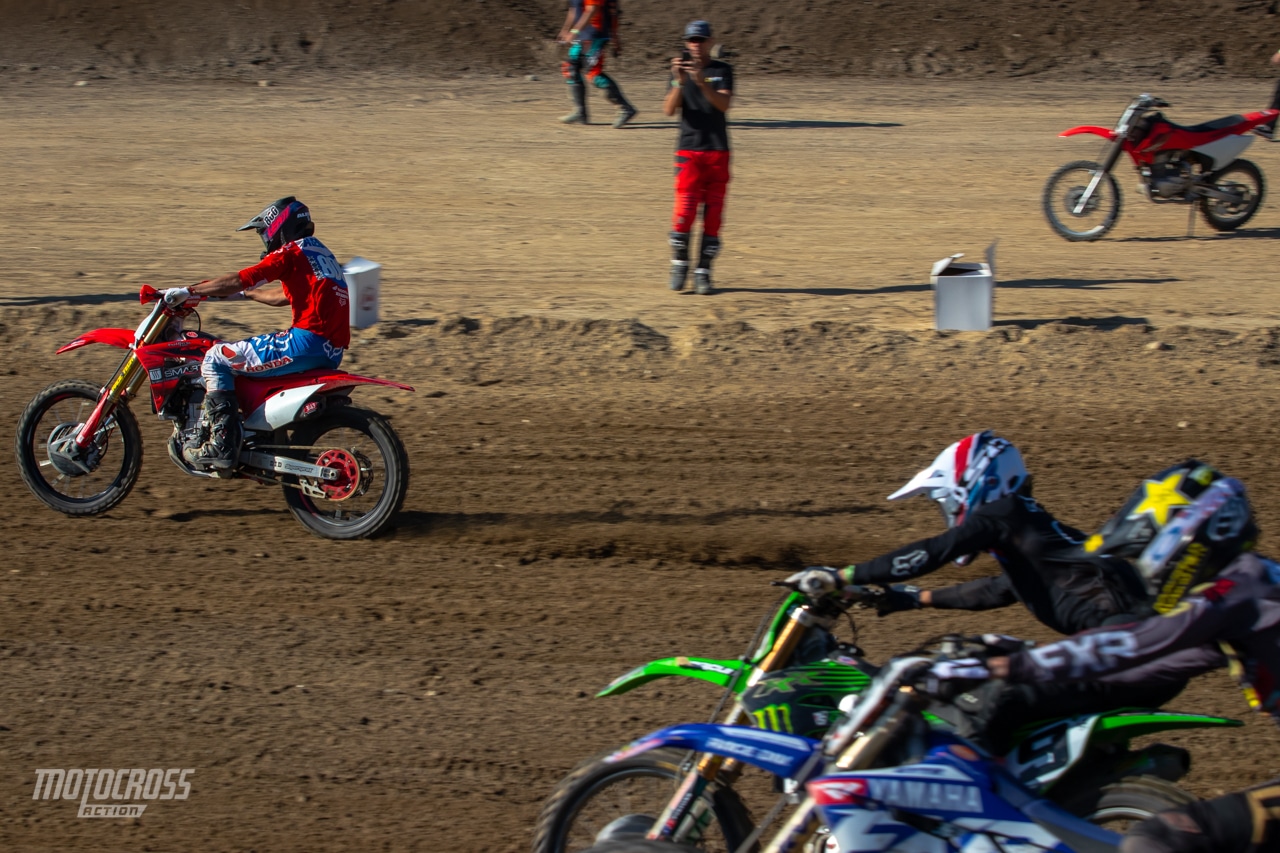 Mike Alessi's holeshot part two.
Part three of the start, Ivan Tedesco caught him in the first turn, but it didn't matter at that point, Alessi had it covered.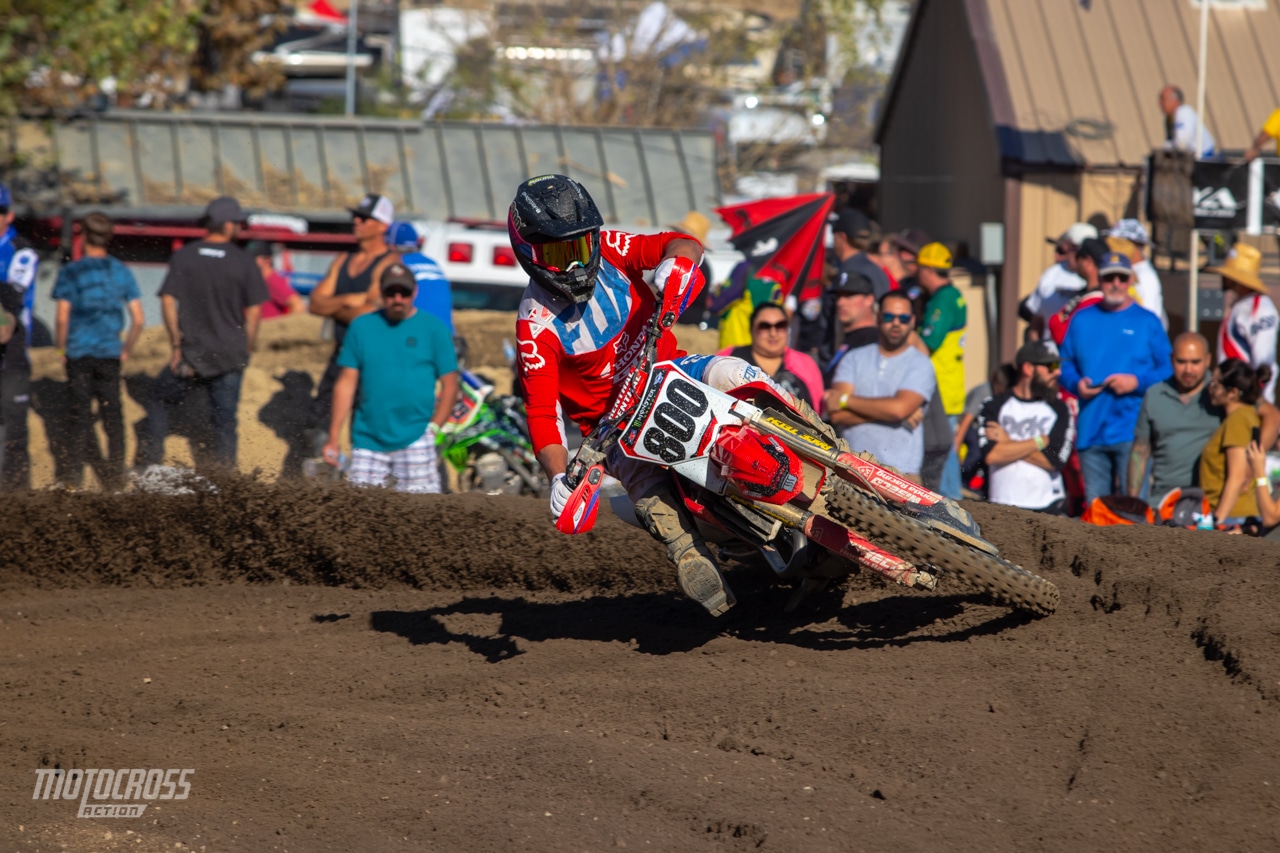 Mike Alessi heads into the sand section and the fans have a front row seat.
Ivan Tedesco held second at the beginning of Moto 2 with Mike Brown following. 
Dennis Stapleton and Gary Sutherlin.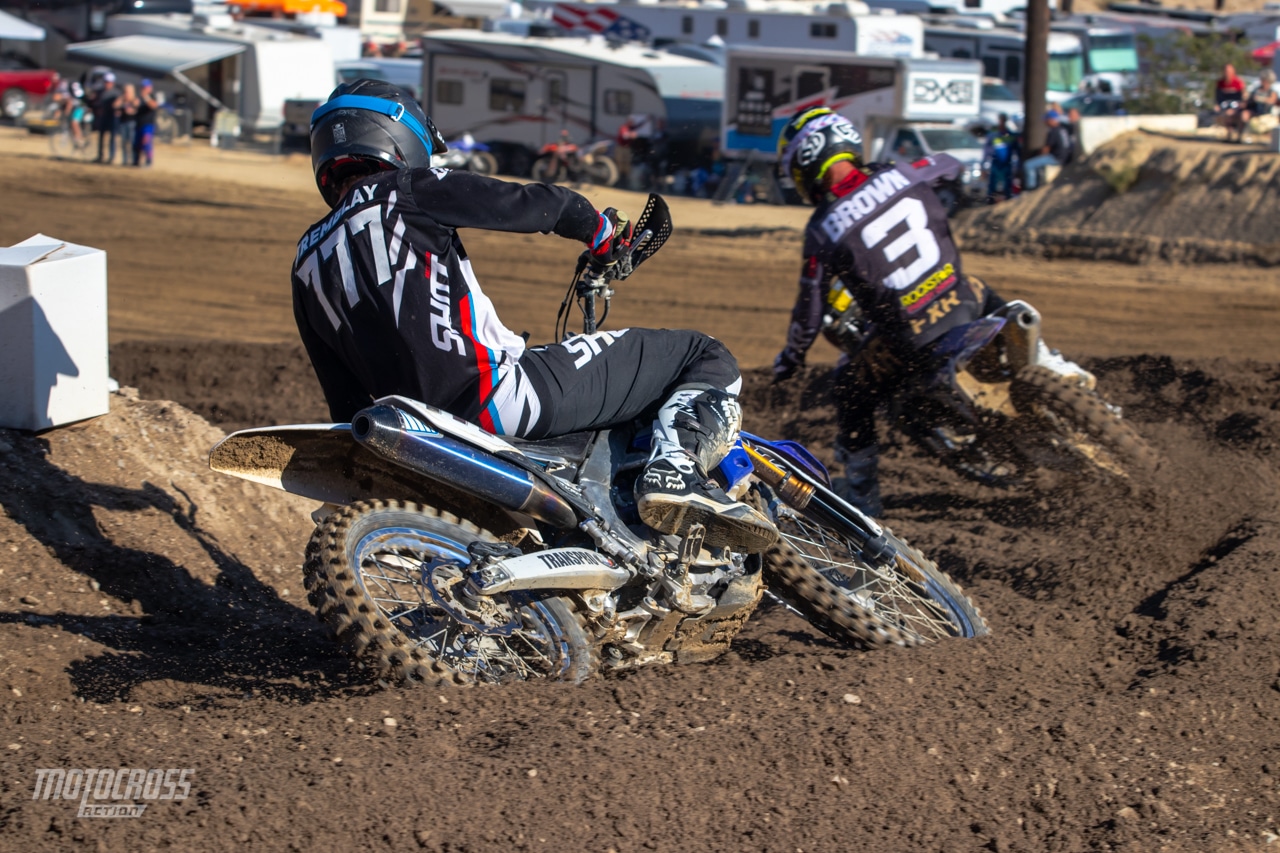 Mike Brown made his way to second while Canada's Tim Tremblay sat in third.
Ivan Tedesco took a dirt sample mid Moto, as you can tell he still had some of it on his shoulder. Darryn Durham #159 follows him into the sand rollers.
Mike Alessi had a good lead over Brown early in the race.
Dominic Desiminoe follows Jeff Loop.
Tim Tremblay looks back to see how big of a gap he has on fourth.

Late in Moto two Mike Brown (3) closed the gap on Mike Alessi (800) as they lap Oscar Valdez (261). 
The lap rider #261 didn't help Mike out at all, here Mike switches up his line to go around him.
With the white flag about to come out, Mike Brown was on Mike.
Mike Alessi takes the win in the 30+ Pro class.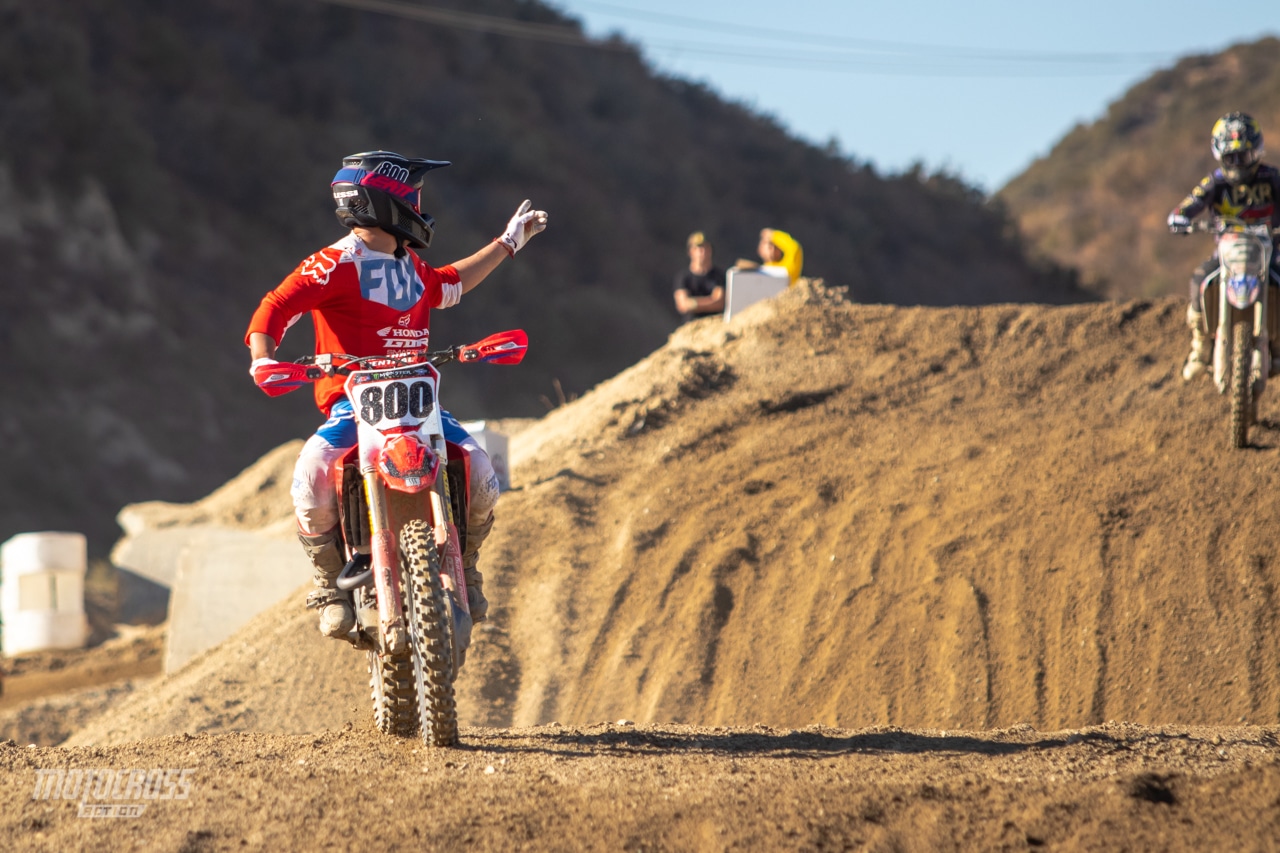 Mike Alessi salutes Mike Brown after he crossed the checkers.
Alessi was completely exhausted after holding on to win the second Moto. On the podium he said that this was his first time riding Outdoors since July.
Post interviews race with Mike Brown, Tim Tremblay and Mike Alessi.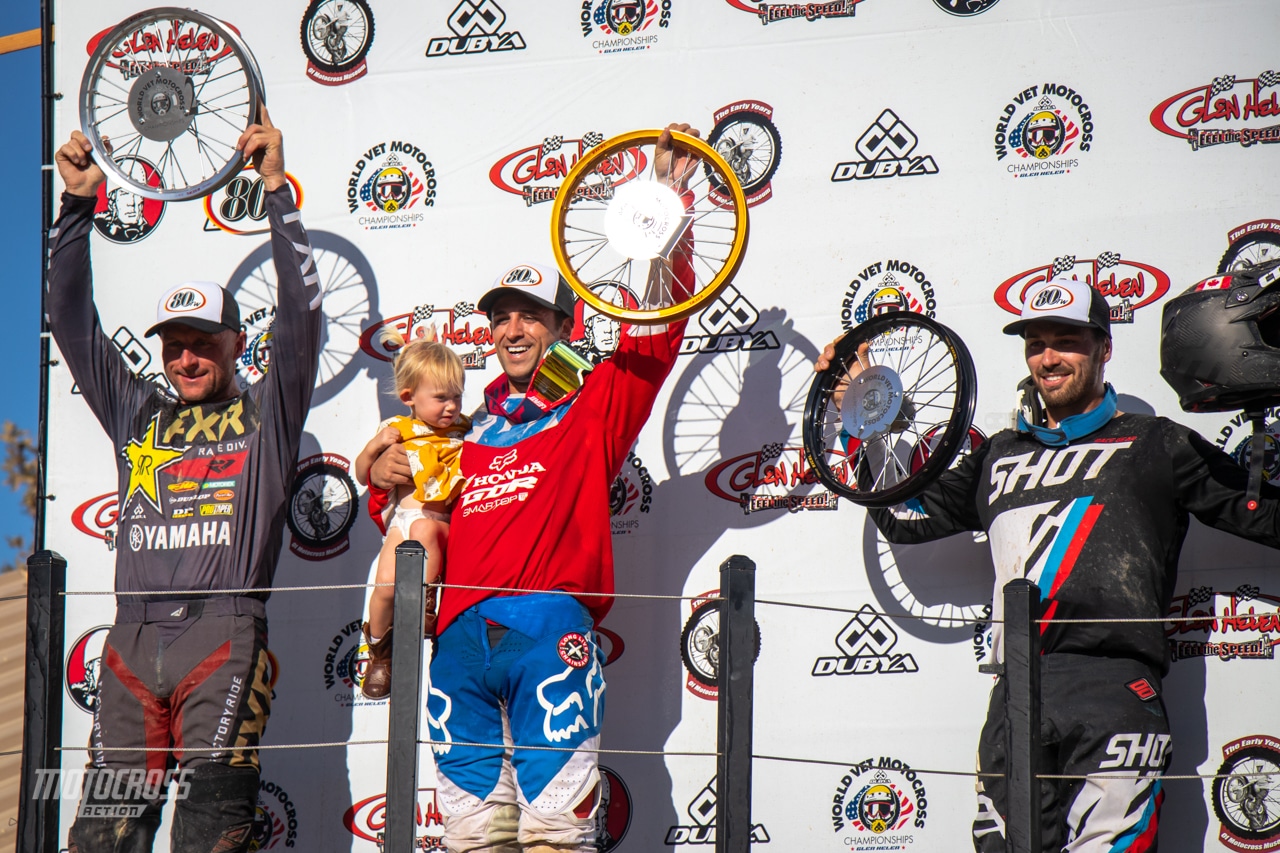 Mike Alessi (middle) went 1-1, Mike Brown (left) went 2-2 and Tim Tremblay (right) went 3-3.
DUBYA USA WORLD CUP OF NATIONS PHOTO BLAST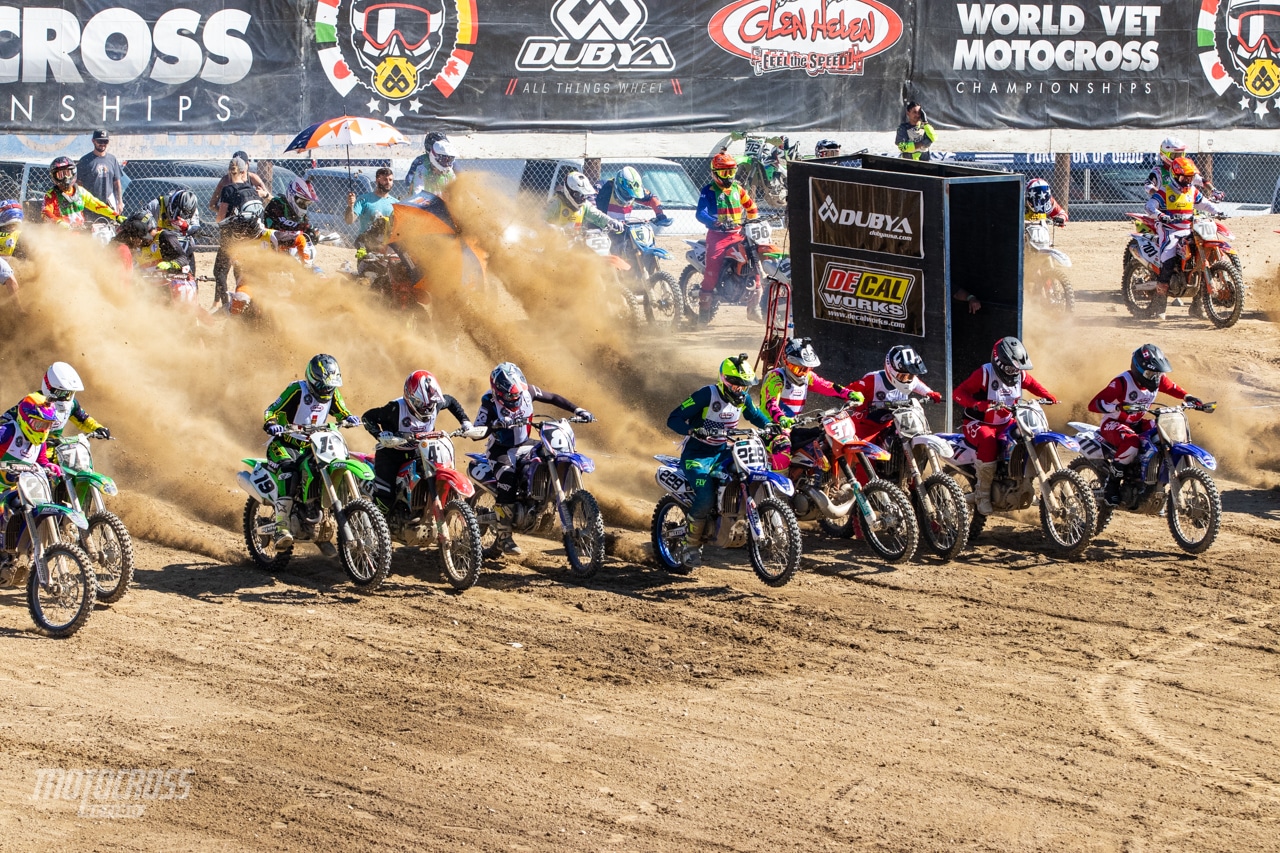 The first start of the World Cup of Nations Moto 2.
The World Cup of Nations was made up of twenty teams. Each team featured a 30+, 40+ and 50+ rider and they all went out on the track at the same time with three different gate drops. The 30+ riders went first with their teammates behind them. As you can see they roosted their teammates badly.
The 30-second card girl seemed confident enough to casually walk off the track. It wasn't too bad, but we were a little worried.
Mike Brown launched out of the gate in the 40+ gate of the World Cup of Nations race.
Kurt Nicoll led Great Britain's team in the 50+ gate.
Great Britain's Brad Anderson.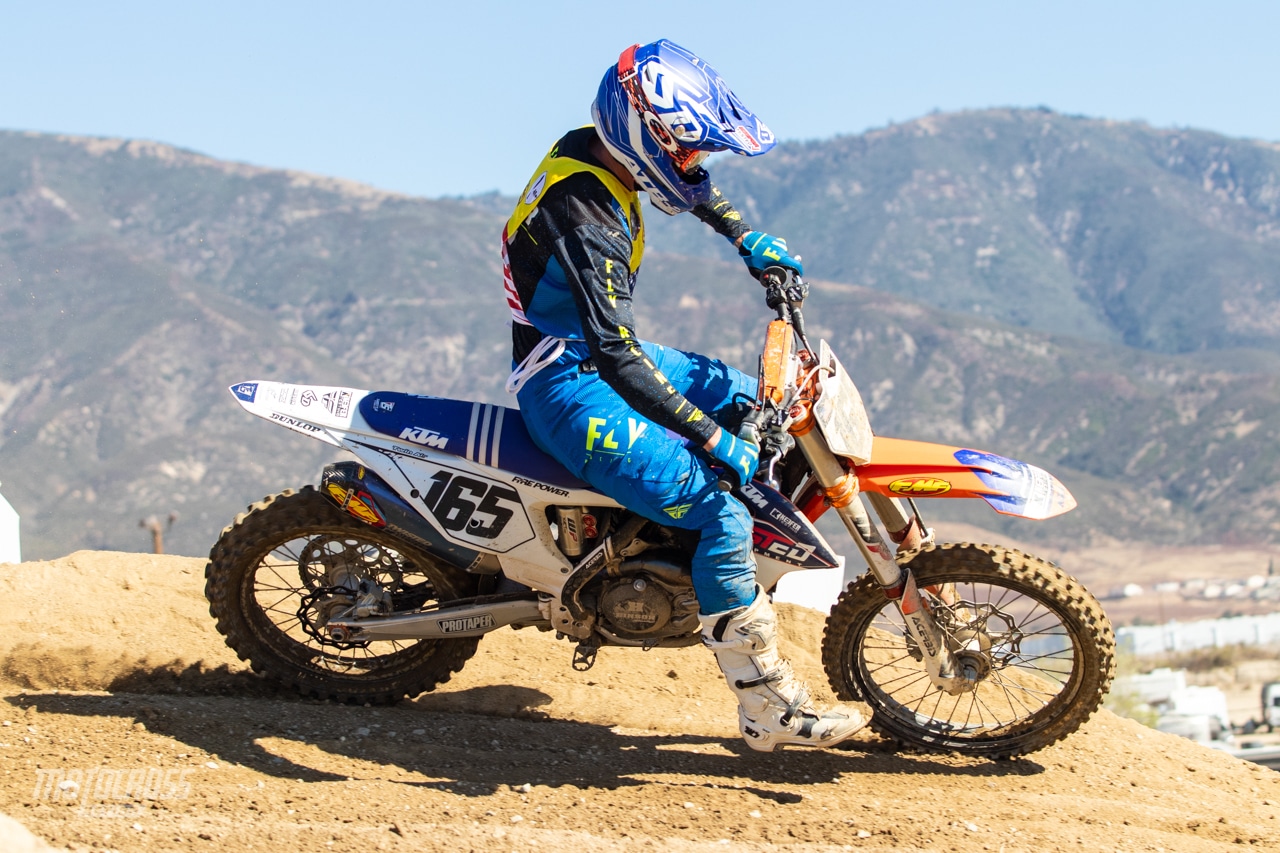 Team USA's #2 team Over-40 rider, Kris Keefer.
Team USA's #2 Over-30 rider, Jeff Loop.
An MXA photographer, test rider and Team Australia's Over-50 racer Dan Alamangos. 
The World Cup of Nations overall winners. Team USA's #2 team took the win, Great Britain took second and Team USA's #1 team took third. For the full results click here.
TWISTED DEVELOPMENT AND TIM TREMBLAY
Jamie Ellis and the Twisted Development crew work on Tim Tremblay and his friend's bikes.
Canadian 30+ Pro rider, Tim Tremblay was having bike issues throughout the weekend, but luckily Jamie Ellis and the Twisted Development crew were there to save the day. After practice on Sunday, Tim was scrambling to find a bike to borrow for the 30+ Pro race and the second World Cup of Nations Moto. He brought his bike to Twisted and they couldn't figure it out at first, so they threw his suspension on fellow Canadian Simon Lessard's bike. Tim went out and finished third in the stacked 30+ Pro Moto 1 and, in the mean time, Jamie fixed his original bike. So they swapped the suspension back over and he was able to race the second Moto worry free with a new Twisted Development Vortex ECU. Tim finished third again behind Mike Alessi and Mike Brown. It was awesome to see the group effort that they all put in to keep Tim and Simon out on the track. They both traveled over 50 hours from Quebec, Canada, and Saguenay, Canada, to compete at the World Vet Championship.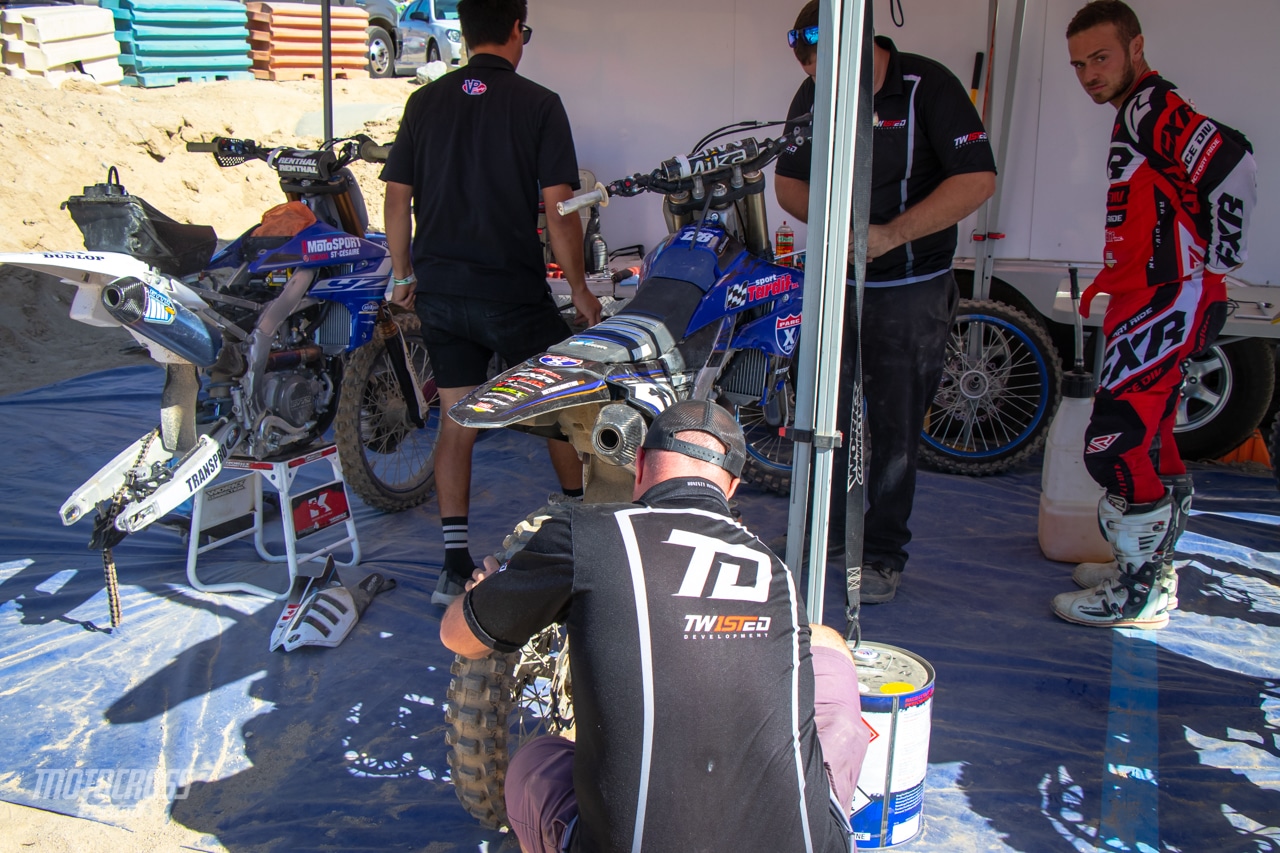 GLEN HELEN TRACK OVERVIEW AND LAYOUT 
Here's a photo of the new section in the back at Glen Helen. We captured it from a few angles to help you see it.
The layout for the 2019 World Vet Championship was one of the most diverse layouts that Glen Helen has seen in years. The layout ran two brand-new sections that have never before been used at Glen Helen, plus the large banked Velodrome corner was brought back to life at the back of the track. Of course the famous Talladega first turn was used, plus the sand section had new rollers and all of the Glen Helen's original steep hills were used as well.
Another angle of the new section, this is normally used as a water truck road during the AMA Nationals, now it makes for a pretty cool section that some riders turned into a wall ride.
Kuwait's Barak Aljasmi comes down off the new section, it got rough here as you can see.
The 2019 World Vet layout was pretty sweet. Normally this section only gets used for Nationals or special events.
More angles of the track.
Pete Murray and Pete Degraaf ride the massive berm aka Velodrome corner.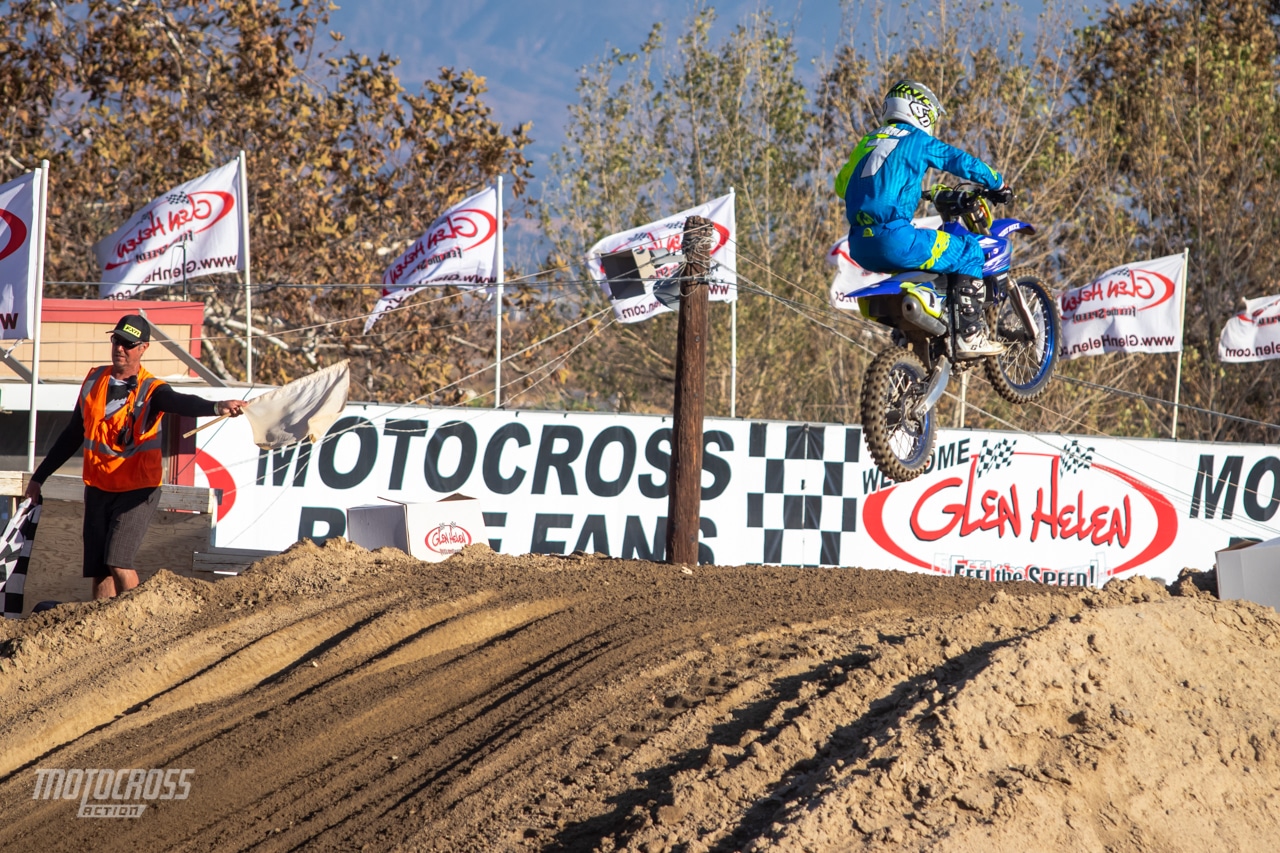 The take-off on the finish line jump got extra chewed out with the tight corner right at the bottom of the face. This didn't scare Pete Murray though.
Pete Graaf #16 actually passed Pete Murray #7 on the downhill on the last lap, but Murray made an aggressive move in the Velodrome corner to get him back before the finish.
Pete Murray and Canada's Pete Degraaf congratulate each other after the race.
50+ NOVICE CRASHES AND KARATE KICKS 
Glenn Pietronico took a digger coming into the sand section, right in front of the fans and the rest of his full 40-rider class.
Riders had a hard time seeing Pietronico since he and his bike were hidden behind a mound of sand coming into the corner.
As you can see #412 on the Kawasaki makes a last minute move to the outside.
At this point Glenn wasn't excited that the riders were trying go by him on the inside where he was standing.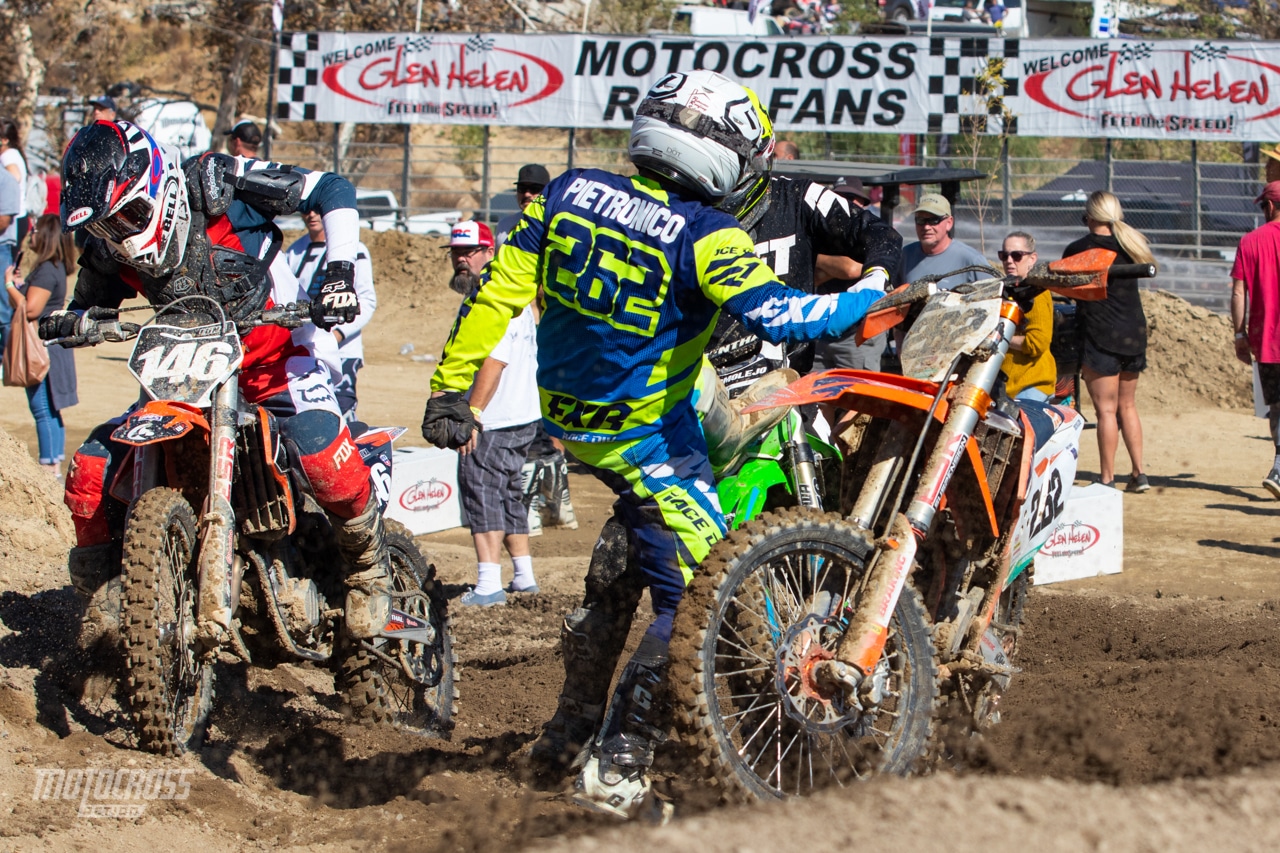 And BOOM! Glen fends off a rider with a karate kick to the front number plate! We haven't seen a kick like that in a while.
And then there's the stare down while the lady in the blue tank top and the young boy are shocked at what they just witnessed.