DYLAN FERRANDIS INTERVIEW: "I AM A ROOKIE, BUT I'M 27, SO I'M ON THE OLDER SIDE"

DYLAN FERRANDIS INTERVIEW: "I AM A ROOKIE, BUT I'M 27, SO I'M ON THE OLDER SIDE"
Many of us knew that Star Racing Yamaha rider Dylan Ferrandis would be doing well in his rookie 450 Pro Motocross season, but I don't know how many expected that he would be leading the series after four Rounds. Racing against the class leading veterans like Eli Tomac, Ken Roczen, Cooper Webb, Justin Barcia, and defending champ Zach Osborne (before his re-injury), Ferrandis has been a revelation. The French rider has won three out of four overalls (he finished second in the other). Dylan will be the first to tell you that he is in the United States to win races. His time here is spent solely on riding and training. He has no distractions. We caught up with Dylan shortly after the podium celebration at the 2021 RedBud National. How was he relaxing? By riding his stationary bicycle.
By Jim Kimball
DYLAN LET'S BEGIN TALKING ABOUT YOUR DAY AT REDBUD. YOU MUST BE VERY HAPPY WITH WINNING THE OVERALL AND EXTENDING THE POINTS LEAD. Oh, I am this was the greatest day I could expect. Winning the first moto was amazing, passing Ken (Roczen) and every other rider. It was crazy, and I did not really expect that. But I was feeling great today. The track was really fitting my style a lot, and the bike was amazing. It was a good day with now getting two overall wins in a row back-to-back. Winning at RedBud is really the top of Motocross, as I said, it was amazing!
I BELIEVE YOU BE CALLLED THE FASTEST MAN ON THE PLANET RIGHT NOW. No, I don't think I am. I am leading American championship; it is not the World Championship. There are guys in the world championships that are fast. Can they be fast here in America? I don't know. Can I be faster than them in Europe? I don't know that either. I think when you show up behind the gate on a given day, the fastest of that one day is what matters the most. You cannot compare the competitors here to the European guys. I guess since I won the overall today, I was the fastest of RedBud 2021.
Dylan Ferrandis, Eli Tomac and Aaron Plessinger were loving the fans at RedBud. -Photo by Chad Murray
USUALLY THERE IS A TRANSITION PERIOD FOR MOVING UP FROM THE 250 CLASS. MOST STRUGGLE FOR A WHILE, BUT NOT YOU. I am a rookie for sure, but I have so much experience from my time in Europe riding the MX2 class, and then my time on the 250 in U.S. fighting for championships. I think all this experience is paying today on my rookie 450 season. I am a rookie, yes, but I am 27, so I am more on the older side than on the young side. All the experience I gained when I was in Europe and traveling around the world racing, that is what is paying off today for me the most, and for sure the work. I never stopped working even when I got the championship in the 250 class. I worked again to be good for the 450. I did a good job of getting ready for the championship and it is paying off today.
YOU HAVE THE ABILITY TO COME THROUGH THE PACK VERY WELL, EVEN IF YOU DON'T GET A GOOD START. It is always a long moto. We do two practice sessions and then we have two 30-minute motos, plus two more laps each. We are not a big endurance sport, but endurance is still very important in managing the races. I felt like today, when I was ahead of Ken (Roczen), and then he passed me that in my head I thought "okay, that is fine, I have one moto to pass him back." I think when you don't focus too much on getting the holeshot, you really focus on the moto from first to last lap. And I think that was the key today.
Dylan Ferrandis went 1-2 at the RedBud National and put an extra 11-points between he and Ken Roczen. Ken went 2-6 on the day for fourth overall. -Photo by Chad Murray
YOU DIDN'T RACE THE YZ450F LAST YEAR. BUT AARON PLESSINGER AND JUSTIN BARCIA STRUGGLED WITH IT. NOW PLESSINGER IS NOW DOING FANTASTIC. HAS STAR RACING REALLY IMPROVED THE YAMAHA 450? I don't know. As you said, I was not on the 450, so I can't really tell. What I do know is that since I moved to the 450 class, and since Star Racing got the 450 programs, we just put so much work on the bike, with trying different changes to everything on the bike. It takes time; the bike was not that great in Supercross because we were developing it, and then trying different stuff. We learned a lot during the Supercross season. Then we had some time between Supercross, and motocross and we fixed any small problems.  Now we have a bike that is good for racing! My teammate Aaron Plessinger has been riding well, and we put two Yamaha bikes on the podium today, which is awesome. We all worked so hard to get the bike good, and we finally found the solutions.
CAN YOU TALK ABOUT YOUR TRAINING? YOU WORK WITH DAVID VUILLEMIN UNLIKE THE REST OF THE STAR YAMAHA TEAM. DV is my trainer, and I am his only rider. I follow his program on and off the bike. It has been this way for a couple of years now, and we proved we are doing alright with winning the 250 championship and now we proved that we are right again, winning these 450 races. I trust him and I am not scared to put in the work.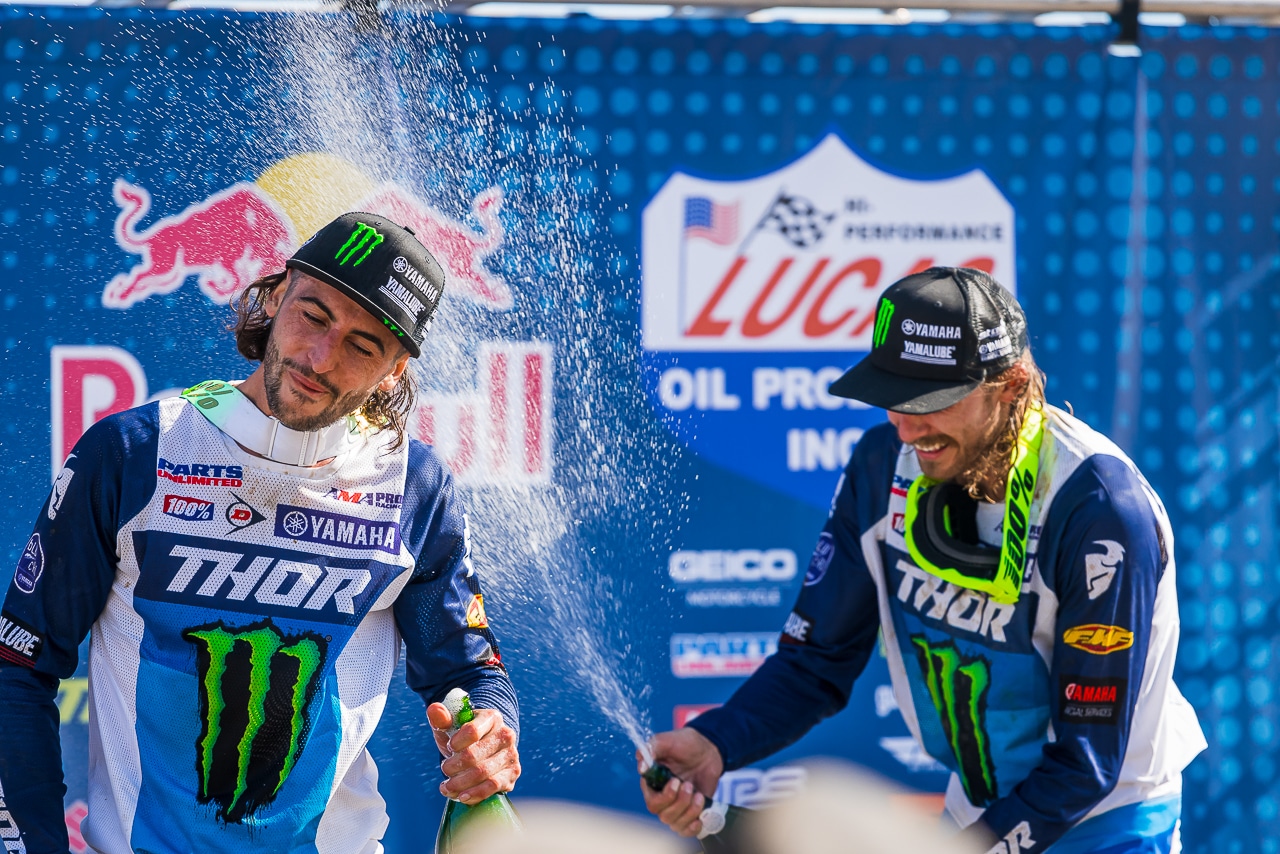 Dylan Ferrandis and Aaron Plessinger have now shared the podium twice in four races. The Star Racing Yamaha 450 team is doing great this season, even Christian Craig went 5-5 for fifth overall at RedBud.
ELI TOMAC CAN SOMETIMES BE HOT AND COLD, WHILE IT APPEARS THAT KEN ROCZEN HAS SOME REPUTATION FOR GETTING FATIGUED AS THE RACE OR SEASON WEARS ON. IT SEEMS LIKE YOU HAVE NO WEAKNESS. I do have some weaknesses, when I finish a moto, I am tired. I am far from being perfect. I simply trust myself and trust my program. I trust my team, and my bike. When you have all the team working together, I think the results pay off. I do nothing crazy, just a lot of work and try to be in the best position during the moto. I give everything into taking the checkered flag. I am also surprised that I am doing so well. I did not really expect that. The 450 is so gnarly, and I think when you find your place in the field, it helps a lot.
WHAT IS YOUR STRATEGY GOING FORWARD? I am taking it moto by moto and trying to do the best every time, not thinking about championship, not thinking about anything. I just try to be the best I can every moto and for now that is the only thing I care about.