ELI TOMAC: THE KING OF DAYTONA // DAYTONA SUPERCROSS THE AFTERMATH

ELI TOMAC: THE KING OF DAYTONA // DAYTONA SUPERCROSS THE AFTERMATH
Every year, we look forward to the Daytona Supercross round as it brings plenty of action, plenty of battles, and plenty of fans. Daytona really is unlike any other Supercross round, well excluding the other Speedway tracks from last season. We and many others like to call it a combination of both motocross and Supercross elements, this means long straightaways filled to the brim with rhythm and a massive sand section. Daytona can often be the turning point in a racer's season. We've seen Cooper Webb, Eli Tomac, and more in the past turn their season around at the infamous track as they start doing consecutively better at the following rounds.
But when the day turned to night and the gate dropped, we witnessed Eli Tomac once again claim victory this season. And with no signs of slowing down, this may be the final nail in the coffin for the other riders' chances at being crowned the 2022 SX champion. Scroll down below to find out what happened after the riders qualified for the night show in MXA's The Aftermath.
Photos by Brian Converse
Words by Trevor Nelson
Fun Facts by Ben Bridges
---
450 SX CLASS REVIEW // TOMAC CROWNED KING OF DAYTONA
Ricky Carmichael once held the record, but now Eli Tomac sits on top of the hill.
Eli Tomac wins his 6th Daytona SX.
Tomac was tied with Carmichael for most wins at Daytona, but now he has 6 wins.
It was Tomac's 4th win of the season.
While Eli wasn't top in qualifying and he didn't win his Heat race, a decent start in the Main and handful of throttle would secure his position in the race. It was a battle between Cooper Webb and Eli Tomac for the finish, but on the last lap, Cooper chose the same line as Shane McElrath as he was being lapped and pulling off to the side. This held up Coop and Eli made the fast pass. If you watch back on the clip, the pass was already incoming as Eli carried tremendous speed and was planning on taking first by the following turn.
Yamaha now has 9 wins at Daytona, it's 1st since 2012.
Eli Tomac now has 41 SX wins.
It was Tomac's 10th Daytona SX start, and he's only finished out of the Top 4 once.
https://www.instagram.com/p/Cav1LpAli3H/
Webb was not pumped on the incident that happened in the whoops. Shane McElrath moved over to let the leaders pass after holding his line through the majority of the rhythm section, but a decision in Webb's part made the ramifications even worse. After finishing second in the night, Cooper Webb has moved up to third in points. However, this doesn't mean he's very close to the lead as Eli sits a whole 33 points ahead of him.
Cooper Webb was 2nd, his 3rd consecutive podium of the season.
Webb needs a win to keep KTM's consecutive win streak alive.
For 10 consecutive seasons, KTM has at least one win.
Cooper Webb sits 3rd in points, 33 points back from Tomac.
https://www.instagram.com/p/Cav0p72gTmb/
Do you remember Chase Sexton getting third in the night? We wouldn't blame you if you forgot as Chase got a silent victory during the Night Show. While the front of the pack was chasing each other down and Malcolm and Jason were playing tag in sand, Chase rode ahead of the 450 field and finished in a solid third place.
Chase Sexton gets 3rd, his 4th podium of the season.  He sits 5th in the points.
Dylan Ferrandis got fourth, Justin Barcia got fifth, Marvin Musquin got sixth, but where did fourth in points Malcolm Stewart place?

Well to recap the chaos of the start of the 450 Main, Jason Anderson bumped into Eli Tomac who then bumped into Malcolm Stewart. With a vengeance created from previous rounds, Malcolm made it clear he was fed up with the Kawi rider, T-boning him in the sand section. While he got his last punch in, he also threw away his chances of finishing well, falling over with his competitor and watching the rest of the competition fly by. Then later in the race would run into the rear end of his teammate Dean Wilson. Both Malcolm and Jason would feel the wrath of the AMA rulebook as the two were then penalized for speeding off the track.
He had 7 consecutive Top Fives before Daytona.  That streak is now broken.
Stewart sits 4th in the points.
3rd place to 6th place in the points are separated by 7 points.
https://www.instagram.com/p/CazvEavAFRF/
---
250 SX CLASS REVIEW // JETT CLAIMS VICTORY AT FIRST DAYTONA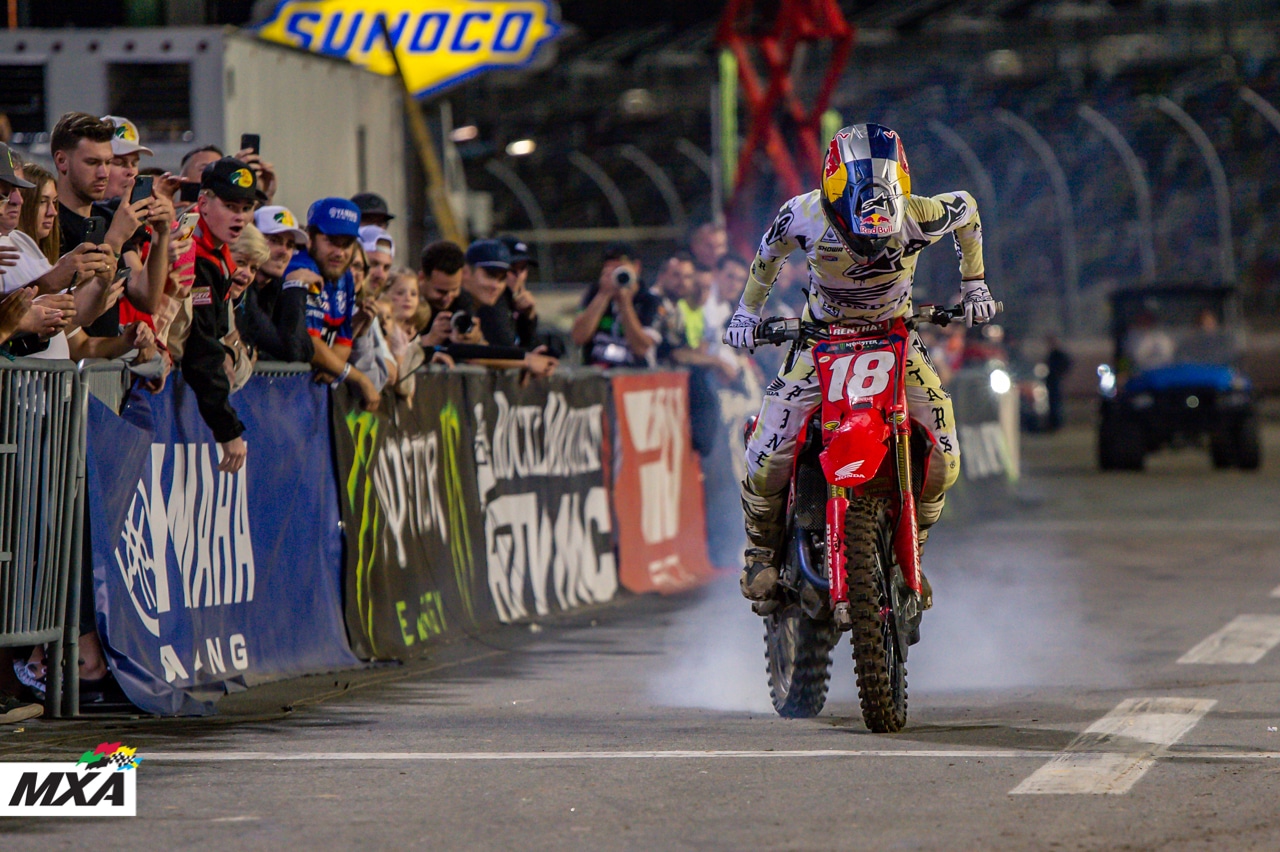 Since the beginning of his pro career, Jett has always been a West Coast rider. With the circumstances leading up to the start of the season, Jett would move over to the East Coast, allowing him the opportunity to race at circuits he had never raced at before.
While it may have been his first time at Daytona International Speedway, Jett rode exceptional compared to the rest of the field. Qualified fastest, won his Heat Race, and with any clue given by this portion of the Aftermath, smoked the lites class in the Main Event. Jett finished over 14 seconds ahead of second place's Stilez Robertson.
https://www.instagram.com/p/CavxVO8LXxP/
Making his 1st Daytona SX start, Jett Lawrence gets his 1st Daytona win.
J. Lawrence is the 1st Aussie to win the 250 Class at Daytona since Chad Reed did it in '02.
Honda now has 7 wins at Daytona, it was their 1st win since 2012 when Justin Barcia won on a Honda.
Stilez must be taking lessons from the MCR crew as his starts have been dialed lately. Stilez would find himself behind Jett for the rest of the race after the second turn and thankfully for him, the fight for third between three riders would mean he would have some breathing room between himself and the rest of the 250 group. Stilez finished second in the night, just like how he performed at last year's Daytona. 
Cameron McAdoo had to fight to the tooth and nail for his third place position. Going back and forth with Pierce Brown, Rj Hampshire, and his knee injury, Cameron landed on the podium after what was easily the most exciting part of the 250 Main.
McAdoo couldn't repeat at Daytona. The last rider to win back-to-back was Pourcel in 2009-2010.
https://www.instagram.com/p/CavwBoFgpgR/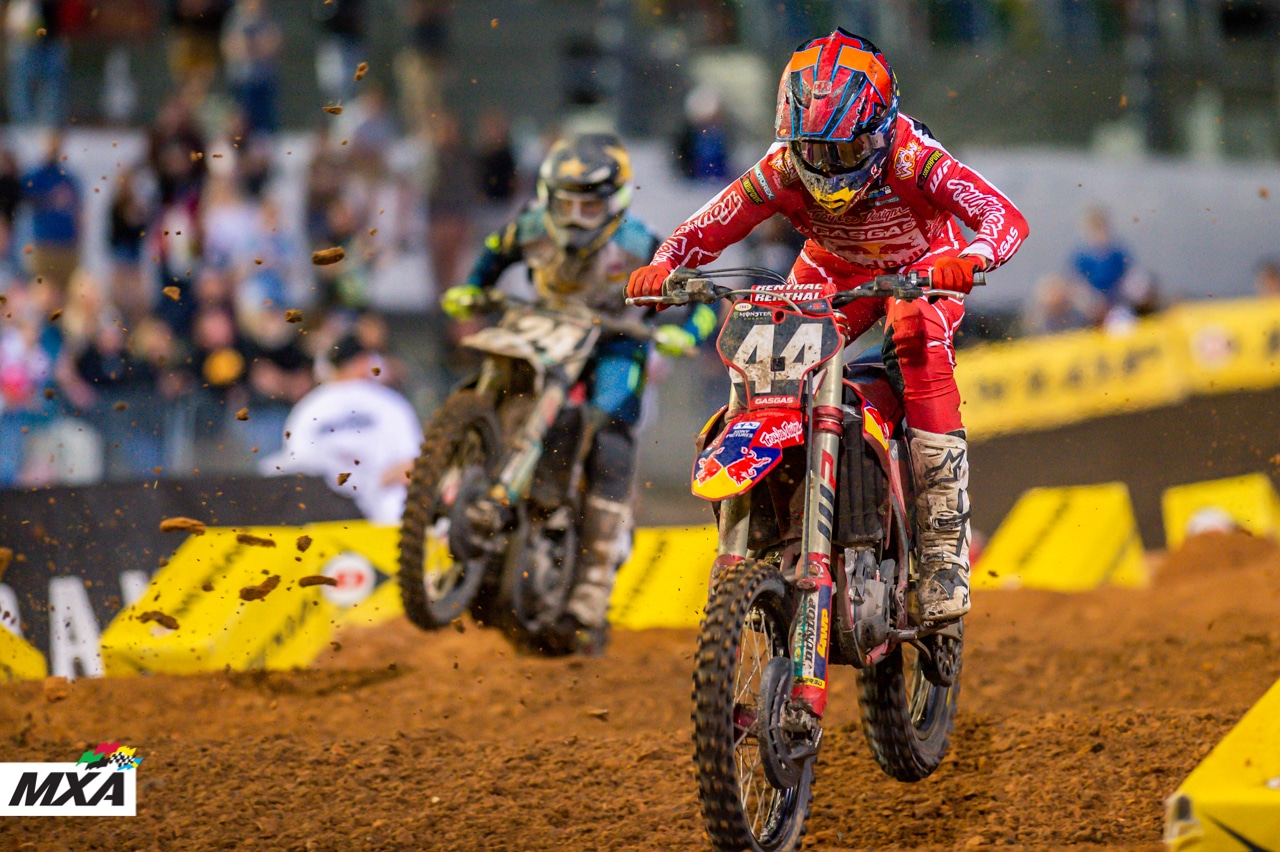 It's exciting to see Pierce ride as well he is. While the Star Yamaha roster has been boiled down to a Kyle Chisholm fill-in ride, a lot of the factory competition has fallen off in the 250 class. Thankfully, some riders like Pierce Brown, Enzo Lopes, Jordon Smith, and more have stepped it up to fill in those gaps that we thought we would see in the races like the West Coast rounds. With so many factory riders getting injured, maybe the 250 class is cursed.
---
THE TOP ON THE PODIUM
https://www.instagram.com/p/Cav2CilrLIT/
https://www.instagram.com/p/Cav2-KuLj4i/
https://www.instagram.com/p/Cav5MWLLEJs/
---
450 POINT STANDINGS AFTER ROUND 9 – RACE RESULTS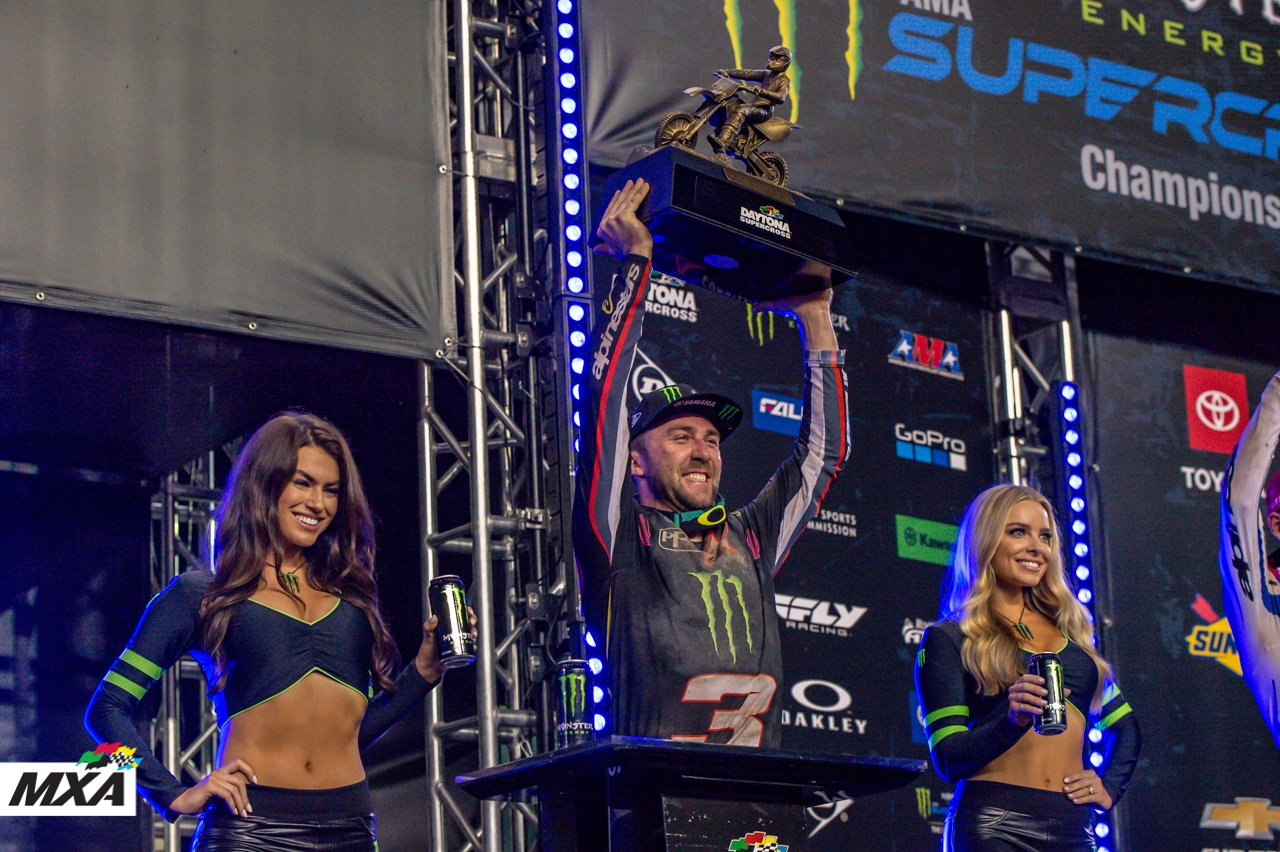 Eli Tomac is now the King of Daytona after Round 9. Sorry Ricky!
| | | | |
| --- | --- | --- | --- |
| POS. | # | NAME | Total Points |
| 1 | 3 | Eli Tomac | 203 |
| 2 | 21 | Jason Anderson | 186 |
| 3 | 1 | Cooper Webb | 170 |
| 4 | 27 | Malcolm Stewart | 165 |
| 5 | 23 | Chase Sexton | 163 |
| 6 | 51 | Justin Barcia | 163 |
| 7 | 25 | Marvin Musquin | 145 |
| 8 | 14 | Dylan Ferrandis | 137 |
| 9 | 94 | Ken Roczen | 131 |
| 10 | 15 | Dean Wilson | 110 |
After finishing in eighth place, Jason's second place gap grows larger in the point standings.
Cooper Webb is now third place in the points, but will he be able to catch Tomac by the end? We will have to wait and find out.
---
250 POINT STANDINGS AFTER ROUND 3 – RACE RESULTS
Jett now has a commanding lead in the points after breaking the tie between himself and Cameron McAdoo. 
| | | | |
| --- | --- | --- | --- |
| POS. | # | NAME | Total Points |
| 1 | 18 | Jett Lawrence | 73 |
| 2 | 48 | Cameron McAdoo | 68 |
| 3 | 50 | Stilez Robertson | 52 |
| 4 | 80 | Enzo Lopes | 50 |
| 5 | 44 | Pierce Brown | 47 |
| 6 | 90 | Jordon Smith | 45 |
| 7 | 6 | Jeremy Martin | 42 |
| 8 | 715 | Phillip Nicoletti | 42 |
| 9 | 24 | Rj Hampshire | 41 |
| 10 | 33 | Austin Forkner | 39 |
Cameron is now second in the points behind Jett. But after seeing Cameron push through an injury to get third in the night, we expect to still see a strong battle in the 250 class.
Stilez Robertson is currently the riding best in his career, sitting third in the points. 
---
DAYTONA CAPTURED
Here are some of our favorite moments from the day in Anaheim. Supercross may be fun from the TV but it's a thousand times better in person. Captured by Brian Converse.
---
QUESTIONS ANSWERED