ELI TOMAC'S FIRST WIN OF 2022 // ANAHEIM 2 SUPERCROSS THE AFTERMATH

ELI TOMAC'S FIRST WIN OF 2022 // ANAHEIM 2 SUPERCROSS THE AFTERMATH
As we returned to Anaheim for another round of Supercross, the expectations were high as the Point Standings in the 450 class were extremely close. The weather was gloomy but the anticipation was high as the new layout held in Angel Stadium would challenge the skill levels of all riders, including the top 10 in both classes. The course featured non-stop rhythm with the only break being the lanes across the start straight. As qualifying commenced, Chase Sexton and Christian Craig would best the field in lap times. However, things would only get more exciting as the night became dark and the gates dropped during the night show.
Scroll down below to find out what happened after the riders qualified for the night show in MXA's The Aftermath.
Photos by Trevor Nelson
Fun Facts by Ben Bridges
---
450 SX CLASS REVIEW // ET3 WINS A2
Is it us or does Eli seem more excited off the bike? Seems like moving to Star Yamaha may have benefitted his whole outlook of racing because it's clear that Eli is having a good time. Eli was insanely fast in qualifying and then proved he had the same speed during the night show. 
Eli Tomac gets SX win number 38 by winning A-2.
It is ET's 8th consecutive season with a win.
ET becomes the 8th rider in SX history to win a 450SX on 3 brands. ET has won on a Honda, Kawasaki, and now Yamaha.  **NOTE** Chad Reed has won on 4 brands, and is the only rider to do so.
ET is now 2 wins away from making the 40-win club. Only 5 racers are in the 40-win club.
Eli Tomac with his 450SX Main Event trophy.
Yamaha gets its first event sweep since Round 1 of 2020.  Justin Barcia and Justin Cooper were the last Yamaha riders to accomplish this.
It's the 20th event sweep since 1985 for Yamaha.
Yamaha is now the points leader in both classes.
Last time Yamaha won back-to-back SX races was Rounds 14 & 15 of 2011 when James Stewart pulled it off. Can ET match this?
Yamaha is still King of Anaheim with 23 total wins.
Jason Anderson had to make some risky moves during the night show, one of them including a tight take-out pass on Ken Roczen in the sand section, which involved his opponent getting flung off the bike. The big question is, will Jason be scooping some of that Ken Roczen merch now?
For only the 4th time in SX history there have been 4 different winners in the 1st 4 rounds.
Jason Anderson gets 2nd; his 2nd podium of the season and he is now 3rd in the points standing.
Chase Sexton takes 3rd.  He is 2nd in the points.
Sexton was unable to go back-to-back after getting his 1st win last week.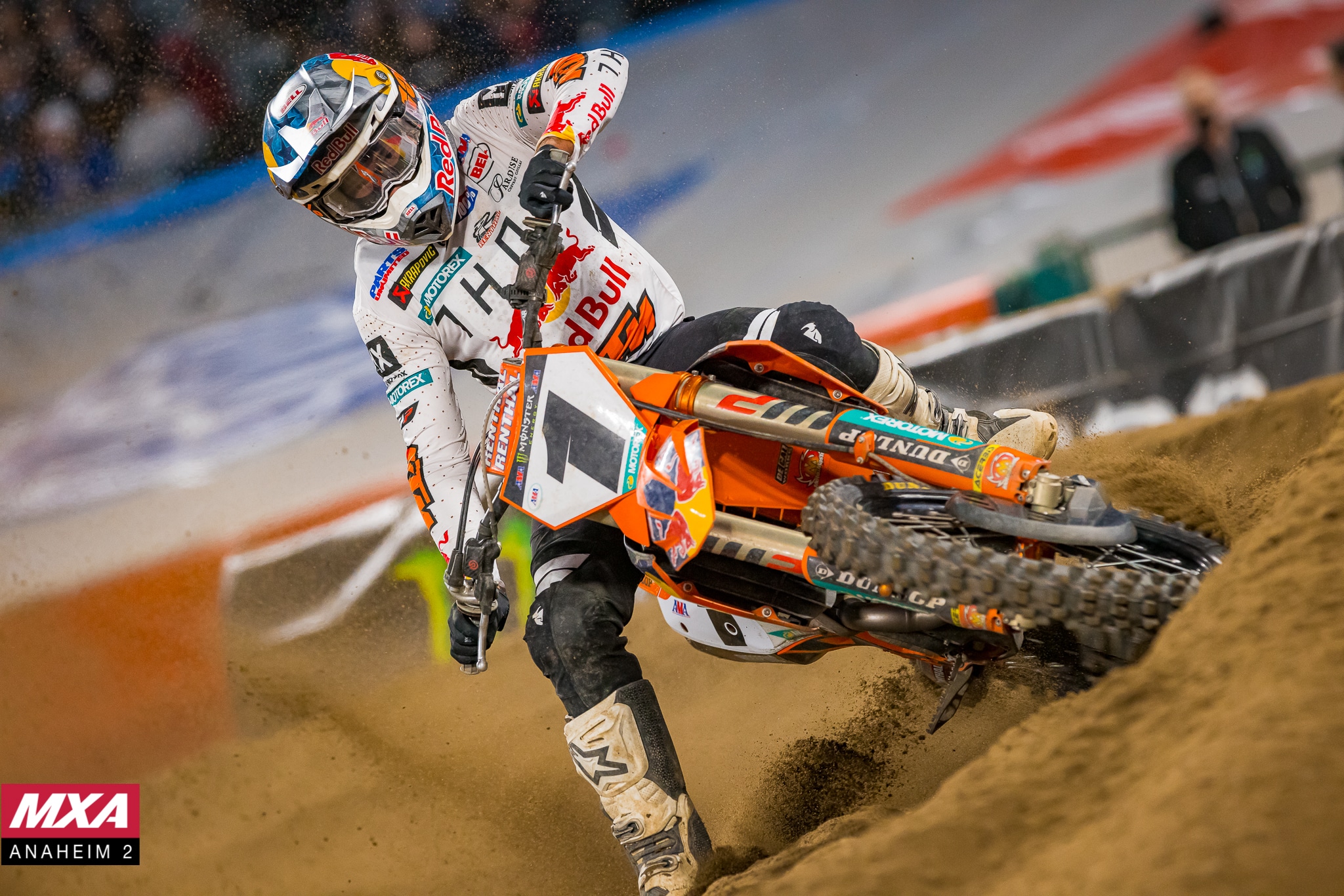 Defending champ, Cooper Webb, got 8th place and sits 4th in the points.  Since 2000 the average rounds it takes before the defending champ gets his win is 4.  Webb's average before his 1st win is also 4.
Webb is 13 points back with 2 former champs ahead of him in the points.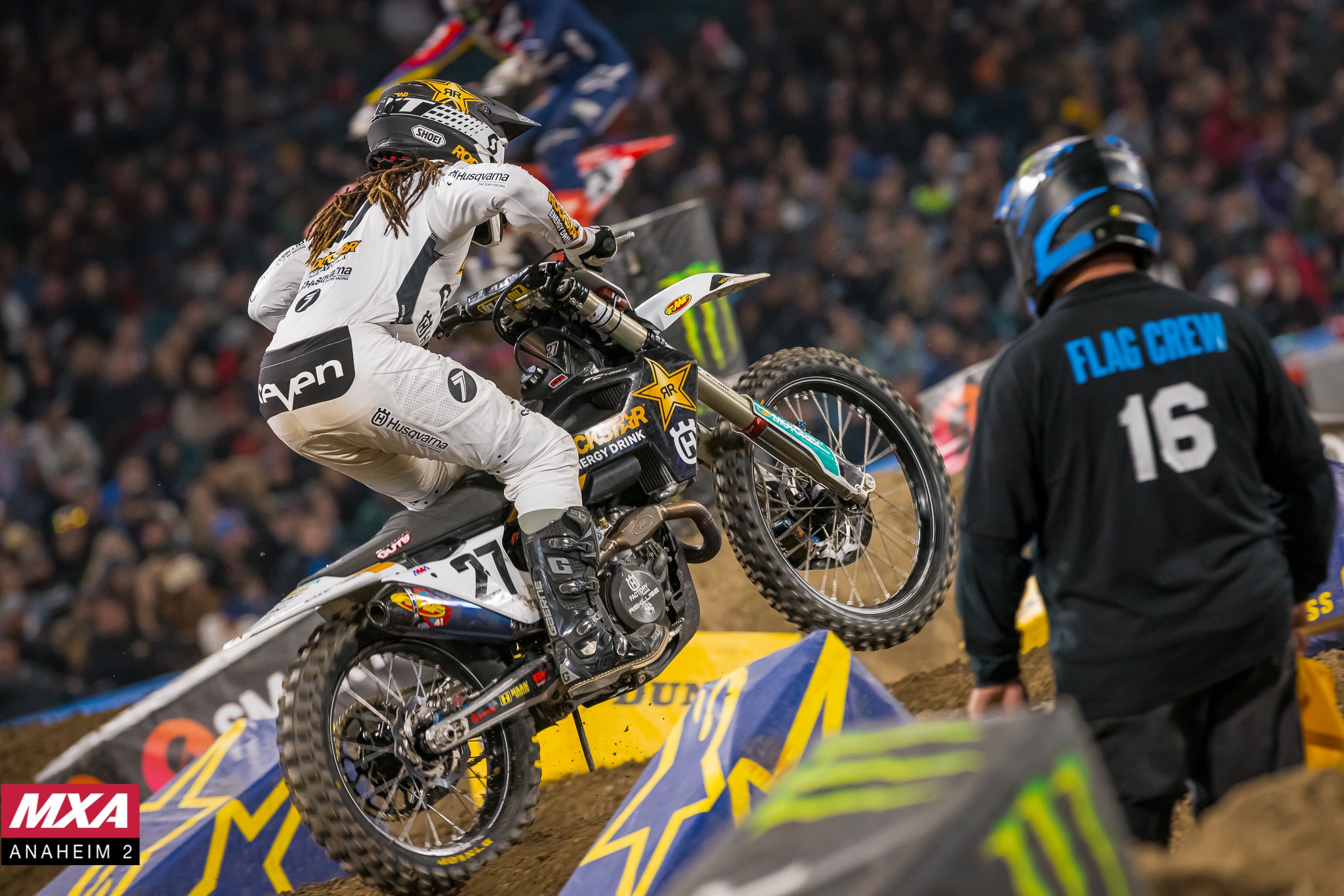 Well, consistency is key.
Malcolm Stewart gets 5th for the 3rd consecutive round.
AARON PLESSINGER OUT OF THE MAIN
Ken Roczen wasn't the only victim in the sand section. Aaron Plessinger went over the edge of the sand rut and landed on the hard-packed dirt. Thankfully he isn't too banged up and it's unfortunate as he was riding very well before the crash.
Aaron Plessinger stated: "Welp last night didn't go as planned.. got off to a bad start then just couldn't make anything happen in the first two laps then decided to go straight into a bale in the sand and lawn darted into the concrete. Luckily my head broke my fall haha nothing serious just a few bruises but I'll be back and running for Phoenix. Thanks guys."
---
250 SX CLASS REVIEW // CRAIG COMES OUT VICTORIOUS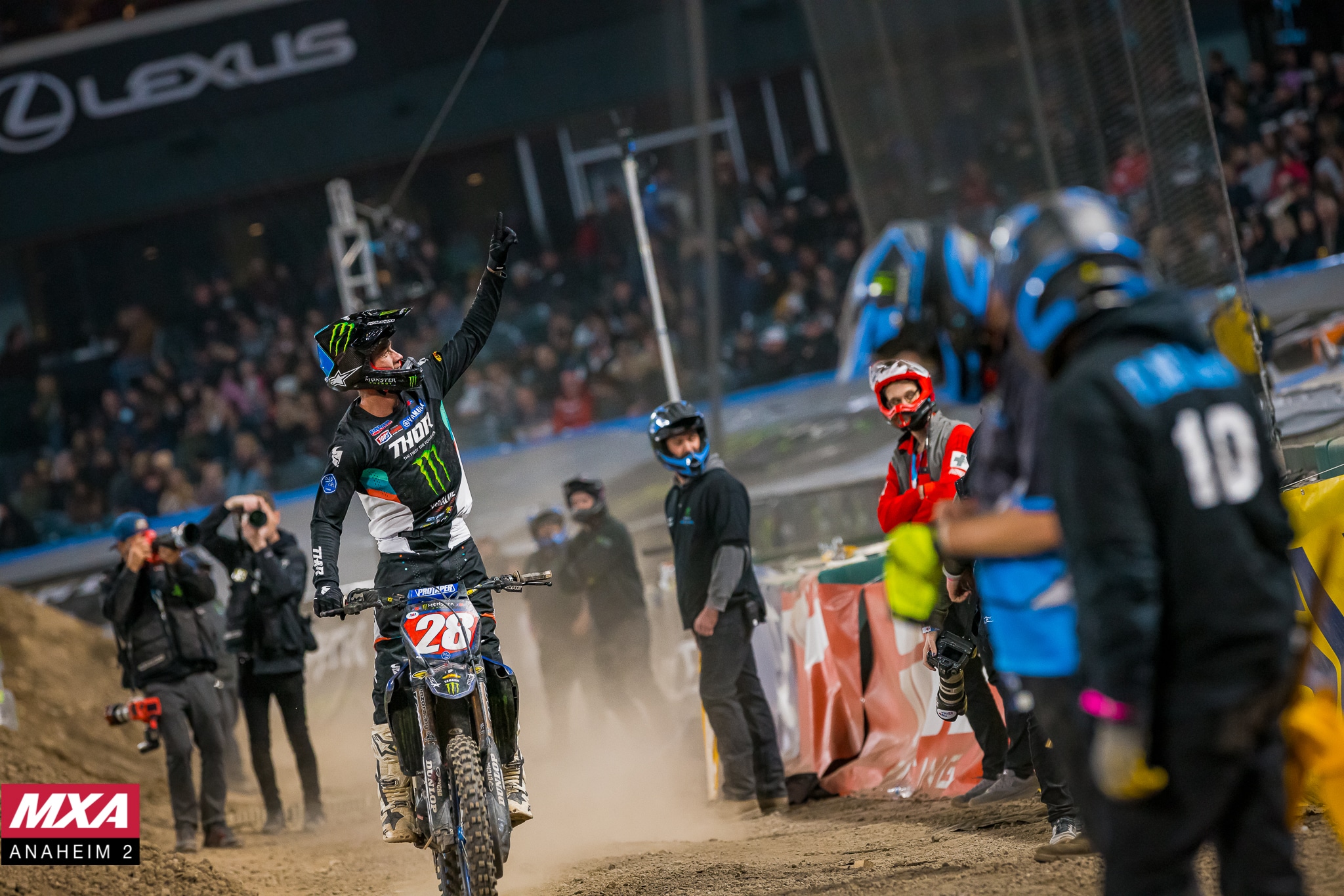 After a hard-fought battle between Michael Mosiman and himself, Christian was able to pull away within the last lap to take home the checkers.
Christian Craig wins A2 and extends his points lead, going 2 for 2 in Anaheim.
The pass for the lead.
Michael Mosiman led the majority of the race up until Christian swooped in and took the lead in the corner after the sand section. It's going to take a bit of work to catch up to Christian's lead in the points, but if anyone's going to do it, Michael Mosiman and Hunter Lawrence are the riders.
Michael Mosiman kept the GasGas on the podium with a runner-up finish. He sits 3rd in the points.
Hunter Lawrence had a great ride, but just wasn't able to catch up to the leaders during the Main. He still grabbed a solid third place and we expect him to be on the podium each weekend. It is unfortunate how many riders we've lost due to injury and pre-season crashes, thinning out the pack for competition.
Hunter Lawrence keeps Honda on the podium with a 3rd. He sits 2nd in the points.
There have been 12 possible spots on the podium for 250 racers.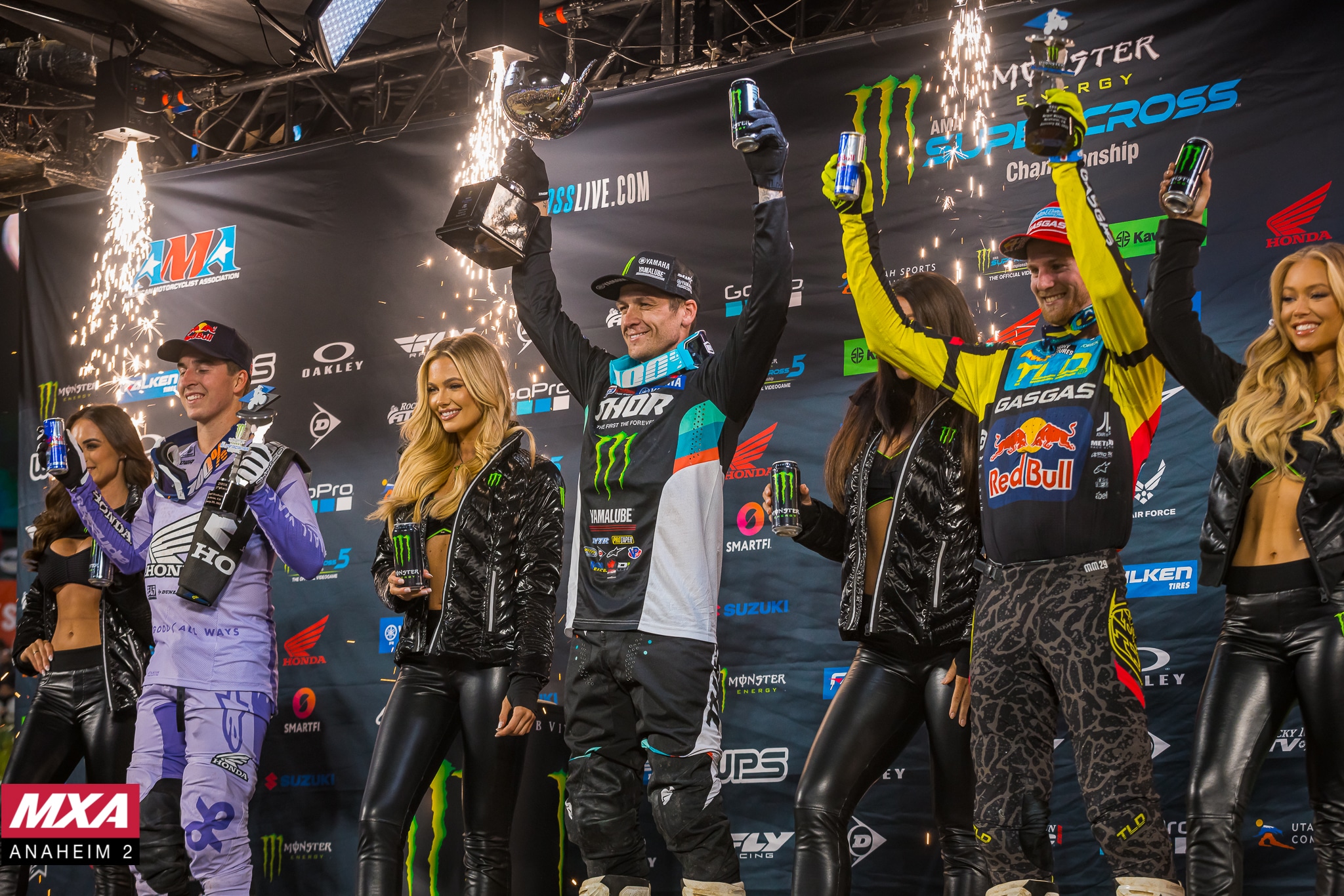 Craig – 4 podiums, H. Lawrence- 4 podiums and Mosiman – 2 podiums.
VINCE FRIESE'S TERRIFYING CRASH
No one wishes this on their competitors. With nowhere to go in the whoops, Jo Shimoda had run into Vince Friese after the Honda rider fell down. This also resulted in a big crash for Jo, as he flew off the track cutting his face open on the bike. Swipe right to see the damage.
---
450 POINT STANDINGS AFTER ROUND 4 – RACE RESULTS
Eli Tomac is now the first 450 rider to wear the red plate for more than one weekend.
| | | | |
| --- | --- | --- | --- |
| POS. | # | NAME | POINTS |
| 1 | 3 | Eli Tomac | 85 |
| 2 | 23 | Chase Sexton | 79 |
| 3 | 21 | Jason Anderson | 77 |
| 4 | 1 | Cooper Webb | 73 |
| 5 | 51 | Justin Barcia | 72 |
| 6 | 27 | Malcolm Stewart | 70 |
| 7 | 14 | Dylan Ferrandis | 64 |
| 8 | 25 | Marvin Musquin | 64 |
| 9 | 94 | Ken Roczen | 62 |
| 10 | 7 | Aaron Plessinger | 55 |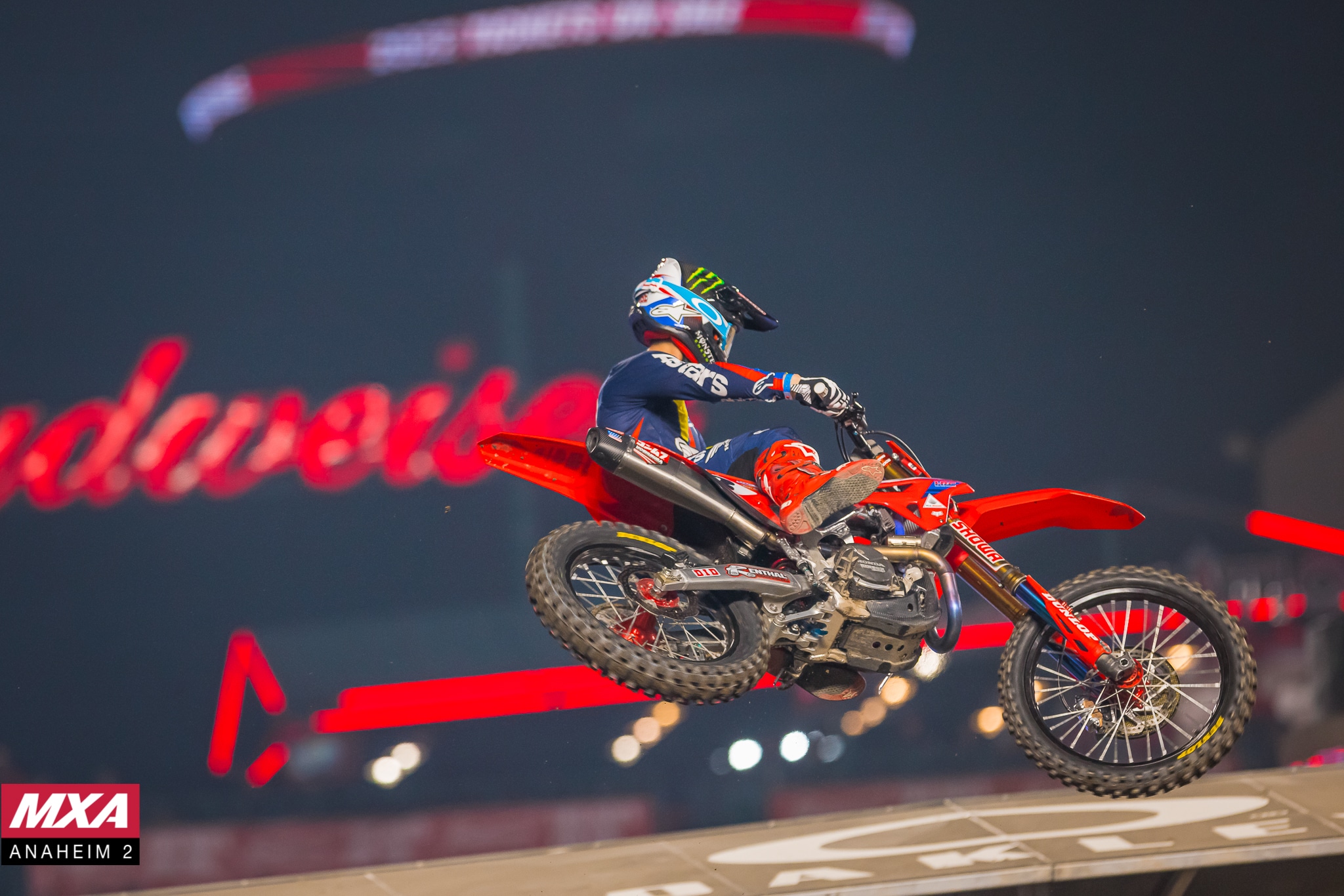 Chase Sexton's third place victory keeps him second in the Points.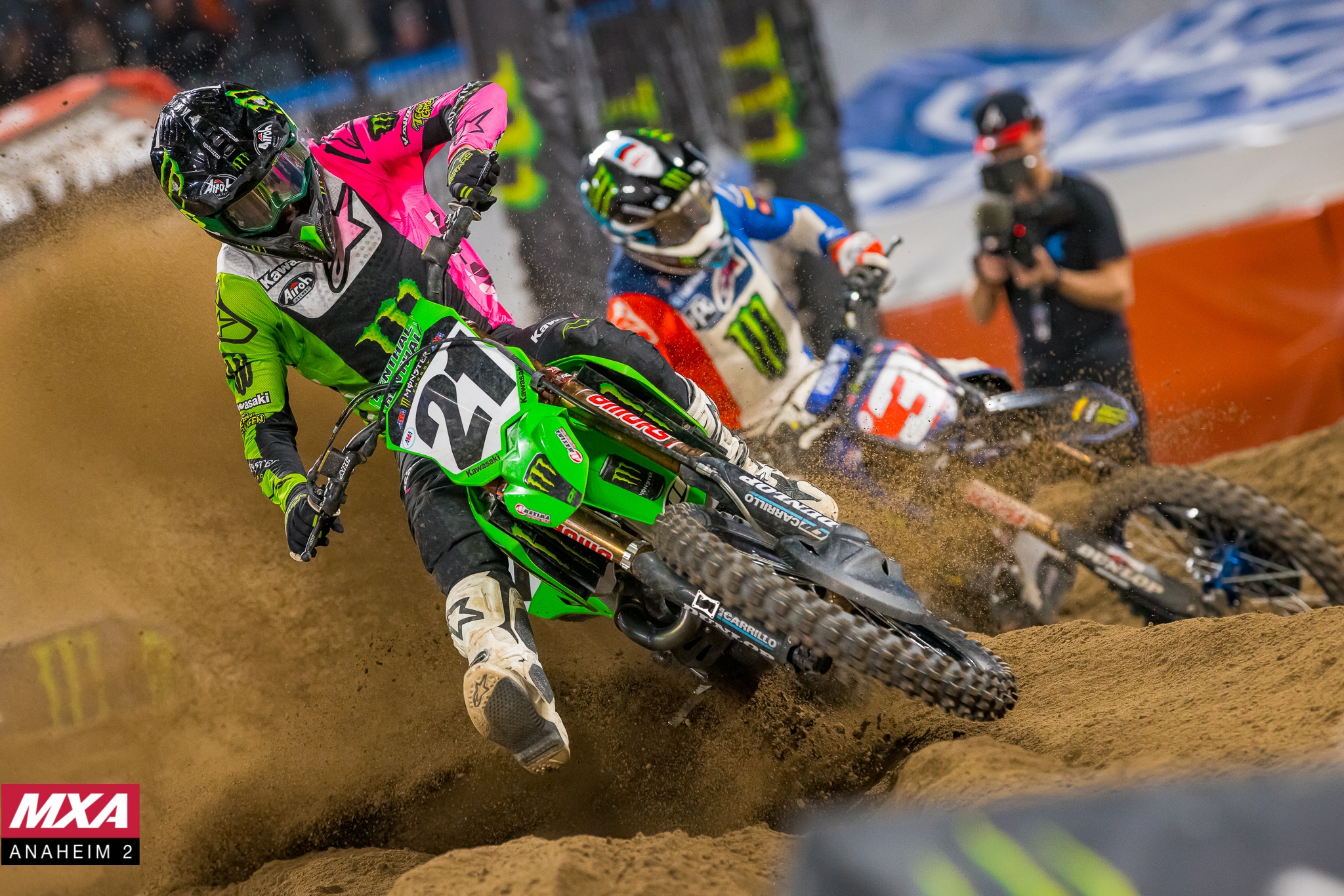 Jason Anderson got a second place finish, leaving him third in the points.
250 WEST POINT STANDINGS AFTER ROUND 4 – RACE RESULTS
It's looking like it'll be a battle between Craig, Mosiman, and Lawrence for the rest of the season.
| | | | |
| --- | --- | --- | --- |
| POS. | # | NAME | POINTS |
| 1 | 28 | Christian Craig | 99 |
| 2 | 96 | Hunter Lawrence | 88 |
| 3 | 29 | Michael Mosiman | 85 |
| 4 | 30 | Jo Shimoda | 66 |
| 5 | 49 | Nate Thrasher | 63 |
| 6 | 62 | Vince Friese | 58 |
| 7 | 43 | Carson Mumford | 54 |
| 8 | 69 | Robbie Wageman | 51 |
| 9 | 161 | Cole Thompson | 45 |
| 10 | 47 | Seth Hammaker | 44 |
Hunter Lawrence is second in the points, sitting only 3 points ahead of Michael Mosiman, but 11 points behind Craig.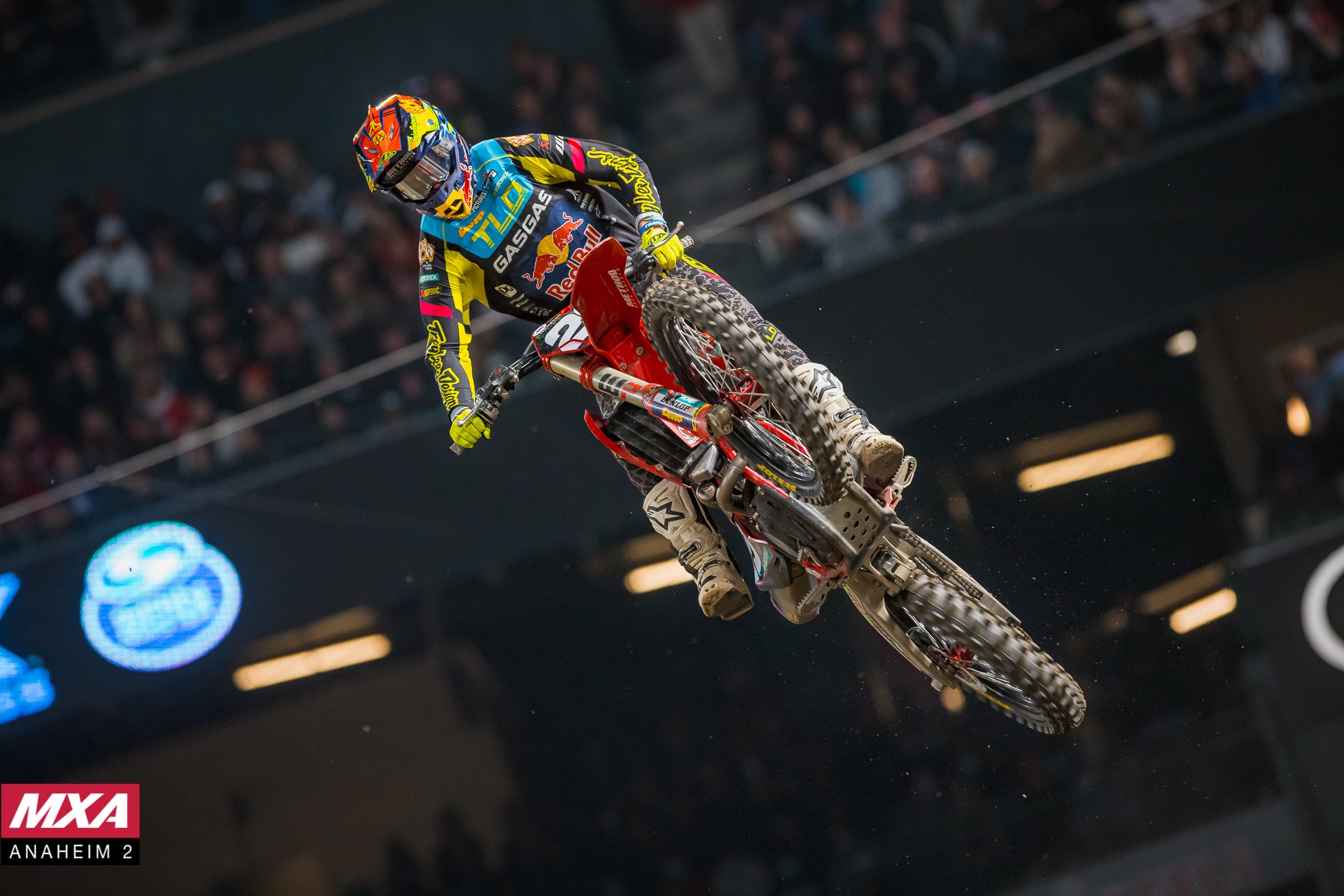 Michael proved to the fans that he's got what it takes to keep up with Christian after getting passed, and that Christian may not have the championship so easy.
---
ANAHEIM 2 CAPTURED
Here are some of our favorite moments from the day in Anaheim. Supercross may be fun from the TV but it's a thousand times better in person. Captured by Trevor Nelson.