ENZO LOPES INTERVIEW: "HE SAID IF I COULD DO ONE PUSH UP, I COULD RACE"
MXA INTERVIEW: ENZO LOPES ON TRANSITIONING FROM FACTORY TO PRIVATEER & RACING FOUR DAYS AFTER A SHOULDER INJURY

Maybe while watching the 250 East Coast Supercross series, you were wondering who the number 66 was. As it turns out, it was Brazilian rider Enzo Lopes, riding for the privateer Club MX team. Now 20 years old, Lopes turned in fantastic rides during the 2020 Supercross season. Aboard a JGRMX Factory Suzuki last year (in his Supercross debut) Lopes finished sixteenth in championship points. This year, he was able to improve his result by an incredible ten positions to finish sixth in the series with a personal best result of sixth place in the 250 East Main Event at the Atlanta Supercross. Enzo also rebounded from a dislocated shoulder at SLC #2 to race four days later and finish an incredible eighth place. We caught up with Enzo to learn about his shoulder injury and his new team prior to the announcement of the 2020 Pro Motocross season being postponed even further. 
BY JIM KIMBALL

ENZO, WE SPOKE RIGHT AFTER THE INDY SUPERCROSS WAS CANCELED, AND EVERYTHING SHUT DOWN. YOU WERE LIVING IN NORTH CAROLINA, WHILE YOUR PARENTS WERE HOME IN BRAZIL. It was crazy times, not just for me but for everyone. I remember the last time you called; I was sitting on my bed in North Carolina wondering when we were going to race next. Now we have raced seven events in Salt Lake City, in one stadium, in an amazing place. I am just grateful to get to do this. It was a shame that we could not have fans though, and it was weird. We are just happy we got to finish the season and set our sights on outdoors.
DEFINATELY SOME UNCERTAIN TIMES, RIGHT? My team, Club MX is a Supercross-only team, so it was going to be weird for me to race outdoors on a different bike if Supercross would have restarted after Outdoors like they originally planned. As of right now, I don't have anything for the Nationals yet. It was going to be strange to race motocross and then go back to Supercross; I am happy we got to finish out the Supercross season. In the break, I went home, and it was really good for me. I got to spend some time with my family back in Brazil.
Enzo Lopes in front of an empty Rice-Eccles stadium in Salt Lake City, Utah. 
WHAT WAS THE FIRST NEWS YOU HEARD ABOUT SUPERCROSS RESTARTING? I actually came back pretty last minute, twelve days before the first race in Salt Lake City. I did not want to book a ticket not knowing if we were going to race or not. All I was hearing was rumors, about this happening or that happening. The first rumor I heard was May 15th in Arizona. When my team manager, Brandon Haas called me and said, "We are racing May 31st," I was like, "Okay I've got to get back." Then I only had two weeks of practice for Supercross. In Brazil, we don't have Supercross, so I was just riding motocross with a stock bike. When I got back to the states, I rode five days in those two weeks.
SALT LAKE CITY IS THE OPPOSITE OF NORTH CAROLINA,AND BRAZIL. DID THE ALTITUDE BOTHER YOU? No. I do not feel much difference. Obviously, after the first couple of days, I got used to it. It is a bit strange with your heart rate being higher. You are running out of breath at times, but once you are there four to five days in, you are adjusted. I raced Mammoth when I was an amateur back in 2017, it was at a much higher altitude and I did pretty well there. Then I also raced the Denver Supercross last year.
Enzo Lopes' shoulder was not looking pretty after his crash at Round 2 in SLC. The crash happened in his Heat race and this photo was taken right before the Alpinestars mobile medical team got his shoulder back into place. Read below to learn about Enzo's injury.
CLUB MX SEEMS TO HAVE STEPPED UP FOR 2020. THEY HAVE JOEY CROWN AND JOSH HILL, ALONG WITH YOURSELF, WHAT IS THE TEAM ATMOSPHERE LIKE? We are a really small team, but I feel like this year we are making big strides. We have had good race results with myself, Crown and Hill. Unfortunately, Joey got hurt and then Josh did as well. But we added Josh Osby to finish out the season. We were a team of five people who stayed in Salt Lake City; me, Josh, Team Manager Brandon, and t both mechanics. So, we are just a small team, but we are doing big things. I am really, really happy about how things are going, and so is the team.
"IT WAS AMAZING TO BE ON A FACTORY TEAM LAST YEAR, BUT I FEEL LIKE TIS YEAR I MADE BIG< BIG CHANGES IN MY PROGRAM—AND THAT IS WHAT HELPED ME SO MUCH."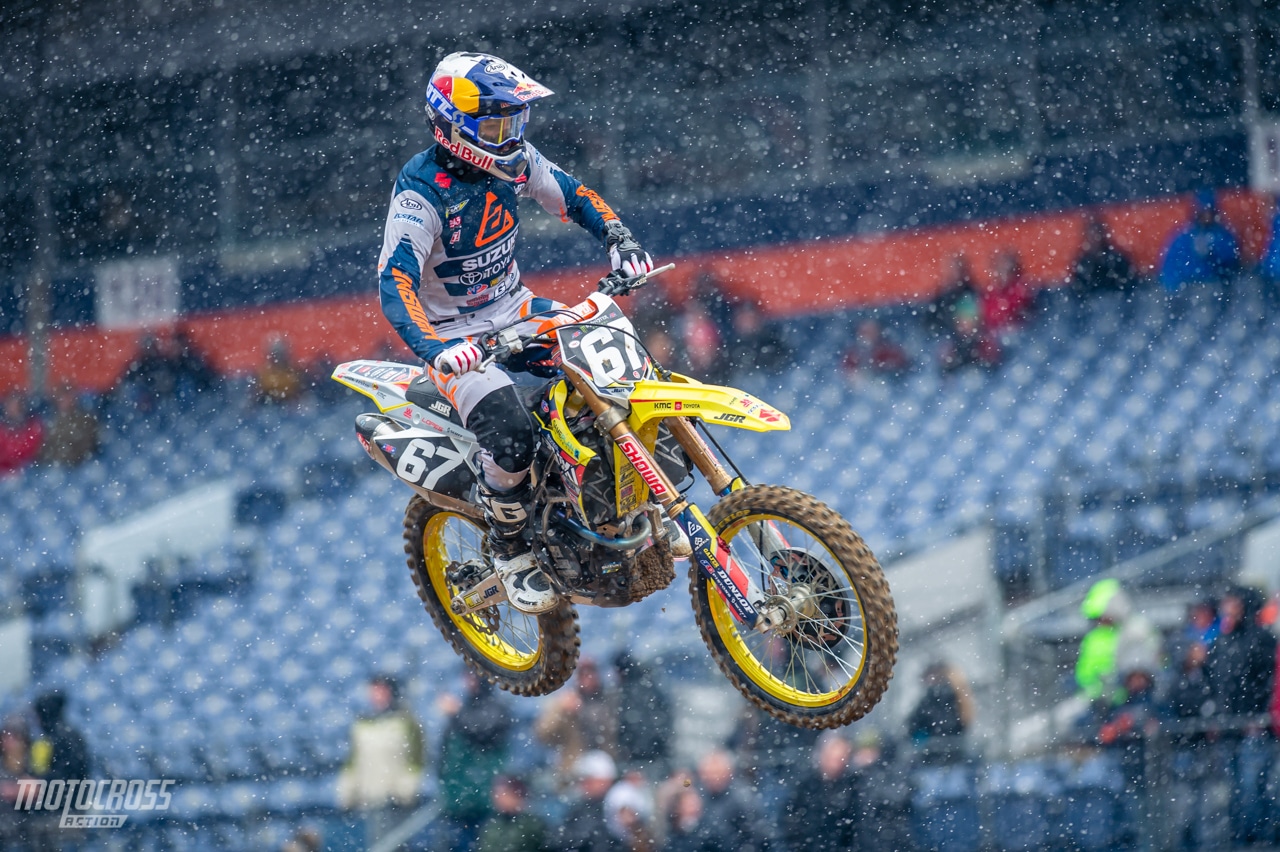 Enzo Lopes rode for the JGR MX Suzuki team in 2019.
HOW HAVE YOU LIKED TRAINING AT CLUB MX? Club MX is awesome. I feel like it really changed me, just being there training with faster guys. Justin Brayton trains there, so it was me, Hill, Brayton, and a bunch of fast guys. You have to make sure that you push every single day, so you don't get left behind. It was amazing to be on factory team last year, but I feel like this year, I made big, big changes in my program, and that is what helped me so much.
YOU JUST MENTIONED BEING ON A JGR SUZUKI LAST YEAR. BUT YOU ARE DOING BETTER ON A PRIVATEER TEAM THIS YEAR, WHY? It has been another year of experience, and just confidence. Last year at JGR was my rookie season in Supercross. I grew up in Brazil, not ever racing Supercross, so for me everything was new. Showing up to the races, the different tracks, the stadiums; everything felt so big. I was nervous every single weekend. When I got to Club MX, I put in so much work in the off-season, and did so many motos. I felt like my confidence was really, really high, so it is not just the bike. Obviously, the Suzuki last year was really good and our bike this year, being a privateer bike, is awesome as well. Once you keep improving, one step at a time, it keeps changing your mind. You become hungry for more. It is my mindset that changed.
Enzo in the deep Tampa Supercross sand section.
IT MUST FEEL GOOD TO BEAT THE FACTORY GUYS? It has been a great season. I have kept improving, and  in Salt Lake City, I felt really good in the first race. I ran in fifth for the first half of the race, and then I got arm pump for the first time in my life, so I faded and finished eighth. Then, the second race was the best I felt all season, speed wise. I was right there with Jeremy Martin,and Garrett Marchbanks, and then unfortunately I crashed. And the next event was the determination race for me, you know, overcoming the pain in the shoulder. So, I would say that the 8th was like a win for me, but yes, beating factory guys it is incredible. Like I said, I am just grateful to be here, doing what I love the most.
LETS TALK ABOUT YOUR DISLOCATED SHOULDER, THAT MUST HAVE BEEN DEVASTATING? Yes, it was. Looking back at it, if I just finished that race in the top ten, I would have moved up to fifth in points, but instead I was in seventh, so that was the big pain for me. Obviously, the actual pain in the shoulder was also big. But knowing that I could be farther up there,  was disappointing. But I was lucky that I was healthy.
Luckily, the Alpinestars crew was on the scene quickly and put his shoulder back in one minute after the crash. 
HOW WERE YOU ABLE TO RETURN TO RACING SO QUICKLY? It was really painful. Some people dislocate their shoulders, and once they are put back in, it is fine. Luckily, the Alpinestars Medics put it back in about a minute after I crashed. But four or five hours after the crash, I was in a lot of pain. I could not even feel my right wrist from the crash. Then the following day, on Thursday, I spent the whole day in a sling, and in my head, I felt there is no way can I race.

BUT YOU DID RACE. I felt that I had to go race the last two. Then, it started to get a little bit better. We had a hot tub at the house we were staying at, so I went in there, kept moving it, and then started thinking, "Man, I might have a shot." On Saturday, it got a little better, and by Saturday night, Brandon, said, "If you can do one push-up, we will let you race." I just wanted to try, and not just give up without even trying. I would have rather suffered the 15 minutes of the race, rather than suffering later, knowing that I could have possibly done it. It was definitely hurting, I did the one push-up and was almost like dying in pain, but I did it.
Enzo still hasn't announced his plans for the 2020 Pro Motocross season.
HAS ANYONE APPROACHED YOU ABOUT A FACTORY RIDE FOR OUTDOORS? No, nothing has been said. Sometimes it is hard to understand, but I just have to do my part on the track, and I feel like the rest will come along. I don't have anything, and I am not sure what I am going to do for outdoors. Maybe I could race as a privateer, but I am not sure yet. It is a lot of money, especially for my family in Brazil. It would be really, really expensive, and I am not sure that I could do it because of that. I just want an opportunity this year on a factory team to prove myself.