EVS Sports – 2 Unique New Gloves
ÿ
Wrister Gloves: Like no other!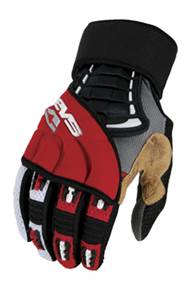 Having had an overflow of requests for a glove with added wrist support, EVS has broken new ground with the innovative, one-of-a-kind Wrister glove. The Wrister's unique built in wrist support has pioneered the future for motocross gloves for years to come. The molded foam panel can be placed in varying positions to provide different levels of support that many riders desire on the track. The Wrister is a perfect balance between the typical MX glove and the much needed wrist support many riders look for.
Being the only company that offers this type of glove, EVS is excited to present the first of its kind! Its original concept has riders and dealers buzzing, so be sure to get your hands in a pair today!
WRISTER DETAILS
1 // Unique knuckle overlay construction for better air flow
2 // Adjustable wrist support for better fit and enhanced protection
3 // Compression strap for a reinforced wrist support
WRISTER SPECS
// Available in BLACK or RED
// Sizes: S, M, L & XL
// Price: $39.00
ÿ
ÿ
Shorty Gloves: The Perfect Fit
You all have those favorite pair of shoes that are comfortable, effortless to put on and take off, easy to clean and never let you down. Wouldn't it be nice to have a pair of motocross gloves that are just like that? Well, wait no longer. The EVS Shorty gloves are here! Its low raise cuff provides both comfort and heat relief from hot weather riding. In addition, it also helps to reduce arm pump and increase blood circulation. The Shorty glove is perfect for your next pit bike, mountain bike, BMX race or freeride. Its free range of motion lets you do it all!
SHORTY DETAILS
1 // The comfortable loafer of riding gloves
2 // Silicone print on palm for added grip and lever control
3 // Single-layer unpadded palm with reinforcing stitches
4 // 2-way stretch fabric for comfort
5 // Reinforced thumb patch
6 // Ideal for summer riding
7 // Wider opening for maximum wrist flexibility and air management
SHORTY SPECS
// Available in RED or BLACK
// Sizes: S, M, L & XL
// Price: $25.00
ÿ