FACES OF THE STARS | 2021 ATLANTA SUPERCROSS 2
FACES OF THE STARS | 2021 ATLANTA SUPERCROSS 2 TRACK WALK
The Atlanta Supercross is back on for the second of it's three races and the riders, crew members and local spectators are all very excited that we will have a dry race track for today's activities. Saturday's Main Events turned out to be very slick and challenging for the riders, but at least they weren't complete mudders. Most of the rain fell earlier in the day and left the track ultra-slick for the Heat races and it got better as the races went on.
In the 250 class, we saw another new winner this season with Nate Thrasher grabbing the holeshot and checking out to win his first ever 250 Main Event for the Star Racing Yamaha team. Justin Cooper, Thrasher's teammate and the current points leader, had a hard wreck in the Heat race and was sore for the Main Event. He rode smooth, but didn't challenge his rookie training partner/teammate and gained an extra two points in the points chase over his rival, Cameron McAdoo who finished third.
In the 450 class, it was Aaron Plessinger who grabbed the early lead and started to pull away. With his expertise in ruts and mud, Plessinger had a good sized gap built up over Cooper Webb and Chase Sexton, and it looked like he might be able to grab his first ever 450 Main Event win. Sadly for Aaron and everyone pulling for the underdog, a slight mistake leading into a rhythm lane caused Aaron's rear tire to miss the rut and he went down. At this point, Chase Sexton assumed the lead, after passing Cooper Webb, and it looked like we would have another new winner! But, after getting caught up with a lap rider, Sexton gave the lead to Eli Tomac and he grabbed second place, his first 450 podium in Supercross. Cooper Webb extended his points lead with a third as Ken Roczen was only able to manage a ninth place finish. It'll be interesting to see what happens next. Will Roczen rebound? Will Sexton or Plessinger be able to run up front again? Or will Eli Tomac go two-for-two at the Atlanta Motor Speedway?
The 14th round of the Supercross series is set to go with qualifying being shown live on the Peacock Premium streaming service at 10am Pacific time, 1:00pm Eastern. Sadly, the night show won't be shown LIVE tonight. If you're watching via TV on the NBC Sports Network, the races will be shown at a three-hour tape delay starting at 7:00pm Pacific, 10:00pm Eastern. If you're watching live with the Peacock Premium service, the races start at 4:00pm pacific, 7:00pm Eastern.
Trey Canard lives in Oklahoma, but he still travels all over the country to help the HRC Honda team. Last Thursday we saw him at Glen Helen testing the HRC Honda CRF250s with Jett Lawrence for the Nationals and this Tuesday he's in Atlanta, Georgia, at round 14 of the season to be an extra set of eyes, hears and hands, helping out Ken Roczen, Chase Sexton, Hunter Lawrence and the team.
Chase Sexton is looking for redemption tonight after his run-in with a lapper on Saturday. 
Eli Tomac and his mechanic Brian Kranz decide to save some energy and check out the track on wheels.
Justin Barcia had a big crash on Saturday, but we expect him to rebound and be closer to the front tonight. He chose to let his mullet flow in the warm Georgia air while saving his legs on an electric scooter.
Nate Thrasher checking out the track for Atlanta #2. Do you think he's more or less nervous now that he knows he can win? 
Dylan Ferrandis fought his way from a first turn crash to fifth on Saturday. Dylan said after the race: "For sure, it was a good ride, but I'm a little disappointed because crashing at the start is never good. I was all the way back in last and came back through. I didn't rush but just gave everything I had until the last lap. I passed some really strong guys, so that was a good feeling. I was really tired and had a little bit of arm pump, but it was good. It's always good to be back in the top five, and with that kind of riding, it's also good for your confidence. We made some small changes on the bike, and the team decided to go in one direction, and it was really good. The bike was much better today than the previous race, so we made one step in a good direction. I'm really happy." 
Ryan Sipes has a really cool gig going this year. He's racing a GasGas MC 250F at select Supercross and National races and he's also racing some TT Flat Track events, Hard Enduro and GNCC races. Click here to check out Ryan Sipes exotic 2021 schedule. 
Jason Anderson was fast on Saturday. He came from the back of the pack to finish fourth without a shift lever. We expect him to be good again tonight. Jason said after the race: "Atlanta one was a good day for the most part," Anderson said. "I qualified P1 in practice and went into the heat race and got first. In the Main Event, I got a little tangled up in the first corner and ripped my shifter off but I was able to get into third, manage my race and still get fourth so it was pretty good."
250 West points leader, Justin Cooper.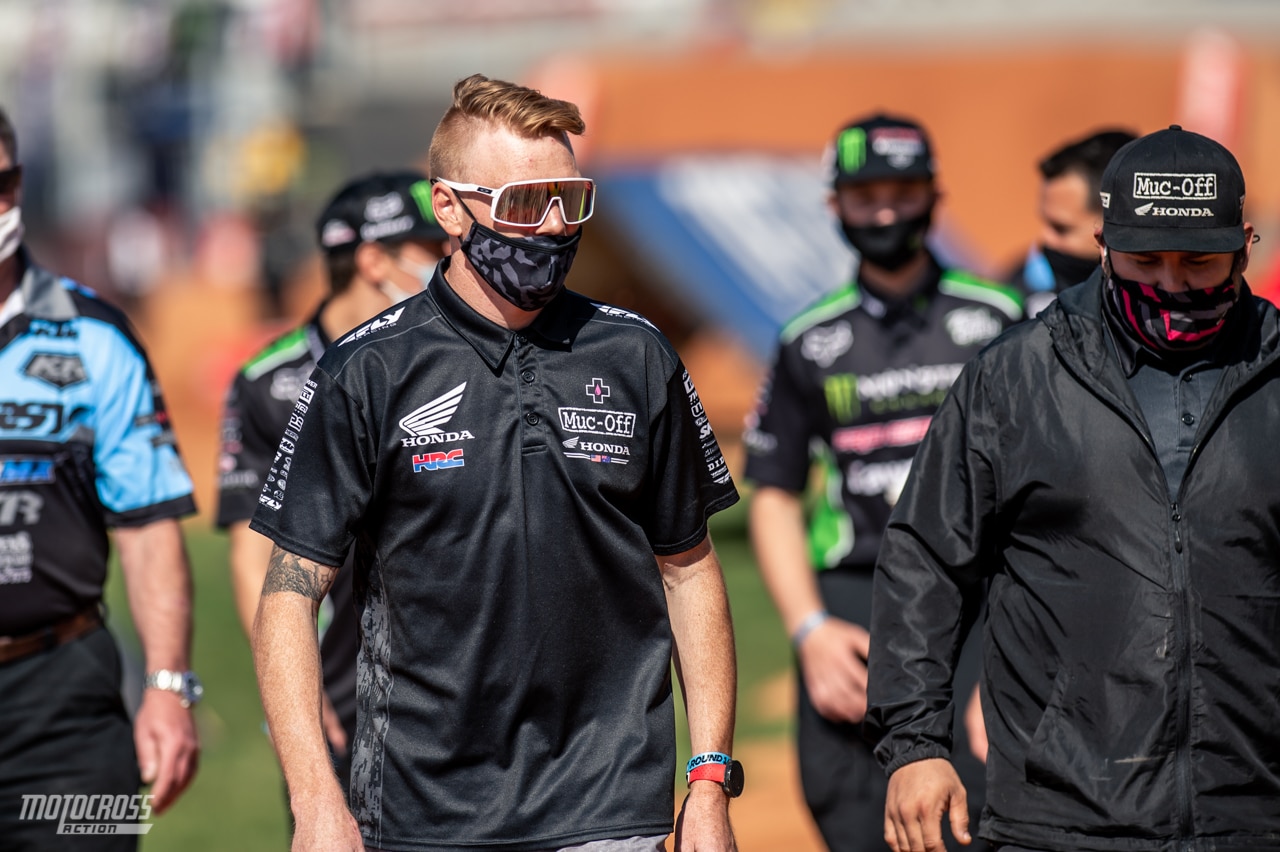 Mitchell Oldenburg and Nate Alexander from Muc-Off Honda walking the track.
Tyler Bowers made the 450 Main Event on Saturday. With how stacked this season is, it's been a battle each race to make it in. Even Dean Wilson didn't qualify on Saturday after mistakes and crashes in the Heat race and LCQ.
Kyle Peters, the 2021 AMA Arenacross Champion, finished fifth in the 250 class on Saturday. 
Malcolm Stewart and Roger Larson.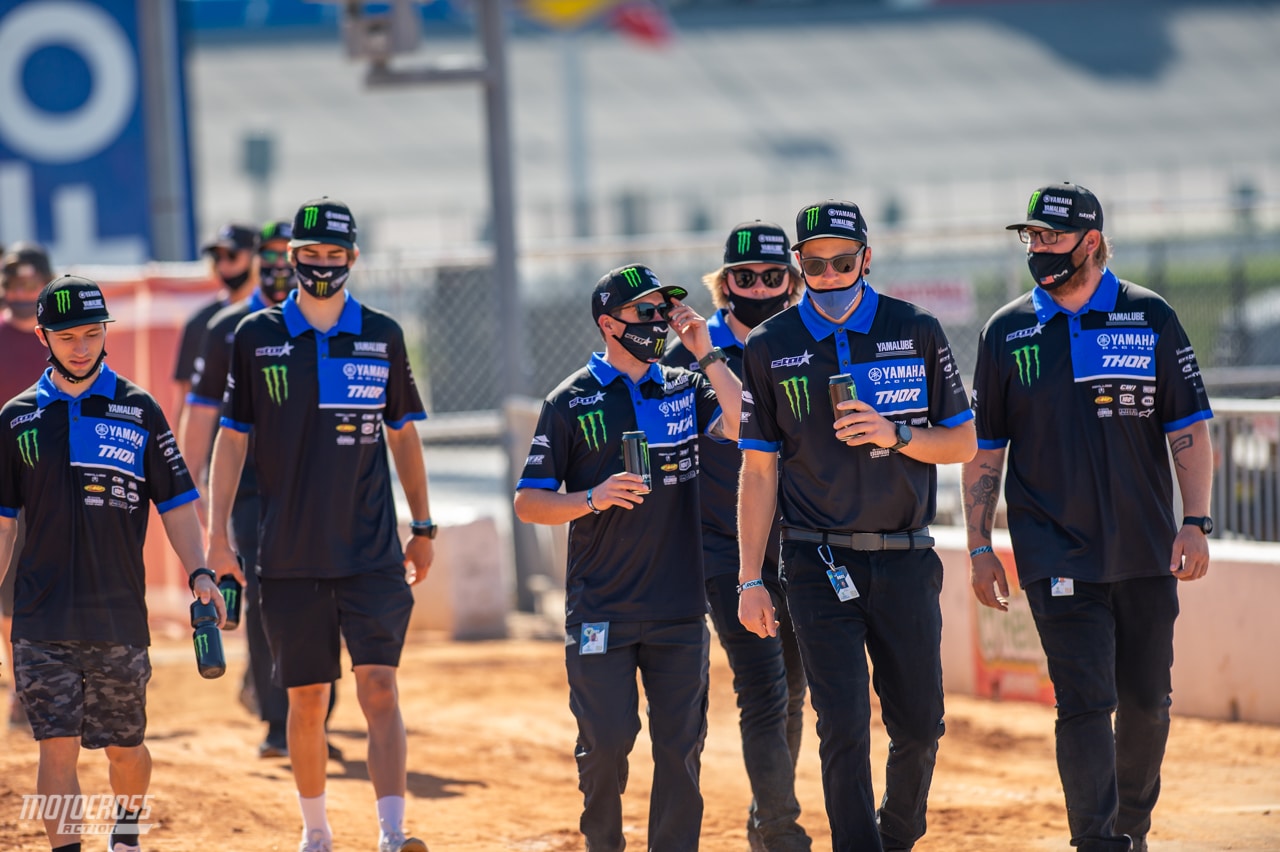 The Star Racing crew is big, and this isn't even all of them.
Cameron McAdoo and his trainer Nick Wey checking out the track. Cameron was lucky on Saturday that his Heat race crash on top of the over-under jump didn't end up worse.
Garrett Marchbanks and the ClubMx crew.
Tony Alessi has a pretty unique mask.
Jalek Swoll.