FACTORY BIKES UP CLOSE // 2023 ANAHEIM 2 SUPERCROSS

FACTORY BIKES UP CLOSE // 2023 ANAHEIM 2 SUPERCROSS
It's Friday in Anaheim once again, and we're back with a slightly busier day than the typical Fridays this season. With Press Day finally make a return with the addition of Supercross Futures qualifying, you can say we got our steps in at Angel Stadium. There's plenty of videos that just dropped on our YouTube channel featuring some of the fastest pros hitting the track with exclusive footage featuring Haiden and Brian Deegan. But let's get into the real reason you're here. Glorious shiny factory bikes captured by our Digital Editor Trevor Nelson.
Motocross Action's Best in the Pits photo gallery is brought to you by Helix Racing Products.
---
Photos by Trevor Nelson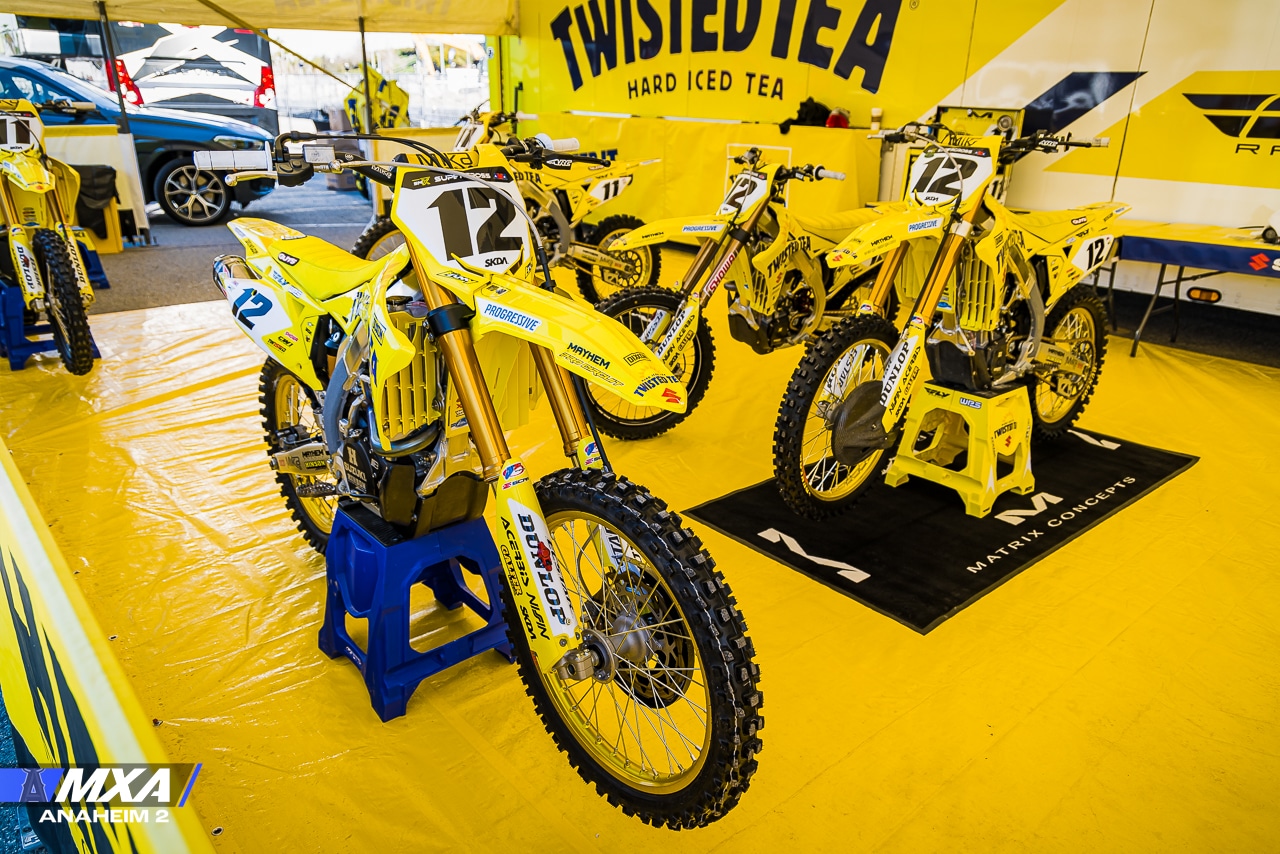 Ah! The bananas are multiplying! When it's triple crown weekend, you better have a spare bike in case things go south during one of the three Main Events. So if you're wondering why you're seeing two, maybe three of the same bike, this is why.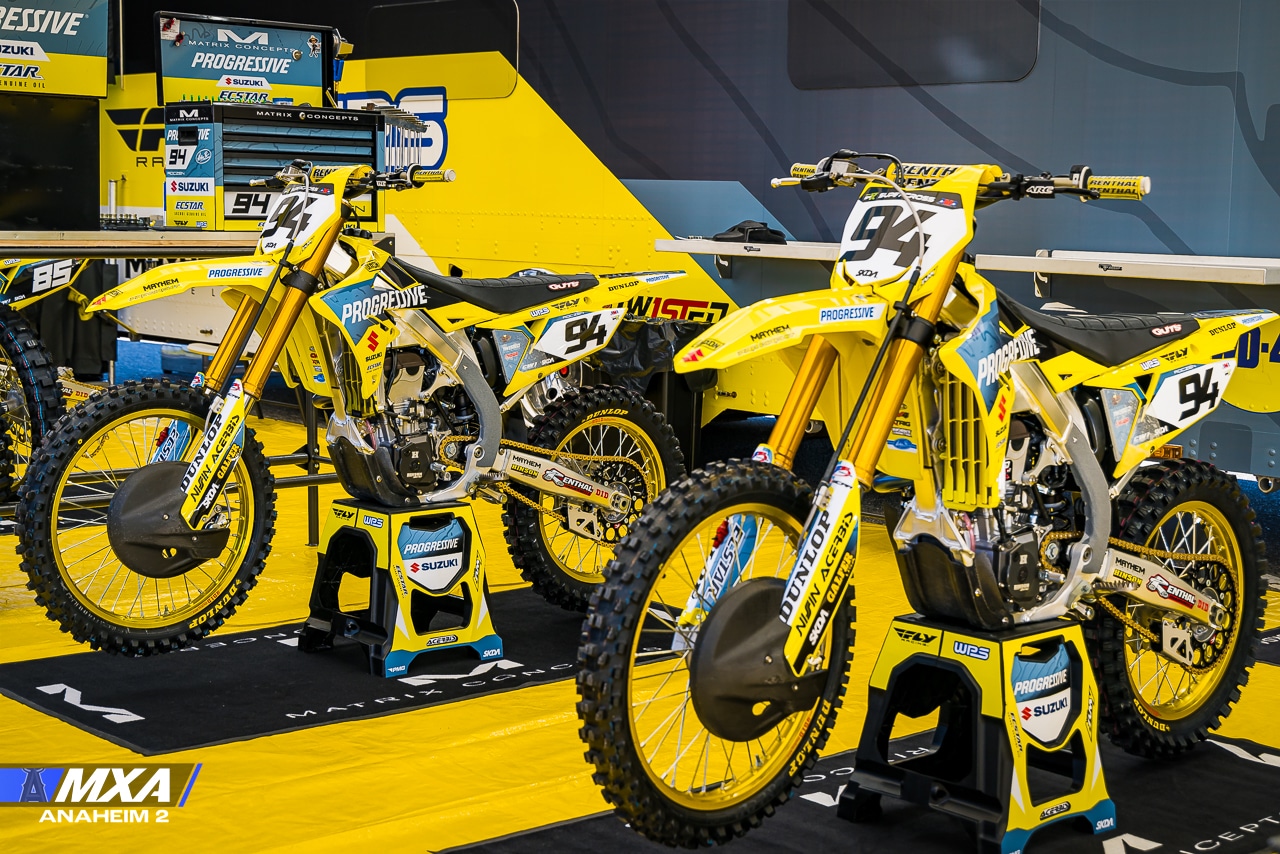 Kenny may have "plain" suspension on these bikes right now, but he'll have the Factory Connection goods for tomorrow.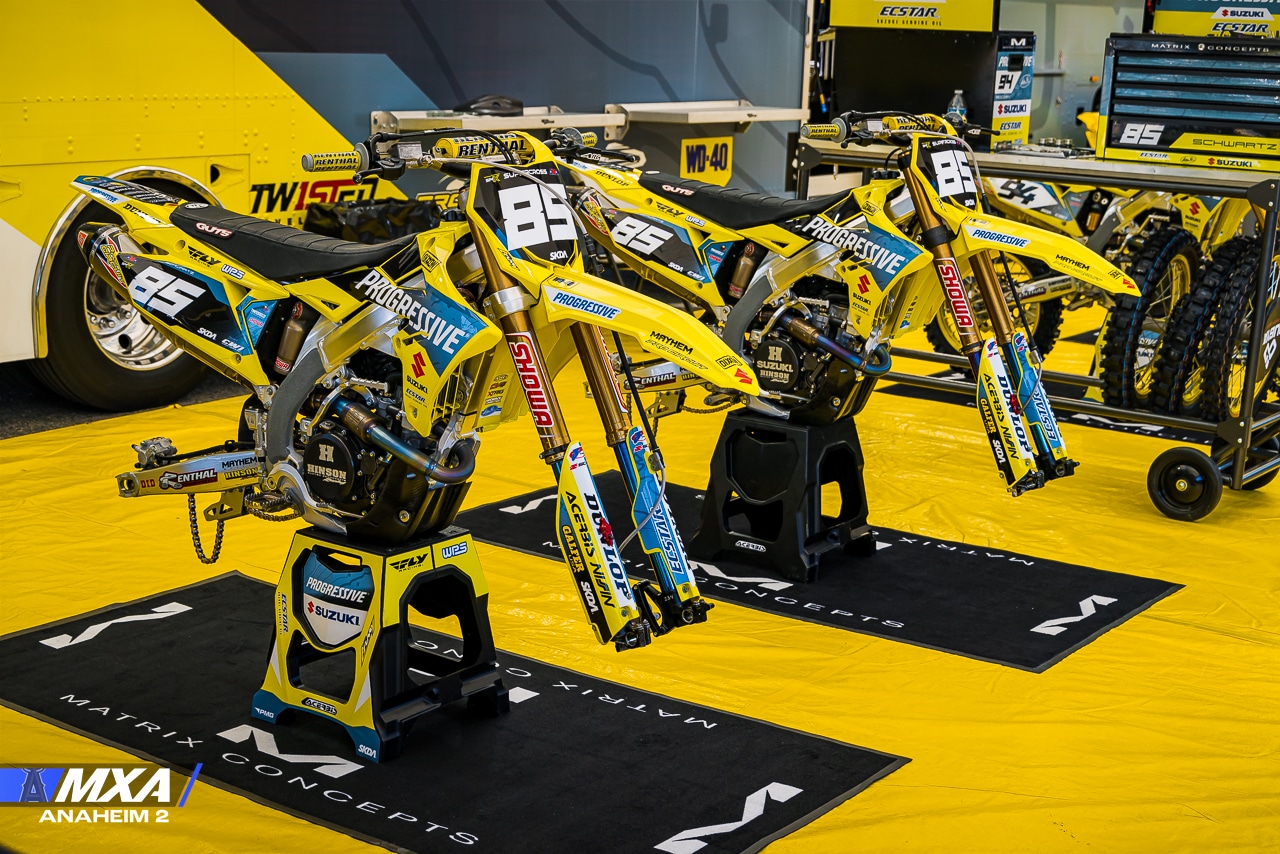 Dilan Schwartz has his bikes in nearly identical states. Kinda funny.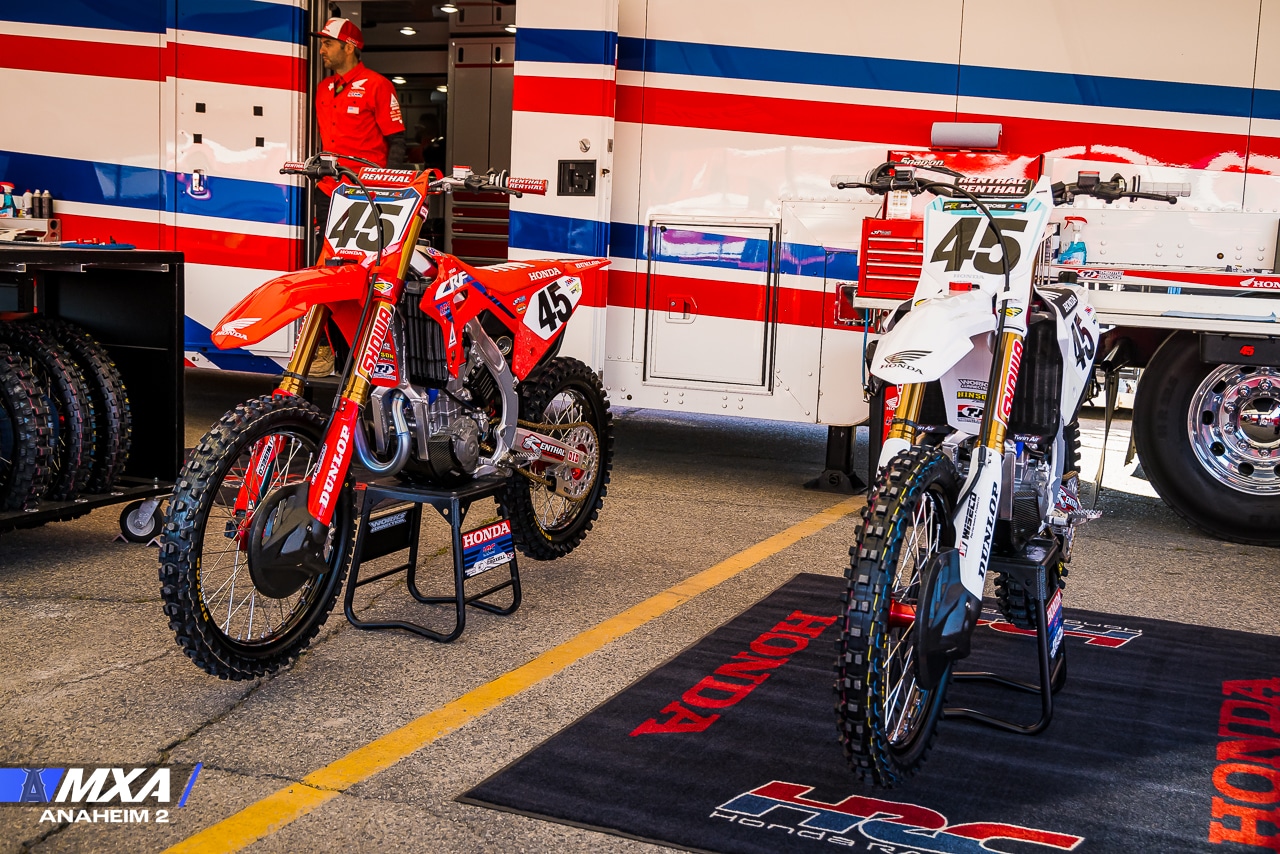 Honda may finally be racing their replica CRF50 bikes this weekend. But so many color choices to choose from!
Best looking suspension at the races?
Another Honda rig that may not be so familiar seeing at the SX rounds would be the SLR tent. Slam Life Racing is actually the offroad race team led by Mark Samuels. However, SLR has expanded in more directions than down South towards Baja, racing Lorettas, NGPC, and now Supercross Futures.
I don't think Mark was impressed by our description.
But their bikes do look pretty sweet! Tune into the futures race tomorrow during the Night Show!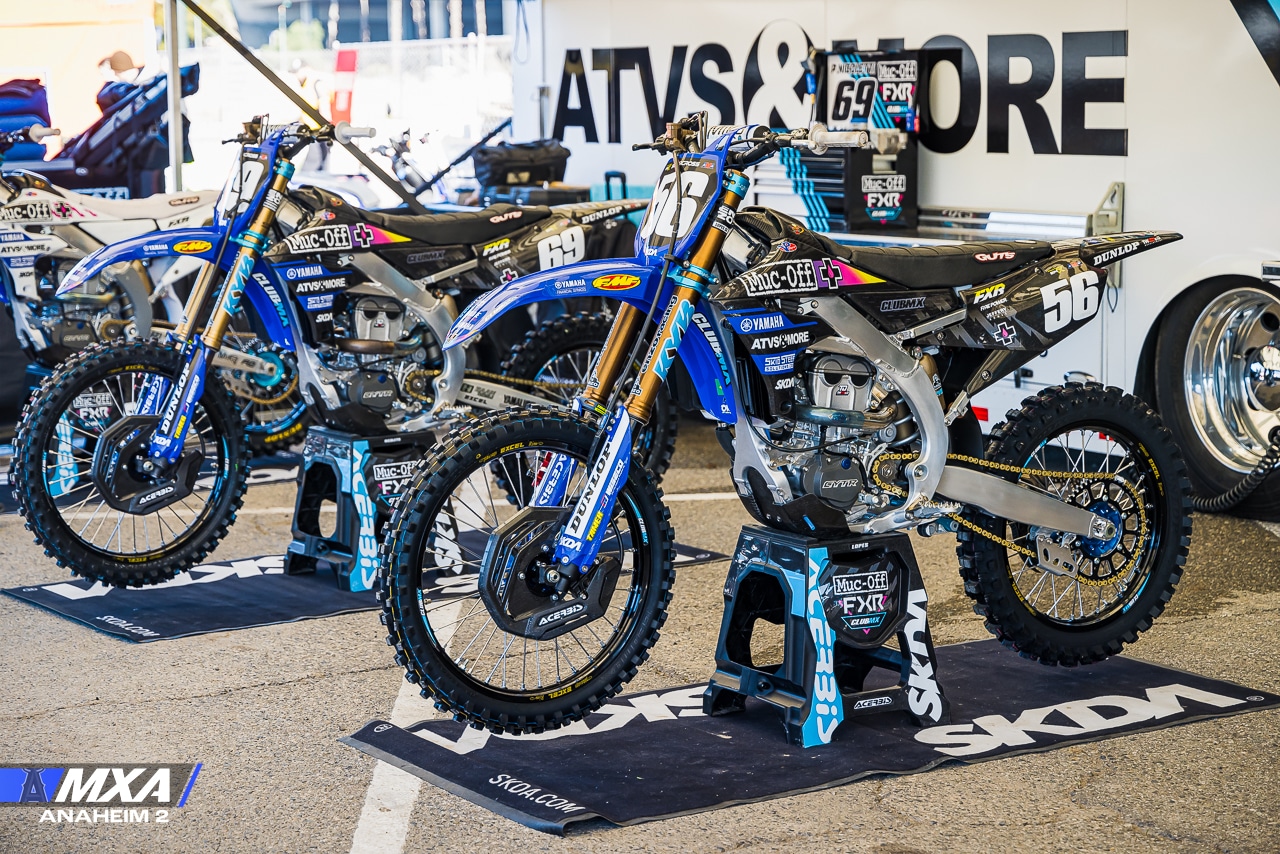 The ClubMX bikes are pretty dang sick.
Even the KYB teal stickers are cool.
And if you're by the rig, make sure to say hello to their furry mascot.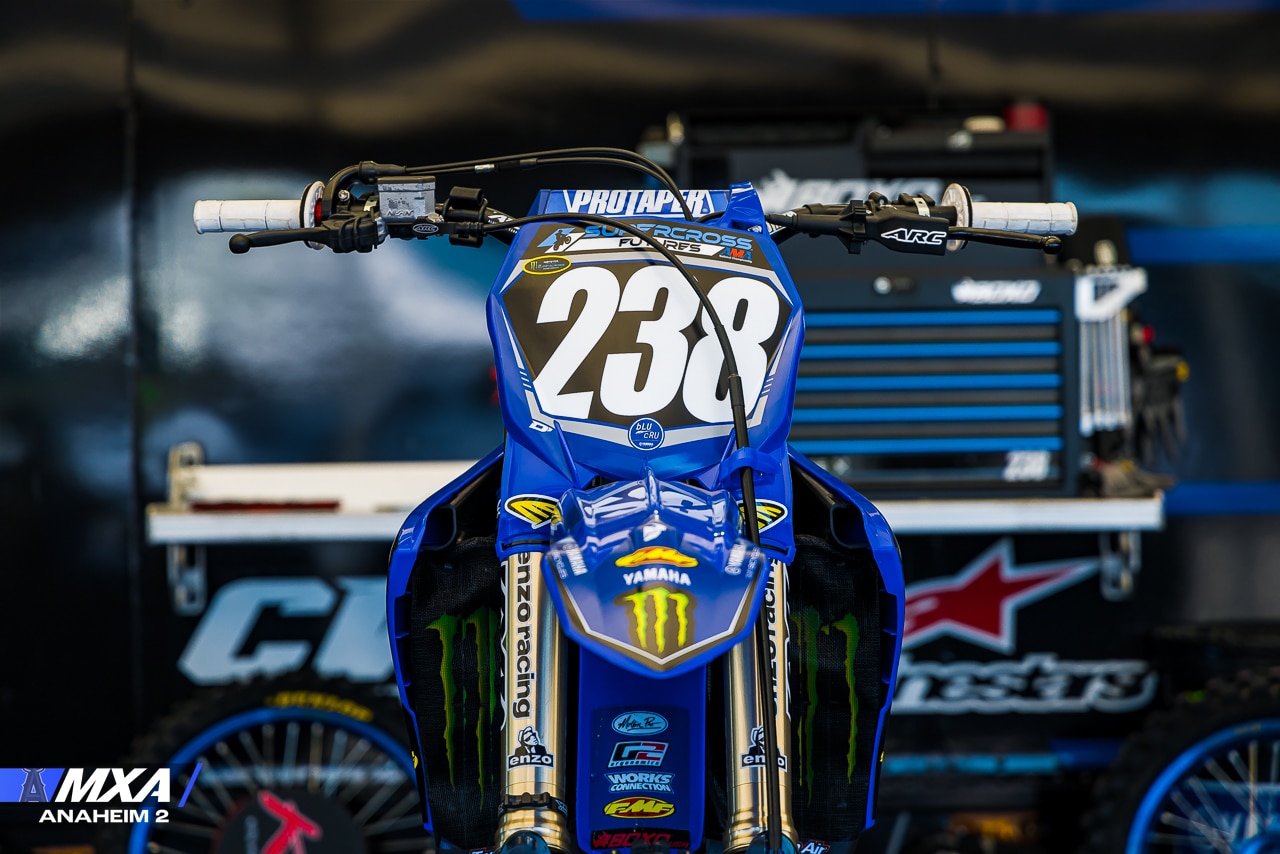 If you've been living under a rock, you might not know that Haiden Deegan is racing the futures race this weekend. We have an interview with his father Brian where he talks about the challenges are racing a pro Supercross track and if Haiden rides well enough, we may be seeing him sooner than we thought.
Daxton Bennick is teaming up with Haiden under the Star Rig. Once rivals, now fellow racers.
Their SM10 Alpinestars helmets are also pretty cool.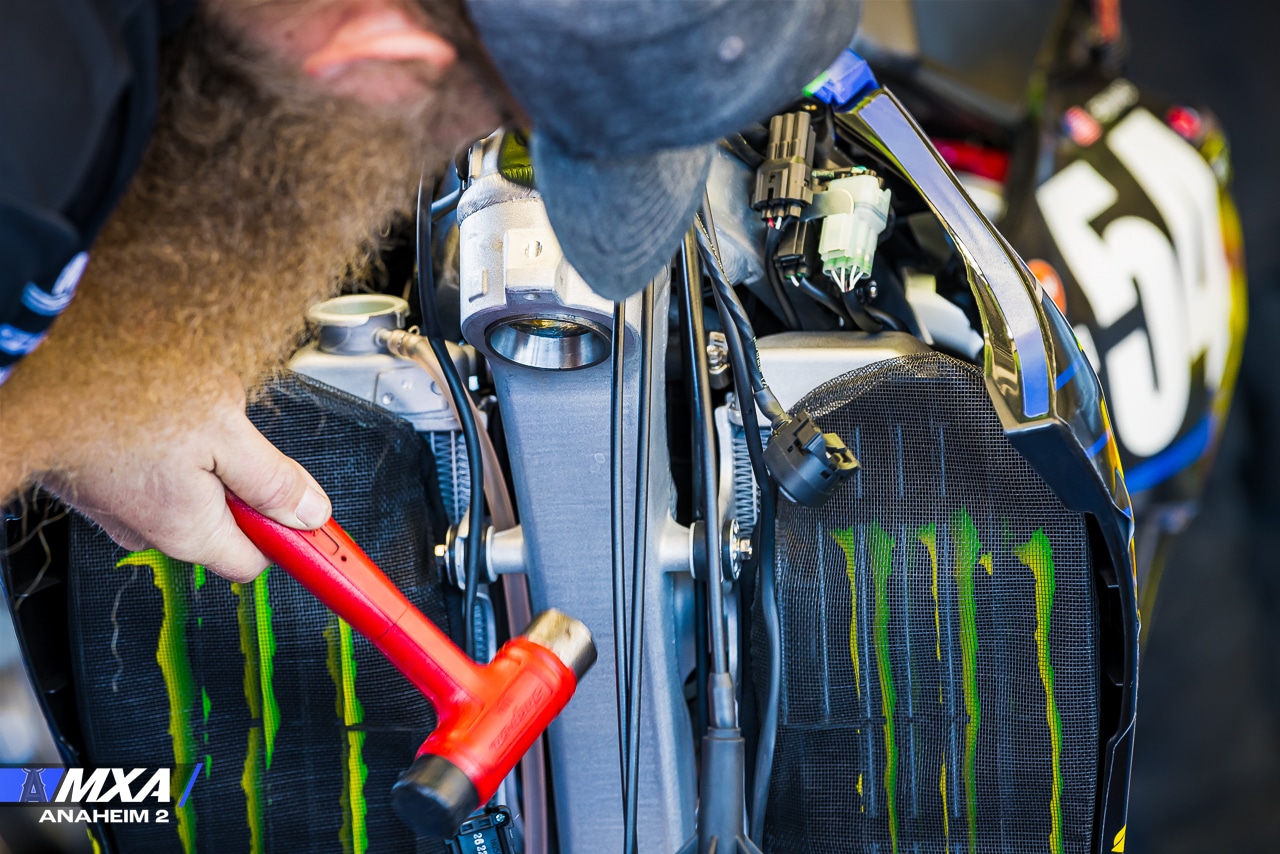 Nothing like a little force multiplication to get a part in place.
Dylan Ferrandis is feeling, and looking, a lot more comfortable on the newer model of the YZ450F. Will this be the weekend we see the past 250 champ break the top 3?
Yes we still take photos of that dang Blue Yamaha that has the red plate every weekend. Jokes aside, how many people can say that they expected Eli Tomac to absolutely destroy the field at 30 years of age?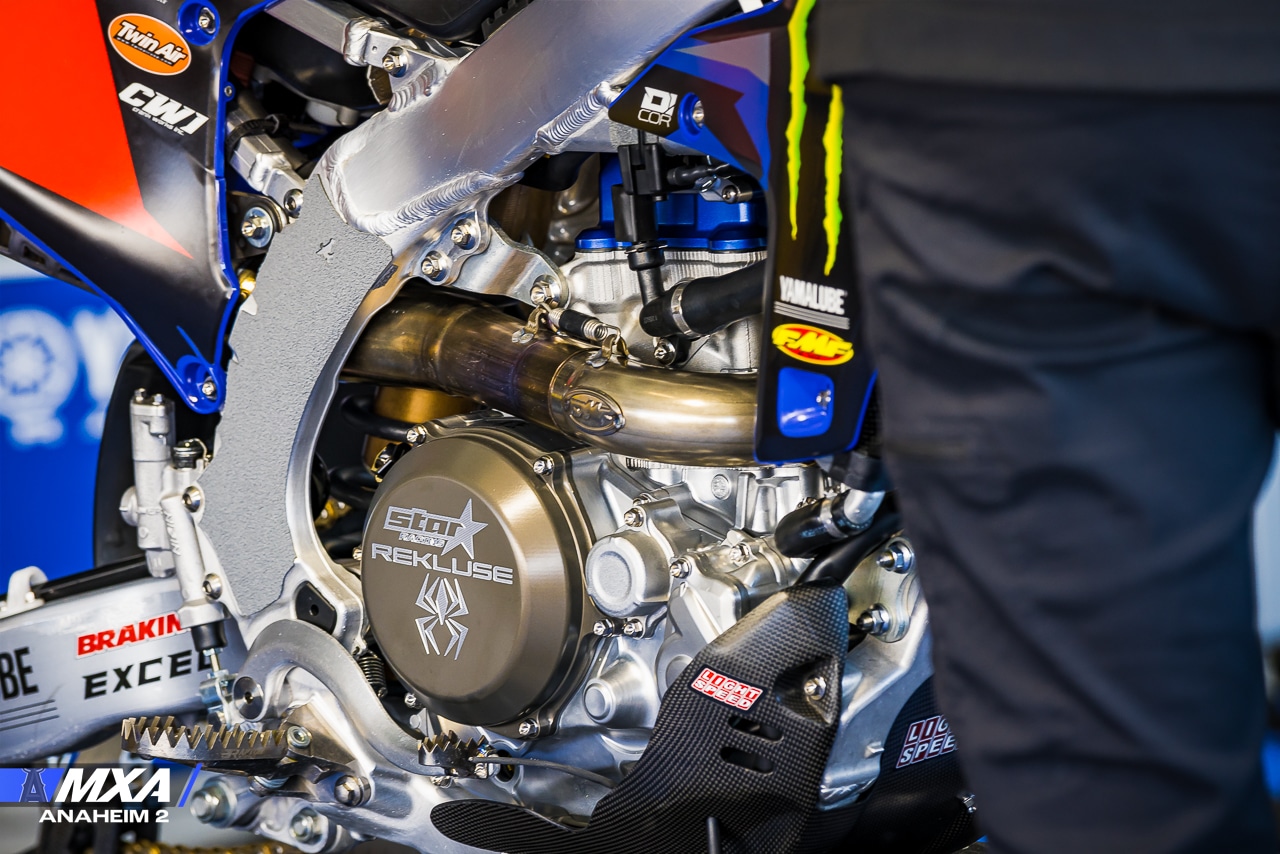 A closer shot of the powerhouse engine. Would be a bad day if those footpegs caught the wrong body part.
The Pro Circuit Kawi team repping the Anaheim Ducks. Time for them to put some PC graphics on their hockey jerseys.
Jason Anderson's race rig.
Ooh shiny.
Casey Cochran joining the fleet of amateurs this weekend.
But also struggling to pick out a set of gear. I don't know dude just pick the black one!
Talon Hawkins ride getting some last minute touch ups. Both Casey and Talon run Factory Connection.
Christian Craig's bike, clean as usual. Unfortunately Christian will not be joined by Malcolm this weekend, as news broke out that Malcolm sustained an injury during a practice session this past week.
A couple of things are missing here.
Aaron Plessinger's steed.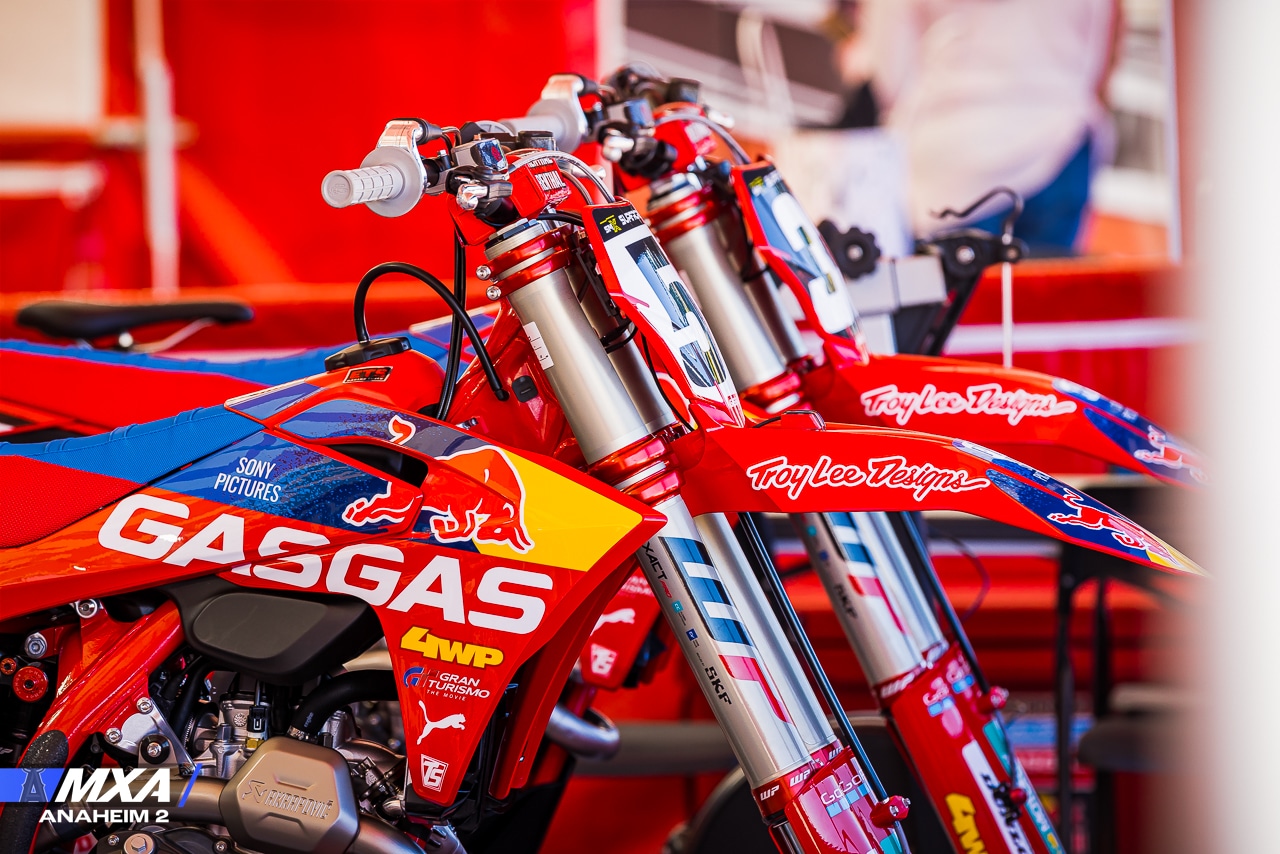 Personally, the primary colors are the best color combo. Change my mind.
Look at them even closer.
The Lewis clan.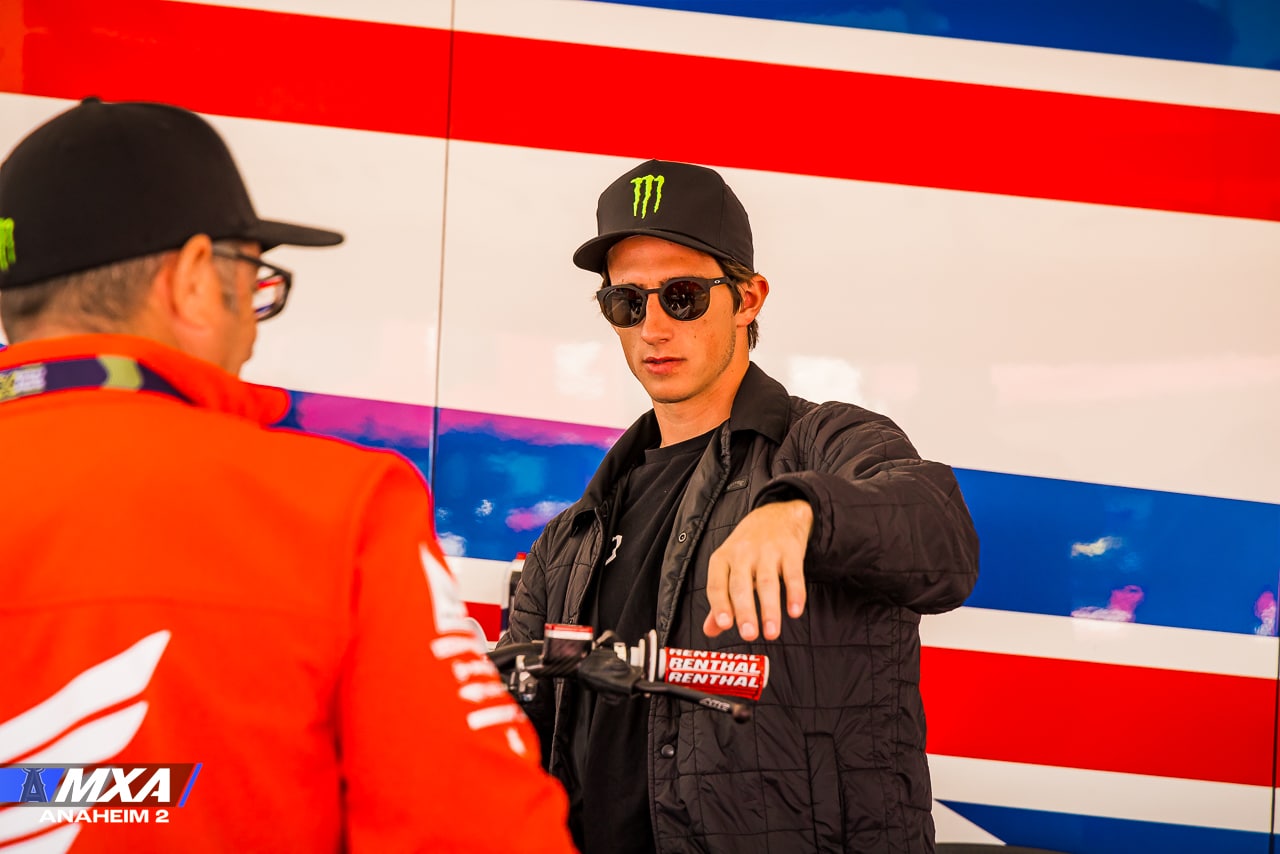 Chase bout to do the thing every mechanic walking over to a bike has ever done.
The glove(s) are coming off. Thanks for scrolling now go watch those videos!