FACTORY BIKES UP CLOSE // 2023 TAMPA SUPERCROSS

FACTORY BIKES UP CLOSE // 2023 TAMPA SUPERCROSS
The 2023 Monster Energy Supercross series has made it's way down to Florida for the sixth round of the season held at Raymond James Stadium. Typically the San Diego round is the Military appreciation round but things have changed this year, resulting in the Tampa round be the home of camo themed bikes. It's pretty cool seeing all the small details being put into the designs of the bikes and even cooler that it is for a good cause. So scroll down below to check out some bike eye candy that we found in the pits.
Motocross Action's Best in the Pits photo gallery is brought to you by Helix Racing Products.
---
Photos by Brian Converse
Starting off the Military themed race strong with Dean Wilson's Firepower Honda. 
The subtle difference between Max's and Dean's is pretty cool, where it was grey is now white.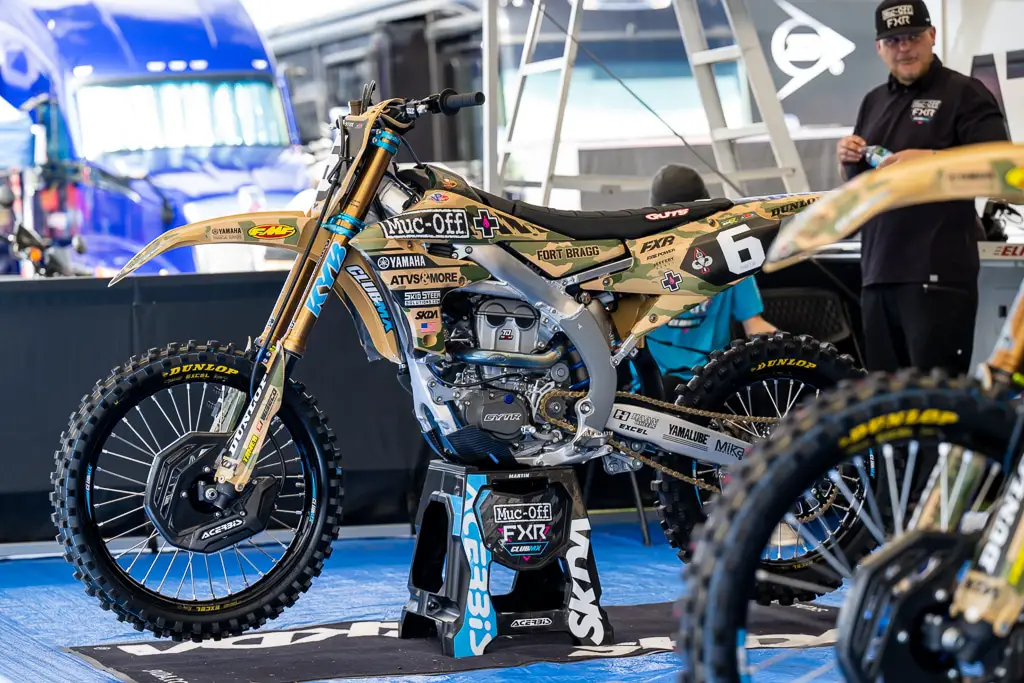 Fort Bragg is based in North Carolina just like ClubMX.  Pretty cool touch that ClubMX is paying homage to the Army base about 2 hours away.
Okay now this is cool. Inspired by the Lockheed Martin SR-71 developed by Skunk Works, the HRC team bikes will reach speeds about 2420 slower than the infamous manned aircraft. 
Take a look at where the red pinstripe get's its look from.
Yeah, this is cool.
Most teams splatter camo everywhere but Phoenix is going for a clean look, which actually looks pretty cool. 
Coty's bike dressed in olive green.
The KTM graphics may be subtle but if you look closely, a faint digital camo hides in the number plates with chrome graphics and the US flag. 
So subtle you can barely see it.
I am a little surprised that they didn't throw the French flag on Vialle's bike but it makes sense that this is an American team. 

Fun fact: The Shark Mouth design originates from the 1st American volunteer group known as the Flying Tigers who flew Curtiss P-40 Warhawks. Several other groups used a similar design but it was the Flying Tigers who made it famous!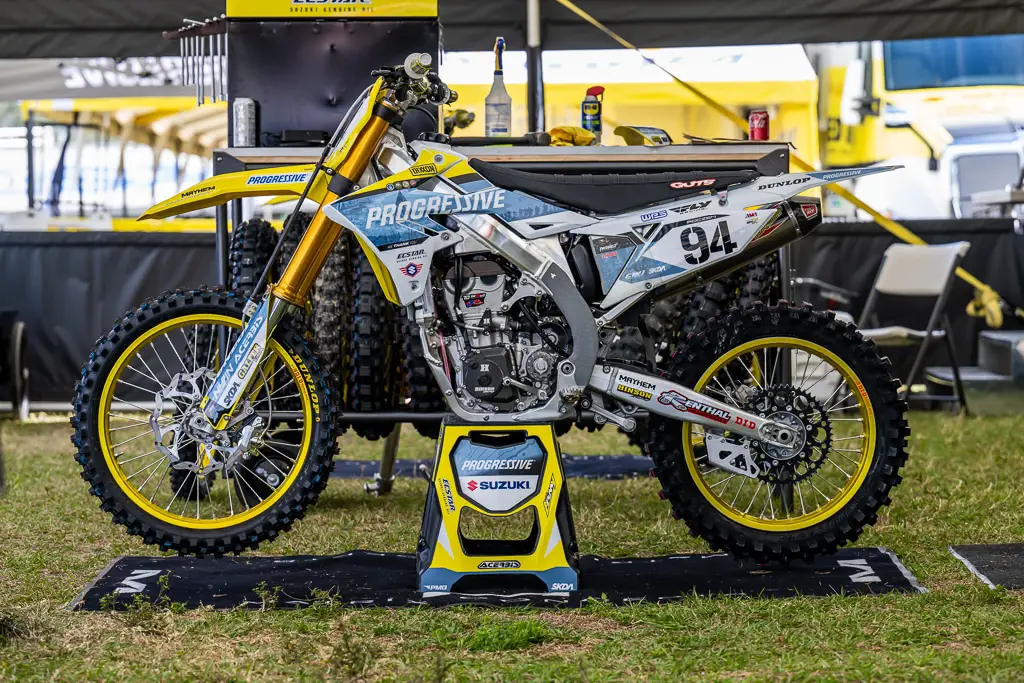 The HEP Motorsports bikes can be appreciated much closer. So make sure when you're in the pits tomorrow to get an even closer look. 
The Rockstar Husqvarna bikes are dressed up in an urban camo.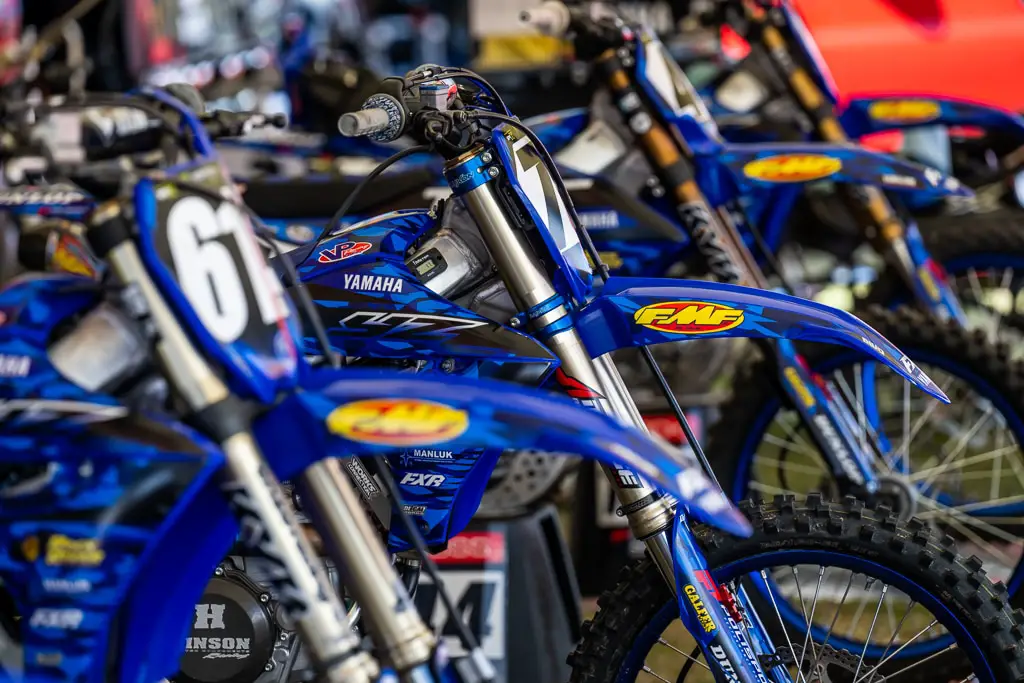 Why does blue camo and Yamahas work so well? 
It doesn't look like much has changed for the Star Yamaha bikes since all Yamaha factory efforts are running camo designs this year anyways. 
Will this be the race we see Nate Thrasher land on the podium?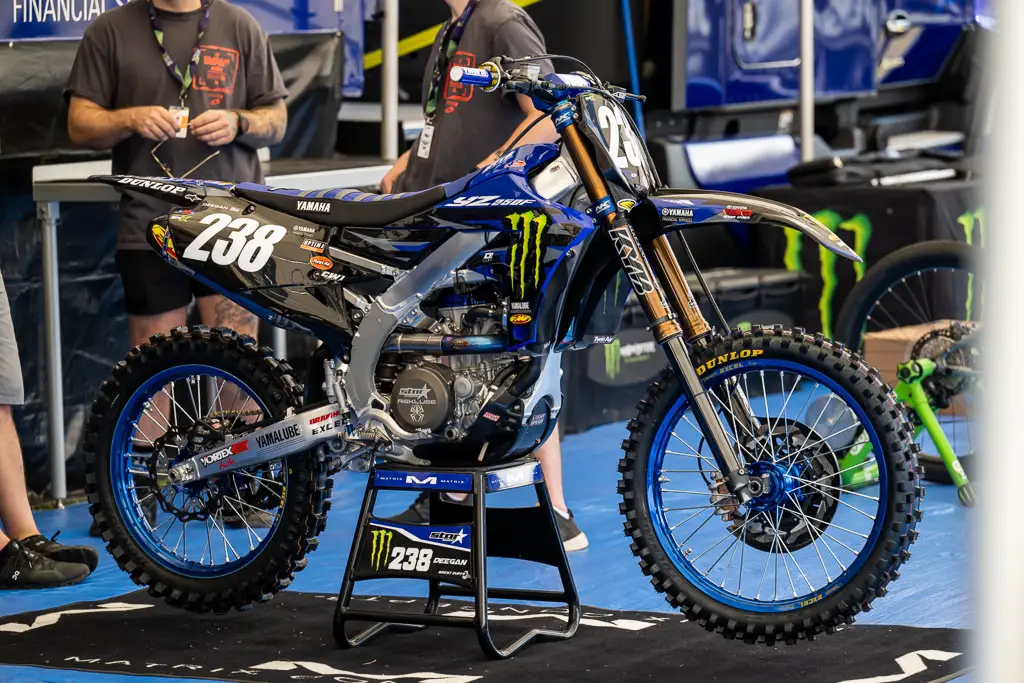 And who else was insanely impressed by Haiden's performance last weekend?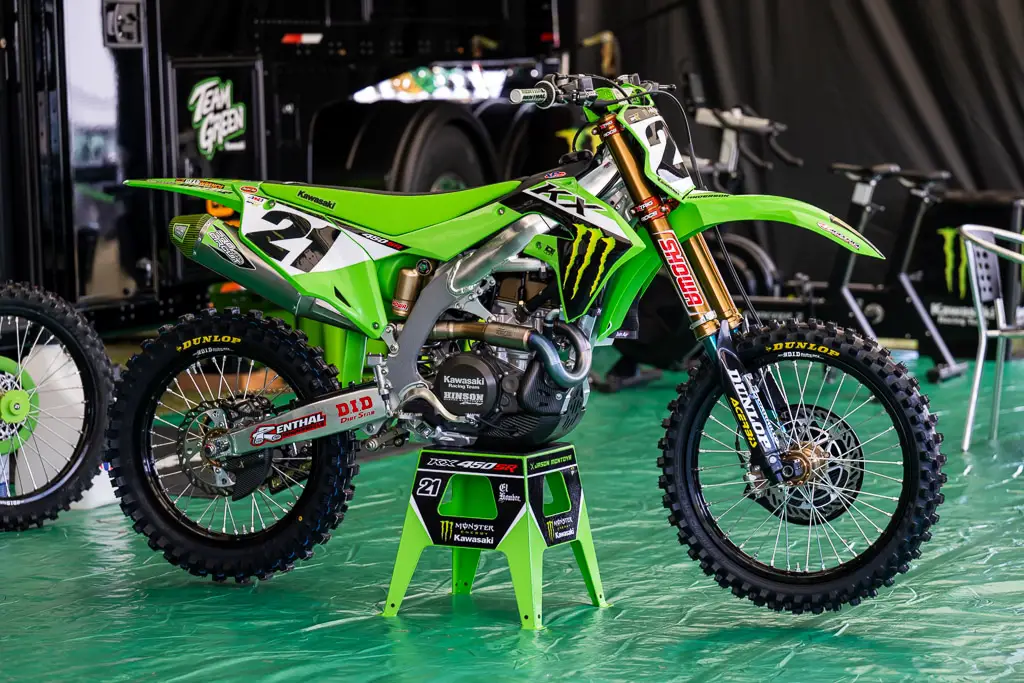 Really crossing our fingers that the Kawi team rolls out with some cool graphics before the race tomorrow! 
But both bikes look clean as usual.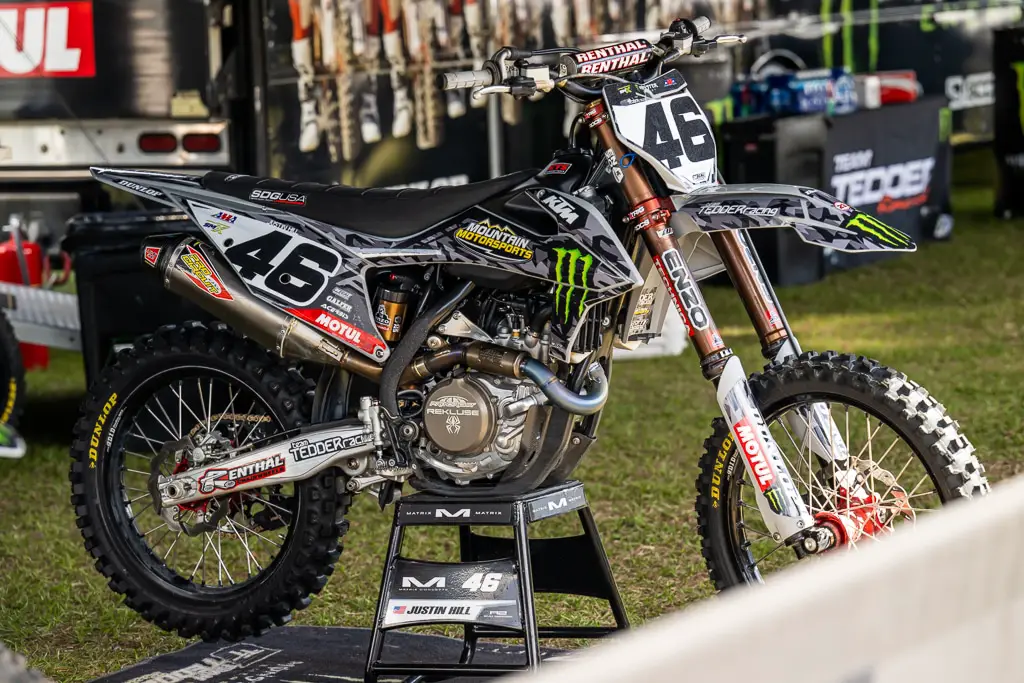 The Hill brothers have had camo on their bikes since the start of the season but are opting in for a more obvious design this round with white plastics.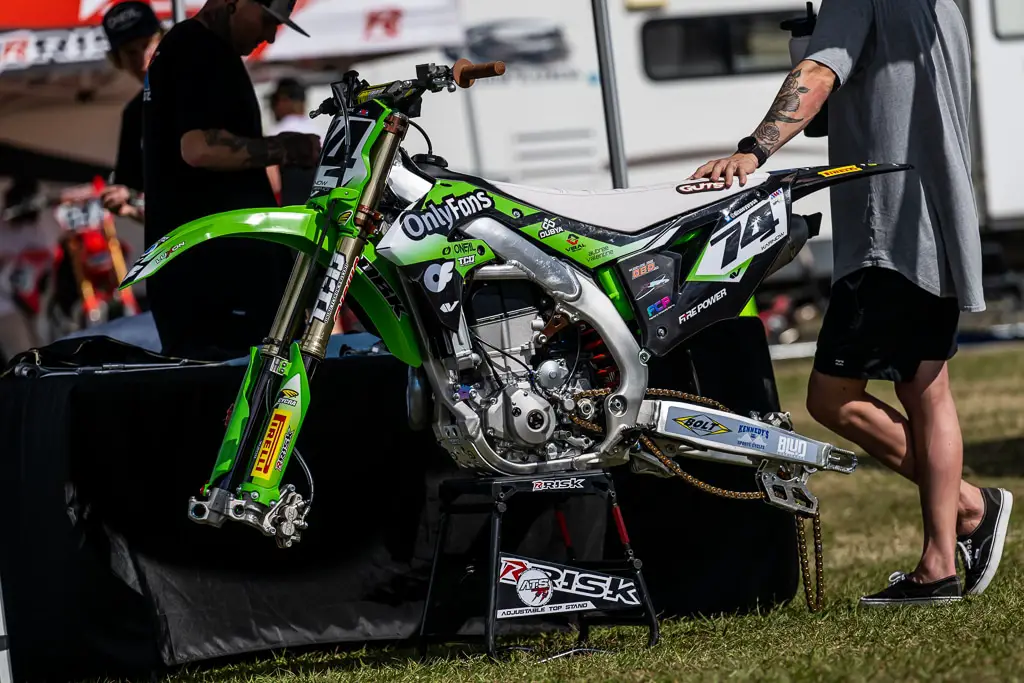 Missed opportunity for WW2 pin up graphics.
Natzke's race steed for the weekend.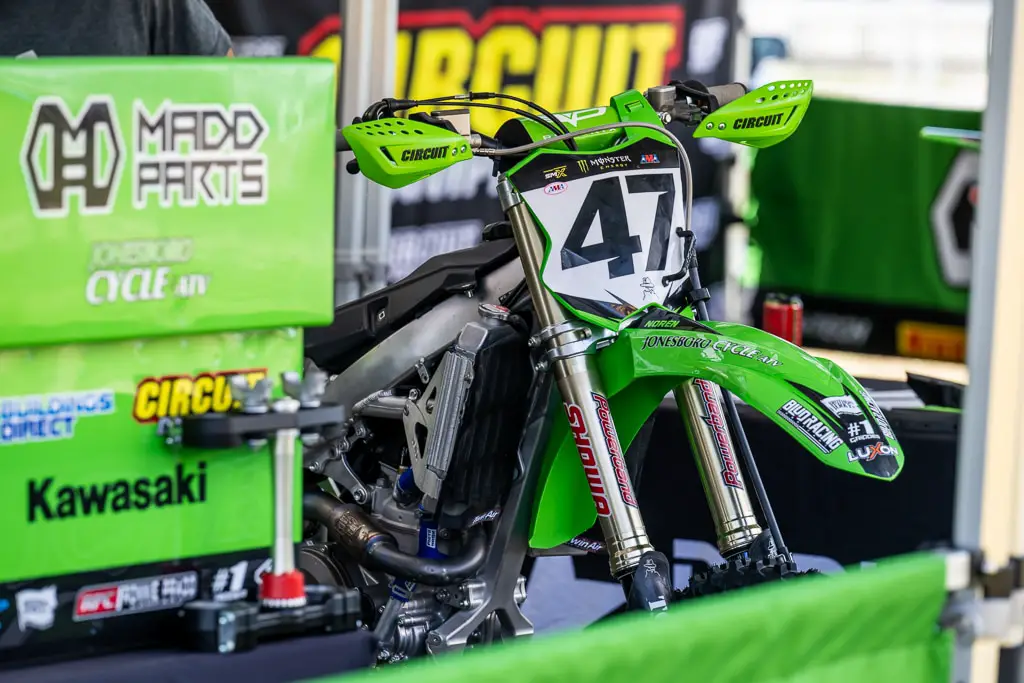 Hopefully Freddie is throwing on some custom graphics just off camera.
Oh thank goodness, we were worried that every Kawi was going to look plain. Pro Circuit as usual going above and beyond with the design this weekend.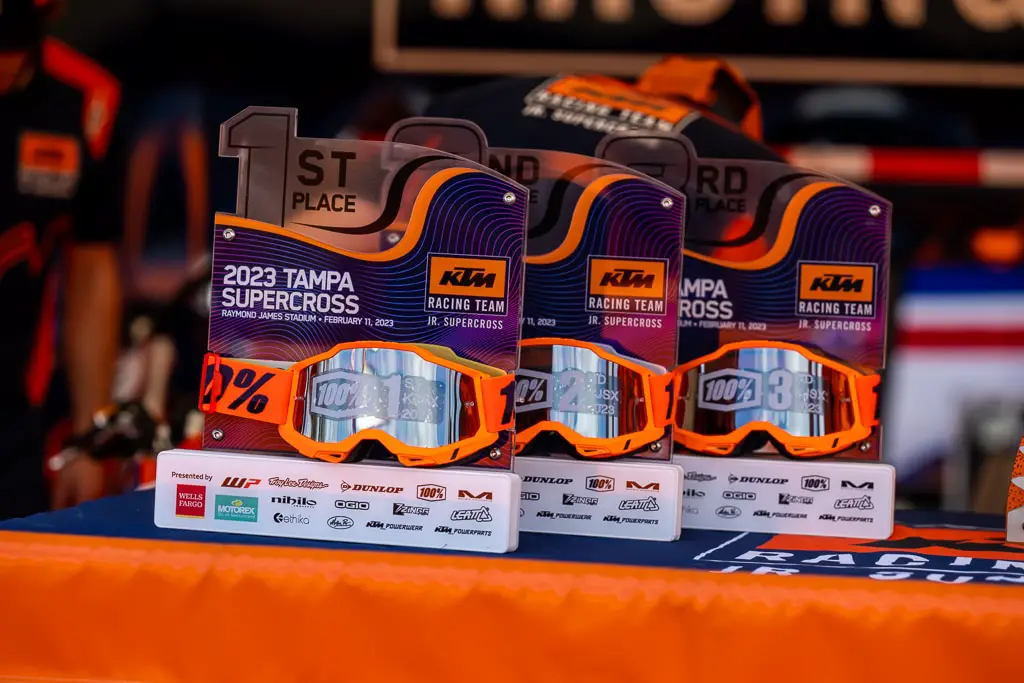 The KTM Juniors trophies.
And of course their race bikes kitted with some Nihilo factory-esque accessories.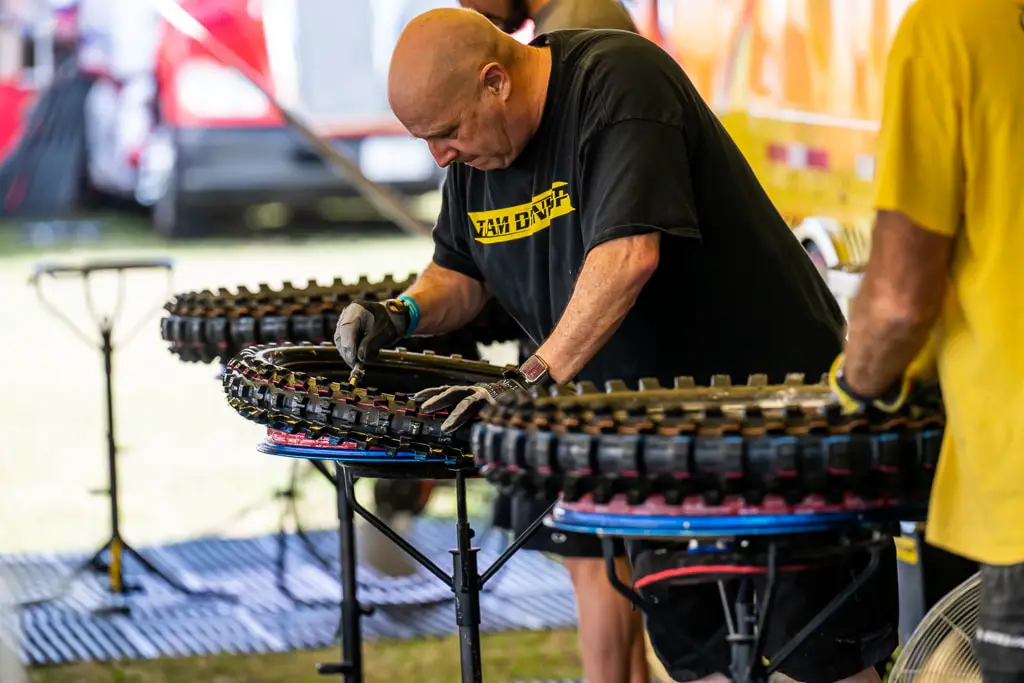 The Dunlop men hard at work! Thanks for scrolling!