FACTORY HONDA 2019 SUPERCROSS LINEUP, 2019 250 SHOOTOUT | MXA MID-WEEK REPORT

#WHIPITWEDNESDAY
Rider: Josh Mosiman
Bike: 2019 KTM 250SXF
Location: Glen Helen
Lens: 300mm
Focal length: 300mm
Exposure: 1/1600sec
F-stop: f/5.6
ISO: 800
Photographer: Daryl Ecklund
TWO-STROKE SPOTLIGHT: DENNIS REDDING'S 1987 CR500
"I have attached some photos of my "daily driver" 1987 CR500. I run a FMF Gnarly pipe and power core silencer, Excel wheels and powder coated hubs. The suspension is Race Tech gold valves in the rear with an Eibach spring. Front forks are either rebuilt stock with correct springs or I alternate to 2007 Pro Circuit A kit, although the stock stuff is more compliant." –Dennis Redding.
Editors Note: Please keep those submissions coming. If you would like your bike to be featured in the "Two-Stroke Spotlight," please email me at [email protected]. All I ask is that you give a breakdown of your bike and a detailed description of the build. Please also send a few photos of your steed. By submitting your bike for the "Two-Stroke Spotlight," you agree to release all ownership rights to the images and copy to MXA. Please don't email me spam or try selling me Taylor Swift concert tickets or email me spam. Happy submitting your smoker.
JEREMY MARTIN SIDELINED FOR THE 2019 SUPERCROSS & NATIONAL SEASON

MXA | MOTO | TRIVIA
Who is this rider?
2019 RED BULL KTM TEAMWEAR COLLECTION RELEASED
Press Release:  In conjunction with the recent unveiling of the KTM 450 SX-F FACTORY EDITION MY19, KTM North America, Inc. is pleased to launch its latest Red Bull KTM Teamwear Collection for 2019. Featuring the highest quality of READY TO RACE materials, the stylish co-branded lifestyle sportswear line allows KTM race fans to wear exactly what the pros wear every day and feel like part of the team.

Highlights from the 2019 line include the brand-new Red Bull KTM Racing Team High Performance Functional Jacket, which sports the team's official logo on the front left chest pocket, along with orange zippers and a quilt lined hood. Also brand new to the collection for 2019 is the Red Bull KTM Crew Neck Pullover Sweater and Button Down Long Sleeve Flannel, both featuring the perfect combination of style and function.

With 12 different hats – ranging from snapback, to curve bill and five unique beanie designs – the Red Bull KTM Teamwear Collection features a product for every KTM race fan. Other highlighted accessories include the Red Bull KTM Racing Team Backpack and the Red Bull KTM Racing Team Towel. 
It wouldn't be a Red Bull KTM Racing clothing line without the inspiration of its championship-winning team members. Marvin Musquin is highlighted on his own #25 Graphic Tee, derived from its READY TO RACE philosophy and featuring soft brushed blended material with an athlete-specific screen print on the front.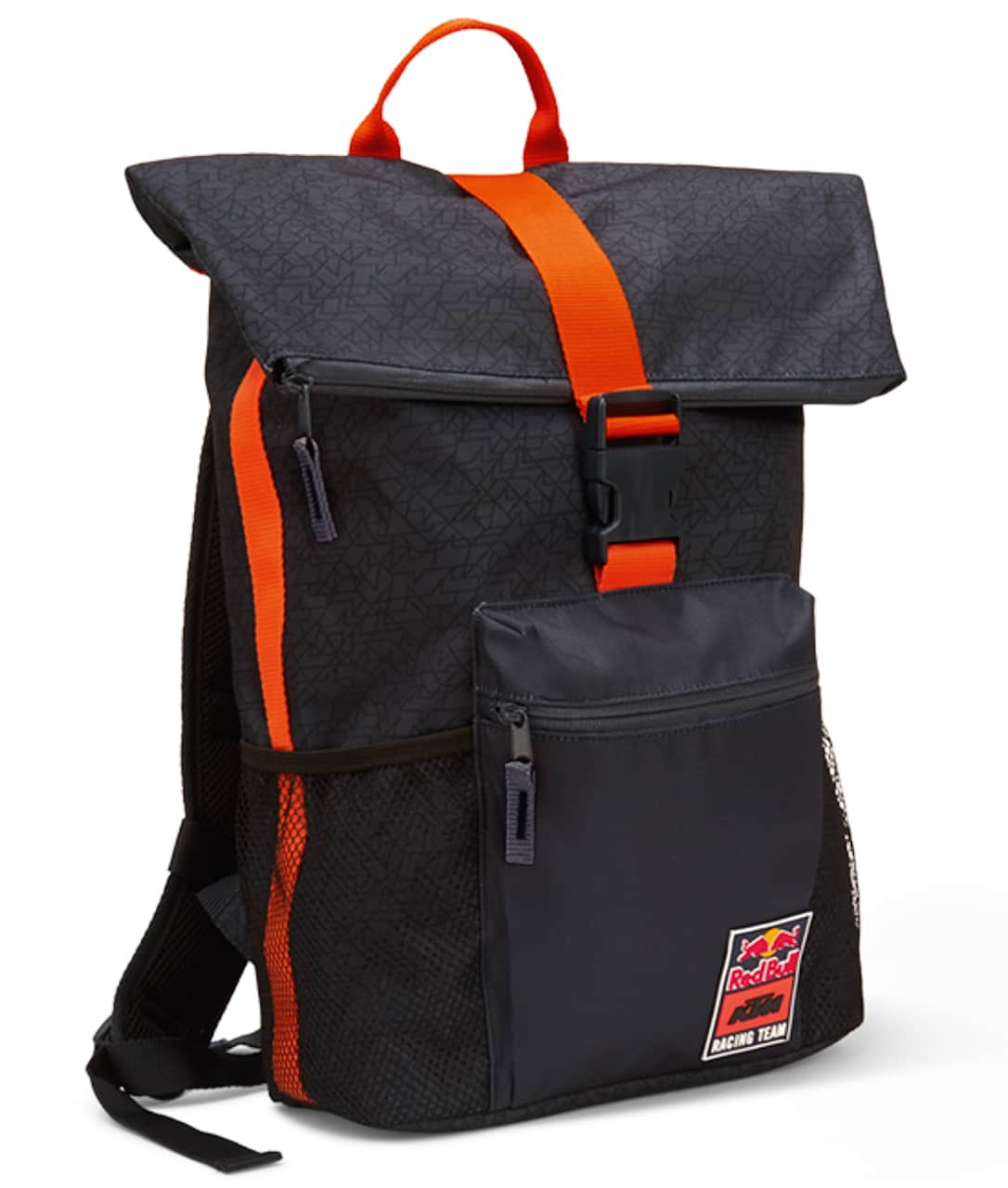 The complete 2019 Red Bull KTM Teamwear Collection is available now through local authorized KTM dealers. To view a complete list of KTM dealerships, please visit the KTM Dealer Locator and find the dealer location near you.
WHAT THE MXA WRECKING CREW IS UP TO
We had our chief test rider, Dennis Stapleton test the all-new 2019 Honda CRF250RX at Cahuilla Creek MX.
Dennis rode all sorts of terrain on the new offroad bike. 
Dennis doing mud testing.


MXA FIRST IMPRESSION OF THE 2019 HONDA CRF250RX
MXA'S 250 SHOOTOUT VIDEO SHOOT: THE STILLS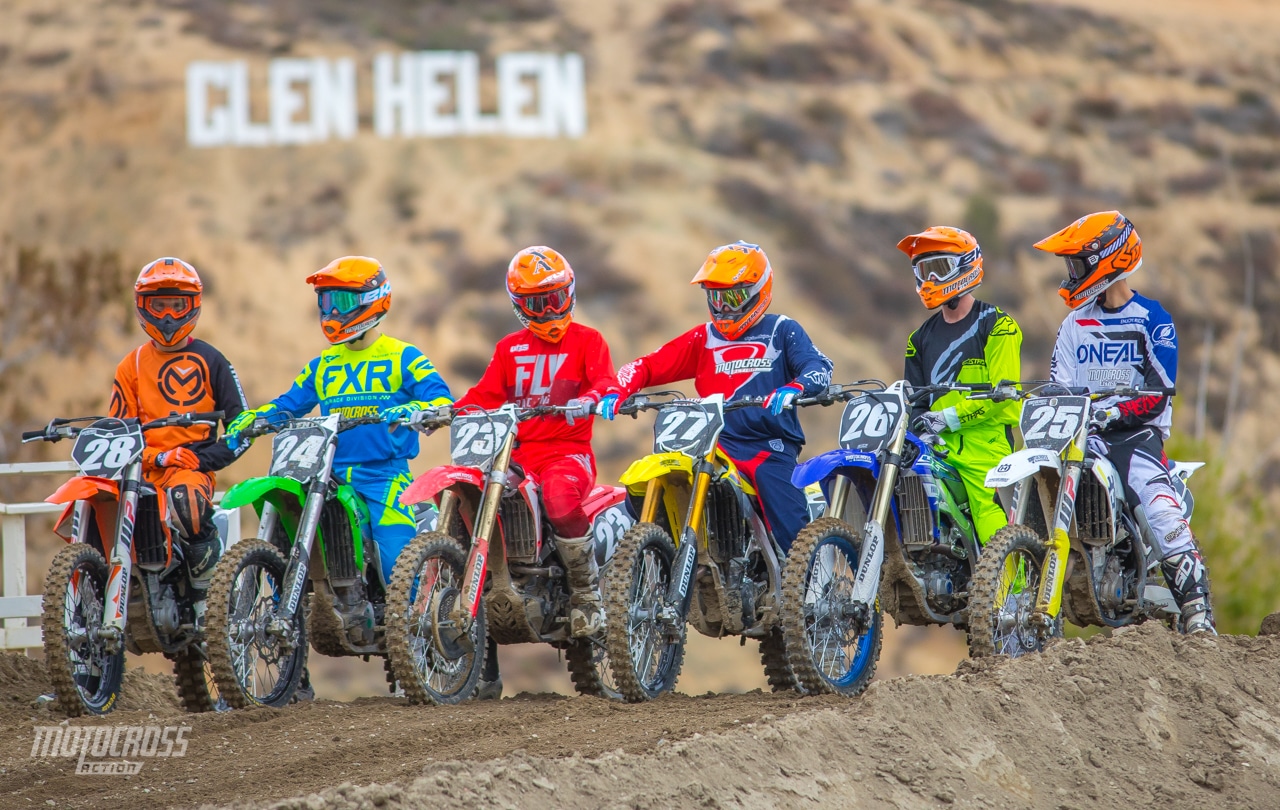 The 2019 MXA 250 shootout video is on the home page — these six riders did all the work, while Travis Fant did the directing and shooting. 
You don't have to wonder which bike will win the shootout—just go watch the video.

AARON PLESSINGER EXTENDS THOR MX CONTRACT
Press Release:  Thor MX is pleased to announce their continued collaboration with Aaron Plessinger as he transitions into the 450 division with the Monster Energy Yamaha Factory Racing Team. With a massively successful year in the 250 ranks aboard his Star Racing Yamaha machine, Plessinger is ready to prove his skills among the premier 450 class, in both Supercross and Motocross.
Plessinger's diverse skillset has helped propel him to the top of the 250 ranks and will continue to serve him well as he enters the 450 class. After a few seasons of cutting his teeth among some of the fastest 250 riders in the world, Plessinger found his stride in 2018, winning the West Coat 250 Regional Supercross Championship, as well as the 250 Pro Motocross title.
"I'm so thankful and stoked to be continuing my sponsorship with Thor," said Plessinger. "I love wearing the gear and I love all the people I get to work along side of. I can't wait to get started on the 450 and looking the best every time I'm on the track!"
As a graduate of the Star Racing program, Plessinger has been a Thor athlete since 2016, when the brand became the official racewear of the team. In addition to his riding ability, Plessinger's likeable character and unrivaled victory dance skills have made him a favorite among the fans. Aaron has been a huge asset to the THOR brand so far and the entire staff is looking forward to their continued support of the Ohio native.
"Thor Motocross can't be more excited to continue our relationship with Aaron as he turns a new chapter in his book while moving up to the 450 class. To see Aaron interact with the fans is just as fun as watching him on the track and we look forward to building a long standing relationship with AP" said Thor athlete manager, Andy Gustafson.
About Thor Motocross: Over the years, countless races and championships have been won by riders wearing Thor. Every product is a progression, a new step forward in design and performance. Always racing forward, always respecting our past, always focused on building quality products that exceed rider expectations. See what's new at www.thormx.com or call 858-748-0040
KTM 450SXF FACTORY EDITION & HUSQVARNA FC450 ROCKSTAR EDITION
2019 KTM 450SXF Factory Edition.
2019 Husqvarna FC450 Rockstar Edition. 

ROUND 6 AME AMATEUR SUPERCROSS
Perfect conditions met riders for round #6 of AME Amateur SX finals at the Glen Helen stadium with no wind and temperatures in the 70s making it a classic California day.
Northern California hot rod Alvin Hillan showed the SoCal boys the fast way around the track today racing with pure grit, strength and talent unmatched by any of the others in the 65cc Open and 65cc 10-11 class riders. Even though he had to work for his wins he did come out on top of both classes followed by Kelana Humphrey in the 10-11 class and Jaxson Butte in the 65cc Open.
A new face in the 85cc ranks saw a very fast Nathan Abbott use fast starts and intense sprint speed to dominate both 85cc 7-11 and 85cc 9-14 age groups. Keeping him from the hat trick was Peyton Marks who shut down Abbott's momentum by scoring the 85cc Open class.
In the battle of the PW class both Tyler Mauricio and Ace Donovan ran into bike issues during the week leading up to the final event. With the championship in the balance Mauricio had to figure out a broken frame while Ace turned his front forks into a pretzel. Both riders did what had to be done to race the main event with Mauricio taking his Del Amo Motosports backed PW50 to the championship with a 4th place finish—one better than Donovan who was 5th. Noah Luke who was supercharged with birthday cup cakes was a winner with Reed Sanchez scoring his best season finish in second and Shane Smith rounding out the top three.
After the races concluded all the riders were treated to an awards banquet sponsored by DSC Construction and Extreme Recycling out of Riverside, California. Winners took home gold cups and plaques to those who got the top three in each class. Supercross Futures provided SX tickets while both Dunlop tires and X-Brand goggles provided product awards.
The 2019 season will see the AME Amateur SX expand with a fresh and exciting new schedule which will be posted at www.ameminicross.com.
LOST BUT NOT FORGOTTEN | JAMES STEWART'S 2016 FACTORY SUZUKI RM-Z450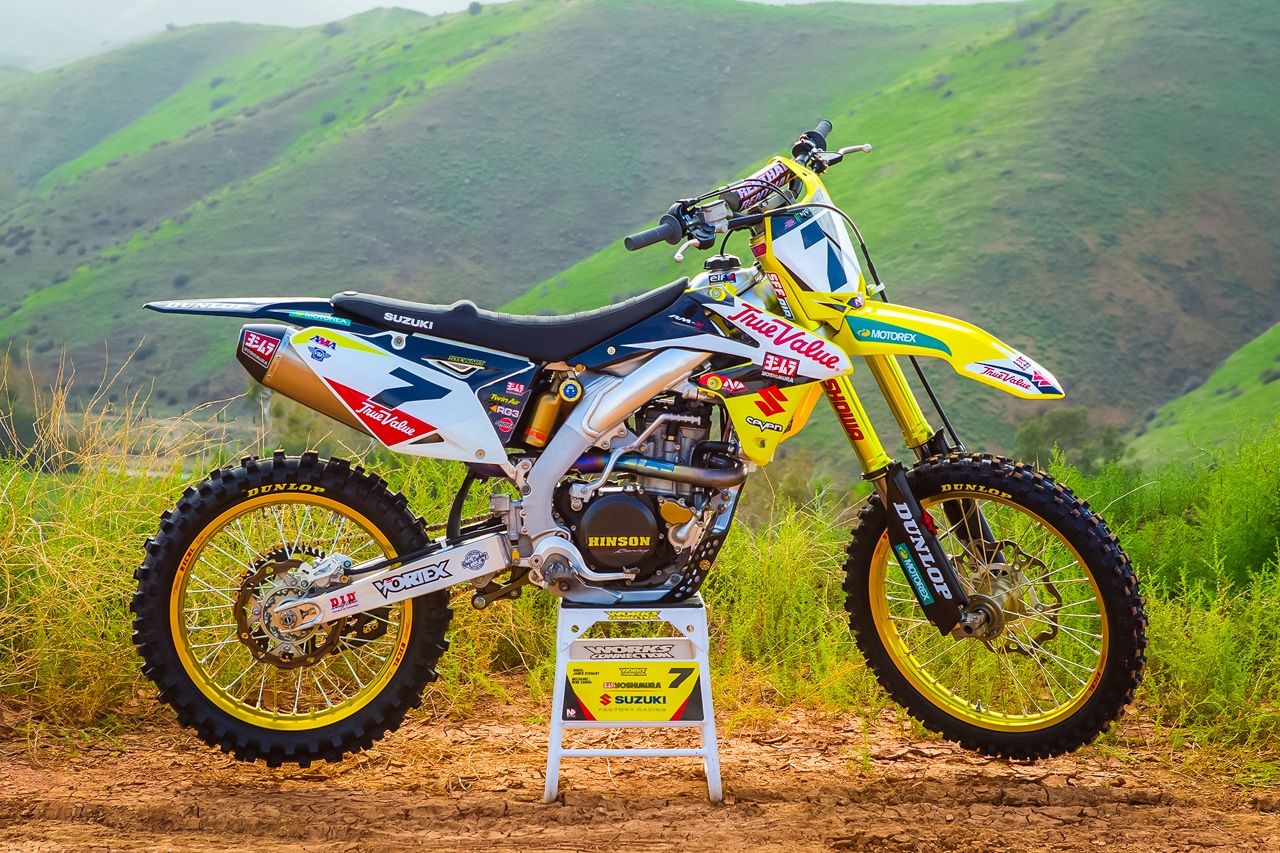 NIHILO GIFT CARDS

2019 HONDA SUPERCROSS TEAM
Honda's Factory 450 Supercross team for the 2019 season. From left to right: Jordan Troxell, Cole Seely, Erik Kehoe, Ken Roczen and Oscar Wirdeman. 
Kenny's bike up close and personal. 
Ken in action aboard his factory steed. 
Cole Seely shredding a corner. 
CLASSIC MOTOCROSS PHOTO
Christophe Pourcel during his Pro Circuit KX250F days dropping off of REM's Mt. Whitney hill during the Glen Helen National.
JOIN MXA'S SNAP CHAT FEED
If you are a Snap Chat user then add us to your stories. Get sneak peaks of everything moto. Our Snap Chat name is motocrossaction. Or just take a Snap of the picture above and it will add MXA automatically to your feed.
MXA'S HOLIDAY SUBSCRIPTION DEAL: ONLY $16.95 (AND WE GIVE YOU A $25 CHRISTMAS GIFT)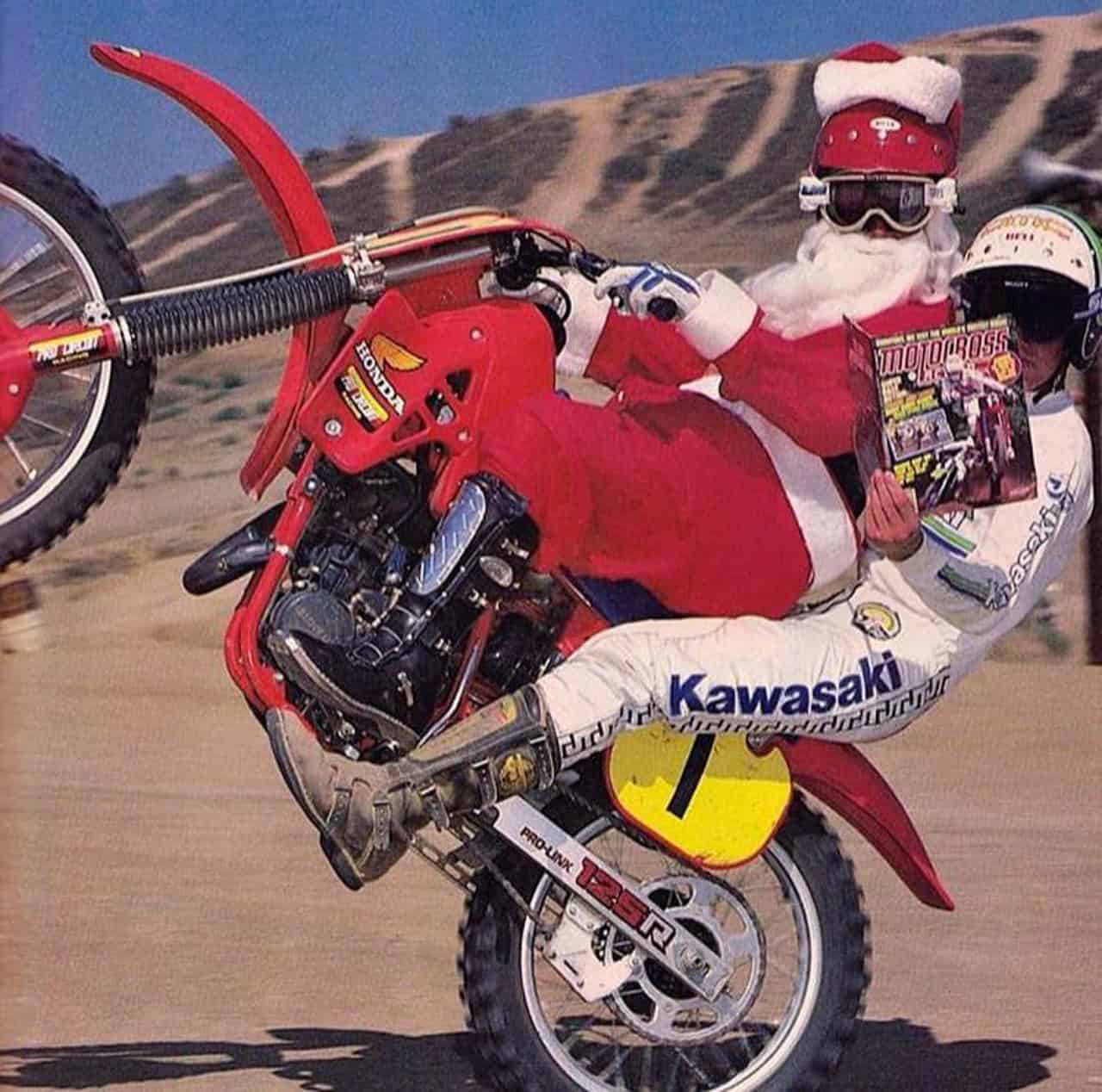 This year let Santa wheelie into your home with a subscription to the world's leading motocross magazine.
Right now, a subscription to Motocross Action Magazine is on sale for $16.99 just in time for the holidays. With that subscription you will receive a $25 Chaparral Gift Card to spend on whatever motorcycle parts or products you need. This is a deal that you will make money on. This is the lowest price for 12 issues of MXA. Don't miss it.
You can get  MXA on your iPhone, iPad, Kindle or Android by going to the Apple Store, Amazon or Google Play or in a digital version. Or,  you can call (800) 767-0345 or go to www.hi-torque.com/product/motocross-action-holiday or click on the box at the bottom of this page to subscribe.
MXA QUESTION OF THE WEEK WINNER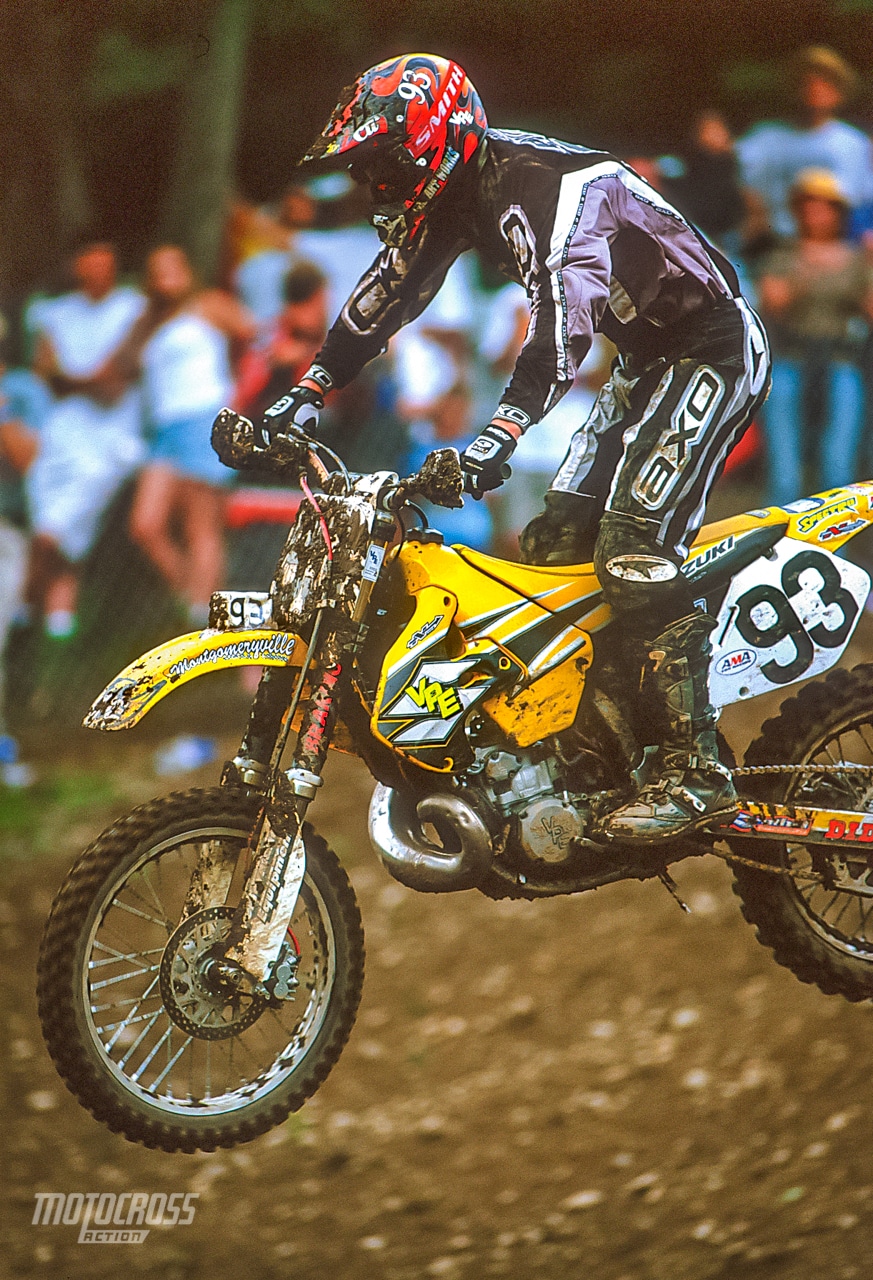 Who is this Suzuki rider? It is Damien Plotts from the 2000 National season. The winner of the contest is Christina Plotts. 

---
Moto Trivia answer: Mark Barnett.