FAST FREDDIE'S TIRE COMES OFF THE RIM MID-RACE AT PALA
FAST FREDDIE'S TIRE COMES OFF THE RIM AT 2021 AT FOX RACEWAY NATIONAL
In the latest Fast Freddie episode, we go behind the scenes with Freddie Noren at the 2021 Fox Raceway National where he loses his front brake in the second qualifying session after his fork seal goes out and then he has to call in reinforcements from Chris' wife to stop by AEO Motorsports in Temecula on her way to the track to get a new seal because the teams using WP suspension only have the factory 52mm cone valve forks while Freddie is using the standard 48mm cone valves forks and their seals wouldn't fit. Then, Freddie runs into another issue in 450 Moto 1 when his tire peels itself off the rim. With help from MXA's Josh Mosiman (who was supposed to be taking photos), and an athletic effort from mechanic Chris Cole who ran back to the pits for a spare wheel, Freddie was able to complete three laps in 450 Moto 1. His first moto result was 40th, but those three laps helped him adapt to the rough track in Moto 2 where he was able to score 17th place.
Popular privateer rider Freddie Noren is known for his time spent as a fill-in rider on factory Honda, for scoring top-10 finishes as a privateer and for his never-say-die attitude. In 2021, Freddie has been producing weekly behind the scenes "vlog" style videos to document his journey through the racing season with his videographer Chad Murray capturing the highs and lows of professional racing as a privateer. The MXA wrecking crew enjoyed watching his videos from Supercross and is happy to partner with Freddie for the Outdoor Nationals by hosting his videos on the Motocross Action Magazine YouTube channel.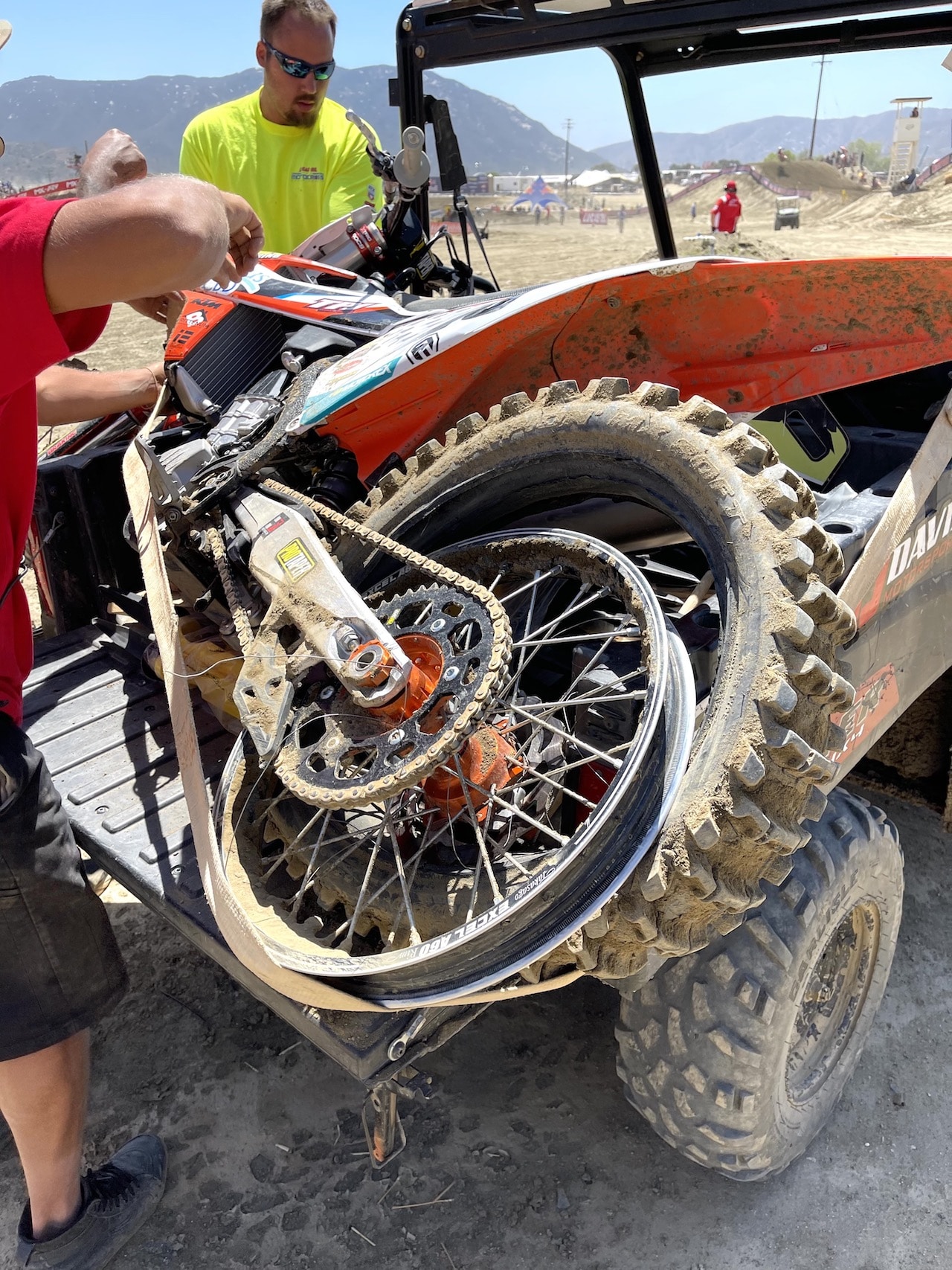 A closer look at the tire that pulled off Freddie's wheel.