FASTHOUSE PRESENTS MXA'S MID-WEEK REPORT BY DARYL ECKLUND


Fasthouse represents a lifestyle that is energized and full of passion for motorcycles and motorcycle racing. The Fasthouse mission is to represent that passion to its fullest; as designers of apparel, racewear and hardware, as promoters and creators of events and parties, and always, as the purveyors of good times. Find out more at www.thefasthouse.com.
FACEBOOK

PHOTO OF THE WEEK
Daryl Ecklund stretches over a monstrous jump in the North Carolina clay aboard an FTI/Cycra Racing KTM 350SXF.
ROUND 8 OF THE AMA MOTOCROSS SERIES AT MILLVILLE
250 MOTO 1 RD 8 MILLVILLE NATIONAL

250 MOTO 2 RD 8 MILLVILLE NATIONAL

450 MOTO 1 RD 8 MILLVILLE NATIONAL

450 MOTO 2 RD 8 MILLVILLE NATIONAL

DON'T MISS ROUND 9 LIVE IN WASHOUGAL THIS WEEKEND

MILLVILLE NATIONAL: YOU ALREADY KNOW WHO WON, BUT WHO LOOKED THE BEST WHILE DOING IT?
Josh Grant
Trey Canard
Matt Goerke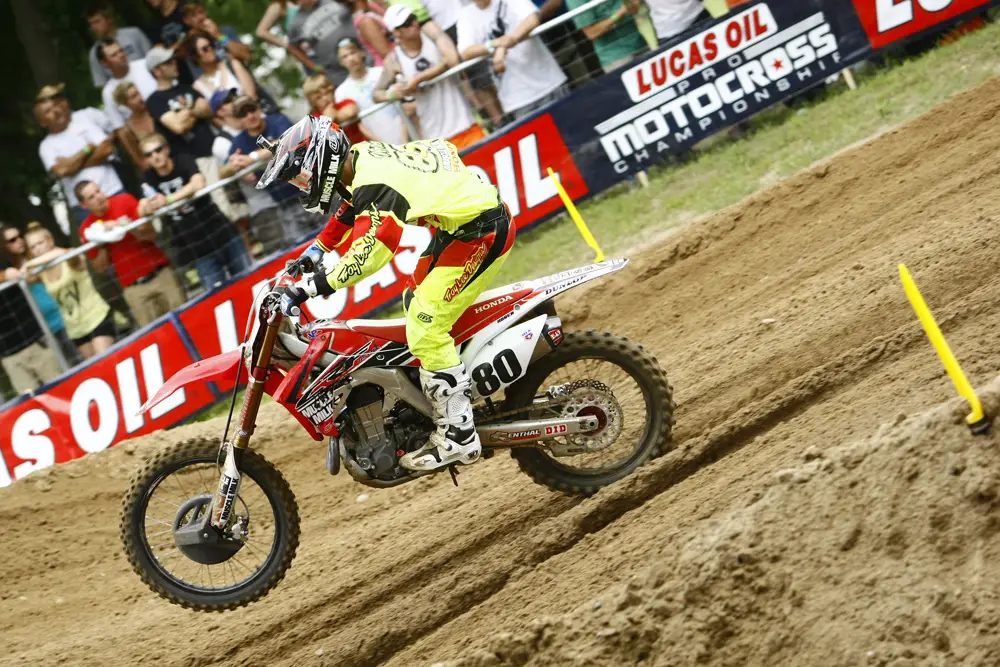 Fredrik Noren
Weston Peick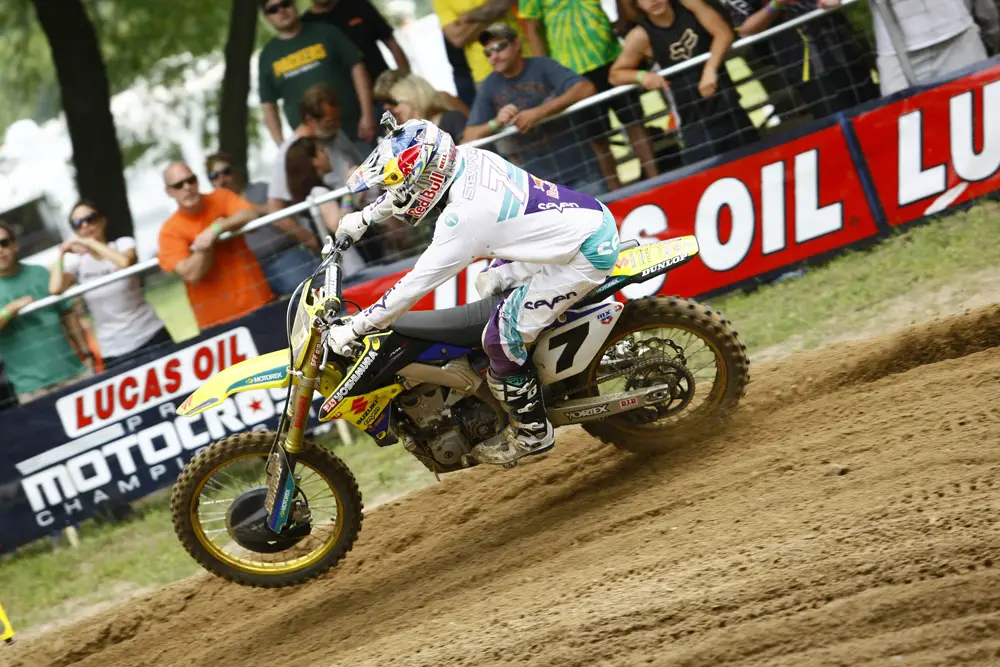 James Stewart
MINI-VIEW: ANDREW SHORT

By Jim Kimball
MXA: Andrew, I remember meeting you when you just turned Pro almost 15 years ago. Is this how you imagined that your race career would turn out?

Andrew: No, as a motocross racer there are just so many factors that can affect your career. I was so young back then, and quite far from "making it" on the Pro scene. Those early days were a lot of fun riding two strokes for the MotoWorld Suzuki Team. Overall, it has gone really well for me. I think that this is my 14th season now. I feel very blessed and pretty lucky.
After starting with Motoworld Suzuki, you joined Team Honda, and it appeared that you found a home there.
That was really a great time for me, and right when four strokes were making their debut. They were dumping a lot of money into the CRF250. It was especially cool as I went from basically a privateer team with a very small budget to a big factory team with a huge budget, and a lot of resources at their call. So it was a big change for me and it definitely helped propel my career to what it has become. I really enjoyed working with the people there, and learned quite a bit about the practicing and testing aspects of a professional racer. I was around guys like Jeremy McGrath, Ernesto Fonseca, and Travis Preston–all great riders that I learned a lot from just by hanging out with them watching how they approached different aspects of racing. Jeff Stanton was also a big influence with the team and myself back then too. I tried to absorb it all like a sponge. It was really cool because as a kid growing up I was always the one buying all the magazines and watching all the videos. Obviously, there was no Internet when I was a kid! For any kid to go riding with Jeremy McGrath or Ernesto Fonseca was a dream come true–and something that I will never ever forget.
During you long career at Team Honda, was it always good?
Well, there is good and bad in everything, right? Overall I have a lot of fond memories and am very appreciative of being there. The environment was definitely a lot more serious at Honda then at Motoworld Suzuki, and I approached things differently – as I should. Being 19 or 20 you are not in the most mature state of mind, but I have no regrets. When you ride with the same team for 6 years there is a lot of blood, sweat, and tears with the crew. Some of my best friends in the paddock were there, and even today I am still good friends with many of them. I am fortunate that some of them went to KTM. I think that everyone in motosports knows that the people that you surround yourself with is huge, and there were a lot of great people like Carlos (Rivera), and Frankie (Latham) that left Honda and went to KTM. So there were a lot of familiar faces and friends that went to KTM from Honda. The orange guys were making a big push, and we could recognize that.
You came so close to winning a couple championships there but just barely got edged out, how do you get past that?
I don't think that you ever get past that! 2006 was one of my most successful seasons; I came so close to winning the 250 West Supercross Championship. I later won the 250 East/West Shootout in Las Vegas, which was somewhat of a consolation. Then, that summer in the outdoor championship I was leading the points when I crashed with two rounds to go and blew out my ACL. Looking back on that time it was very frustrating, but as with any competitor, its all about how you adapt and move forward trying to learn from your experiences to make you not only a better athlete, but a better person. When my career is done in the grand scheme of things it will not really matter, and its not going to change me as a person. As an athlete, you always want to do your best and succeed. I feel that I have done that.
You have competed against such a wide variety of racers. Any one rider that really sticks out?
My biggest battles were probably with Tim Ferry. I always got frustrated with him, as he would always nip me at the end of the moto's. He was older, wiser, and stronger and I really wanted to beat him. I think of him as my strongest competitor. We were probably about the same speed, but he was tougher and smarter. I raced against a lot of great riders in my career. There were guys like Ezra Lusk, David Vuillemin, Sebastien Tortelli and even Jeremy McGrath on two strokes – along with James Stewart and Ricky Carmichael. But now it's a whole different group. Like you said, the variety of riders that I raced against was huge. I'm older now, and the speeds and techniques of riders have changed a lot. I'm glad to have been a part of all that, and to have a career that has lasted this long.
You are considered a great guy, but earlier in your career some thought you were pretty aggressive. Wasn't it James Stewart that nicknamed you the baby-faced assassin?
I may have not made the smartest decisions all the times I was racing, but I always gave it a 100% effort. Maybe I got a little bit carried away back in the days that I was racing Broc Hepler and people like that. It probably wasn't the smartest way to race but you live and learn. I always try to race people the same way that I expect to be raced. Sometimes things happen on the track that you don't intend to happen. Of course it's scary at times, but that's racing. We are all competing for the win, especially if it's the last lap and last corner! There were often times that Hepler and I made contact. We got carried away, but we had a strong desire to be the best that we could plus we were a lot younger.
And now, similar to your Honda days, it seems as if you have again found a home at BTO KTM.
For sure, I have been very fortunate to join this team and be involved with the people here. They helped me at a time when it was very difficult for me with some things not panning out as I envisioned–or maybe the way everyone envisioned it. It's been cool to land here. I'll be back here next year and I'm looking forward to that. Now that I am getting older I appreciate everything that goes into racing, all the resources, and the manpower; let alone the money that it takes to race at this level. I know this wont last forever.  I'm just trying to enjoy it all, and it's definitely cool to be a part of this program with BTO and KTM.
So you are coming back for 2015, but what about after that?
After some days this summer like when I went 5- 5 at Red Bud; I feel like I can ride for a while, but next year could be my last year – I don't know. I'm just trying to have fun, and don't want to think about retirement yet. These opportunities don't come along very often, and to have a career this long is amazing. If it continues more, after next year, then so be it. Or if it transforms into being another part of this team, so be it. I don't know what's on the horizon. I believe that life is full of different chapters, and that this chapter of racing has been really cool. Maybe one more year; maybe more?
DELTRAN BATTERY TENDER
Press Release: DelTran Battery Tender has launched The Battery Tender Junior Lithium! Programmed specifically for Lithium Iron Phosphate (LifePO4) Batteries. The new Battery Tender Junior Lithium charger is designed for charging and maintaining all Lithium Power Sports Batteries. The California compliant high efficiency 12v @750 mA charger provides the correct lithium specific 5-step charging sequence ensuring peak performance from your Li battery. DelTran's engineering team is constantly looking ahead; with the Lithium Battery Technology making a push we wanted to offer a complete line of batteries and chargers for our customers. Now Available at www.batterytender.comor call 386-736-7900. MSRP: $39.95

RED BULL

X-FIGHTERS GERMANY OVER WATER!


#MXA
TALKS

INSTAGRAM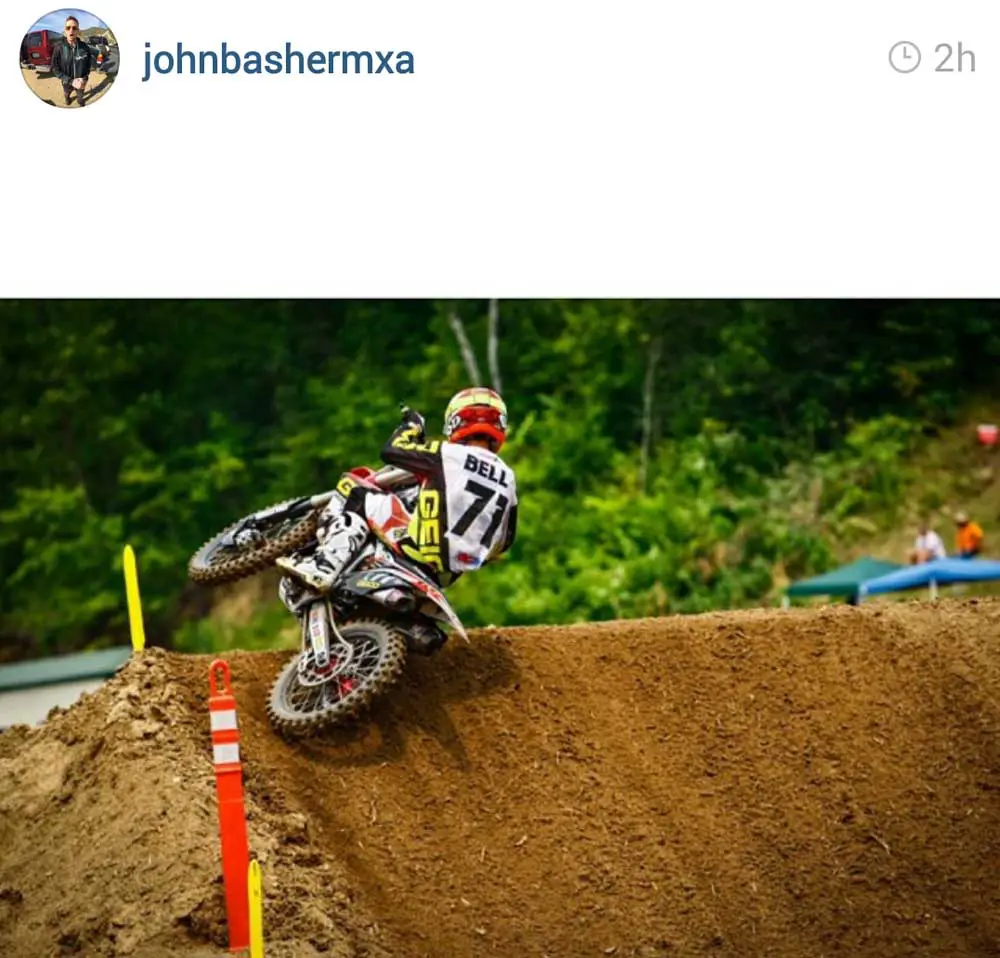 MXA's own John Basher gets a scrub shot of Zach Bell at the Millville National.
#daretobedifferent
TP199 gets his chest signed by legend skateboarder gone Rallycross' Bucky Lasek.
FMF founder Don Emler in the 70's making sure to get his sticker placement.
How many Championships combined do these legends have? (Ricky Carmichael, Stefan Everts, Jeff Stanton)
Hanny's #1 girl. His dog Marilyn.
Ronnie Renner's turn downs are a thing of beauty.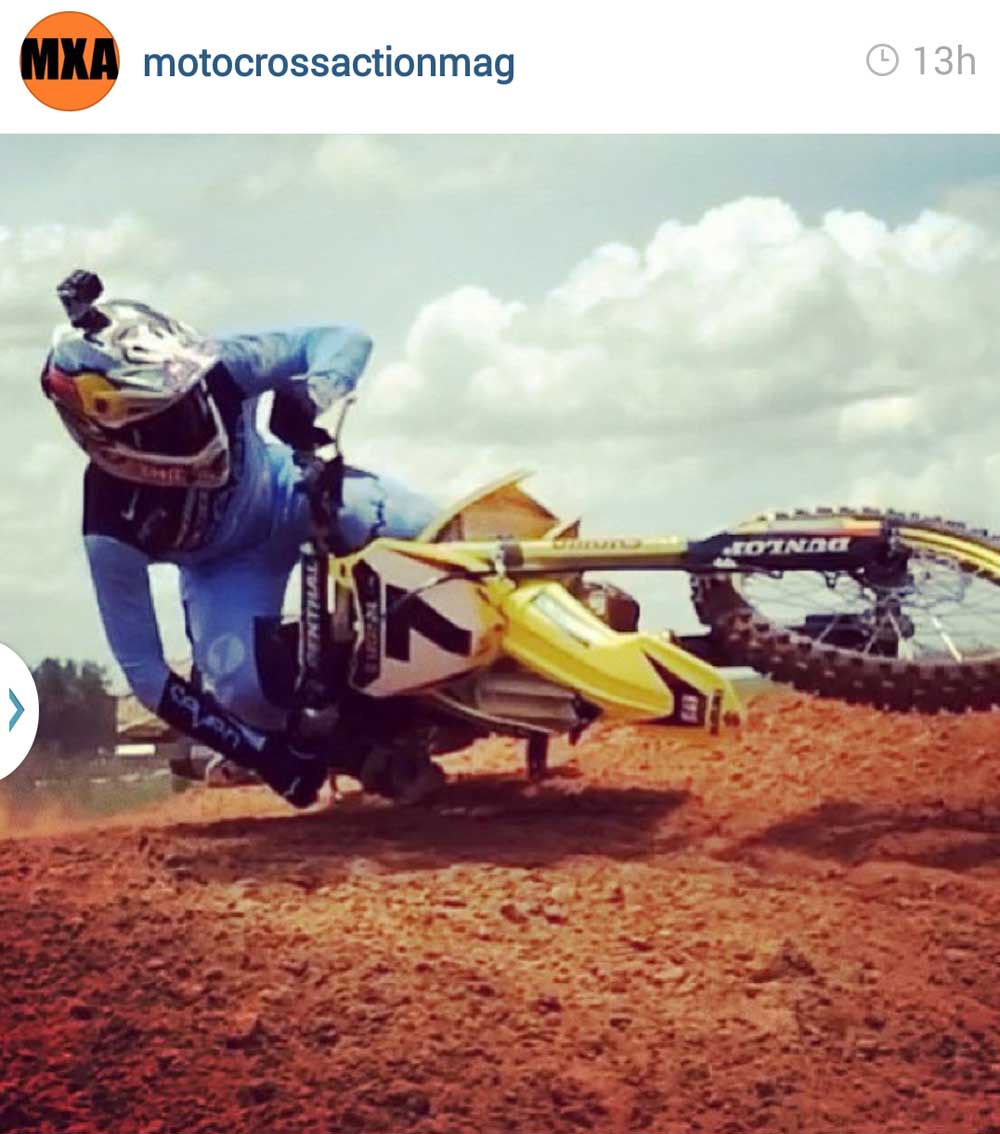 Bubbascub™
ON BOARD AT GLEN HELEN RIDING THE 2015 YZ250F

FROM THE MXA ARCHIVES
Fades of the past. The streamer on the helmet looks somewhat like an artificial ponytail. Soon, the kids of the future will be wondering what we were thinking of the styles of today.
OAKLEY & KTM TEAM UP
Press Release:  Made exclusively for KTM by Oakley. This premium offroad goggles offers 3-layer, fleece-foam lining for moisture-wicking and comfort. Large, fog-free technology lenses for max vision. Lexan glass with 100% protection from UVA, B and C. Solid O-Matter strap connections and flexible O-Matter frame and comes standard with 7 tear-offs and 2 lenses.