MXA'S FATHER'S DAY SPECIAL: "MY FATHER SAW ME RACE" BY TOM WHITE

The late Tom White in his "Early Years of Motocross museum."
BY TOM WHITE

Every time I read Jody's story about his father missing the opportunity to see his son race, I think about my dad. A little history if you will. When my mom – Dorothy – was pregnant with twins, and after years of spousal abuse, she got a divorce and we (my brother Dan and I) were born without a father in our lives. That would change in a couple of years.
My mom, a registered nurse, met a wonderful man at the doctor's office that she worked at. He was an accountant and was recently divorced after 20 years of marriage to a woman that said she was tired of being married to a "fat man!" His name was Fritz and the already father of two children from that first marriage. For whatever reason, he loved my mom and loved the idea of raising twin boys that weren't his.

Tom White (80) racing at Golden Gate Fields.
By the time we turned three, we had a father! Fritz was a "Jack-of-all-trades" and a master of none, but we never felt poor. For most of our adolescent years, my dad would do his accounting work out of our home and my mom would help him struggle to balance the check book — both ours and his clients. Heck, I even learned how to operate an Olivetti calculator at an early age. Wow, I didn't realize that this would help shape my future.
Just so you know, my mom was 35 and my dad Fritz was 41 when they married, so they were a little older than some newlyweds. My dad wasn't a very athletic guy, he sometimes struggle playing baseball with Dan and I, which was our favorite activity. But, he sure tried hard and he was always there for us. Mom and dad never missed a Little League baseball game, one of my wrestling tournaments, my high school orchestra concerts, nor the opportunity to tell Dan and I that they were proud of their boys. The message from my parents to us was always that you can accomplish anything that you want in this life and our family life was based on a strong belief in God's importance in our lives.

Tom (left), his XR750 and his dad Fritz (right) at the Colby, Kansas, dirt track back in 1974.
My father's connection with motorcycling dated back to the late 1920s when he had a delivery route in Kansas City, Kansas, on an Indian Scout. Not sure that had much to do with Dan and I racing motorcycles, but mom and dad supported our decision to start racing. But not financially. We learned from an early age that if we wanted something, we had to work to get it. I don't remember ever not working! Mowing lawns, paper routes, soliciting, etc.; all this before I was 12 years of age.
As the years went by, my skills on a motorcycle would improve, and I got my Pro license as an AMA dirt track and road racer. I thought of myself as a rising star as I raced at Ascot, San Jose, Houston, Indianapolis, Peoria, Laguna Seca and most of the major Grand National tracks .My dad Fritz was always with me and supporting me.
I remember a couple of races in particular. In 1973, my first year as a Expert racing the San Jose half-mile on my Triumph, I had a really tough day. I rode as hard as I could and still finished poorly in the semi-final and didn't make the National final. I couldn't have been more depressed until my dad said, "Tom, you were one of the best riders out there today. The bike setup must have been off. I'm proud of you!" This was typical Dad, never criticizing and always supportive.

Tom at Laguna Seca Grand National road race in 1973.
Another event that stands out is racing the Indianapolis Mile and clipping a hay bale at over 100 mph, repairing the bike until 1:00 a.m. and then my dad driving us to Sedalia, Missouri, for a mile dirt-track the next day. I kept complaining to dad as I tried to sleep in the back, "Can you stop hitting every pothole on the road?" We arrived seven hours later just in time for practice and the track was pretty sketchy. They had raced sprint cars on the track the night before and coming into turn one  — you'd go from slick, to super traction and then holes.

Tom at Ascot sliding his Triumph in 1973.
I don't know what it was, but I didn't feel right and seemed to hear a knocking sound at the end of the back straight at 120 mph plus on my Harley-Davidson XR750. I told my dad that I heard something strange at top speed. He said, "Tom, I don't like what I see at this track and I think we should pack it up!" Good advice from dad as one of my friends was killed later that day.
In 1975, I started my company, Tom White Cycle Specialties, with my dad Fritz as the bookkeeper and gopher (you know — go for this and go for that). He helped me negotiate the lease on the building, assembled racks for storage, and answered the phone. He and my mom would also eventually convince my brother Dan to leave his job at Kawasaki and join me to become "White Brothers Cycle Specialties."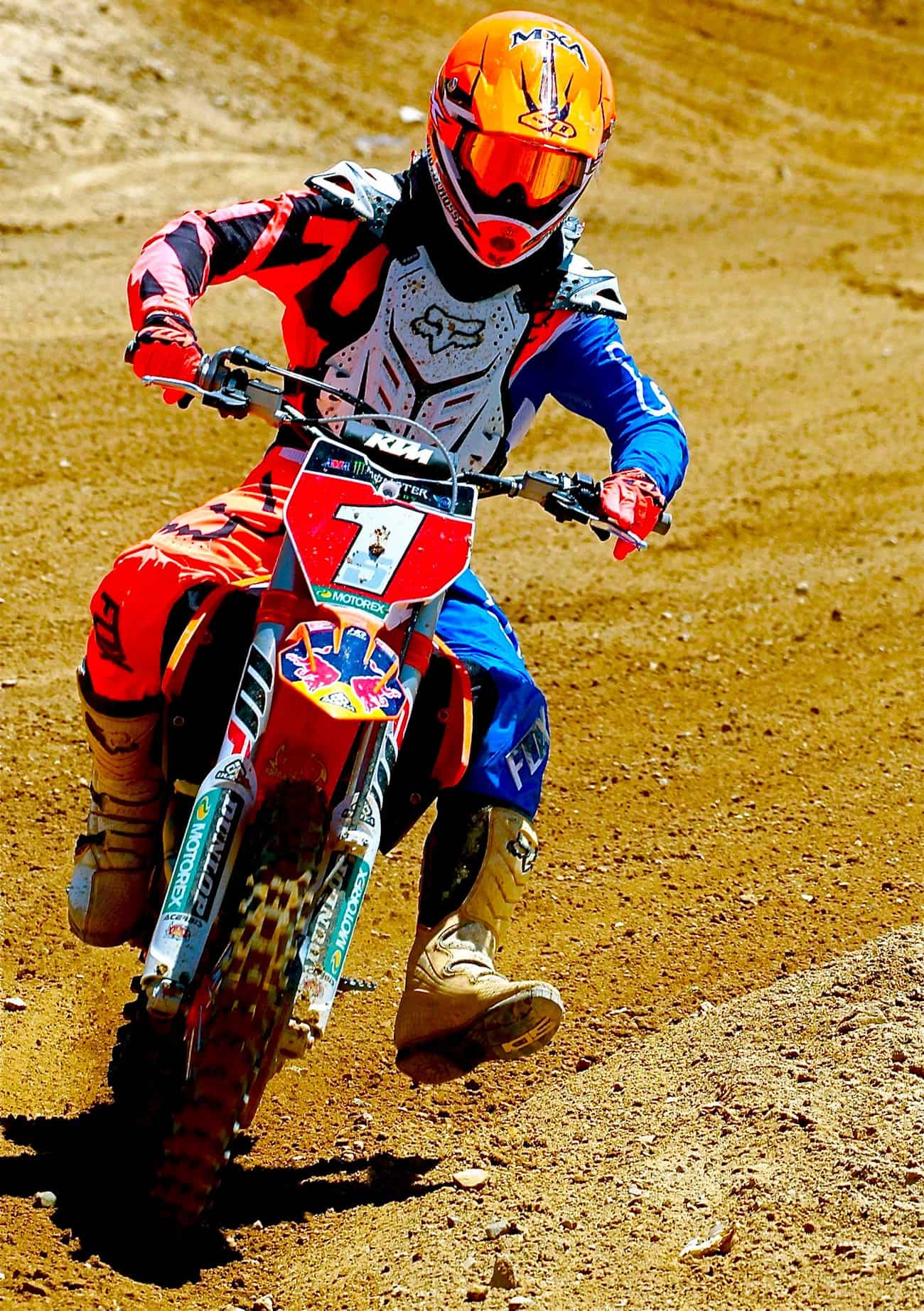 Tom White (80) at his last motocross race before passing away from cancer in 2017.
Just a year after starting the company, my father would pass away. I'm sure my dad would be proud of the company we grew and the man I've become. And he should be proud because what I learned most from him was what a real father really was. And though he wasn't around when I was born, he is still with me today!
A note from Jody: Tom White's contributions to the sport are immense and resulted in Tom winning the AMA's Dud Perkins Awards, the Trailblazer's Dick Hammer Award and  induction into the AMA Hall of Fame. The successful businessman, race promoter, announcer, museum owner and life-long racer was one of the nicest guys you'd ever meet. But behind Tom's public personna was a dedicated and loving father, something he obvious learned from his dad Fritz. And even though Tom isn't hammering out laps with his old racing buddies anymore, he's still with me today.