FELD ANNOUNCES NEW SUPERCROSS SEASON UPDATE: 7 MORE ROUNDS LATER IN THE YEAR

FELD ANNOUNCES NEW SUPERCROSS SEASON UPDATE: 7 MORE ROUNDS LATER IN THE YEAR
This is great news! We don't have any dates or locations yet, but at least we can now confirm that the 2020 Monster Energy Supercross is not over and it will go on! First, the UNLV and Rice-Eccles Stadiums in Las Vegas, Nevada, and Salt Lake City, Utah, posted on their websites that the races on April 25th and May 2nd were canceled and they were handing out refunds for tickets already bought. Now, FELD Entertainment has broke the news that the rounds are canceled, but they have also confirmed that the season is not over yet. The final seven rounds of the 2020 season are now scheduled to be completed later in the year, although when and where they will be racing has not been determined. We recently interviewed Alex Martin and he said that he hopes fans will come out in droves once we are back to racing and we hope the same. Read the official words from FELD Entertainment below:
Feld Entertainment press release: "The 2020 Monster Energy AMA Supercross, an FIM World Championship, is now scheduled to complete rounds 11-17 later this year. The race locations and dates have not been finalized.
The following Supercross events have now been cancelled due to this change. Event ticket refund information can be located on the venue or ticketing website:
April 25 in Las Vegas, NV at Sam Boyd Stadium
*Includes Sunday Supercross Futures Cancellation
May 2 in Salt Lake City, UT at Rice-Eccles Stadium
*Includes Sunday Supercross Futures Cancellation
We value you as a fan and appreciate your patience and understanding during this unprecedented time, we look forward to dropping the gate again soon. Continue to visit SupercrossLive.com for real-time updates."
WILL TOMAC & ROCZEN BATTLE AGAIN? YES!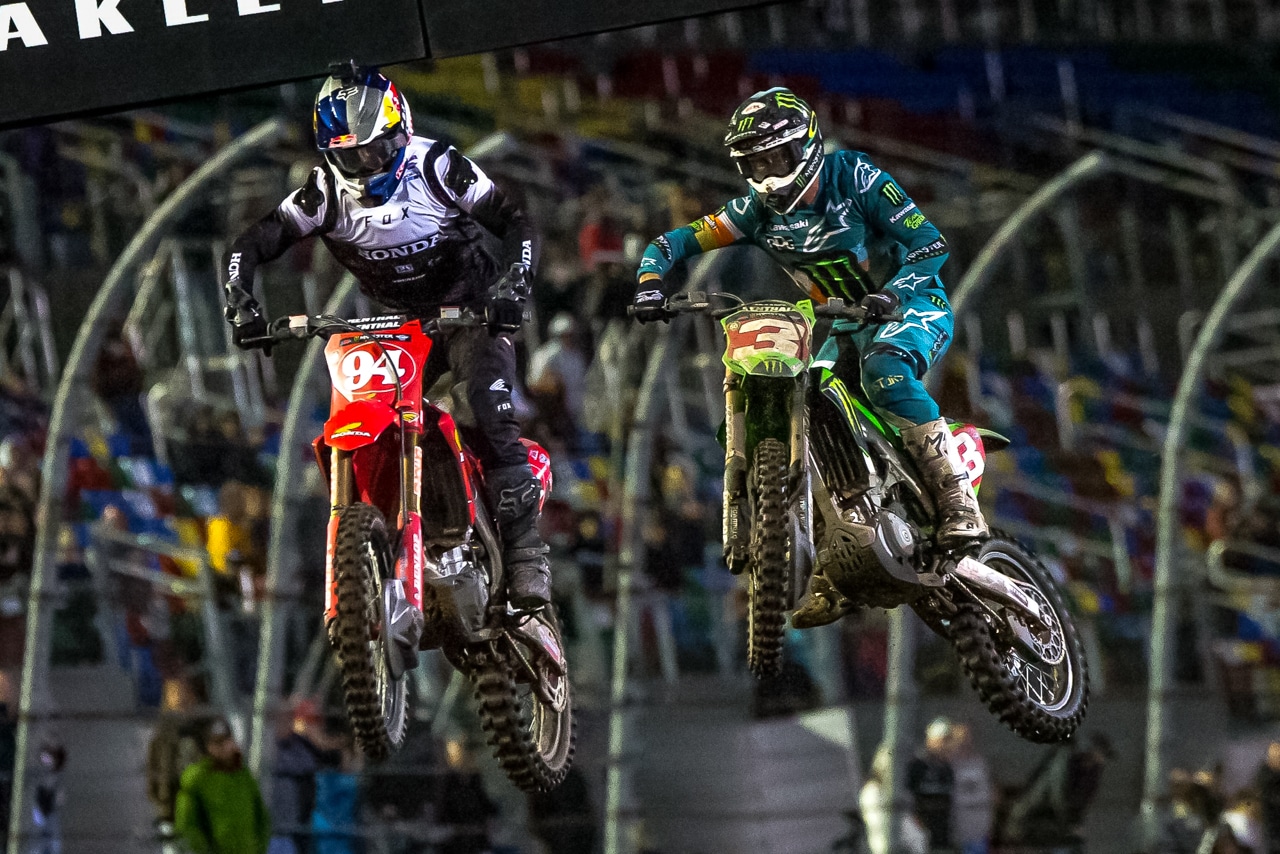 We are happy to hear that Eli Tomac, Ken Roczen and the rest of the riders will have seven more rounds to continue fighting for the 2020 Monster Energy Supercross Championship.