FIRST LOOK! 2011 HUSQVARNA TC449 MOTOCROSS BIKE PHOTOS & SPECS:

The side panels and rear number plates are all one piece.


The frame is chromoly steel with the gas tank where the airbox would normally be and the airbox is behind the steerer tube (where the gas tank would normally be). The gas cap is located at the rear of the seat. The white plastic box behind the engine is an additional gas tank. The countershaft sprocket is in alignment with the swingarm pivot.
2011 HUSQVARNA TC449 SPECIFICATION


Unlike typical rising rate linkage bikes, Husqvarna put the linkage on top of the swingarm.

The 48mm forks and piggyback shock are from Kayaba.


Fuel injection chores are handled by a 46mm Keihin system.

The laid-down engine has the clutch mounted on the end of the crankshaft (a la Hodaka)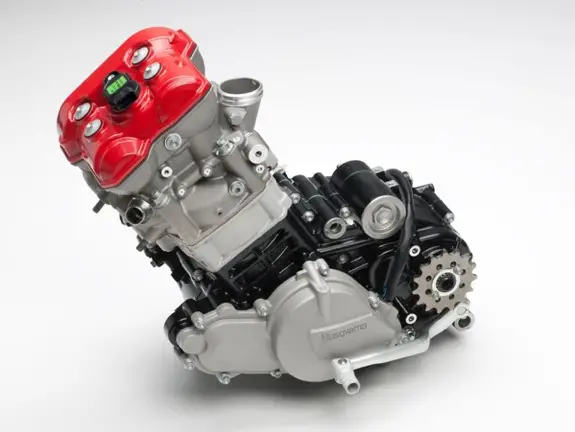 The engine is made at a BMW factory in Taiwan and has been modified since it was first used in the BMW 450X model.


Equipped with an Italian frame and brake, German-subsidized Taiwanese engine, Japanese fuel injection and suspension components and a Slovenia exhaust, this is truly and international machine.