FIRST LOOK! 2017 HONDA CRF450 & CRF250
2017 HONDA CRF450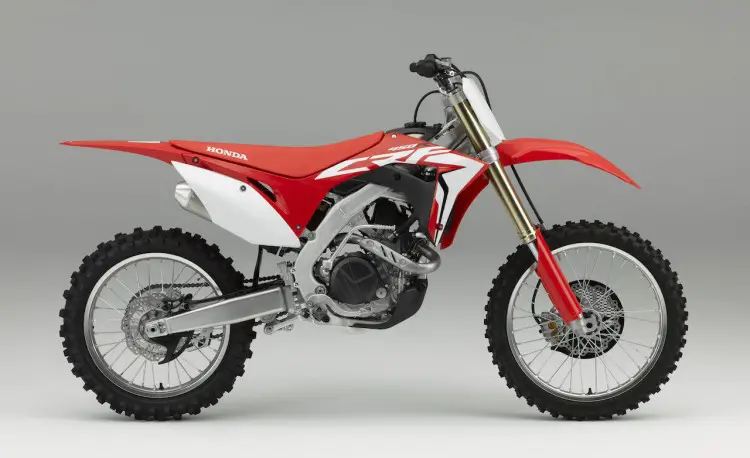 The big question is, does the 2017 CRF450R come with electric start? Yes and no. If you are willing to spend around $650 for the optional electric starter kit (not including the battery) and pack on around eight more pounds, then you're in luck. 
The 2017 CRF450 is all new-from-the-ground-up. A new Unicam engine offers increased power and torque across the rev range, thanks in part to an ultra-direct downdraft air intake, steeper valve angle and twin exhaust system with smoother routing. The chassis boasts new geometry and packaging that results in a more concentrated, lower center of mass, helping to get the power to the ground, maximize stability and improve cornering performance. The lighter aluminum frame has a narrower cross-section and a lighter, extruded aluminum rear subframe. The motorcycle is equipped with a coil-spring 49mm Showa A-Kit fork, while the rear suspension comprises a lighter swingarm assembly and a shock with a lower mounting position. Dunlop Geomax MX3S tires come standard, and the CRF450 is the first mass-produced motocross bike ever to come with a titanium fuel tank. The weight is said to be 233 pounds, which is the same as last year. The chassis lost weight, while the spring forks added. Electric start is available as an option for around $650, although that does not include the battery. The same electric stater comes standard on the 2017 CRF450RX
Price: TBA (rumor is it will be the same price as the 2016 model which was $8699)
Availability: October 2016
More info: http://powersports.honda.com/2017/crf450r.aspx
The rear shock has been lowered so the airbox doesn't have to go around the shock rather than over it. This allows for a straight downdraft from the airboot to the intake. 
Engine/Drivetrain
Downdraft intake layout increases power by reducing resistance, improving air-charging efficiency.
New combustion chamber with higher compression ratio, decreased valve angle for greater efficiency.
Use of finger rocker arm allows increased valve lift while retaining compact Unicam layout.
Coils on valve springs have oval cross-sections to allow low engine height.
New port layout with straighter flow for increased efficiency.
New piston with improved combustion efficiency.
Diamond-like carbon (DLC) on piston pin, rocker arm reduces friction, increases durability.
When in the nude, you can see just how short the upper rear of the bike is. From this picture you can see the titanium tank, 39mm lowered shock and elevated airbox. 
New, compact dual muffler with more-gradual pipe bends for smoother exhaust flow.
Shallower clutch assembly with fewer, thicker plates for narrower engine width.
Kick start standard, with electric start available as an accessory.
This image shows both the outline of the 2016 (green) and 2017 (red) CRF450. As you can see, the rear end of the bike has been shortened over a half inch. 
Chassis/Suspension
New layout allows improved traction through concentration of mass, lower center of gravity.
New, lighter sixth-generation aluminum twin-spar frame with revised geometry; allows improved cornering performance through reduction of torsional stiffness (lateral stiffness is unchanged).
New, lighter swingarm assembly with increased vertical and lateral stiffness.
Without having to mount the airboot around the shock, Honda engineers were able to center the shock in the swingarm. Last year it was 5mm off axis, as shown in the picture.
New rear-suspension location lowers center of gravity.
Narrower cross section (down 30mm at radiator shrouds).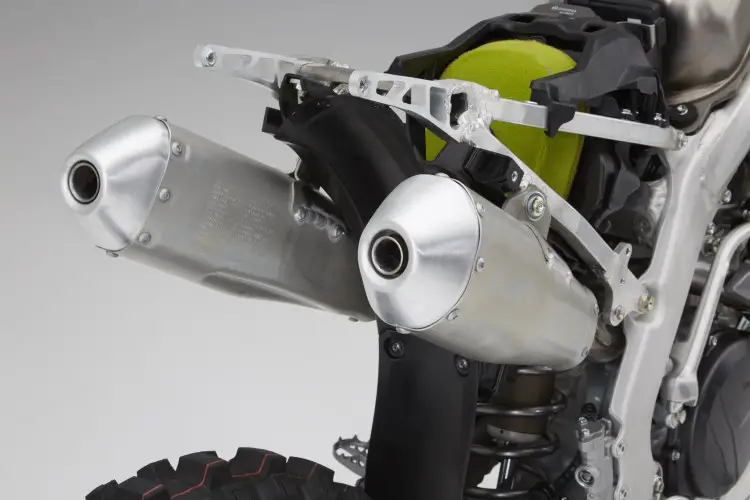 The patent pending aluminum extruded rear subframe allowed for a 200 gram weight savings. 
Aluminum rear subframe with extruded gussets for lighter weight.
Showa fork is now 49mm (up 1mm), with coil springs replacing air system.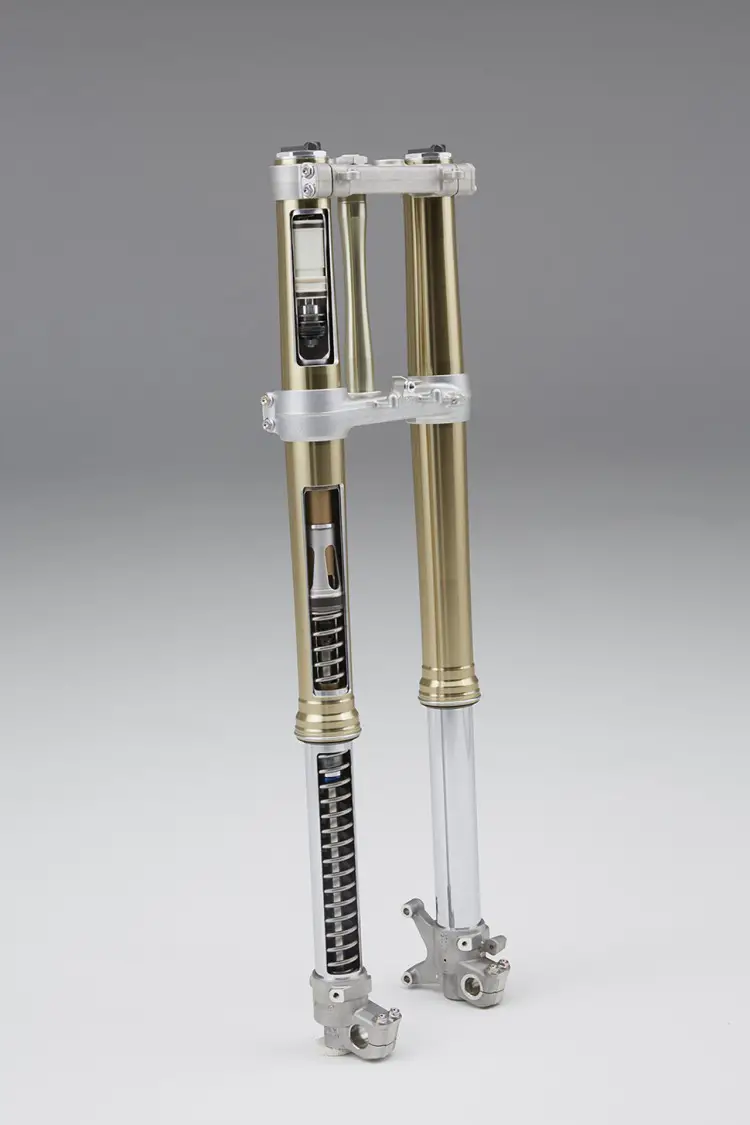 Honda asked their customers what they wanted most, air forks or spring forks. The consensus voted for spring. Not only are they Showa 49mm spring forks, they are as close to A-Kit forks as you can get, save for the DLC coating.

New, lighter titanium fuel tank.
Kill switch/ignition-map-adjustment switch combined into one unit for reduced weight.
The switch assembly is now the map switch and kill switch in one.
Dunlop Geomax MX3S tires.
Plastic bodywork with smoother layout and film-insert graphics for improved appearance and durability.
New front fender shape allows more-efficient air path to radiator.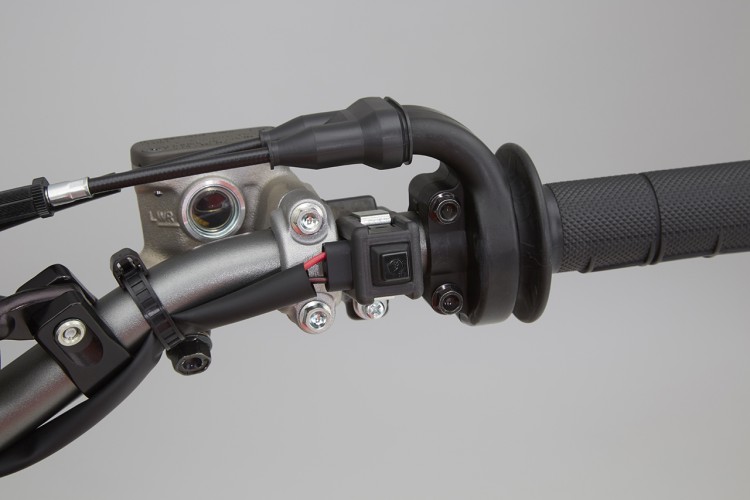 If you want the optional electric start, it will cost you. Honda leaves figuring out which battery to buy up to you. 
This is the CRF450RX with its seat off. If you buy the electric starter kit for the CRF450 (which comes standard on the CRF450RX), this is what it would look like with the kit installed. 
2017 HONDA CRF450RX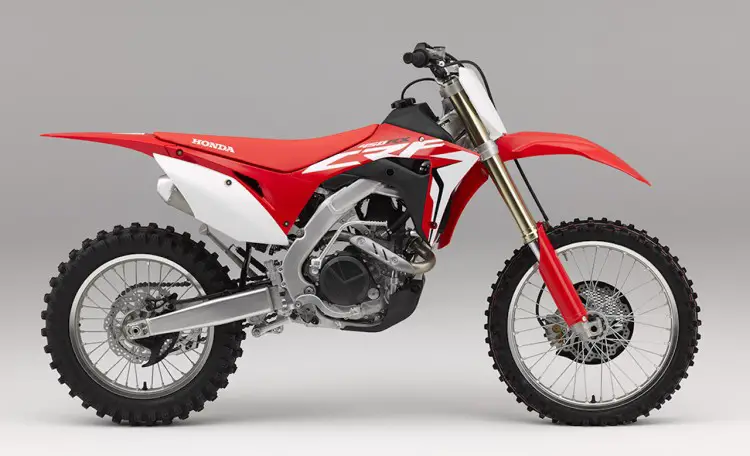 Honda's all new offroad model features the same chassis and engine as the CRF450R. A few differences are its kickstand, over-size gas tank, 18 inch rear wheel, ignition map and electric start. 
As a brand-new model, Honda's CRF450RX boasts most of the features of its motocross-directed sibling, but in a package that's designed for closed-course off-road riding and racing. Among the features that distinguish it from the CRF450R are a smoother ignition map and standard electric start (with kick-start backup), while chassis differences include off-road-focused suspension settings, a revised cylinder-head hanger and changed wheel hubs and axles. The CRF450RX also comes with off-road-appropriate components like a larger plastic fuel tank, forged-aluminum side stand, 18 inch rear rim and Dunlop Geomax AT81 tires, making it the ultimate weapon for events like those in the GNCC series.
Price: TBA
Availability: December 2016
More info: http://powersports.honda.com/2017/crf450rx.aspx
2017 HONDA CRF250
Look familiar?
The bike remains exactly the same for the 2017 year. We can't even include BNG on the list. Change or no change, this is the bike Malcolm Stewart took to the 2016 AMA Supercross 250SX East Region title. The high-compression 249cc Unicam comes with an engine-mode-select button that allows for three different power maps: Standard, Smooth and Aggressive. Custom maps can also be created with the available HRC tuning tool.
Price: $7599
Availability: August 2016