FIRST LOOK! 2018 HUSQVARNA MOTOCROSS BIKES
Click on images to enlarge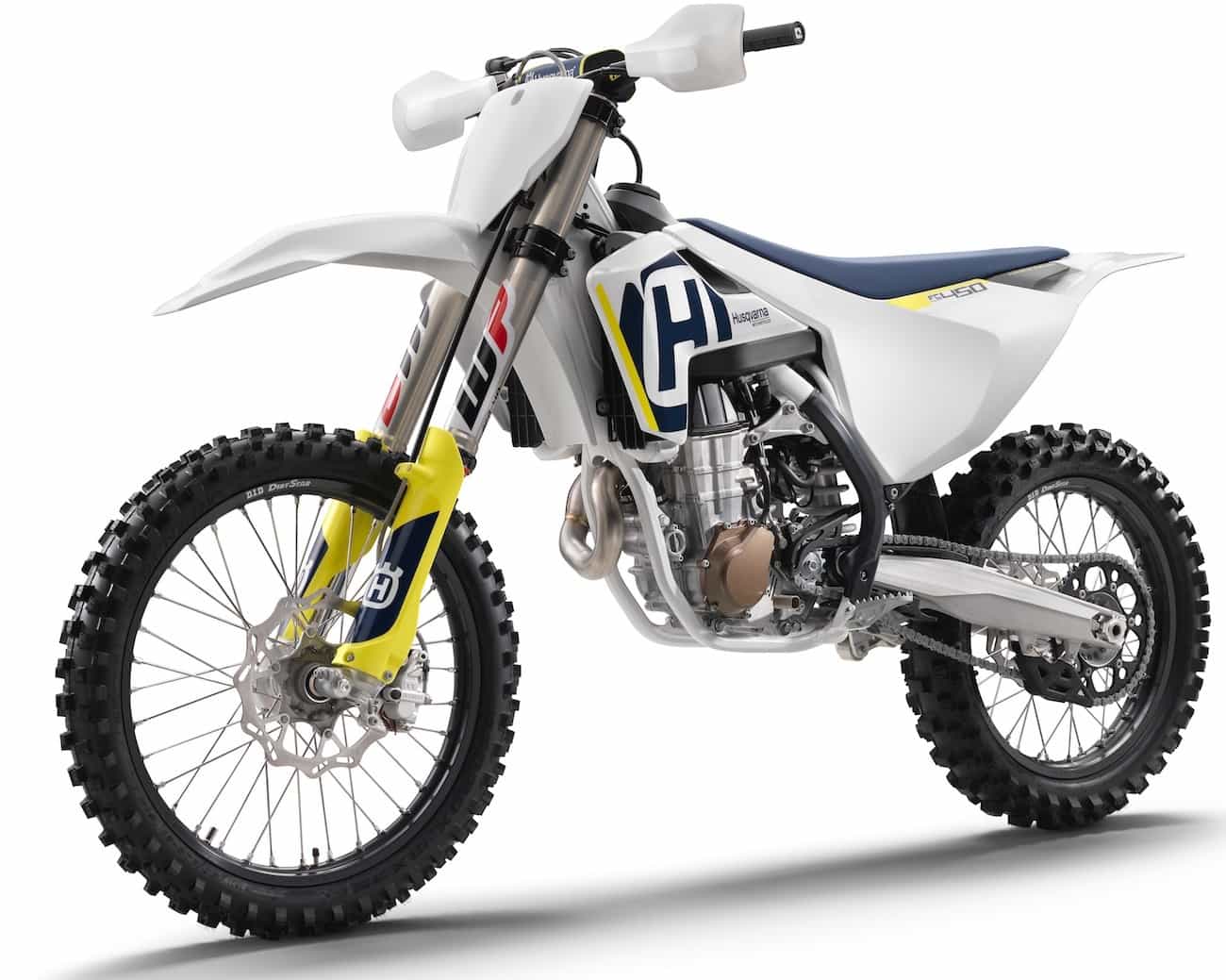 2018 Husqvarna FC450.
Featuring seven updated models and an all-new TC 85, Husqvarna Motorcycles' 2018 motocross range combines cutting-edge technology with high-end componentry to offer riders of all ages and riding levels one of the most efficient and sophisticated motocross line ups on the market. In their first year of production in Austria (2014), Husqvarna sold 16,337 units. In 2015 that number jumped to 21,513 units sold. For 2016 Husqvarna Motorcycles came close to doubling their production  with 30,000 units. The 2017 numbers are not in yet.
2018 Husqvarna FC350.
NEW MAGURA FRONT AND REAR BRAKE SYSTEM
Featuring a similar layout to the previous design they offer the best in terms of sensitivity and feeling while retaining the highest level of performance. he systems are completed by 260 mm front and 220 mm rear discs made by GSK.
NEW SEAT COVER / GRAPHICS
Modern and functional bodywork with updated graphics in traditional Husqvarna white, blue and yellow mark a simplistic yet stylish Swedish design. The ergonomics are specifically tailored to deliver greater control and comfort, enabling riders to perform at the highest level for extended periods of time. The seat has a low-profile and a new high-grip cover for superior comfort and control in all conditions.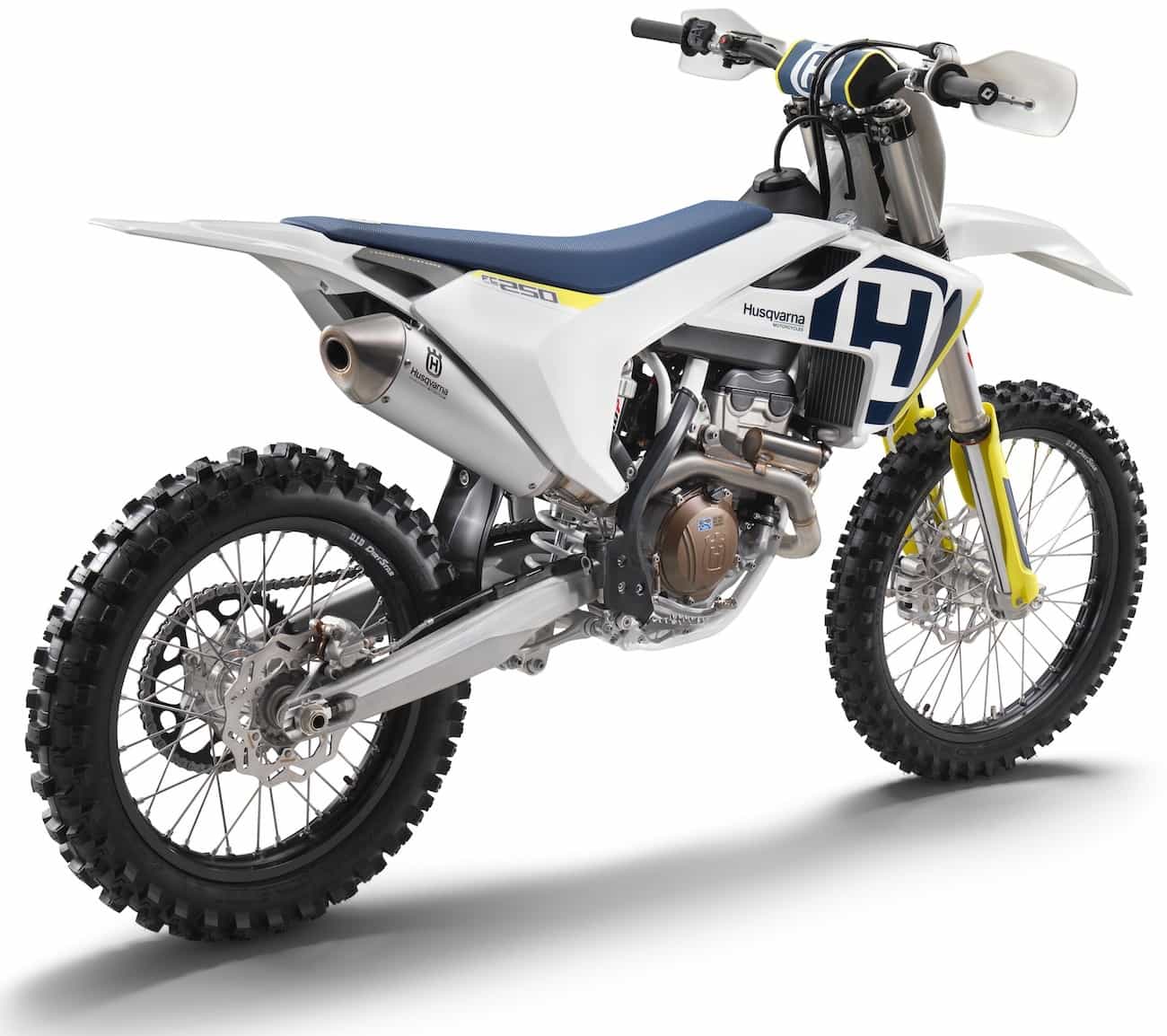 2018 Husqvarna FC250.
2018 HUSQVARNA FC250 DETAILS
The claimed horsepower is 46 and the rev limiter is set at 14,000 rpm on this DOHC engine featuring finger followers with a DLC (Diamond Like Carbon) coating, The 78 mm bore cylinder houses a forged bridged-box piston made by CP. Plain big end bearing with force-fitted bearing shells increased durability and service intervals. The five-speed gearbox's shift forksare low-friction coaed for smoother shifting. Plus,  a gear sensor allows for specific engine mapsfor each gear. The 250cc and 350cc engines feature a CSS (Coil Spring Steel) clutch with Magura hydraulics.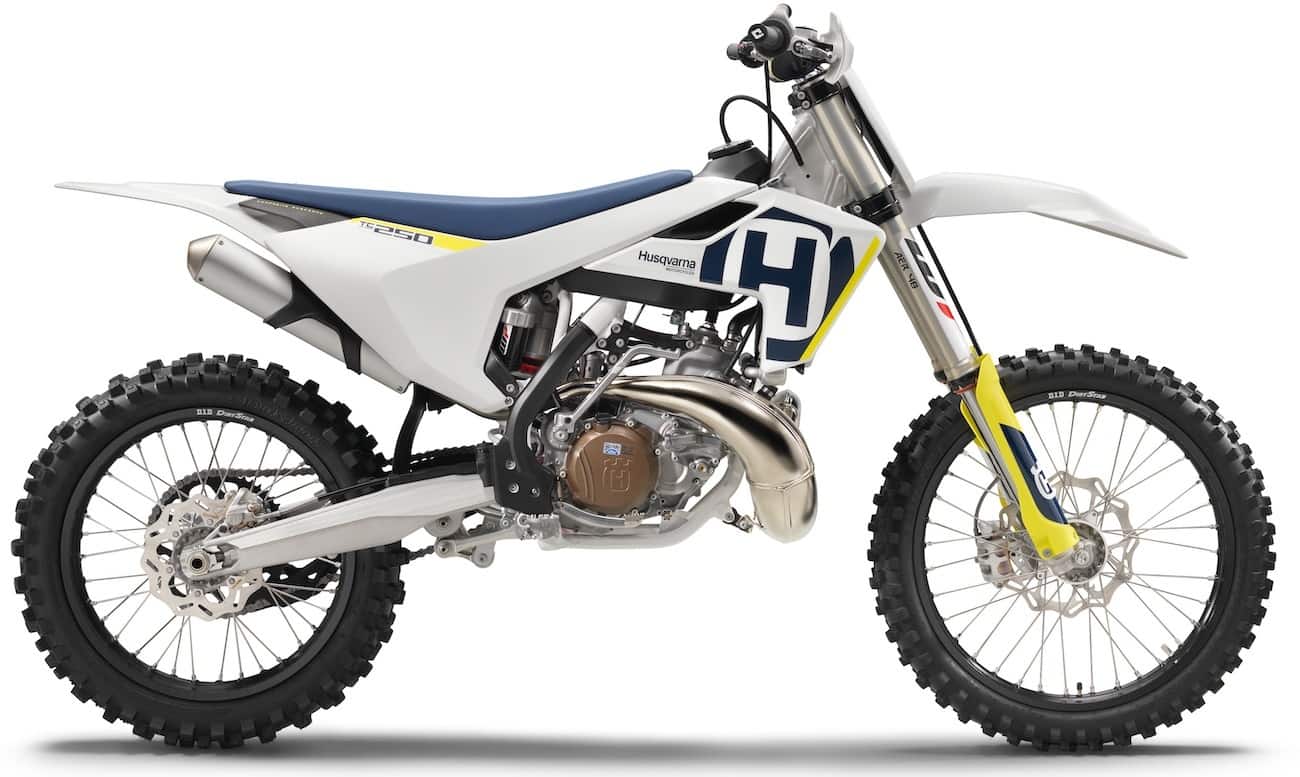 2018 Husqvarna TC250.
2018 TC250 HIGHLIGHTS
The TC250 engine is designed with mass centralisation as a key theme. As a result the lightweight, die-cast engine casings are developed to house the shaft arrangements in the perfect position, centralizing oscillating mass and improving rideability.The TC250 features a 38 mm flat slide Mikuni TMX carburetor. With an updated settings for 2018.
2018 Husqvarna TC125.
2018 HUSQVRNA TC125
With 40 hp, and an overall weight of just 39 pounds, the 125cc engine provide more torque than any current 125cc two-stroke engine. There is a redesigned cylinder and power valve and a 38 mm flat slide Mikuni TMX carburetor. With an updated settings for 2018. The transmission is a six-speed.
2018 Husqvarna TC85.
2018 HUSQVARNA TC85
Raising the bar in terms of design, performance and handling, the all-new generation TC 85 shares the same levels of premium quality and advanced technology as found on Husqvarna Motorcycles' full-sized motocross machines. Featuring an all-new frame and high-tech WP AER air suspension, the 2018 TC 85 will allow junior motocross riders to perform with total confidence.
2018 Husqvarna TC65.
2018 Husqvarna TC50.