FIRST LOOK! 2019 HUSQVARNA FC450, FC350, FC250, TC250 & TC125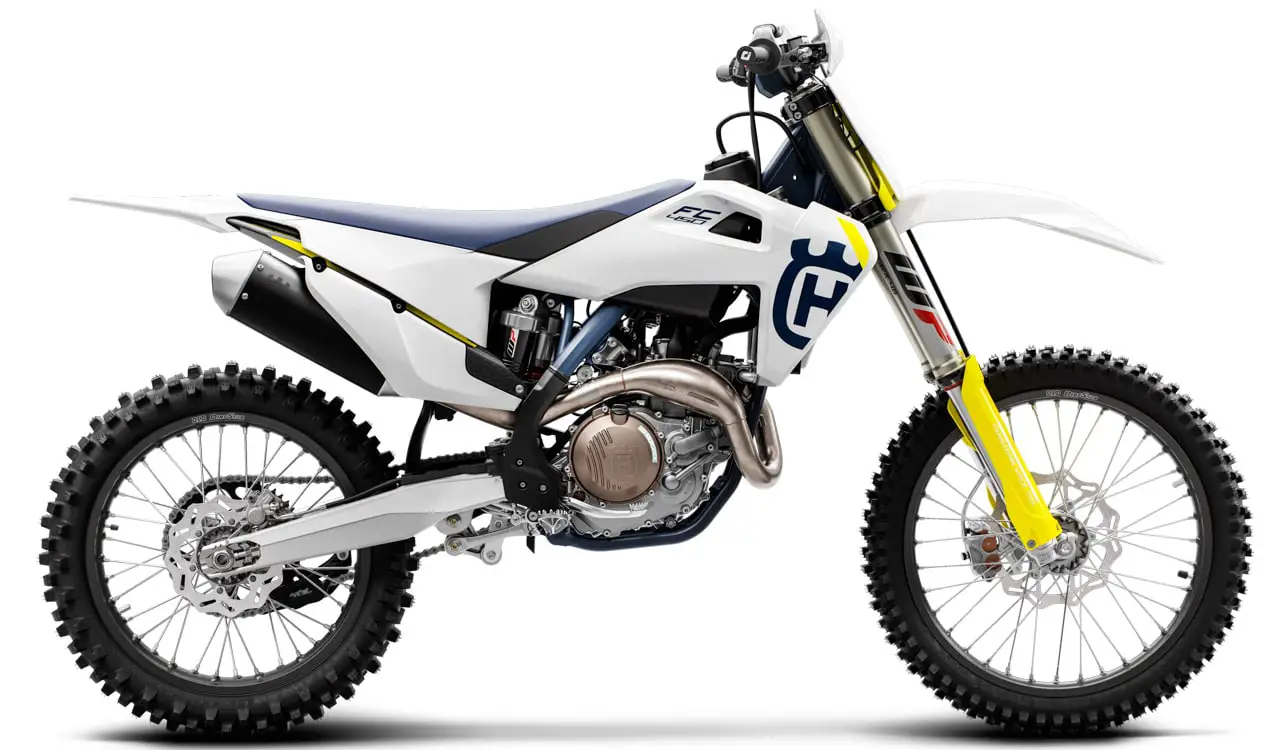 The Husqvarna 2019 FC450.
Recently making history by securing both the 2018 Supercross 450 World Championship and 250SX AMA East Region Championship thanks to the committed efforts of Rockstar Energy Husqvarna Factory Racing Team riders Jason Anderson and Zach Osborne, Husqvarna Motorcycles is pleased to lift the covers off their complete line-up of 2019 motocross models–a new generation of premium machines redesigned in order to offer professional and amateur motocross riders the highest level of technology available on the market today.
Collecting feedback from world-class racers and combining it with extensive in-house testing and development, Husqvarna's engineers have introduced a long list of upgrades that allow the new generation of FC and TC machines to continue setting the benchmark in handling, performance, weight and aesthetics.
Combining state-of-the-art technology and premium-quality components with innovative technological and functional improvements, the all-new for 2019 Husqvarna motocross machines are designed with the goal of allowing riders of all levels to chart new territory in their motocross riding careers.
ONE BIG STEP AHEAD
For model year 2019 Husqvarna Motorcycles proudly introduce a new generation of two-stroke and four-stroke machines, which represents the next step in the historic brand's motocross range. From the nimble TC125 to the powerful FC450 four-stroke machine, each model in the updated range sets the benchmark in its respective class.
Standing out among a long list of upgrades is the new frame that is finished off in a premium blue powder coating. For MY19, it features an increase in longitudinal rigidity that results in improved rider feedback. Receiving new settings to perfectly match the new frame characteristics, WP AER 48 forks and a DCC shock help further improve energy absorption and straight-line stability.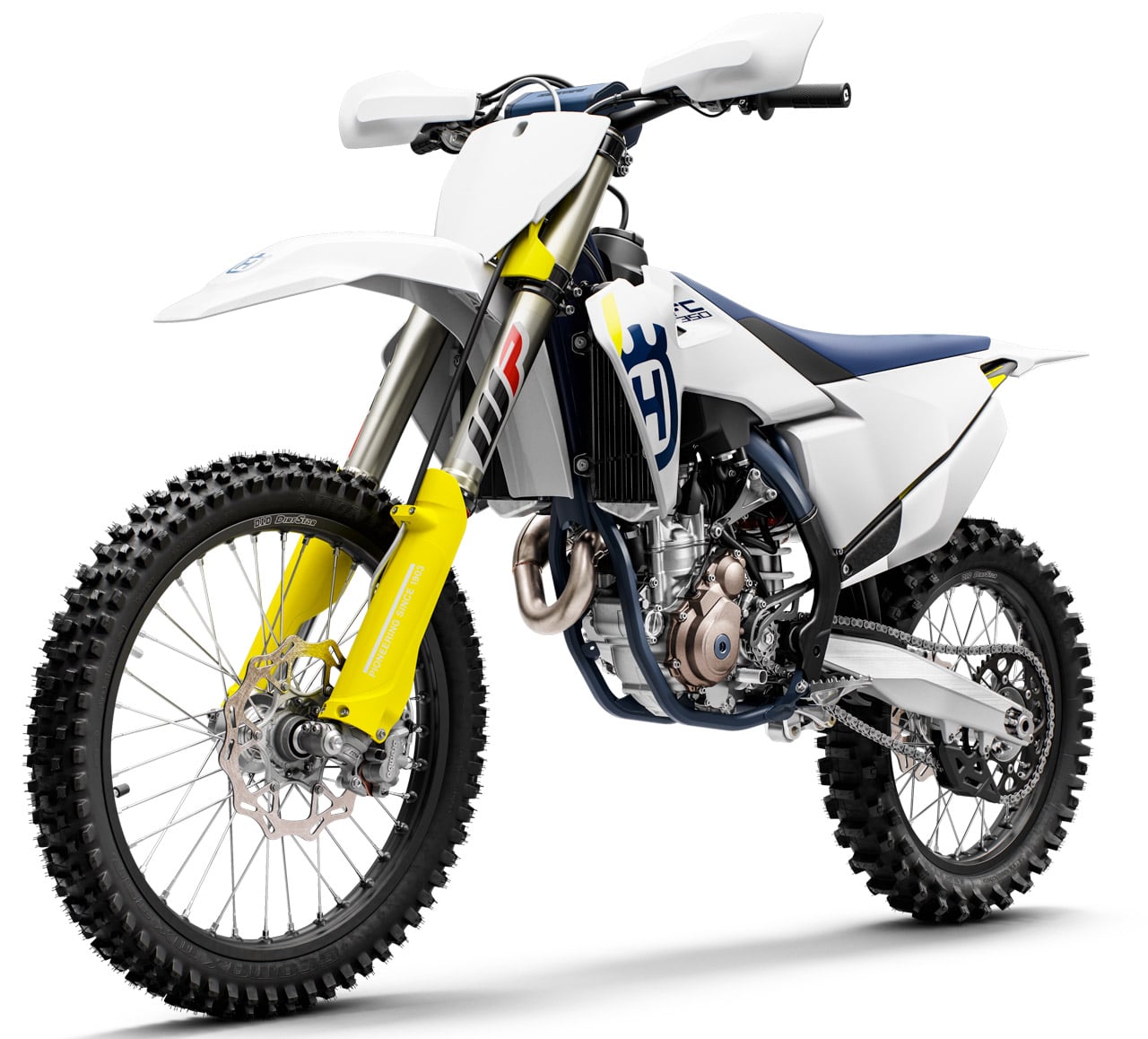 2019 Husqvarna FC350.
With all five models receiving a series of carefully considered improvements in the engine department, the flagship FC450 has a redesigned and more compact SOHC cylinder head that reduces the engine's total weight by a whopping 500g. To further enhance performance while keeping weight to a minimum, the exhaust systems on all two-stroke and four-stroke models have additionally received major changes for 2019.
With all new bikes featuring high-quality ProTaper handlebars and new spoke nipples on the D.I.D wheels, the FC four-stroke machines also have new compact Li-ion 2.0 Ah batteries with improved output consistency. Showcasing Husqvarna Motorcycles' pioneering design direction in the motocross bike segment, a fresh new bodywork offers tailored ergonomics for optimum comfort and control.
WHAT'S NEW FOR MY19
2019 Husqvarna TC125.
•Redesigned bodywork
•Redesigned SOHC cylinder head on the FC 450 (500g lighter)
•Blue coated frame featuring increased longitudinal rigidity
•New 2-piece subframe design (250g lighter)
•Updated setting on the WP AER 48 forks

•WP DCC shock featuring new piston & updated setting
•New mufflers on 2-strokes, redesigned header pipe on TC 250
•Chain adjustment length increased by 5mm
•Triple clamp protector integrated into front number plate

•Traction & launch control with updated settings [four-strokes]
2019 Husqvarna TC250. 
•New throttle cable routing for easier maintenance
•Flow-designed resonance chambers & more compact silencers on four-strokes
•New generation Li-ion 2.0 Ah battery
•Updated cooling system with new center tube
•External fuel line moved inward for extra protection
•ProTaper handlebar with new bend
•D.I.D. wheels with new spoke nipples
The new Husqvarna MY19 motocross range will be available at your local authorized Husqvarna Motorcycles dealer this July of 2018.