FIRST LOOK! 2023 COBRA CX50e ELECTRIC MINI BIKE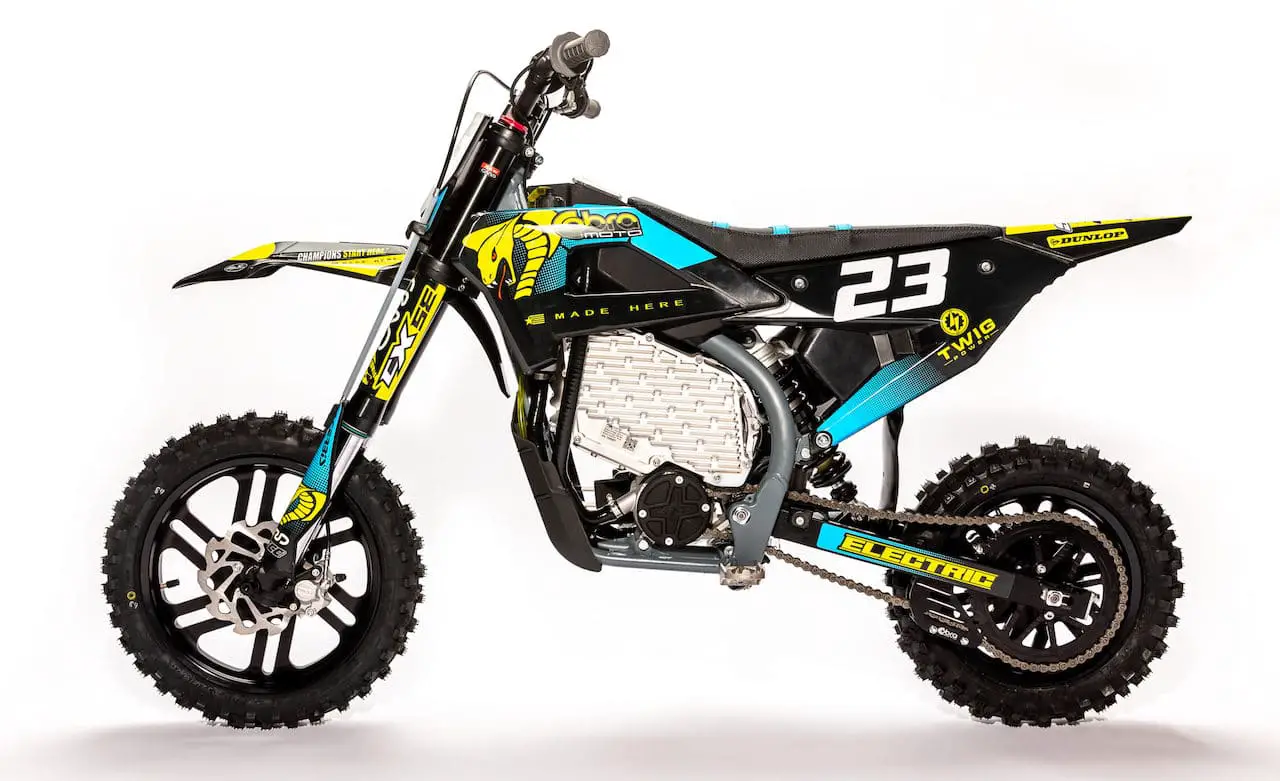 FIRST LOOK! COBRA MOTO'S 2023 CX50e ELECTRIC MINI
Cobra Moto is a motorcycle manufacture focused solely on producing race-ready mini cycles. The very first Cobra 50 won it's first Loretta Lynn's AMA championship in its debut outing the summer of 1994, and since then, Cobra's have taken over the 50cc class at the amateur events. Cobra designs and manufactures the vast majority of their own components including frames, engines, and suspension.
Announced this week at the 41st Annual Loretta Lynn's Amateur National Motocross Championship is the all-new Cobra CX50e Electric bike. This little mini was made to compete with KTM's SX E-5 electric mini bike, which has been widely popular for parents of young mini bike riders. Read below to learn all the details about the new electric mini bike from Cobra.
DETAILS ON THE ALL-NEW 2023 COBRA CX50e:
Outrunner Electric Motor. This beast was designed from the ground-up for Moto. Big Bearings, One-Piece Rotor and Output Shaft, High Temp Windings and Magnets, and Liquid Cooling help propel this machine down the track without missing a beat.
'Cool-Pack' Quick Change Battery. The all-new 1.0kW-hr Cobra Battery Pack keeps its cool under torturous race conditions, and it can be hot-swapped in about the same time it takes to fill the gas tank of a petrol bike!
Charging Options. Fast Charge for a quick fill between motos, or slow charge to maximize battery performance. Charge on or off the bike!
Riding and Training Modes. The CX5e offers six performance modes, and the Trainer Key opens up six more modes for aspiring little racers.
Holeshot Mode! Automatically get the jump on the competition.
Forged and Anodized Aircraft-Grade Aluminum Wheels. Lighter and stronger featuring a spoke pattern designed to reduce unsprung weight and improve handling. 12" front and 10" rear.
Micro Handlebars – Cobra is proud to offer innovative Micro Handlebars across our 50cc lineup. These bars will revolutionize the way that young riders control their motorcycles by offering a reduced diameter grip area that inspires confidence and reduced fatigue.
Hybrid Oval twin spar/Backbone frame with revised structure and removable aluminum subframe – reduces weight, improves handling, permits a twin radiator system, eases maintenance, and is stronger.
CARD Rear Shock has a revised valving and reservoir design that tucks in tight creating a slim midsection.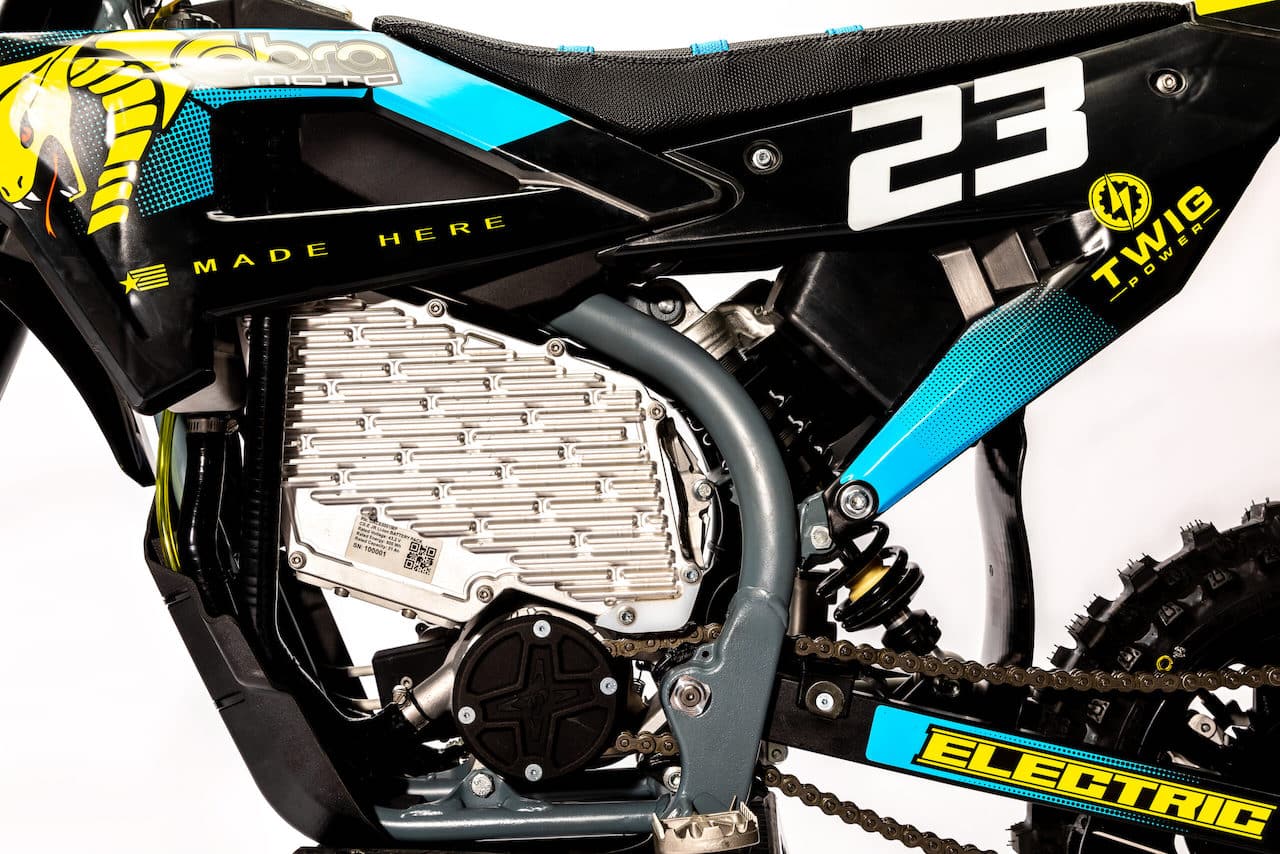 Forged Aircraft Grade Aluminum Triple Clamps – These clamps are lighter, impart less force onto the fork tubes for improved suspension action, and they provide a clamping feature onto the steering stem for improved steering feel, and for 2023 the cushioned steering stops are improved.
Updated CARD Rear Brake System: Improved bore, piston, and seal improves responsiveness and longevity.
Optimized Ergonomics provide a slimmer, flatter seat for easier fore-aft transitions and accommodation for a larger range of rider size.
Ergonomic Hand Holds that make lifting the bike easier both at the starting gate and onto the stand.
Updated Chassis Geometry: Longer wheelbase for improved stability. Shorter swingarm for reduced rear-end kick over braking bumps. Increased rake provides both improved stability and smoother cornering. Lengthened head tube stiffens front end for enhanced steering feel.
Revolutionary MXT "Smart Leg" Front Fork – Cobra's exclusive 32mm USD CARD fork is the finest fork in minicycle racing! The Smart architecture simultaneously provides supple action over small bumps, and progressive control through the biggest of hits…A feature especially important for minicycles that run on tracks torn up by bikes twice their size! This fork features fully adjustable rebound and compression damping and bottoming control adjustment not found on any other fork of any size!
'ELECTRIC' Edition Graphics – Create the works look.
Titanium Edition! – Cobra is bringing works level goodies to the minicycle market! The 2023 CX5e MICRO features super strong and lightweight Titanium axles and swingarm pivot. Additionally, we've included all Aluminum fastening hardware to the mix. Runs good! Looks good!
Factory-Style Traction Seat – Custom colors and ribbed for extra grip during hard acceleration.
Billet Aircraft Aluminum Chain Guide – Extra strength for powering through deep ruts.
Dunlop Geomax MX33 Intermediate-Terrain Tires – A high-end bike deserves high-end tires. The 2023 CX5e MICRO is outfitted with Dunlop Geomax MX33s front and back. Enhanced grip, improved slide control, and a larger contact patch with the ground all add up to reduced lap times. No corners cut here!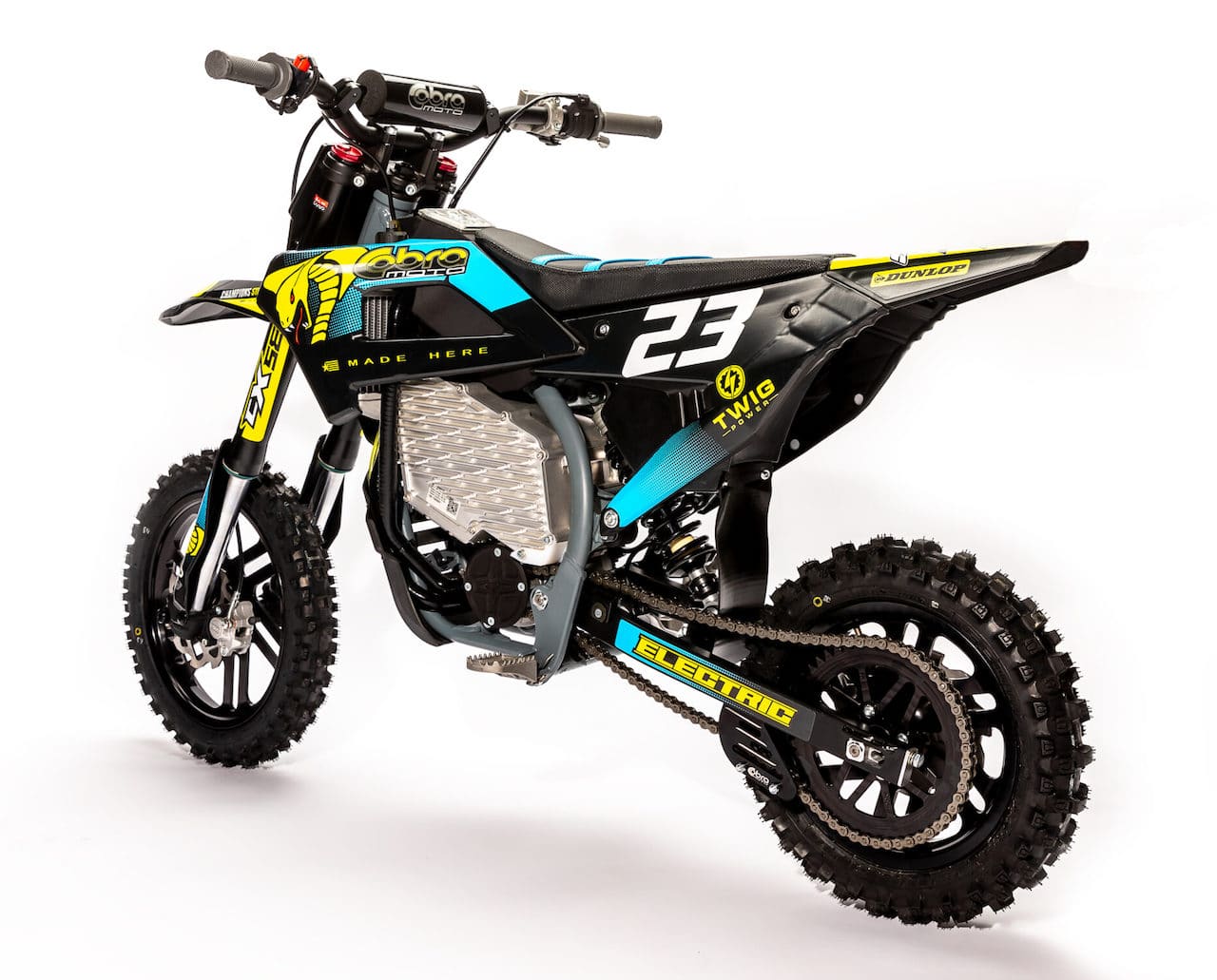 "All we think about day and night is how to make a better minicycle…we're not burdened with road bikes, high maintenance pro teams, or a stifling corporate environment. That translates into being able to offer our customers the finest products on the market, and we back that up with world-class customer service."—CobraMoto.com. 
2023 COBRA CX50e SPECS:
MSRP: $6,998
Dry Weight: 94 lbs / 42.6 kg
Engine/Motor: Cobra Liquid Cooled MOTOR with 1.0kW-hr Cool Pack battery
Bore x Stroke: N/A
Induction: N/A
Cooling: Liquid cooled Motor
Clutch: N/A
Controls: Micro Bars (5/8") Breakaway Forged Lever
Transmission: N/A
Exhaust: N/A
Lubrication: Lubrication with Motor VENOM
Fuel Capacity: .70 Gallons / 2.6 L
Frame: Hybrid Oval/Backbone Twin Spar
Wheelbase: 1038mm
Seat Height: 680mm
Ground Clearance: 245mm
Front Brakes: CARD Hydraulic Disk (160mm)
Rear Breaks: CARD Hydraulic Disk (140mm)
Front Suspension: CARD Fully Adjustable (High & Low Speed) 248mm travel
Rear Suspension: CARD Fully Adjustable (High & Low Speed) 248mm travel
Wheel Front / Rear: Cobra 10" Forged & Anodized / Cobra 12" Forged & Anodized

Tires Front / Rear: Dunlop 2.5×12 Geomax MX33 / Dunlop 2.75×10 Geomax MX33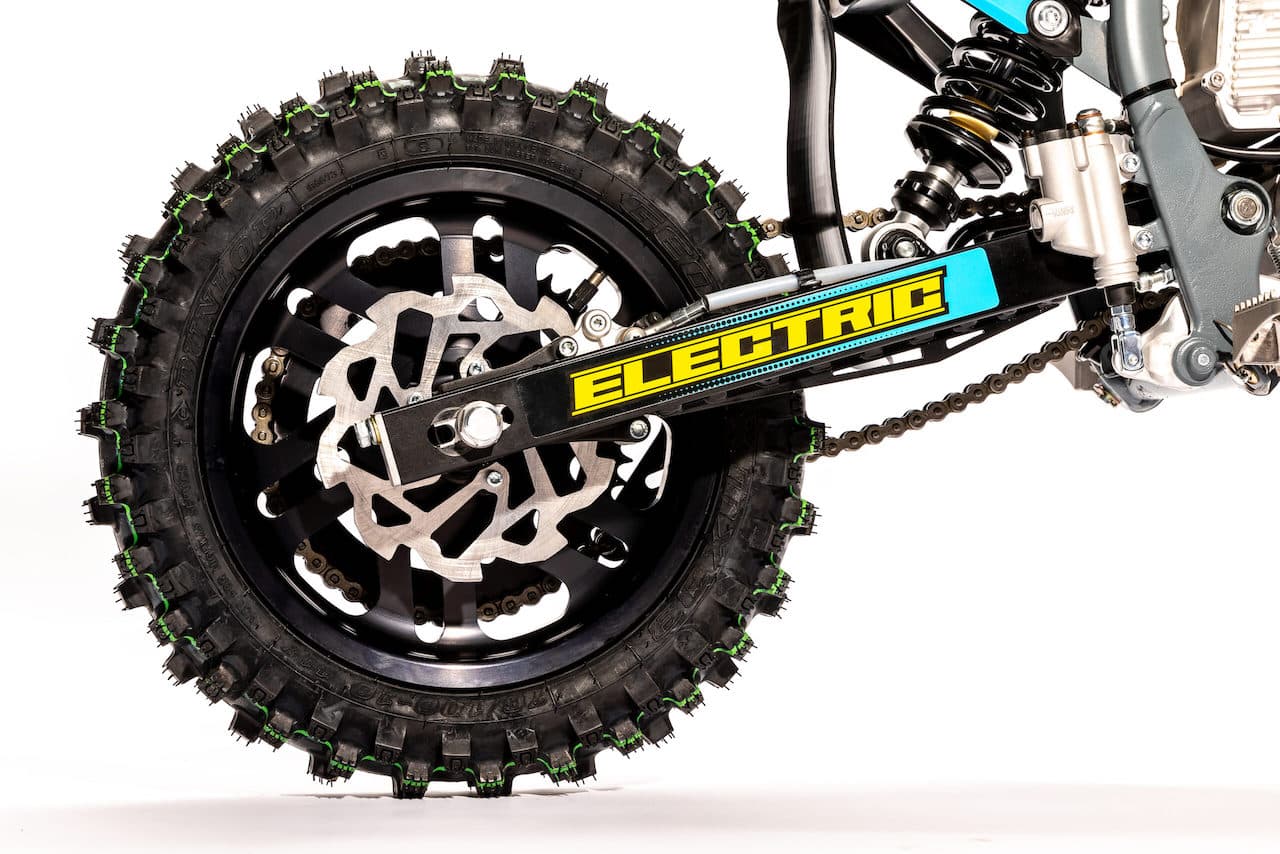 ABOUT COBRA MOTO
Cobra MOTO produces premium race-ready mini motocross bikes for youth riders that are serious about competing. Our three models offer the most competitive performance in the mini category, with Cobras claiming more than 300 national titles since the company was founded in 1993. Cobra Motorcycles is the only producer of competition off-road motorcycles that are truly "Made in the U.S.A."