FIRST LOOK: 2023 TM's FUEL-INJECTED MOTOCROSS BIKES — TWO-STROKES & FOUR-STROKES
For 2023 the TM Racing range of bikes will be enhanced with small but beneficial changes, throughout the full model range line-up. These include updates and revisions to engines, electrical systems and chassis setup. Each "capacity class" gets its own chassis for both the engine type and in some cases, for the discipline it was built for, all designed and engineered to work together harmoniously to further enhance an already excellent range of motorcycles.
TM specs models with 48mm Kayaba forks, which have internal friction coatings on the tubes. TM also builds its own rear shock, which has seen some large internal changes over the last two years. The shock, when combined with the latest swingarm, rising rate linkages and revised axle diameters help control flex, which enables the shock to deliver a more progressive feel, while improving stability and maximizing traction.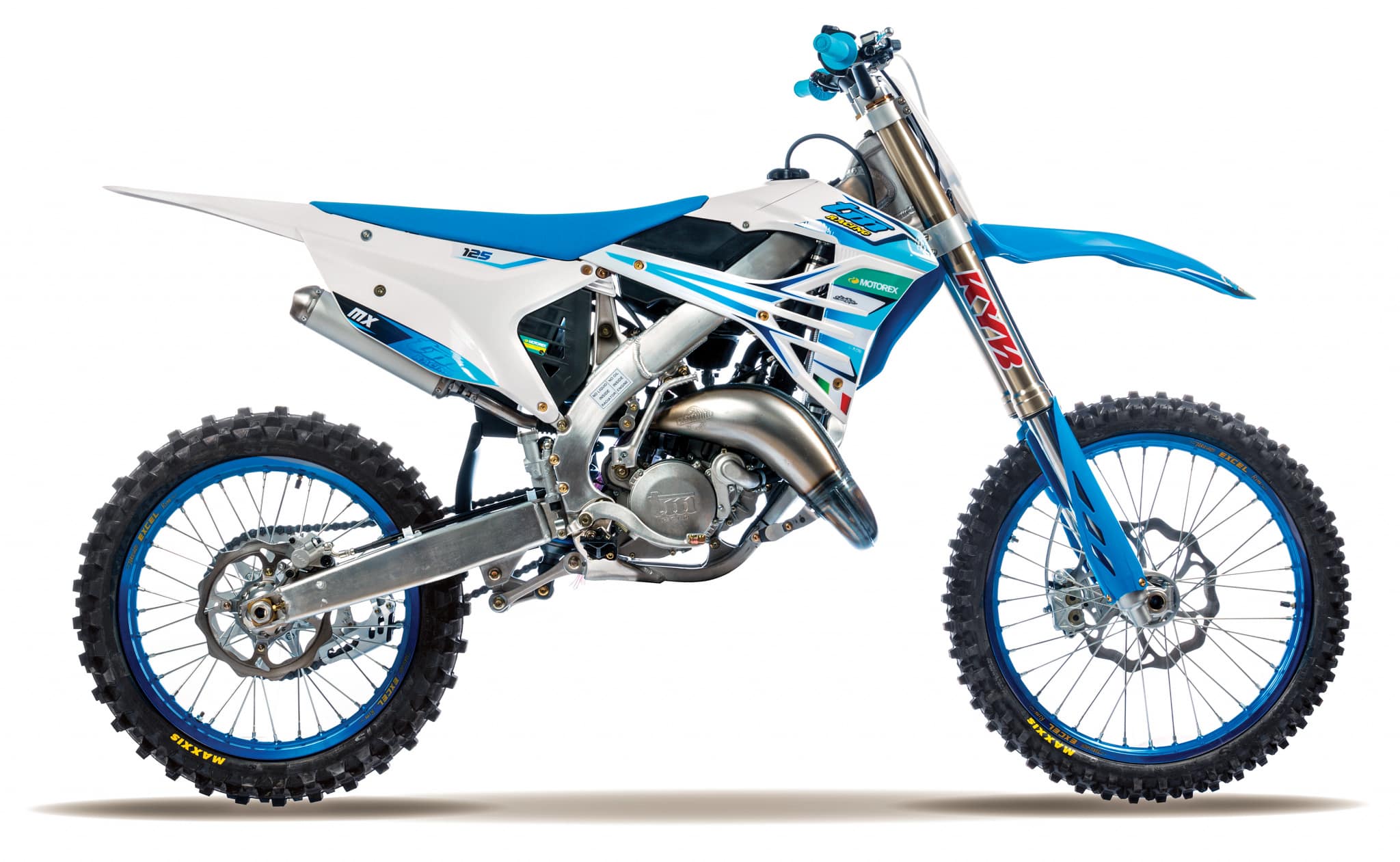 2023 TM 125/144MX TWO-STROKE: The TM 125MX, also available as a 144MX, features billet machined crankshafts (running on roller bearings), cush-drive clutch baskets, heat-treated transmission main shaft), V-Force reeds, hydraulic clutch, Emoticon-controlled TBI fuel-injection systems and electronic power valve control.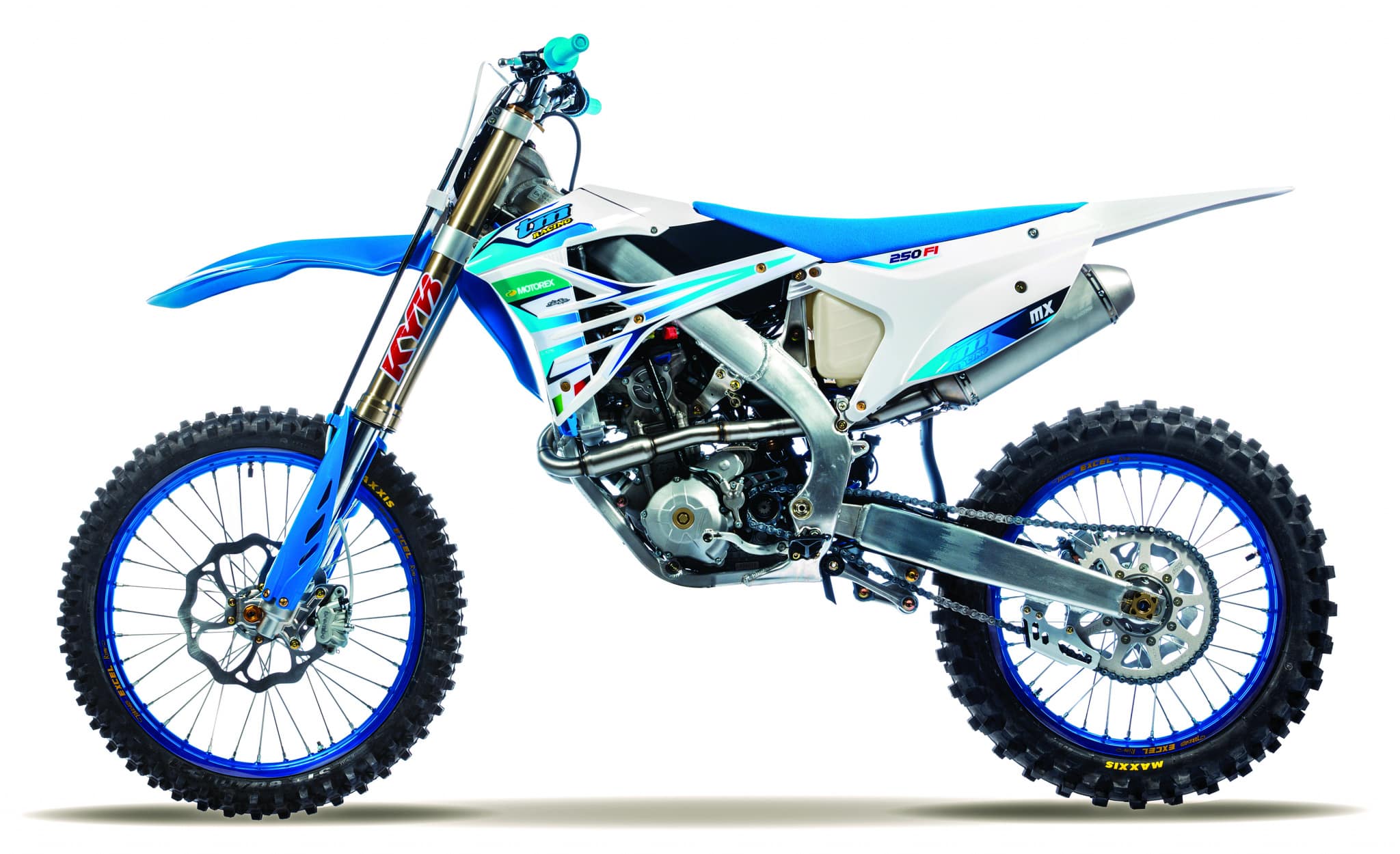 2023 TM 250/300MX: TM Racing 250/300MX two-strokes each have their own performance envelope and power delivery characteristics. The gear position-sensitive ignition works alongside the servo-activated power valve system. There is advanced ECU programming with handlebar-mounted twin ignition maps which can vary mapping depending on gear selection, valve position, rpm and communication to the fuel injection system's sensors. 
2023 TM 250/300 FI TWIN FOUR-STROKE With twin pipes, the TM proves its "Twin" nomenclature with twin camshafts actuating finger followers that trigger the titanium valves, mated to copper beryllium valve seats, plus a twin-rotor oil pump, dry sump crankcase, billet connecting rods, bridged-box pistons, gear-sensitive ignition timing and HGS Bomb-type exhaust pipes for explosive power.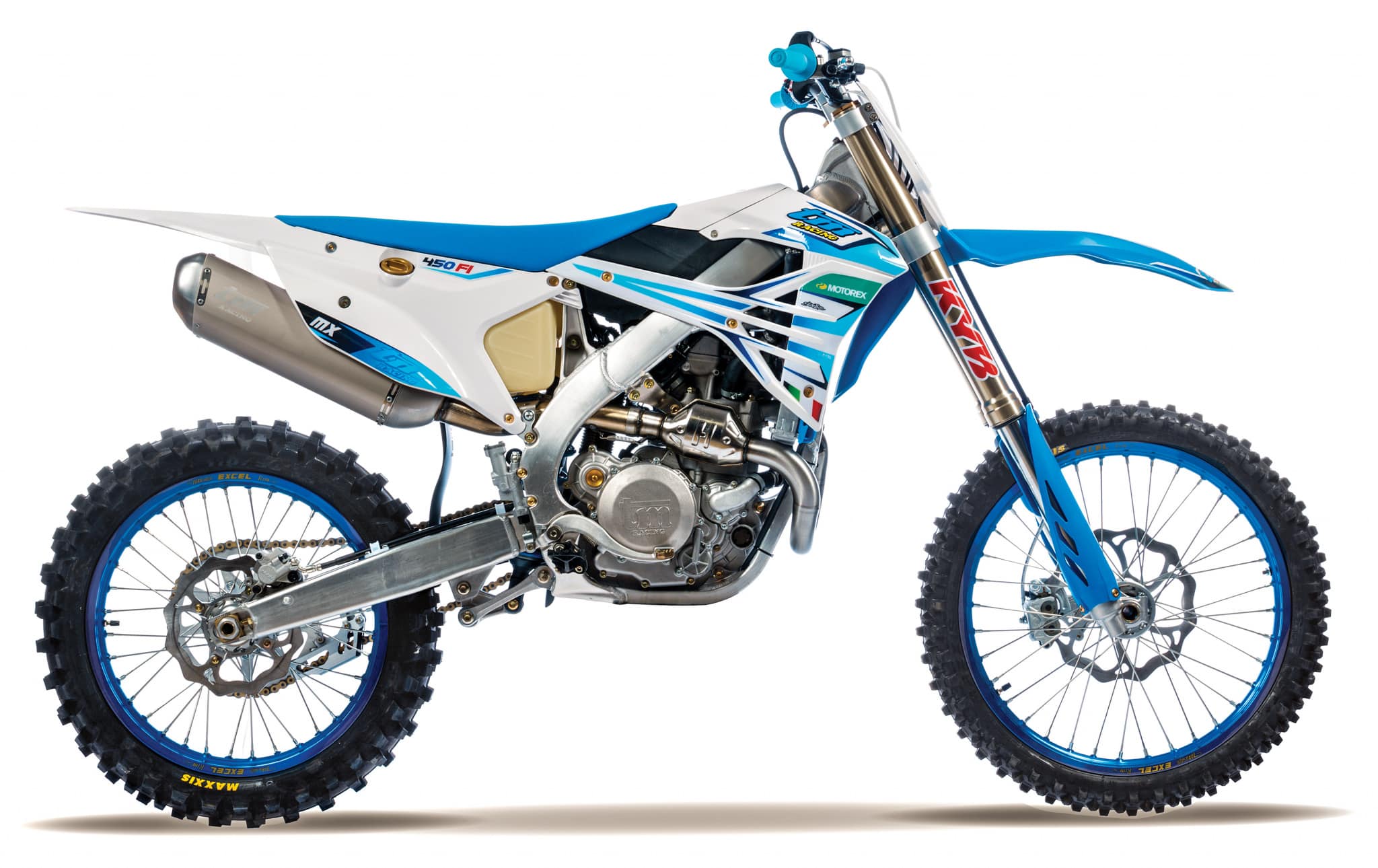 2023 TM 450FI FOUR-STROKE: TM's four-stroke range will retain the current reverse chassis configuration with a fuel tank under the seat and the air intake above the engine. Thanks to improved centralized mass and revisions to the geometry it handles better. TM also made some small but significant changes to the 2023 TM 450Fi engine' Specifically to the camshaft, piston, valves, crankshaft, connecting rod and gearbox. The powerful 450Fi engine has seen a huge change with the release of the twin-pipe engine "SMK" model.