FIRST LOOK: THE 2017 HUSQVARNAS ARE HERE
2017 HUSQVARNA FC450
WP AER AIR FORKS: The WP AER 48 front fork is completely new for 2017. The 48mm split air fork features separated air spring and pressurized oil chamber for progressive and consistent damping. The new component is over 3 pounds lighter than last year's 4CS fork and is easily adjustable via a single air pressure valve for pre-load (on the left leg) as well as easy access clickers adjusting damping with 30 clicks (on the right leg). Additionally, the air pump needed to adjust air pressure in the fork will be provided as standard. Every 2017 Husky gets the AER air fork, except the TC85.

CNC-MACHINED TRIPLE CLAMPS: The 22mm offset, black-anodized, CNC-machined triple clamps feature an integrated rubber damping system that reduces vibration and increases rider comfort. The triple clamps have been expertly crafted using superior techniques and materials to provide premium quality and reliability while a new upper triple clamp has been redesigned to complement the new WP AER 48 fork. A three-way handlebar adjustment is standard and allows for customizable ergonomics.
2017 HUSQVARNA FC350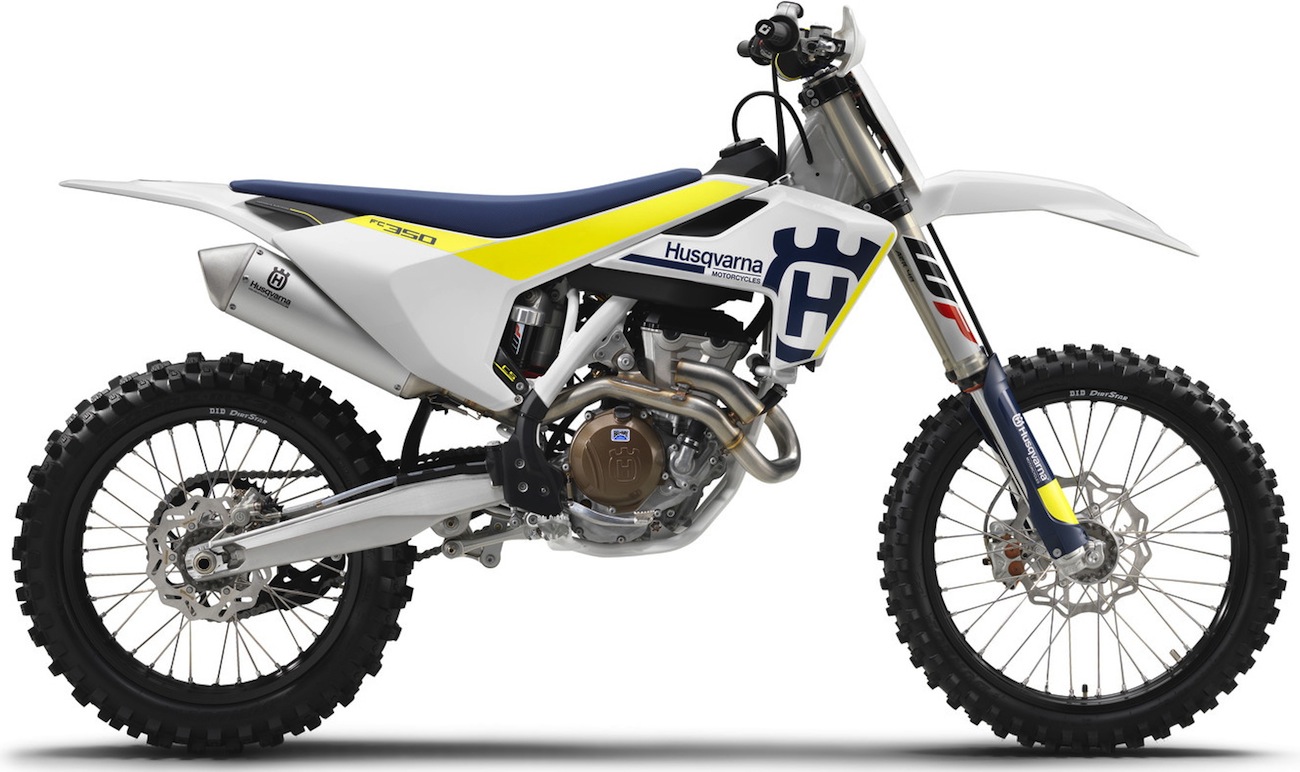 WP REAR SHOCK: The WP DCC rear shock is designed to provide advanced damping characteristics while conforming to a compact and lightweight design. With a pressure balance inside the shock, damping is improved resulting in greater rider comfort and handling while the outer contour of the reservoir increases cooling. The component is also fully adjustable and matched to a linkage system with a specific geometry to deliver the best possible traction and progression with a rear wheel travel of 300mm.
CHROMOLY FRAME/ ALUMINUM MOTOR MOUNTS: The hydro-formed, laser-cut and robot-welded frame expertly crafted by WP Performance Systems has been specifically designed with calculated parameters of longitudinal and torsional flex. New aluminum engine mountings on all four-stroke models benefit suspension functionality and feeling while retaining a light, compact and strong package. The frame is finished off with a premium white powder coating and standard frame protectors guaranteeing protection and durability.
2017 HUSQVARNA FC250
COMPOSITE CARBON FIBER SUBFRAME: The composite subframe is a design unique to Husqvarna showcasing pioneering technologies and innovation. This three-piece component is made up of 30% carbon fiber making it remarkably light (3.1lbs.) and also particularly strong. Specific care has been taken to create a certain rigidity for optimal handling and rider ergonomics.
MAP SWITCH, LAUNCH CONTROL & TRACTION CONTROL: The 2017 Husqvarna four-strokes features a new handlebar map switch. Optimized for easy operation, apart from changing between 2 different engine maps, the map switch also activates launch control. With the engine at idle, launch control is engaged by switching once between the selected map and the alternative map, and then back again. When the fuel injection LED flashes, launch control is engaged. This function limits the amount of power to the rear wheel, improving traction and preventing loss of control under hard acceleration. The new map switch also operates a traction control feature completely new for 2017. This can be selected to an on or off position from the switch and functions by analyzing throttle input from the rider and the rate at which RPM increases in the engine. If the RPM increases too quickly, the EMS will register a loss of grip and reduce the amount of power to the rear wheel ensuring maximum traction. This can be a distinct advantage in wet or muddy conditions.
2017 HUSQVARNA TC250 TWO-STROKE

2017 TC250 TWO-STROKE: Completely new for 2017, the TC250 two-stroke features a newly designed chassis, a significant weight reduction, newe shaft arrangement, a new counter balancer shaft, re-worked five-speed gearbox, new piston, very compact engines cases, new exhaust pipe, new power valve system, DDS (damped diaphragm steel) clutch with a Belleville washer and Magura hydraulics.
DUNLOP MX3S TIRES: Dunlop MX3S Motocross tires that feature the proven "block-within-a-block" design for more progressive cornering and superior grip are fitted as standard. Additionally the FC250 will now feature a wider 110/90-19 rear tire as opposed to the 100/90-19 from 2016.
2017 HUSQVARNA TC125 TWO-STROKE

2017 TC125 TWO-STROKE: The 2017 TC125 engine weighs only 38 pounds, while the 54mm bore and 54mm stroke engine pumps out close to 40 horsepower. The 2017 TC125 now features a 38mm flat slide Mikuni TMX carburetor (replacing the previous Keihin carb). The hydraulic Magura clutch guarantees excellent modulation and clutch action.
2017 HUSQVARNA TC85 TWO-STROKE MINICYCLE

2017 HUSQVARNA TC85: Along with new colors and graphics, the TC85 features a power valve to maximize the powe and a six-speed gearbox. The TC85 features completely adjustable WP suspension front and back for maximum performance on any track. The 43mm upside down fork with 270mm of travel is completely adjustable for rebound and compression damping. The black Excel rims are shod with Maxxis tires and a Formula four-piston brake caliper at the front and a two-piston caliper at the rear.