FIRST LOOK! THE FIRST 2021 GAS GAS MOTORCYCLE SINCE KTM TOOK OVER
GAS GAS TXT RACING RANGE FEATURES AND BENEFITS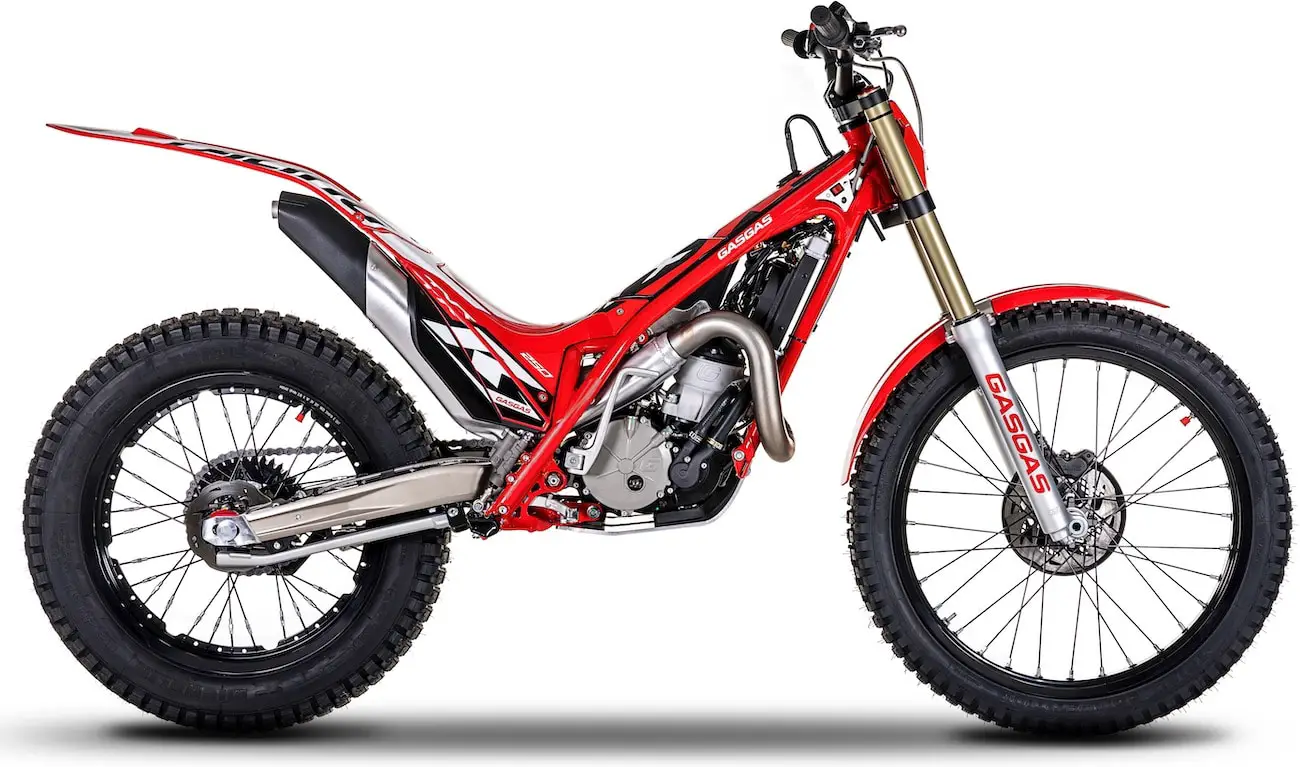 The GasGas TXT Racing can be order with 125cc, 250cc, 280cc or 300cc two-stroke engines.
GasGas North America is proud to introduce its TXT Racing 2020 model lineup with the announcement of new TXT Racing 125, 250, 280 and 300 machines, available in May within its all-new North American dealer network. Now joining the Pierer Mobility Group, the GasGas brand can build off its strong offroad heritage and expertise in offi-road motorcycle racing and trials competition.
At the end of 2019 KTM  bought a 60% share of the Black Toro Capital – owners of the Spanish GasGas brand. The obvious reasoning behind KTM's principal owner Stefan Peirer's interest in adding GasGas to its portfolio, that already includes KTM and Husqvarna, is to consolidate his hold on the European off-road market.
Don't think that the KTM owner Stefan Pierer didn't do the motorcycle world a service by buying GasGas, because he did. The infusion of KTM money pulled GasGas back from the brink of serious financial trouble.  KTM believes that their partnership is synonymous with any future for GasGas. Reportedly, as part of the joint KTM/Torrot/Husqvarna deal, production of GasGas motorcycles and Torrot electric vehicles will continue in the Girona plant in Catalonia, Spain, for at least three years. KTM, who has been working on electric bike technology for a decade, is also interested in Torrot's electric bike expertise and it's trials bike.
Of course in time there will be platform sharing of frames and  engines between KTM and GasGas, but since KTM doesn't make a trails bike, the TXT Racing is a pure-bred Spanish trials bike.

GASGAS TXT RACING 125/250/280/300 HIGHLIGHTS
(1) Chromoly tubular frame
(2) Hollow,aluminum swingarm with progressive linkage system
(3) CNC anodized triple clamps
(4) Map select switch
(5) Hydraulic Braktec clutch system
(6) Braktec disc brakes
(7) Premium Ohlins shock absorber
(8) Premium Tech Suspension forks
(9) Robust aluminum Morad rims
(10) Michelin tires
GASGAS TXT RACING MODEL LINE-UP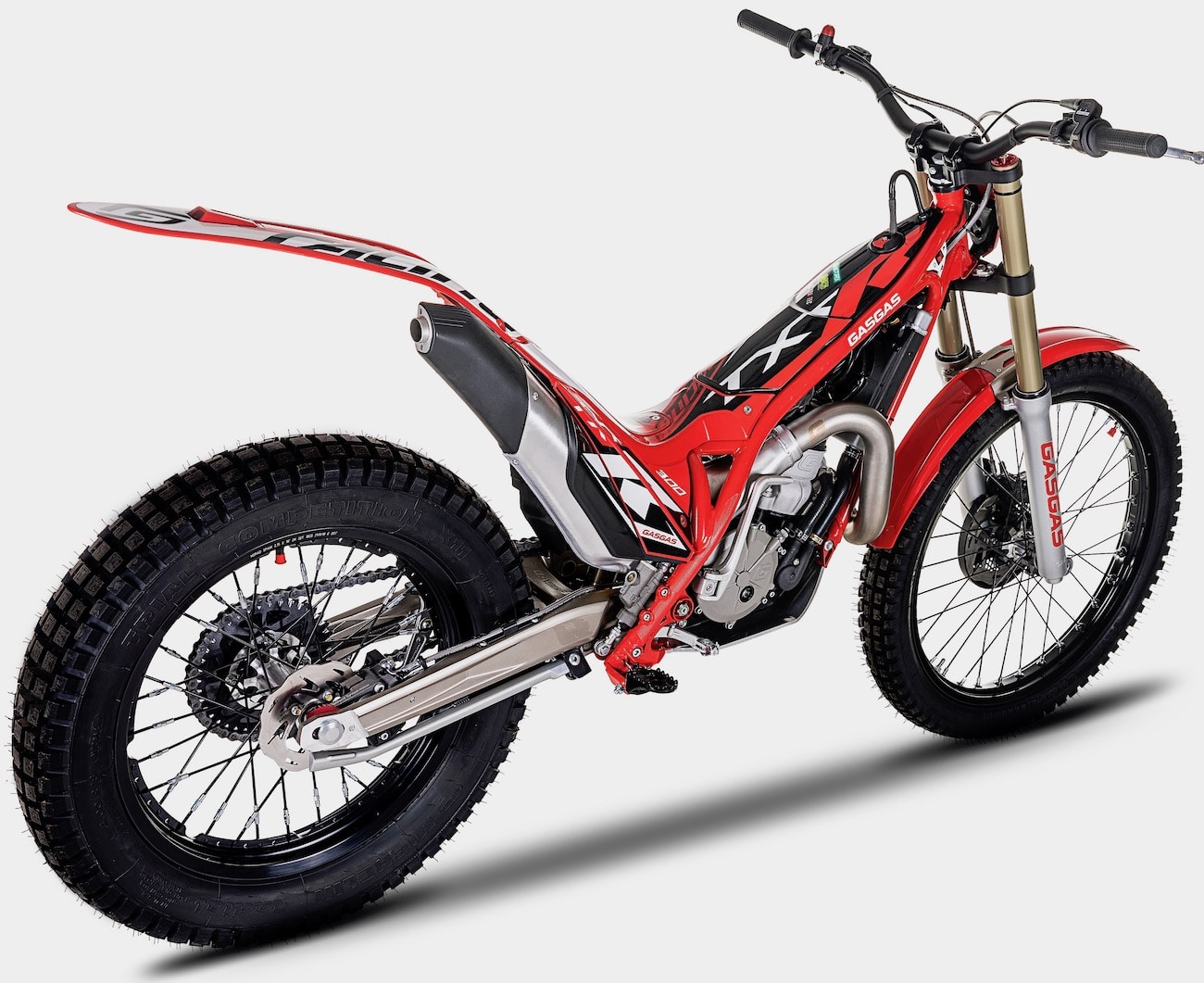 TXT Racing 300: The new TXT Racing 2020 model range accumulates years of evolution and experience with a careful balance of adjustments that have been giving shape and temper to the flagship bike – the TXT Racing 300. Offering a potent combination of linear power and massive torque on demand, the TXT Racing 300 delivers maximum performance as the clear choice of champions who are faced with the most demanding terrain. Combined with class-leading suspension, selectable engine maps and Braktec hydraulic clutch and brakes, the TXT Racing 300 features a collection of top components for the best performance, quality and reliability in the segment.
TXT Racing 280: The TXT Racing 280 is the mid-capacity model in the trials lineup that is often considered the "magic combination," bringing a solid balance of both power and torque delivery. Its smooth, powerful engine character allows for excellent proficiency in technical terrain.
TXT Racing 250: The TXT Racing 250 brings the perfect balance between fun, usable 2-stroke torque and power and nimble, lightweight handling. It shines in tough, technical terrain thanks to the high-revving engine's punchy, yet manageable, power delivery.
TXT Racing 125: While the TXT Racing 125 is the smallest capacity 2-stroke in the GASGAS trials lineup, it includes the same performance features as its larger displacement stablemates, and its lighter weight and smooth power make it the perfect machine for young riders entering and growing in the sport.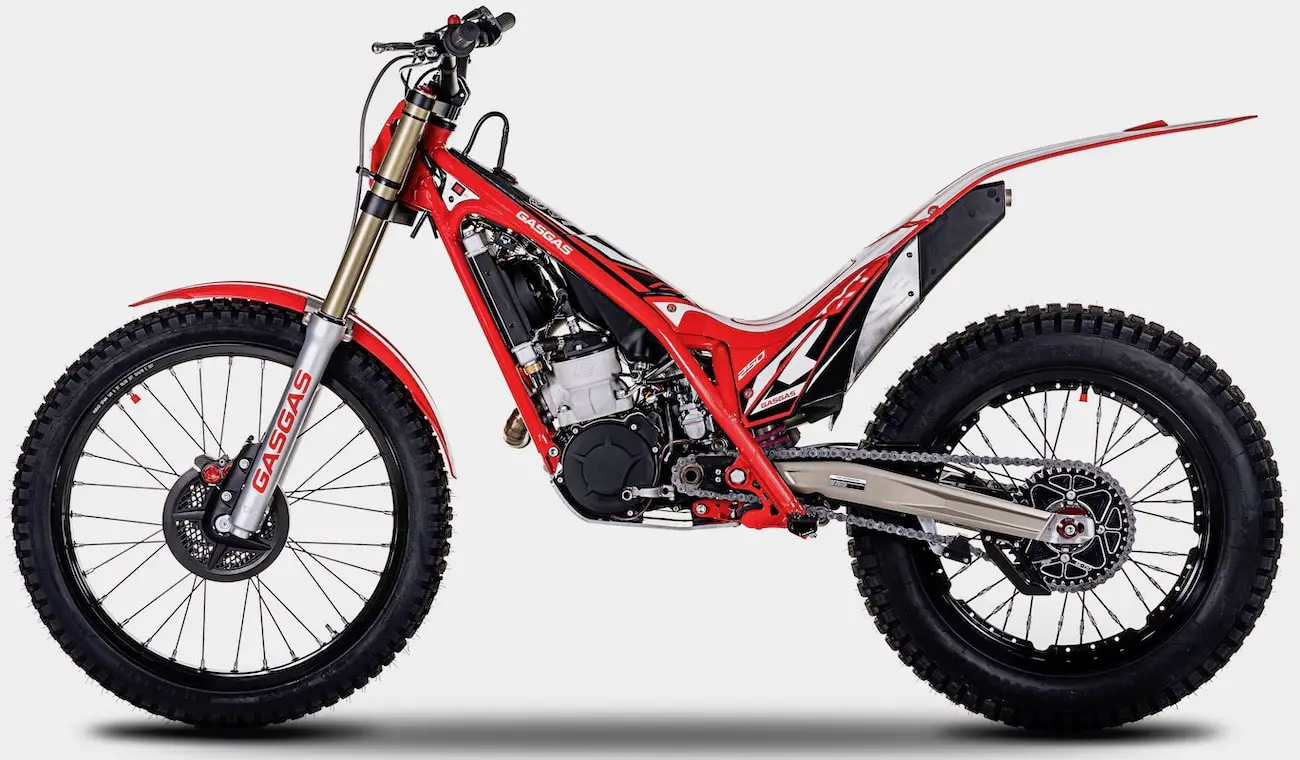 GASGAS TXT CHASSIS HIGHLIGHTS
FRAME: Chromoly (25CrMo4) steel tubular frame is crafted from 1.5 mm tubes, laser cut and robot welded to specifically calculated parameters of longitudinal and torsional flex. Total frame weight is 13.2 pounds.
SWINGARM: The hollow, one-piece, cast, aluminum swingarm offers optimal stiffness and reliability at the lightest possible weight. The redesigned swingarm and linkage increase overall stability and traction.
WEIGHT: The GasGas TXT Racing model range delivers notably low 148-pound dry weight.
TRIPLE CLAMPS: CNC-machined, black-anodized, aluminum triple clamps have 35mm of offset to provide precise handling.

HANDLEBARS: The bars are apered aluminum alloy GasGas handlebars outfitted with black Moing grips.
STANDARD FEATURES: There is a front mudguard with integrated fork brace, plastic disc protectors and a side-stand with integrated protrusion for easy operation by the rider's foot.A two position map switch allows the rider to vhange the engine's performance to suit the conditions.
GASGAS TXT ROLLING CHASSIS HIGHLIGHTS
SUSPENSION: Ohlins, two-way, hydraulic, rear shock absorber has 174mm of travel with adjustable damping and spring preload. The 39mm low-friction Tech front forks feature 180mm of travel. The left side fork has a progressive adjustable spring, as well as an "End Stroke" adjustment function to avoid bottoming. The right side fork is fitted with the rebound adjustment clickers at the top. The 445 gram steel front axle ensures maximum front wheel confidence and feeling with the ground.
WHEELS: The black aluminum rims by Morad are coupled to CNC-machined hubs using lightweight spokes and zinc plated steel nipples.The front rim is a 1.6 x 21" front rim with 32 spokes, while the rear rim is a 2.15 x 18" with 32 spokes (tubeless).
TIRES: Exceptional Michelin X11 tires offer advanced grip in a wide variety of terrain. The specifically formulated rubber compound allows the lug to rotate and twist for sure- footed traction. The front tire is a 2.75 x 21" and the rear is a 4.00 x 18".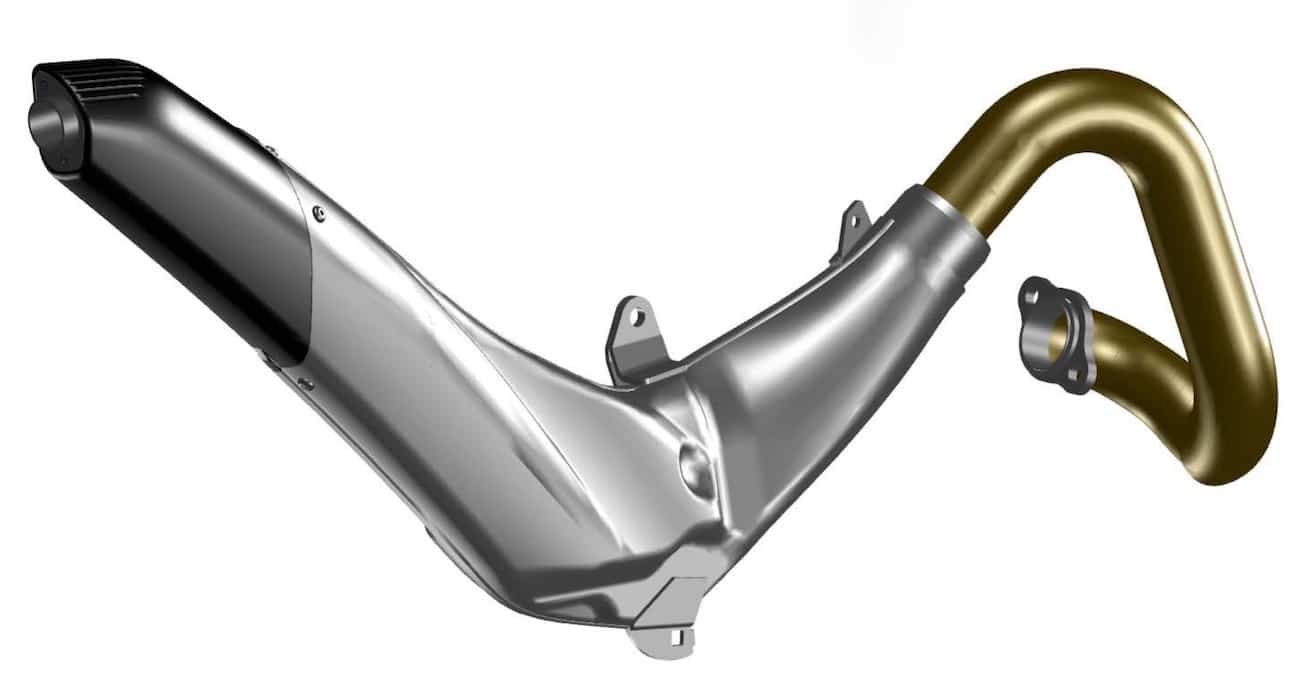 EXHAUST: The stainless pipe and aluminum silencer maximize the engine's performance while reducing overall weight. The removable plastic end cap enables easy packing replacement.
FUEL TANK: The 2.4 liter (.63 gal) capacity fuel tank is fully integrated with both bodywork and frame in order to enhance ergonomics and easy removal.
BODYWORK: Bodywork design focuses on reducing weight, increasing comfort and delivering the best trials-specific ergonomics available. GasGas uses a mixture of 2 PP Polypropylene in a 30/70 ratio to obtain plastics with good flexibility, which can be bent 90-degree without breaking or creasing.
AIRBOX: The airbox is designed to ensure maximum airflow and filter protection. The Twin Air filter is easily accessed by unscrewing one bolt. The airbox has a patented design which allows the component to be both a structural and a filtration element without the use of any metal subassemblies.
BRAKES: Braktec brakes deliver a sensitive and well modulated feel. The front monoblock four-piston caliper works with a 185mm waved floating NG disc, while the rear two-piston caliper interacts with a 150 mm NG waved disc. The rear brake system has patented magnetic neodymium brake pads to keep them open while changing the wheel.
GASGAS TXT ENGINE HIGHLIGHTS
ENGINE: The GasGas trials engine is a compact, light, powerful, single-cylinder, liquid-cooled two-stroke that produced a strong and controllable powerband that works with all skill levels.
CYLINDER HEAD: The cast cylinder head features internal domes that have been refined to ensure improved combustion and deliver the best engine performance possible, while optimized cooling ducts ensure constant temperature.
CRANKCASE: The crankcase is manufactured using a gravity casting production process that helps with weight reduction, while retaining strength and durability. To make the engine more compact, the clutch cover includes the clutch master cylinder.
CRANKSHAFT: Perfectly balanced and manufactured to ensure maximum inertia with minimum weight, the crankshaft not only helps produce the GasGas trial model range's torque and revs, it also contributes to better overall handling. A closed main bearing made by SKF increases durability and reduces the amount of lubrication needed.
CONNECTING ROD: The connecting rod uses two needle bearings to ease lubrication and increase durability. To be more compact, the crankshaft also drives the water pump impeller.
PISTON: Specially designed intake and exhaust ports provide excellent torque, while the high-performance forged piston delivers higher peak power.
CLUTCH: The GasGas' compact clutch features three Kevlar friction plates and two steel plates with a Belleville washer spring system. The Braktec hydraulics deliver the maximum torque with a light and easy fee. Clutch play self-compensates so the pressure point remains identical in cold or hot conditions.
GEARBOX: This is the lightest gearbox on the market, the patented system allows shifting through six gears with only four gears per transmission shaft. The shift forks are made out of aluminum to reduce weight and the shift star is located underneath the shift drum (patented system). The front sprocket can be installed in any direction.
RADIATOR: The inverted aluminum U-flow radiator features a large cooling area and a 115mm electric IP68 fan to ensure optimal temperature for top engine performance.
CARBURETOR: The Keihin 28mm PWK carburetor provides responsiveness and performance throughout the rev range.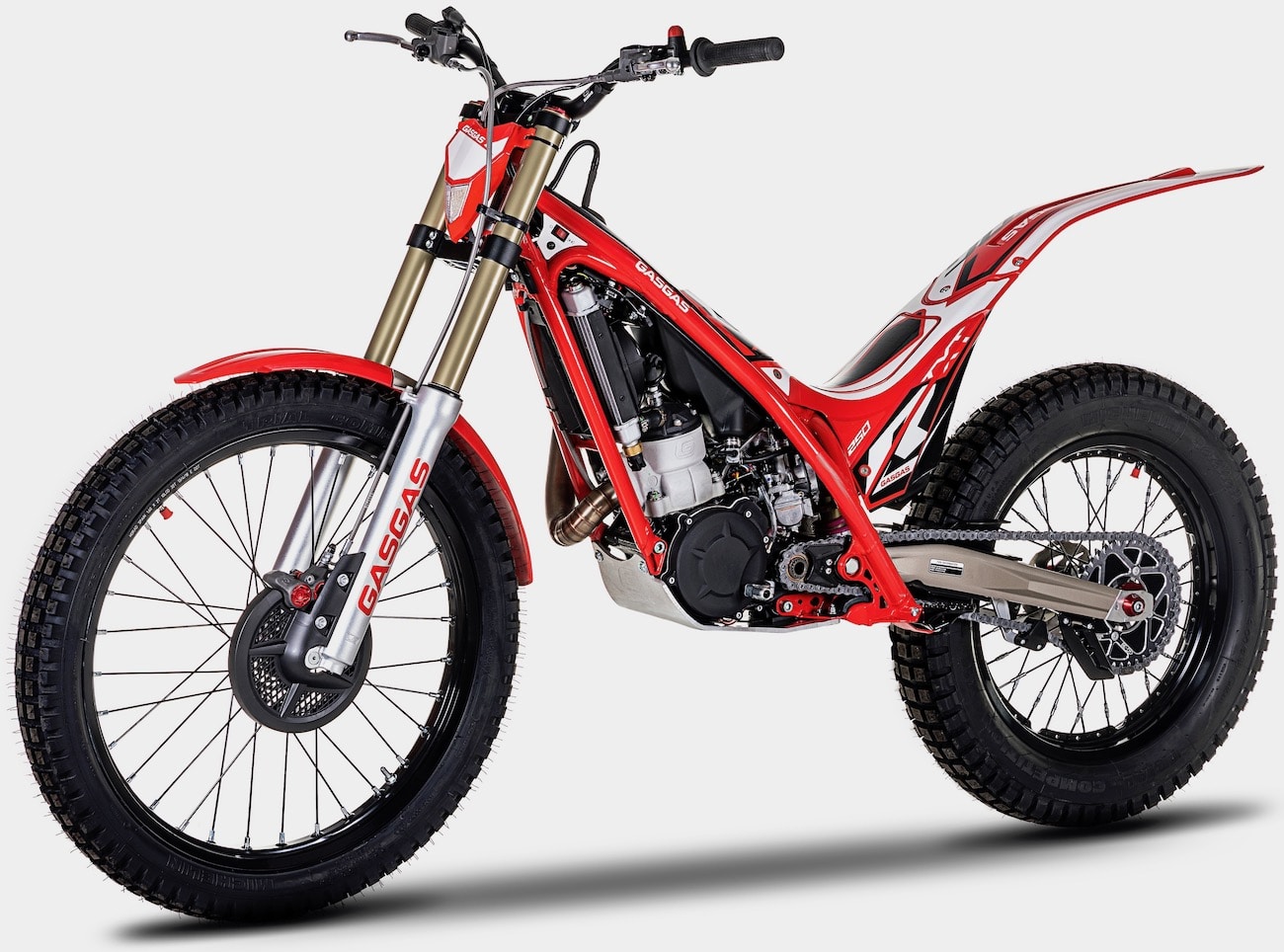 For more information on the GasGas Motorcycles brand, please visit www.gasgas.com.